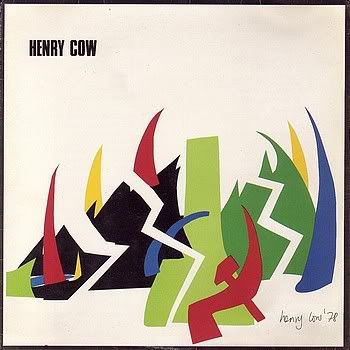 Henry
Cow
-
Western
Culture
-
1979
-
Celluloid
Right, it's not "rock"-- it's modern chamber music utilizing "Rock" instruments, namely guitar-organ-drums, as well as brass and woodwinds of varying couth. It's jarring without valorizing the random, the way this group always is at its best, and it eschews the highbrow vocalizing favored by this group at its worst. I don't know much about chamber music, but I know what I like--"rock" instruments. A- © Robert Christgau, www.robertchristgau.com
Henry Cow were one of the most significant British progressive-rock groups of the 1970s, and band members went on to important solo careers. Virtually ignored by the press and by rock music publications, because their albums were never commercial, and never produced chart material . In reality, they are one of the most important progressive-rock groups of all time and changed the face of modern rock music. Classified as a Canterbury Rock band like Caravan, Soft Machine, Hatfield And The North, Slapp Happy, and many others, they produced some of the most innovative, original, and inventive music ever heard. "Western Culture" is a perfect example of this genre.
N.B
:
Album is available on CD with four bonus tracks, "Untitled" (silence only), "Viva Pa Ubu" (Hodgkinson), "Look Back (alt)" (Cooper), and "Slice" (Cooper).
Check out the Slapp Happy / Henry Cow "Desperate Straights" album @
SL&HC/DS
and the Slapp Happy & Faust brilliant "Acnalbasac Noom" recording @
SL&F/AN
Don't forget to listen to Hatfield And The North's "The Rotters Club" album which is one of the 1970's great Canterbury/Progressive Rock albums.
TRACKS
/
COMPOSERS

A1 Industry - Tim Hodgkinson (6:58)
A2 The Decay Of Cities - Tim Hodgkinson (6:55)
A3 On The Raft - Tim Hodgkinson (4:01)
B1 Falling Away - Lindsay Cooper (7:38)
B2 Gretels Tale - Lindsay Cooper (3:58)
B3 Look Back - Lindsay Cooper(1:19)
B4 1/2 The Sky - Lindsay Cooper , Tim Hodgkinson (5:14)
MUSICIANS
Saxophone [Soprano], Acoustic Guitar, Guitar [Electric], Bass - Fred Frith
Bassoon, Oboe, Saxophone [Soprano, Sopranino], Tape - Lindsay Cooper
Piano, Trumpet, Drums, Electronic Drums, Noises - Chris Cutler
Hawaiian Guitar, Piano, Organ, Clarinet, Saxophone [Alto] - Tim Hodgkinson
Trombone, Violin - Annemarie Roelofs
Piano - Irene Schweizer
Bass - Georgie Born
REVIEWS
...exhausting, sometimes jaw droppingly gorgeous and occasionally very scary... While most 70s progressive rockers had their noses stuck deep in the works of Herman Hesse or Tolkien and spent their time copping licks from Ravel or Mussorgsky, the members of Henry Cow were reading Marx, Mao and Walter Benjamin and preferred Varese, Cage or Sun Ra for inspiration. One of the first signings to Virgin records in 1973, the Cow were responsible for some of the most dazzlingly complex rock ever recorded, merging British psychedelia, free improvisation and modern classical with a healthy dose of revolutionary polemic. The band gained a reputation for immense seriousness depite their occasional sly Dadaist humour, though to be fair there pobably weren't many fart jokes in the Henry Cow tour bus. Western Culture was recorded in 1978 some time after their difficult split with Virgin, and was made in the knowledge that the group was to fold afterwards (a previous attempt at recording had failed a few months earlier). Though these were obviously tricky times for all concerned, you wouldn't know it from the music on this CD, which is some of their finest and dispatched with awesome precision and economy. Compositional duties are split between saxophonist/keyboardist Tim Hodgkinson and bassoonist Lindsay Cooper (possibly the only ever fulltime bassoonist in a rock band). Their dense, cerebral compositions are restless, angular affairs with nervy, timeshifting rhythmic dexterity from drummer Chris Cutler (who has to be one of the finest, most inventive drummers this country has ever produced) and guitarist Fred Frith (doubling on bass). Frith is superb, switching from fuzzed out, oblique rockisms to querulous Derek Bailey acoustic scrabble ("The Decay of Cities") and occupying a few thousand points inbetween. There are no pointless displays of prog virtuosity though; despite the sometimes bewildering complexity of the music, not a note is wasted throughout. Guest pianist Irene Schweizer provides a spot of free jazz fire on Coopers doleful "Gretel's Tale", while Anne Marie Roeloffs's trombone and violin add extra textural grit. The most affecting track is "Half the Sky", where lush chords underpin Friths Frippish glides and Hodgkinsons chattering alto sax, eventually breaking out into an almost klezmer-esque melody over Cutler's tumbling percussives. Three extra tracks round off this long unavailable re-issue including "Viva Pa Ubu" (featuring former vocalist Dagmar Krause, here uncredited) and the all too short cut and thrust of "Slice". Exhausting, sometimes jaw droppingly gorgeous and occasionally very scary, Western Culture is a fitting testament to possibly the most progressive of all English rock bands. Bless 'em. © Peter Marsh 2002-11-20, www.bbc.co.uk/music/reviews/5zf9
The group's fourth and final studio LP, Western Culture remained for a long time Henry Cow's hidden treasure. Two factors were instrumental to its occultation (and one more than the other): first, it was not released by Virgin like the other ones; second, it did not have the "sock" artwork common to its brothers. Obscurity aside, Western Culture remains one of the group's strongest efforts in the lines of composition, especially since the unit was literally torn apart at the time. Side one consists of a suite in three parts, "History & Prospects," written by Tim Hodgkinson. The opener, "Industry," stands as one of Henry Cow's finest achievements, the angular melody played on a cheap electric organ hitting you in the face so hard it makes an imprint in your brains. Side two features another suite, this one in four parts and by Lindsay Cooper. While Hodgkinson's music leans toward rock, energy, and deconstruction, her writing embraced more contemporary classical idioms. Filled with contrasting textures and delicate complicated melodies, these pieces showcased another aspect of the group's sound while foretelling her later works. Swiss pianist Irène Schweizer performed a cadenza of sorts in "Gretel's Tale." © François Couture, allmusic.com
At the end of the day, perhaps it comes down to the argument of escapism versus elitism. It's been so long since prog was a popular genre that the argument over its relevance has seemingly been left by the wayside. However, there are several attitudes we take for granted today that may never have existed outside of the general pop-critic population, but seem to have been perpetuated over the past thirty years to the point of being distorted and disproportionately trusted. Ultimately, that there is a humbly active prog scene today (check the cults of oddly named groups such as Spock's Beard or the Flower Kings if you're in doubt) might be the funniest anti-climax in rock. Allow me to shoot down some stereotypes: "Prog is pretentious and bloated." Yes, and Emerson, Lake and Palmer are often cited as the prime examples. While I can't defend a couple of those later 70s Yes albums, and the insane clown affair that is Pictures at an Exhibition, I will say that at their worst, these bands never approached the bombast of the slightest Sex Pistols or Stooges album. "Only Dungeons & Dragons nerds listen to prog." This idea may stem from prog's often-whimsical subject matter or mythical album covers, though I have to say that I've never heard a prog tune about the King of Carrot Flowers. Prog doesn't rock." Despite the superficiality of these kinds of criticisms, many of the original bands took them to heart, and by 1977 or so, most of them had receded into crass commercialism, or were forced out of the music business entirely due to changing trends. The ones that lived on were generally one of two ilks. The first was the style chameleon: Yes and Genesis are the two most famous examples, with the latter band going so far as to allow their frontman to lead them into the worst regions of MOR banality. The second type was the far more interesting proposition: bands that graduated from prog into even stranger realms. Henry Cow was this type of band, and what follows may change your perception of prog forever. Henry Cow was founded at Cambridge University, England by guitarist Fred Frith and keyboardist/reed player Tim Hodgkinson. Percussionist Chris Cutler joined in 1971, by which time the band had settled into a regular unit. A diverse mix of influences (Zappa, modern classical composition, free jazz, etc.), along with the natural creativity and intelligence of the group members (most had finished their college degrees before Leg End was released in 1973), spawned a sound unlike any contemporary prog band. They were one of Virgin Records' first acts, and made their first tour with relative "superstars" Faust (and would later tour with Captain Beefheart)-- all of this during the heyday of "symphonic" prog bands like Yes and Genesis. Henry Cow's sound always seemed to me a direct response to what was popularly passing as experimental music during their time. Where a band like Gentle Giant (one of the more compositionally complex prog bands) would take classical counterpoint and color it with rock groove and volume, the Cow would remove color altogether, opting for sheer intensity through concept (often manifested in Marxist political statements) and relentlessly dry arrangements. It wasn't enough that their tunes sounded like boisterous Schoenberg etudes, but they usually featured chamber classical instruments such as oboe, bassoon, clarinet and violin. And, where a typical prog band would have used this to evoke the Romanticism of composers like Brahms or Strauss, Cow laid all their cards on the table by naming themselves after the experimental American composer Henry Cowell. They seemed very intent on opposing (Cutler would later even initiate the musical collective Rock In Opposition) any stereotype one might throw at them. I must admit this has always colored my perception of the band. If Yes were the double coconut-fudge of rock, perhaps best for escapist fantasies, then Henry Cow were certainly wheat germ. It's not that they weren't cool in their way, but there's a not-so-subtle academic aftertaste to much of their music for me. Western Culture was their final record, and is probably the most overtly influenced by modern classical composition. It's not very hard to hear why this music is important, in the sense that it lays the groundwork for a whole school of avant-rock and prog that doesn't cause cavities. My caveat would be one of aesthetics, because if you're looking for a party, you'd best dig out "Long Distance Runaround" instead. By the time Western Culture was released in 1979, the group was mostly separated. Cutler and Frith would soon form the excellent Art Bears with Dagmar Krause (who had performed with Cow during several occasions), and Hodgkinson and reedist Lindsay Cooper wrote the pieces on this album exclusively. "Industry" begins things with a brain-freeze, as the opening organ screech gives way to dissonant guitar and hacking drums. Hyper-rhythmic figures (but certainly not "beats"), accentuated by stinging guitar and angular violin lines, suggest quite well whatever inhuman, technological madness the title implies. There are no vocals anywhere on the album, so the difficult melodies rely on the arrangers' skill with voicing in order to stand out. Now, if all of this sounds a bit technical, rest assured, that's probably appropriate. "The Decay of Cities" brings in familiar sonorities with Frith's rather gorgeous acoustic guitar exposition. All of the players were unsung in the grand scheme of prog, though Frith was arguably the most important element for this group if only because he brought a much needed touch of the "real world" to the music. After the intro, an ominous trombone and piano duet ensues, and Frith reenters with guitar figures at once Asian and Cageian. There are some very clever things happening here, with kinetic trading of figures by percussion, guitar, piano and winds. Later on, saxophone carries the tune, sounding like a cross between an intense, somber jazz balladeer and flighty, post-Ornette bopper. Cooper's first piece, "Falling Away," opens with a chorus of woodwinds, similar to some of Zappa's classical/jazz fusion experiments of the early 70s. This reference is short lived, as the band bangs through with drums and a mad ostinato line that reminds me of their Belgian brethren Univers Zero (another classically minded band, who were somehow even more deadly serious than the Cow). This leads to some of the most intense stuff on the record, as themes fly by at breakneck pace, while Cutler never stops pounding his kit (and still never actually playing beats). "Coretels Tale" is more of the same, with enhanced moodiness via creepy flutes, and some nicely Cecil Taylor-esque piano playing. The original Western Culture closes with "1/2 the Sky" (though the reissue includes three more tunes, including a tribute to one of Cutler's favorites, Pere Ubu). Still no rest for weary ears, though I must say that I've always been impressed at Henry Cow's purity of vision. Whatever you want to say of prog, even on the experimental end, bands that remain true to their original spirit are rare enough that I respect these musicians based merely on principal. Of course, all of the individuals involved here would go on to very interesting careers in any number of odd settings, and I would be remiss if I didn't point out that even twenty years later they are more interesting than the majority of current experimental rock groups. So they're not as "entertaining" (or as easy to poke fun at) as Yes, or as cool to name drop as Can or Faust, but Henry Cow were as original an act as ever played "rock," and will probably continue to challenge listeners for as long as their work remains available. © Dominique Leone, March 21, 2002, © 2009 Pitchfork Media Inc. All rights reserved
ABOUT
HENRY
COW
The progressive-rock genre spawned many groups who became top-grossing arena acts — Pink Floyd and Genesis are two — as well as many who progressed right into obscurity. Henry Cow was one of the best-known and most widely traveled English bands of the progressive era (though only a cult-favorite in the U.S.), and their music has aged amazingly well over the last 20 years due to diverse influences (Oliver Messiaen, Kurt Weill, Frank Zappa, and Soft Machine were a few) and uncompromising creativity. The group functioned more or less as a collective, with a true group identity that changed from album to album as members came and went. This turnover was one factor in the consistent vitality of Henry Cow; another was the dedicated core of the band, a serious, politicized trio whose interest in improvisation served to leaven the complexity they supplied as primary writers. Tim Hodgkinson played keyboards and reeds; Chris Cutler (later of Pere Ubu) played drums, Fred Frith provided a variety of instruments, specializing in strings (the guitar in particular); all of them sang. The three appear on all of the Henry Cow albums recorded between 1973 and 1978. Other longtime members included multi-reedist Lindsay Cooper, bassist John Greaves, and German singer Dagmar Krause, who worked with Frith and Cutler in the spinoff Art Bears band and later recorded bilingual renditions of songs by Brecht & Weill. Together, their sound was so mercurial and daring that they had few imitators, even though they inspired many on both sides of the Atlantic with a blend of spontaneity, intricate structures, philosophy, and humor that has endured and transcended the "progressive" tag. Since the demise of Henry Cow, its members have continued in creative directions, mostly working in Europe with rock-based or improvising ensembles. Over the years they have reunited in various units, with resultant recordings being distributed worldwide through the Recommended Records network spearheaded by active improviser Chris Cutler. © Myles Boisen, allmusic.com