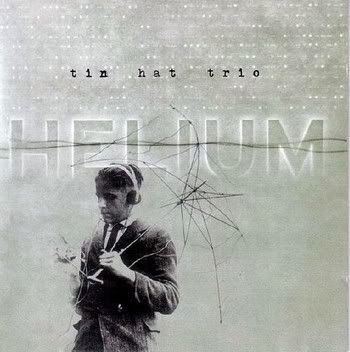 Tin Hat Trio
-
Helium
-
2000
-
Angel Records
This unique album is very hard to classify. Loosely, it could be labelled contemporary jazz, but it ranges from uptempo post war Paris Gypsy beats to tango, contemporary classical, Eastern European folk, and Americana. The music can be moody at times, and atmospheric, cinematic thematic influences pervade the album, some reminiscent of Ennio Morricone style soundtrack compositions. It's certainly very different, and if you want to expand your musical horizons, give it a listen. It's very creative, and never boring. Tom Waits' smoky voice on the final track, "Helium Reprise" fits this type of music, perfectly. Stephane Grappelli may have liked this album. Listen to THT's "Book Of Silk" album
TRACKS / COMPOSERS
1 A LIfe In East Poultney - Mark Orton (1:17)
2 Helium - Mark Orton (4:55)
3 Beverly's March - Mark Orton (4:53)
4 Scrap - Carla Kihlstedt (0:44)
5 Sand Dog Blues - Rob Burger (4:24)
6 Fountain Of Youth - Mark Orton (3:58)
7 Slip - Carla Kihlstedt (1:07)
8 Width Of The World - Mark Orton (6:46)
9 Seamstress Extraordinaire - Rob Burger (4:00)
10 Esperanto - Carla Kihlstedt (5:05)
11 Big Blue House - Rob Burger (1:23)
12 Old Grey Mare - Carla Kihlstedt (2:31)
13 Brennero - Mark Orton (1:49)
14 Anna Kournikaova - Mark Orton (2:27)
15 Helium Reprise - Mark Orton (4:41)
BAND

Rob Burger - Accordion, Piano, Organ [Pump], Harmonica, Performer [Marxophone]
Carla Kihlstedt - Violin, Viola
GUEST MUSICIANS
[ On Track 15, "Helium Reprise"]
-
Jon Evans , Trevor Dunn - Bass
Marika Hughes - Cello
Andrew Borger - Drums
Pat Campbell - Drums, Trombone [Cell]
Tom Waits - Vocals
Beverly Wachte - Saw
Tom Yoder -Trombone
REVIEWS

CMJ (4/17/00, pp.17-8) - "...Nothing short of sublime."
Down Beat (6/00, p.60) - 3 stars out of 5 - "...Draws on and playfully distorts a panoply of traditional, light-classical and classical musics....like a gallery of miniature American tone poems, mood-oriented and vignettish....Pleasant [and] vibrant..."
"Forget the definitions, and simply think of the music of the Tin Hat Trio as compelling entertainment, rich with whimsy, imagination and intelligence. No wonder the crowd responded so enthusiastically." —The Los Angeles Times
"...the group blends elements of jazz, folk and classical chamber music to create unique, yet often eerie compositions that seem like the perfect movie score." —Billboard Magazine
Glenn Astarita on allaboutjazz.com had this to say about "Helium" - "Following up their critically acclaimed Memory Is An Elephant the "Tin Hat Trio" extend their unique blend of grassroots Americana and Chamberesque interaction with jazz-based rhythms and acute improvisational prowess on Helium. The musicians combine folksy themes with fervent jazz chords supplied by guitarist Mark Orton on the title track, "Helium" as applied rhythms coalesce with Rob Burger's cheery lead accordion lines and violinist Carla Kihlstedt's sonorous phrasing. Throughout, the musicians go genre hopping yet the overall sound and presentation is clearly their own. Simple, understated elegance along with a noticeable degree of playfulness continues on "Sand Dog Blues" as Orton's bluesy yet impacting work on the dobro in conjunction with sprightly themes and quietly exhilarating unison choruses emit an air of innocence. The piece titled, "Width Of The World" boasts chamber-like qualities intermingled with a distinct if not cunning approach to jazz-blues improvisation brimming with delightful lyricism and graceful soloing along with a splash of grit and determination. With, "Esperanta", the musicians pursue delightful melodies that almost seem childlike as Ms. Kihlstedt's engaging violin lines offer a counter-current to the upbeat vibe as she shrewdly injects sounds and phrasing that could indicate sorrow or repentance. The omnipresent imagery prevails on the final piece, "Helium (Reprise)" featuring guest artist Tom Waits as the musicians create thought provoking sounds and otherworldly musical gestures in support of Waits' infamous gruff and ragged vocalizations. We tend to overuse words or adjectives such as – refreshing, stimulating and/or modernistic yet Helium represents a rather novel approach to disparate forms of music which to many might seem commonplace or part of our daily lives. The "Tin Hat Trio" is a band who combine subtle dissimilarities of musical art forms into a unique stylization comprised of character and enthusiasm while the musicians also provide hearty entertainment along the way. * * * * "
BIO (Wikipedia)

Tin Hat (formerly the Tin Hat Trio) is an acoustic chamber music group currently based in San Francisco. Their music combines many genres of music, including southern blues, bluegrass, neoclassical, eastern European folk music, and avant-garde. Since its formation in 1997, the original Tin Hat Trio has often expanded its trio format by inviting other musicians to join them. All five of their CDs feature guests, among them Mike Patton, Tom Waits and Willie Nelson as well as friends like clarinetist Ben Goldberg and harpist, Zeena Parkins. Parkins appears on 2002's The Rodeo Eroded and 2004's Book of Silk and has performed live with the trio as the resident sound effects artist in their live music/silent film projects. Goldberg has been a frequent guest of Tin Hat Trio and contributed to both Memory is an Elephant and The Rodeo Eroded. When founding member Rob Burger (the trio's accordionist and pianist) left the trio in late 2004, Mark Orton and Carla Kihlstedt replaced him with both Goldberg and Parkins, presenting a new, though closely related, ensemble—the Tin Hat Quartet—for two short concert tours in the U.S. in January and April 2005. Equally at home playing jazz or classical, both musicians fit easily into the Tin Hat mold as evocative performers who blur the line between improvisation and composition. While on tour, they invited another musician to come under their hat, San Francisco's Ara Anderson—known as one of Tom Waits' favorite sidemen in recent years. Like the departed Burger, Anderson plays myriad keyed instruments as well as trumpet and glockenspiel, thus adding new colors and strokes to the already large canvas of Tin Hat's sound. In [2005] Tin Hat Trio's song Fear of the South featured on the Everything Is Illuminated (film) soundtrack.
MORE ABOUT TIN HAT TRIO
Transplanted from New York to the Bay Area, the chamber jazz group Tin Hat Trio consists of accordionist Rob Burger, guitarist Mark Orton, and violinist Carla Kihlstedt. The group's unique blend of structure, improvisation, and contemporary classical, folk, world, and jazz elements reflects each member's other performing experiences. Kihlstedt majored in classical violin performance at the Oberlin Conservatory and went on to become a prominent performer in both classical and improvised music, playing with artists like John Zorn and Roscoe Mitchell, and recording with Eugene Chadbourne, the Grassy Knoll, and Tom Waits. She also appeared on Philip Glass' series Music at the Anthology, sings and plays with another Bay Area band (Charming Hostess), collaborates with choreographer Jo Kreiter, and is a graphic designer/illustrator as well. Orton started playing guitar as a child and eventually studied composition at the Peabody Conservatory and the Hart School of Music. Also a professional recording and sound engineer, Orton worked on sessions with Bill Frisell, John Zorn, and the Lounge Lizards, and engineered the sound at the Knitting Factory for two years. Orton plays banjo, lute, dobro, lap steel, and electric guitar with his other group, San Francisco's Old Joe Clarks, and has composed scores for independent films like Beverly Wachtel's Just Noticeable Difference. Burger studied classical piano at Juilliard and explored different improvisational styles at the University of Massachusetts with Max Roach, Archie Stepp, and Yusef Lateef. He broadened his range to include Hammond organ and vintage keyboards like the Optigan and Chamberlin, toy pianos and keyboards, and the accordion. Burger has toured with Bill Frisell, Don Byron, and Joey Baron, and appeared on Frisell's Tales from the Far Side soundtrack. Since moving to the Bay Area, Burger has worked with artists as diverse as Tipsy and Mix Master Mike; he is also a member of the Oranj Symphonette, as well as his bandmate Orton's other project, Old Joe Clarks. As the Tin Hat Trio, they released their debut album, Memory Is an Elephant, on Angel Records in early 1999; Helium followed in spring 2000, boasting appearances from Tom Waits and an uncredited Mike Patton. Two years later, the ambitious The Rodeo Eroded showcased their own unique music as well as guest appearances from Phish drummer Jon Fishman and Willie Nelson. 2004's Book of Silk went in a more abstract direction; that year, Burger left the band, while frequent collaborators Ara Anderson and clarinetist Ben Goldberg joined the fold. Reflecting their new status, the group rechristened themselves Tin Hat for 2007's The Sad Machinery of Spring. © Heather Phares, All Music Guide, © 2008 All Media Guide, LLC