Tony Joe White
-
Home Made Ice Cream
-
1973
-
Warner Bros.

"Home Made Ice Cream" could loosely be described as "country rock". There are lines to be drawn between "country", "country & western", and "country rock" and these lines are not easily drawn. Some of the great seventies albums were classified as "country rock", and included artists like the Eagles, Allman Brothers, and Poco. Even Steely Dan's "Pearl Of The Quarter" track from their classic "Countdown To Ecstasy" album had a distinct counrty sound. However the bands mentioned also incorporated strong rock elements into their music. When we talk about "country & western" music, we usually generally associate it with the Nashville sounds of Patsy Cline, Charlie Rich, etc. Pure "country" music is much more difficult to define, and contains elements of early American bluegrass, gospel, folk, and can be traced back to countries like Ireland, and Scotland. Check Wikipedia for a more comprehensive insight into the derivations of these musical genres. The point here is that Tony Joe White's "Home Made Ice Cream" album contains all these "country" genres, and his somgs are womderful examples of the early seventies non-commercial "country" soumd. The album is influemced by Tony Joe White's Louisiana blues, soul, gospel, and cajun roots, and contains eleven well written songs, all well played by good musicians who obviously love their music. This album demonstrates the authentic side of Southern homespun "country" music and is really enjoyable. Good laid back "swamp rock" music by a great artist. The great John Fogerty is another artist who has given "country" music a new meaning. Check out his great "Centerfield" and "Deja Vu (All Over Again)" albums. It is also worth hearing Tony Joe White's "Train I'm On" album. Read the story of Tony Joe White's life @
TJW/BIO
TRACKS
A1 Saturday Night In Oak Grove Louisiana
A2 For Ol' Time Sake
A3 I Want Love ('Tween You & Me)
A4 Homemade Ice Cream
A5 Ol'Mother Earth
A6 Lazy
B1 California On My Mind
B2 Backwoods Preacher Man
B3 Takin' The Midnight Train
B4 No News Is Good News
B5 Did Somebody Make A Fool Out Of You
All songs composed by Tony Joe White
MUSICIANS
Reggie Young - guitar
Kenny Malone - drums
David Briggs - piano, organ
Tony Joe White - vocals, guitar, harmonica
Norbert Putman - bass guitar
REVIEW
In 1973, the year singer-songwriter and guitarist Tony Joe White recorded his third solo album, country music was on the cusp of moving permanently into the mainstream of American pop music. Charlie Rich's Behind Closed Doors came out the same year, the duet of George Jones and Tammy Wynette was making headway on the charts and Willie Nelson was just a few years away from becoming the public face of the genre. Homemade Ice Cream never made the splash any of the above did, partly because White's sound is too modest, and partly because it doesn't try to straighten out the tangled roots of country music, roots that feed on mountain music, early American folk, jazz and early R'n'B. In these 11 originals, the born-and-bred Louisiana native shows he's comfortable with both the White southern gospel his musical family probably played and the blues of Jimmy Reed and Lightnin' Hopkins, two of his first inspirations. White uses a quartet of musicians - guitarist Reggie Young, organist David Briggs, bassist Norbert Putnam and drummer Kenny Malone – that bring out the soulful strut and stomping blues of these songs. On "No News is Good News," White's funked-up wah riffing, backed by Briggs' chunky organ, is reminiscent of another swamp-funk unit from the Louisiana, the Meters. "Backwoods Preacher Man" celebrates a gospel country preacher with greasy slide guitar and a heavy low-end. On such pieces, White sounds as much like a soul singer as a good ol' country boy, never climbing out of a husky bass-baritone range. With no adjusting, the dusky grind of "Did Somebody Make a Fool Out of You" could be covered by such deep-throated soul masters as Solomon Burke and Isaac Hayes. He laces his velvety shudders on "Taking the Midnite Train" with powerful sensual ambiguity, as much sexual as it is sentimental. In other places, White reflects other influences from Country's melting pot. "Ol' Mother Earth" and "California On My Mind" float on the easy breeze of folk-rock. "For Ol' Times Sake" is just a string section and choir away from pure Nashville pop. And of course, nostalgia, one of Country's favorite moods, crops up repeatedly. The instrumental title track, with the bleary buzz of White's harmonica, tugs the listener backwards to an idyllic childhood sweetness. The boogie of "Saturday Nite in Oak Grove, Louisiana" reminiscences about "going to town and circling the Dairy Queen to see who is hanging out" and pick-up trucks with fiberglass mufflers. "Lazy," which celebrates fishing and the liberation it bestows, brings the album full circle. The song rocks dreamily, a porch-swing blues White could most likely write in his sleep. Intentionally or not, White sums up Country music's complicated, mongrel origins in just a few simple songs. © Matthew Wuethrich, © 2002-2005 Dusted Magazine. All Rights Reserved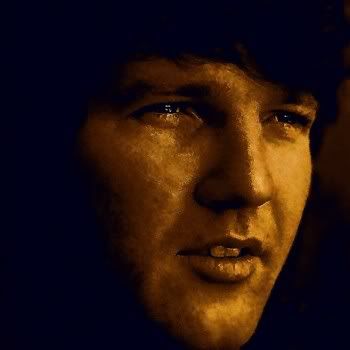 BIO
(Wikipedia)

Tony Joe White (born July 23, 1943, Oak Grove, Louisiana) is an American singer-songwriter and guitarist best known for his 1969 hit "Polk Salad Annie", and for "Rainy Night in Georgia" which he wrote but was firstly made popular by Brook Benton, and "Steamy Windows" - a hit for Tina Turner in 1989. "Polk Salad Annie" was also recorded by Elvis Presley and Tom Jones. Nicknamed "the Swamp Fox" in France (according to a European documentary),he is regarded as an original exponent of the sub-genre swamp rock. His songs have been recorded by at least 60 major artists. Tony Joe White was born one of seven children and raised on a cotton farm near the small town of Oak Grove, Louisiana.. When Tony Joe was 16, Charles, the oldest of the White children, brought home a Lightnin' Hopkins album and started teaching blues guitar to his younger brother. As a child he listened not only to local bluesmen and country singers but also to the distinctive cajun music of Louisiana, a hybrid of traditional musical styles introduced by French-Canadian settlers at the turn of the nineteenth century. White began performing at school dances, and after graduating, started playing in night clubs in Louisiana and Texas. He formed his first band, 'Tony White & His Combo', while still in his teens. The three youngsters (Tony Joe White, 20, Robert McGuffey, 19 and Jim Griffith, 22) played a night club in Kingsville,Tx for an uninterrupted engagement of eight months (six nights a week) in 1964. 'Tony White & His Combo' was followed by 'Tony Joe And The Mojos' and 'Tony's Twilights' and for the next seven years White worked the small clubs of the South before deciding to embark on a solo career singing his own compositions. In 1967 White signed to Monument Records which operated from a recording studio in the Nashville suburb of Hendersonville, Tennessee, and produced a variety of sounds, including Rock and Roll, Country and Western, and Rhythm and Blues. Billy Swan was his producer. Over the next three years White released four singles with no commercial success stateside (although "Soul Francisco" was a hit in France). "Polk Salad Annie" had been released for nine months and written off as a failure by his record label when it finally entered the U.S. charts in July 1969. It climbed into the Top Ten by early August eventually reaching No. 8. It was the biggest hit Tony Joe White ever had. White's first album, 1969's Black and White, was recorded with Muscle Shoals musicians David Briggs, Norbert Putnam, and Jerry Carrigan, and featured "Willie and Laura Mae Jones" and "Polk Salad Annie", along with covers of Jimmy Webb's "Wichita Lineman". Three more singles quickly followed, all minor hits, and White toured with Steppenwolf, Sly and the Family Stone, Creedence Clearwater Revival and other big rock acts of the 1970s, playing in France, Germany, Belgium, Sweden and England. In 1973 Tony Joe White appeared in the film Catch My Soul, a rock-opera adaption of Shakespeare's Othello. It was directed by Patrick McGoohan and produced in the UK by Richard Rosenbloom and Jack Good. The cast included Richie Havens, Season Hubley, Susan Tyrrell, Bonnie Bramlett, Lance LeGault, Delaney Bramlett and Family Lotus. Tony Joe White played and sang four and composed seven songs for the musical. In late September 1973, White was recruited by record producer Huey Meaux to sit in on the legendary Memphis sessions that became the landmark Southern Roots album of Jerry Lee Lewis. By all accounts, these sessions were a three-day, around the clock party, which not only reunited the original MGs (Steve Cropper, Donald "Duck" Dunn and Al Jackson Jr. of Booker T. and the MGs fame) for the first time in three years, but also featured Carl Perkins, Mark Lindsay (of Paul Revere and the Raiders), and Wayne Jackson plus The Memphis Horns. Between 1976 and 1983 White released three more albums, each on a different label. Trying to combine his own swamp-rock sound with the at the time popular disco music, the results were disappointing and White gave up his career as a singer on concentrated on writing songs. In 1989 Tony Joe White produced Tina Turner's "Foreign Affair album". Playing a variety of instruments on the album, he also wrote four songs, including the title song and the hit single Steamy Windows. As a result of this he became managed by Roger Davis, who was Tina Turner's Manager at the time, and he obtained a new contract with Polydor. The resulting album; 1991's "Closer to the Truth" was a commercial success and put White back in the spotlight. He released two more albums for Polydor; "The Path of a Decent Groove" and "Lake Placid Blues" which was co-produced by Roger Davis. In the '90's White toured Germany and France with Joe Cocker and Eric Clapton and in 1992 he played the Montreux Festival. In 2000, Hip-O Records released "One Hot July" in the U.S., giving White his first new major-label domestic release in 17 years. The critically acclaimed "The Beginning" appeared on Swamp Records in 2001, followed by "Heroines", featuring several duets with female vocalists including Jessi Colter, Shelby Lynne, Emmylou Harris, Lucinda Williams, and Michelle White, from Sanctuary in 2004, and a live Austin City Limits concert, "Live from Austin, TX", from New West Records in 2006. In 2007 White released another live recording, "Take Home the Swamp", as well as the compilation "Introduction to Tony Joe White". One of his more recent performances was on 14 July 2006 in Magny-Cours, France, as a warm-up act for Roger Waters' Dark Side of the Moon concert. White's album entitled Uncovered was released in September 2006 and featured collaborations with Mark Knopfler, Michael McDonald, Eric Clapton, Waylon Jennings and J. J. Cale. Rory Gallagher did a cover of White's song "As The Crow Flies" on his live album, Irish Tour. Southern Culture On The Skids paid tribute to White in their 1996 song "Voodoo Cadillac" with the first stanza lyric: "Come on baby, take a ride with me / Up the Mississippi, down to New Orleans / Tuck and roll, FM stereo / Got some Tony Joe White on my radio." In 2005 UK blues singer Elkie Brooks covered White's "Out Of The Rain", releasing it as a single and featuring it on her album Electric Lady. The version is now a staple of Elkie's repertoire. Coincidentally Brooks had recorded an old number of White's, "Aspen, Colorado" with her first rock band, 'Dada' in 1970. The following is an incomplete list of artists who have covered Tony Joe White songs: Wendel Adkins, Chet Atkins, John Anderson, The Animals, Long John Baldry, Brook Benton, Eric Burden, Solomon Burke, Ace Canon, Clarence Carter, Ray Charles, Joe Cocker, Mark Collee, Jessi Colter, Rita Coolidge, Randy Crawford, Clifford Curry, Climax Blues Band, Dada, Joe Dassin, David Dee, Donnie Fritts, Rory Gallagher, Amos Garret, Tennessee Ernie Ford, Johnny Hallyday, Andy Hamilton, Johnny Hammond, Emmylou Harris, Isaac Hayes Movement, Roy Head, Levon Helm, Richie Holmes, John Holt, Chuck Jackson, Etta James, Jason & the Scorchers, Waylon Jennings, Rodney Jones, Tom Jones, Patricia Kaas, Jim Kahr, B.B. King, Kris Kristofferson, Gladys Knight & The Pips, Sleepy LaBeef, Light Of Darkness, Delbert McClinton, Freddie North, Herbie Mann, Dutch Mason, John Mayal, Freddie North, Roy Orbison, Christine Perfect, The Persuasions, Wilson Pickett, Jimmy Powell, Elvis Presley, Boots Randolf, Jerry Reed, Charlie Rich, Nelson Riddle, Billy Lee Riley, Johnny Rivers, Otis Rush, Earl Scruggs, Troy Seals, Ronnie Sessions, Joe Simon, Dusty Springfield, Candi Staton, Amii Stewart, Betty Swan, The Jazz Crusaders, BJ Thomas, Irma Thomas, Nicky Thomas, Little Tony, Tina Turner, Conway Twitty, Sam Moore, Kenny Vernon, Jacky Ward, Great White, Wild Cherry, Hank Williams Jr, Bluesboy Willie, David Wills, Nancy Wilson, Philippe Winling, Link Wray, Paul Young, Zetterberg & Co.