Aynsley Lister
-
Aynsley Lister
-
1999
-
Ruf
In a live review in Classic Rock, Pete Makowski wrote "Aynsley Lister is a precocious talent who looks like one of McFly and plays like Robert Johnson at volume 11". In another feature in "Classic Rock" magazine, they recommended 10 blues/rock artists capable of taking this genre of music to the highest level. Among those suggested were The White Stripes, John Meyer, Jonny Lang & Joe Bonasmasa. The only British or European act in their top ten was Aynsley Lister.
Like many of today's aspiring blues rock guitarists who simply reheat yesteryear's blues , Aynsley puts a different slant on the blues. There are no simple 12 bar numbers here. Aynsley's songs have a contemporary feel and sound, mixing influences from 1960's blues with a more current melodic and lyrical approach. He is one of today's rare bluesmen who plays rocking blues with a modern edge that is tangible, passionate, soul searching, and full of energy. His songwriting is first class, and his guitar work is simply stunning. Although
A.O.O.F.C
normally avoids "commercial" blues rock albums, Aynsley's s/t album has enough strength to appeal to most blues rock fans. It is not "commercial" in the sense of some of today's AOR albums, with boring old guitar riffs added to mediocre lyrics and "melodies" with the obligatory big rock ballad thrown in. This album is commercial in the sense that it is very listenable, with some very catchy original songs. mostly penned by Aynsley Lister. Some critics have compared Aynsley Lister with the young Eric Clapton. This statement may carry some weight, and this album may be the one to divert young rock music fans to good original blues rock. Buy Aynsley Lister's great "Upside Down" album, and listen to his "Live" album. Promote this guy !
TRACKS / COMPOSERS
1.Got It Bad (Aynsley Lister)
2.Angel 'O' Mine (Aynsley Lister)
3.Without You (Aynsley Lister)
4.She's A Woman (Aynsley Lister)
5.Five Long Years (Eddie Boyd)
6.Won't Take U Back
7.Soundman (Aynsley Lister)
8.Need Her So Bad (Aynsley Lister)
9.Since I Met You Baby ( Gary Moore)
10.I Believe (Aynsley Lister)
11.All Along The Watchtower (Bob Dylan)
12.Identity Blues (Aynsley Lister)
MUSICIANS
Guitar & vocals – Aynsley Lister
Keyboards – Jonny Dyke
Bass – Matt Kay
Drums – Wayne Proctor
Walter Trout - Guitar, Vocals, Guest Appearance on Track 9.
REVIEW
Aynsley Lister is the brightest new star on the current blues scene. A fine singer and a great guitarist, Aynsley has youth (he's still only 20 years old), good looks and outrageous amounts of talent on his side. That killer combination always has it's rewards and the singer/guitar player has now signed an international record deal with RUF RECORDS. His eponymous, JIM GAINES-produced debut for the label (his third album release to date) is the result. If his earlyer albums (released on Tasty Records) laid the foundations for his current club and tour successes, Aynsley Lister confirms the guitarist as one of the artists (along with the likes of LARRY GARNER, BERNARD ALLISON, JOHNNY LANG and KENNY WAYNE SHEPERD) who have come to best represent the future direction of the blues into the next Millenium. Based in Leicester began playing guitar at the age of 8, teaching himself to play from old blues records and listening to the recordings of the first wave of British blues heroes: "ERIC CLAPTON was a very big early influence" he told BLUEPRINT MAGAZINE "that's where I learnt a lot of my basic solo stuff from. That's where I got the framework of my lead guitar work and you can hear a few phrases even now." He played his first semi-pro gig at age 13 and by 1994 when he visited California, was "sitting in" with a West cost blues band and playing support to COCO MONTOYA's new band at the famous Lou's Bar at Pier 49 in San Francisco. As for many other young players, STEVIE RAY VAUGHAN was also a major influence, though, as Aynsley told BLUEPRINT, "I have always tried to be an individual and do my own thing. I'd rather not join the queue to do the same as everyone else." That individualty has found him happily playing acoustic country blues as well as the "spine tingling" electric solo that have quickly become his trademark. Appearing at the last year's COLNE R&B FESTIVAL, Aynsley was talent-spotted by THOMAS RUF, head of RUF RECORDS, who invited him and his band to tour as a european support act for american bluesman BERNARD ALLISON (son of the late great LUTHER ALLISON). A tour during that same year with WALTER TROUT resulted in Aynsley and WALTER jamming together on stage "We did a call and return thing, which was really brilliant" he says "It was the best thing I'd ever done and we became good friends." WALTER was so knocked out with Aynsley's playing that he has reprised that earlier jam session with a dynamic duet on the new album titled "Since I Met You, Baby". © www.rufrecords.de
ABOUT
AYNSLEY LISTER
Youth. It's a wonderful thing. Carefree days spent doing…well, sod all really. No pressure, plenty of doing very little constructively. You've got your whole life ahead of you, so no need to worry about making those career decisions until you absolutely have to, right? Well, not if you're Aynsley Lister. At an age when most of us were doing very little between cramming for exams, Aynsley Lister was forging a career for himself amongst the very top flight of blues men, eschewing his youth and proving that you don't have to be a middle aged black man at death's door to play the blues convincingly and extremely competently….Having played his first semi professional gig at 13 and visiting California soon after - where he jammed with a number of local luminaries and played support to Coco Montoya's band in San Francisco - Lister can justly claim to have paid his dues. At 18, he put his first band together along with friends he would jam with and at this point sang for the first time. The natural progression was to record, and this he did, releasing his first album in 1996 on his own label, with a follow up live album released in '97. Pressed in small numbers, they sold well - 5,000 alone just at gigs!!. At this point, he came to the attention of Ruf Records head honcho, Thomas Ruf, who liked what he'd heard and contacted Lister to say he was interested in signing him. Aynsley duly went over to Germany to play a couple of shows with Bernard Allison. They discussed a deal one morning over breakfast and agreed to make an album. In the October of 1998, he recorded the 'Aynsley Lister' album, and lo brethren, much was the celebration thereafter!. Produced by American Jim Gaines (SRV, Santana), blues purists - aren't all blues fans 'purists'? - found much to admire in the spirited performances of Eddie Boyd's 'Five Long Years', 'She's A Woman' and 'Soundman' (the latter two both Lister originals), and the collaboration with blues demi-God Walter Trout on Gary Moore's 'Since I Met You Baby' was pure plank spankin' heaven.. It says much for Aynsley Lister's confidence that he shines in Trout's company. By contrast, an extremely interesting re-working of Dylan's 'All Along The Watchtower' and the airplay friendly 'Won't Take You Back' show that there's much more to Lister than just blues-rock.. Testament to the live Aynsley Lister experience comes in the form of a few lines of sleeve notes from Gary Hood, organiser of the Great British Rhythm And Blues Festival, who says:. "Each time Aynsley has played at Colne, the reaction has been the same, except the audience is getting younger and the adulation a lot louder…'.….and you can't say fairer than that!. Aynsley also has an impressive list of support slots to his credit, including artists such as Bernard Allison, Buddy Guy, Jools Holland, John Mayall and Robert Cray. 2000 saw the release of the "American debut" album 'Everything I Need' produced by ex Hoax member Jesse Davey. With Europe firmly in hand, this was Lister's first album for the US. The combination of more studio experience and Davey's sterling production work made for a bigger album than Lister's debut in a number of obvious - and a few less obvious - ways. Alongside bigger and brassier re-workings of first album favourites 'Angel O' Mine', 'Soundman' and 'Without You' sit the eminently FM friendly title track and a super sensitive and stripped down version of the Hendrix classic 'Little Wing'. Vocally, Lister is confident and assured. 'Everything I Need' is a major step forward for a young man with all the time in the world and all the ability he'll ever need, but don't take my word for it….."Exceptionally mature and exciting" – MOJO "Superb" – THE TIMES Still only 24, Lister has already achieved so much that it's hard to believe that he hasn't been around as long as most of his contemporaries. In truth, he has few real contemporaries. His age and the fact that he is British born separates him from most of the world's great blues artists. Sure, Kenny Wayne Shepperd may be young, but being American has obviously made his rise to prominence easier than Lister's. Lister's following is currently much bigger in Europe than it is in England, and he regularly plays festivals to thousands of attentive continentals (having been billed alongside Bryan Adams and Fun Lovin' Criminals amongst others). This is, however, starting to change, and England is starting to really sit up and take notice. Having just been given his own monthly column in the top selling 'Guitarist Magazine' after being spotted at a music exhibition, it may not be too long before Aynsley Lister is very big news indeed! Aynsley Lister is currently writing songs for his next album and, in deference to the influences that he has picked up from more contemporary acts over the last couple of years, he seems to be going more and more down the Rock route. The songs are apparently sounding very commercial and moving away from the blues a little - but that fire in the belly that he has brought to all of his endeavours thus far in his remarkable career is still very much in evidence.. …Amen to that!. © www.bluesmans.de/biograph/english/biolister/index.html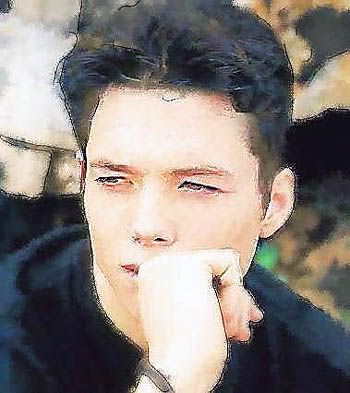 BIO
(Wikipedia)

Aynsley Lister (born November 14, 1976) is an English blues-rock guitarist/singer and songwriter. Aynsley picked up the guitar at 8 and played his first gig at 13. One year later on a family trip to San Francisco, he was jamming at 'Lou's Bar' on Pier 49. Brought up on his father's record collection, he had learned to play by ear and would sit for hours in his bedroom playing along to old 45s of Freddie King, John Mayall and Eric Clapton. He spent the next few years honing his craft and would play with anyone, anywhere. By the time he was 18, he had worked his way through various bands and decided to form his own. The band recorded two albums, but it was the second of these two that started things happening. Aynsley had begun writing and it was the three original numbers of this album that attracted the attention of Ruf Records' head honcho Thomas Ruf. In the summer of 1998, they signed a deal. Armed with an album worth of original songs and a handful of covers, Aynsley went into the studio with Producer Jim Gaines and set to work of his first major album, 'Aynsley Lister', featuring a guest appearance by Walter Trout. It would prove to be the start of a long and fruitful career taking him over the next few years all over Europe and working with some of the top names on the circuit. While Lister's roots may be the blues, his own material incorporates more contemporary influences. His hard hitting rhythms and guitar work are reminiscent of a young Clapton. The only British artist to be featured in Classic Rocks 2007 review: TOP 10 CONTEMPORARY BLUES ARTISTS….......alongside The White Stripes, The Black Keys, John Mayer, Jon Spencer, Jonny Lang, Kenny Wayne Shepherd, Joe Bonamassa, Derek Trucks and the North Mississippi Allstars. In those early years since his first album Aynsley was already opening for artists such as Buddy Guy, Robert Cray, John Mayall and contemporaries such as Bryan Adams and Fun Lovin Criminals. He has sold over 75,000 records including 2005's 'Pilgrimage', Now Aynsley headlines many of the major festivals in mainland Europe. He has twice played the Heitere Open Air in Switzerland to 12,000 people and 2006 saw him play the main stage at The Bayfront Blues Festival, MN. Later that year he was invited to sit in with Delbert McClinton during his second appearance (the first being in 2002) at The Pinedale Blues Festival in Wyoming, resulting in Delbert keeping Aynsley on stage for the whole second half of his show. September 2006 saw the US debut release of his 2000 album 'Everything I Need' in preparation for Aynsley's plan to tour the America. Getting plenty of airplay it received critical acclaim. Aynsley's recorded work has also seen him working with Jesse Davey from legendary English blues band The Hoax on 'Everything I Need' in 2000; producer Greg Haver (Manic Street Preachers, Catatonia) on his 2002 release 'All Or Nothing', and taking the production reins himself for 2007's 'Upside Down'. 'Upside Down' was Lister's fourth studio album and his first to contain all originals. In June 2008 Aynsley began working with ARM Management. ARM has worked with many successful artists, including The Hoax and more recently Eric Bibb. He signed to Manhaton Records in August 2008 and 'Equilibrium' was released in March 2009. 'Equilibrium' was produced by Steve Darrel Smith and features appearances by Robbie McIntosh (John Mayer) and also heralds a new direction for Lister with the inclusion of keyboards into the band. Reaction to Equilibrium has been positive as shown by the following quotes:BOB HARRIS, RADIO 2 "Aynsley's new Album 'Equilibrium' is superb. ALEX LESTER RADIO 2 "great voice.Great guitar and taste with it" GUITARIST "Equilibrium is the best album of his career" CLASSIC ROCK NEWSWIRE "What a great album mixing blues rock, mainstream rock and varied guitar playing". ROCK n REEL 4**** "Equilibrium" proves that in addition to possessing the talent to crank out blues-rockers, he's reaching a creative peak with his songwriting". GET READY TO ROCK "….on "Equilibrium" he's taken a quantum jump towards nailing down his own style which at times turns out to be as accessible and radio friendly as it remains fiercely independent". MAVERICK " Amazing guitar playing by Aynsley coupled with brilliant vocals" NET RHYTHMS "Equilibrium is fresh and vital….it's the balance that he strikes between stunning guitar pyrotechnics, a soulful voice that has just enough of an edge and a collection of original songs that mark him out as a musician with a glittering future". ALLGIGS "Lister never gets bogged down with numbingly gratuitous or mindless licks" TOXIC PETE "A fantastic album, a bright and forward looking work of nu-blues for the common man" BLUES MATTERS "… pure classy melodic yet Blues based songs. Terrific stuff that will certainly enhance an already rising reputation" On 28th May 2009, Aynsley opened for the God and Guns tour of Lynyrd Skynyrd at the Birmingham NIA. The Blues Caravan is an annual collaborative project by Ruf Records which brings together three artists from the label. In 2006 those artists were Britons Aynsley Lister and Ian Parker and Erja Lyytinen from Finland. Together they created the album 'Pilgrimage'. The concept was for each of the artists to write a group of songs which they would complete and record in New Orleans, Clarksdale and Memphis, in order that their songwriting would reflect and be shaped by the blues heritage of those three prominent musical towns. Unfortunately the tragedy of Hurricane Katrina curtailed plans to visit New Orleans and the album was created first at Delta Recording Studios, Clarksdale and then at Ardent Studios in Memphis, where Jim Gaines once again took on the producer's role. The trio of performers spent the greater part of 2006 touring Europe and America, including the Gladstone Summertime Bluesfest, with the two and a half hour live show. Aynsley has released two dvds. To complement the 'Live!' album the show recorded by WDR Television for Rockpalast at the Crossroads Festival held in the Harmonie, Bonn on 23 March 2005 was released and contains three acoustics songs and a full band set. Along with the Blues Caravan 'Pilgrimage' album there is a dvd of the performance at the Underground in Cologne, Germany – again recorded by WDR Television for Rockpalast on 7 December 2005. This dvd features performances from each of the sections of the show; each of the three members of the Blues Caravan individually and also their joint acoustic and electric sets of songs written especially for the 'Pilgrimage' album. The dvd also features backstage footage and interviews. Aynsley has also written a series of instructional articles for Guitarist magazine and been invited by both Guitarist and Guitar Techniques magazines (Apr/May/June 2009) to present a series of instructional dvds. He has also contributed to the very popular demonstration specialist backing tracks on Bluesjamtracks, some of which can be seen on Youtube.