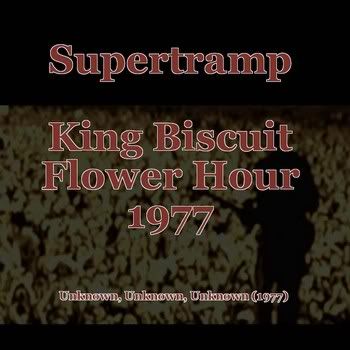 Supertramp
-
King Biscuit Flower Hour 1977
-
1998
-
Unof.

A great English rock band in the tradition of 10cc, The Kinks, etc., with strong and intelligent songs, composed mainly by Roger Hodgson, and Rick Davies. The band released some very good albums in the mid '70s, like "Crime of the Century" and "Crisis? What Crisis?", and the brilliant quadruple platinum "Breakfast In America" album. This concert was recorded on 5/2/77 at The Royal Alber Hall, London, as part of Supertramp's "Even in the Quietest Moments" tour. It's from an FM source. King Biscuit was a syndicated show used by many different radio stations. Wikipedia notes that "The concerts were usually recorded with a mobile recording truck, then mixed and edited for broadcast on the show within a few weeks. In the 1970s, the show was sent to participating radio stations on reel-to-reel tape." Many of these broadcasts were officialy released. Sound quality can vary, as many of the "unofficial" recordings have not been sonically enhanced.
TRACKS
1 Intro - Radio Voiceover (0:51)
2 Give A Little Bit (4:17)
3 Bloody Well Right (6:47)
4 Sister Moonshine (5:49)
5 From Now On (6:46)
6 Hide In Your Shell (7:31)
7 Poor Boy (5:03)
8 Dreamer (3:21)
9 Fool's Overture (11:04)
Nearly all Supertramp songs were credited to Davies and Hodgson, but, usually, the person you hear singing the song is the person who wrote it.Roger Hodgson is the main writer of well known hits such as "The Logical Song", "Dreamer", "Give A Little Bit", "Breakfast in America", "It's Raining Again", "and Take the Long Way Home"

BAND
Roger Hodgson - Vocals, Piano, Guitars, Keyboards
Rick Davies - Vocals, Piano, Harmonica, Keyboards, Melodica
Dougie Thomson - Bass
Bob Siebenberg - Drums, Percussion
John Helliwell - Saxophone, Woodwinds, Backing Vocal, Keyboards, Melodica