Billy Preston
-
The Best Of Billy Preston
-
1982
-
A&M
The singer/songwriter/producer/keyboardist extraordinare's greatest-hits set includes the number one pop singles "Will It Go Round in Circles'" and "Nothing From Nothing," as well as the number one R&B hits "Outa-Space" and "Space Race"; all were million sellers. The gentle ballad "You Are So Beautiful" was adapted into a gospel song. The included version of the gospel-ish bluesy ballad "I'm Really Gonna Miss You" is the single version and a different take than the one originally issued on Whole New Thing. A great showcase for Preston's massive talent. © Ed Hogan, allmusic.com
The late Texan Soul musician began playing piano at the age of three. He collaborated with some of the greatest artists in the music industry, including Aretha Franklin, Quincy Jones, The Rolling Stones and of course, The Beatles. The late jazz trumpeter, Miles Davis titled a song "Billy Preston" in honour of the great man.. This album is a brilliant selection of funky rock/blues/jazz/R&B from the late keyboards master. Sound quality is average, but this CD taken from the 1982 A&M release, and released in 1988 on CD without any enhancements, is a far cry from todays's technology, and this album is worthy of remixing/remastering, etc. The great George Martin should be let loose with the master tapes, and see what he could do! And pigs might fly! He did produce "Get Back" on this 1988 album, and Billy Preston produced the other nine tracks. Try and find Billy Preston's 1970 little known "Encouraging Words" album. It's a masterpiece of Blues/Jazz Rock, released on the Beatle's Apple label. It contains covers of George Harrison's "My Sweet Lord" and "All Things (Must) Pass", and also a great cover of Lennon, & McCartney's "Iv'e Got A Feeling".
TRACKS / COMPOSERS
SIDE 1
1. Outa-Space (Billy Preston-Joe Greene)
2. Will it go round in circles (Billy Preston-Bruce Fisher)
3. That's the way God planned it(live) (Billy Preston)
4. Struttin' (Billy Preston-George Johnson)
5. You are so beautiful (Billy Preston-Bruce Fisher)
SIDE 2
6. Nothing from nothing (Billy Preston-Bruce Fisher)
7. Get back (Lennon/McCartney)
8. I'm really gonna miss you (Billy Preston)
9. Space race (Billy Preston)
10. I wrote a simple song (Billy Preston-Joe Greene)
Line-up:
MT (gtr)/Billy Preston (voc, keyb)/Huby Heard (keyb)/Kenny Lupper (keyb)/Manuel Kellough (dr)

N.B
:
A Canadian LP release of this album included the tracks, "God Loves You", and "Fancy Lady", and excluded the tracks "That's the way God planned it(live)", and " I'm really gonna miss you".
SHORT BIO
It's advantageous to get an early start on your chosen career, but Billy Preston took the concept to extremes. By age ten he was playing keyboards with gospel diva Mahalia Jackson, and two years later, in 1958, he was featured in Hollywood's film bio of W.C. Handy, St. Louis Blues, as young Handy himself. Preston was a prodigy on organ and piano, recording during the early '60s for Vee-Jay and touring with Little Richard. He was a loose-limbed regular on the mid-'60s ABC TV series Shindig, proving his talent as both vocalist and pianist, and he built an enviable reputation as a session musician, even backing the Beatles on their Let It Be album. That impressive Beatles connection led to Preston's big break as a solo artist with his own Apple album, but it was his early-'70s soul smashes "Outa-Space" and the high-flying vocal "Will It Go Round in Circles" for A&M that put Preston on the permanent musical map. Sporting a humongous Afro and an omnipresent gap-toothed grin, Preston showed that his enduring gospel roots were never far removed from his joyous approach. He continued to perform and record throughout the '80s, '90s, and 2000s, until he fell into a coma caused by pericarditis late in 2005; sadly, he never regained consciousness and passed away on June 6, 2006. © Bill Dahl, allmusic.com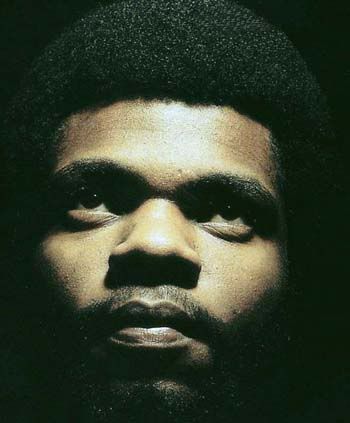 BIO
(Wikipedia)
William Everett "Billy" Preston (September 2, 1946 – June 6, 2006) was an American soul musician from Houston, Texas, raised mostly in Los Angeles, California. In addition to his successful, Grammy-winning career as a solo artist, Preston collaborated with some of the greatest names in the music industry, including the Beatles, the Rolling Stones, Nat King Cole, Little Richard, Eric Burdon, Ray Charles, George Harrison, Elton John, Eric Clapton, Bob Dylan, Sam Cooke, King Curtis, Sammy Davis Jr., Sly Stone, Aretha Franklin, the Jackson 5, Quincy Jones, Mick Jagger, Richie Sambora, and Red Hot Chili Peppers. He played the Fender Rhodes electric piano and the Hammond organ on the Get Back sessions in 1969. Preston along with Tony Sheridan are the only two non-Beatles to receive billing as an artist alongside the Beatles (as distinct from receiving credit as a session musician on album packaging) on an official Beatles record release. The label of the Get Back single credits the artists on the record as "The Beatles with Billy Preston". Preston began playing piano while sitting on his mother's lap at age three, and he was considered something of a prodigy on piano and organ. By the age of 10 he was performing in the bands of gospel singers Mahalia Jackson and James Cleveland. At age 12 he appeared in the 1958 Paramount Pictures film St. Louis Blues, portraying blues composer W.C. Handy as a young man. In the 1960s he performed with Little Richard and Ray Charles. He also began a recording career as a solo artist with the 1965 album The Most Exciting Organ Ever. He was also a regular on the mid-1960s ABC-TV musical variety series Shindig! as a member of the show's house band. Preston is one of several people sometimes referred to by outsiders as "the Fifth Beatle" — though he was never described as such by any of the four Beatles. Preston first met the Beatles in 1962 as part of Little Richard's touring band when their manager Brian Epstein organized a Liverpool show, for which the Beatles opened. The Washington Post explained their subsequent meeting: - "They'd hook up again in 1969, when The Beatles were about to break up while recording the last album they released, Let It Be (they would later record Abbey Road, which was released prior to Let It Be). George Harrison, always Preston's best Beatles buddy, had quit and walked out of the studio and gone to a Ray Charles concert in London, where Preston was playing organ. Harrison brought Preston back to the studio, where his keen musicianship and gregarious personality temporarily calmed the tension." Preston played with the Beatles for several of the Get Back sessions, some of the material from which would later be culled to make the film Let it Be and its companion album, during which he joined the band for its rooftop concert, its final public appearance. "Get Back", one of the album's singles, was credited to "the Beatles with Billy Preston", the only time such a joint credit had been given on an official Beatles-sanctioned release (as distinct from an unsanctioned reissue of some Hamburg-era recordings on which they were the backing group for Tony Sheridan). The credit was bestowed by the Beatles to reflect the extent of Preston's presence on the track; his electric piano is prominent throughout and he plays an extended solo. Preston also worked (in a more limited role) on the Abbey Road album, contributing to the track "I Want You (She's So Heavy)" and "Something". Years later, he appeared as Sgt. Pepper in Robert Stigwood's Sgt. Pepper's Lonely Hearts Club Band, a film very loosely based on the Beatles' Sgt. Pepper's Lonely Hearts Club Band album. Signed to the Beatles' Apple label, in 1969, Preston released the album That's the Way God Planned It and a single of the same name (produced by George Harrison). His relationship with Harrison continued after the breakup of The Beatles; he was the first artist to record "My Sweet Lord", in his album Encouraging Words (Harrison's own version of the single hit number one in the U.S. and the UK and was the first number one by a former Beatle after they disbanded) and he was on several of Harrison's 1970s solo albums. Preston also made notable contributions to The Concert for Bangladesh, the Harrison-organized charity concert, toured with Harrison on his 1974 tour of North America and, after Harrison's death, The Concert for George. Preston also worked on solo recordings by two other ex-Beatles, John Lennon and Ringo Starr. His solo career also peaked at this time, beginning with 1972's "Outa-Space", an instrumental track that further popularized the sound of the clavinet in funk music. The song reached #2 on the U.S. Hot 100, #1 on the R&B chart, and won the Grammy award for Best Pop Instrumental Performance. Over the next two years, he followed up with the #1 hits "Will It Go Round in Circles" and "Nothing From Nothing", and the #4 hit "Space Race". American Bandstand host and executive producer Dick Clark enjoyed "Space Race" to the extent that he used the instrumental for the mid-show break for virtually the remainder of its run. After the Beatles, Preston played keyboards for the Rolling Stones, alongside pianist Nicky Hopkins. Preston appears on the Stones' albums Sticky Fingers, Exile on Main Street, Goats Head Soup, It's Only Rock'n Roll and Black and Blue. He toured as a support act on their 1973 European Tour and recorded his live album Live European Tour 1973 in Munich with Mick Taylor on guitar. In 1974 he composed one of Joe Cocker's biggest hits, "You Are So Beautiful". On October 11, 1975, he was a musical guest on Saturday Night Live's series premiere episode (along with Janis Ian). Also in that year, and in 1976, he again toured with the Stones. This time he played two of his own songs, backed by the Stones, in the middle of every concert. Preston's 1973 "Do You Love Me" was the basis for the Stones' "Melody" on their 1976 Black and Blue album. The Stones and Preston parted company in 1977, mainly due to a row over money. He continued to play on solo records by Stones members and made appearances again on the Stones' 1981 Tattoo You and 1997 Bridges to Babylon albums. He had a hit single in 1980 with Syreeta Wright with the ballad "With You I'm Born Again" that reached number four on the charts. A few years later, however, he was arrested and convicted for insurance fraud after setting fire to his own house in Los Angeles, and he was treated for alcohol and cocaine addictions. In 1991, Preston was arrested in Los Angeles after physically attacking a teenage transvestite prostitute after he discovered the prostitute's real age and sex. After going over a drug test, he tested positive for cocaine. That year, he entered no-contest pleas to the cocaine and assault charges. He was sentenced to nine months at a drug rehabilitation center and three months of house arrest. Preston overcame his problems in the early 1990s, toured with Eric Clapton, and recorded with a wide range of artists. He also toured with Ringo Starr and appeared on the 1990 live album Ringo Starr and His All-Starr Band. He was also invited to become a member of The Band in 1991, after the death of their piano player, Stan Szelest. He completed a tour, but his above-mentioned legal problems put an end to the collaboration before they had a chance to record together in the studio. While touring and fighting his own health problems, Preston received the news that on 29 November 2001, his longtime bandmate, friend and guitarist of the 1960s, George Harrison had died after a long battle with throat cancer. Preston, among many of Harrison's longtime friends, performed in the 2002 Concert for George in London, England, to play a tribute song. Preston participated in the concert at the Royal Albert Hall, and his performance of "My Sweet Lord" has received critical acclaim. Preston played the Hammond Organ for the show and sang "Isn't It A Pity" and "My Sweet Lord" plus backing vocals to most of the songs. Ringo Starr called him one of the greatest Hammond players of all time (in the theatrical version of the concert). In 2002 he appeared on the Johnny Cash album American IV: The Man Comes Around, playing piano on "Personal Jesus". He toured with The Funk Brothers and Stevie Winwood in Europe in early 2004 and then with his friend Eric Clapton in Europe and North America. It has been claimed that his big contribution to the Beatles' sound was made clear with the release of the Let It Be... Naked album. In 2005 he recorded "Go Where No One's Gone Before", the main title song for the anime series L/R: Licensed by Royalty. Preston played clavinet on the song "Warlocks" for the Red Hot Chili Peppers album Stadium Arcadium released in 2006. Although very ill by this point, he jumped out of his bed after hearing a tape of the song given to him by the band, recorded his part, and went back to bed. Preston's final contributions were the gospel-tinged organ on the Neil Diamond album 12 Songs, and his keyboard work on The Road to Escondido by Eric Clapton and J. J. Cale. In March 2005, Preston appeared on the American Idol's fourth season finale. Playing piano, he performed "With You I'm Born Again" with Vonzell Solomon, who finished in third place. Preston made his last public appearance in late 2005 at the Los Angeles press junket for the re-release of the Concert for Bangladesh movie. He was in good spirits and talked to many in the press. Afterwards he played a three song set of "Give Me Love", "My Sweet Lord" and "Isn't It a Pity", featuring Dhani Harrison on guitar and Ringo Starr on drums for the final song only. There still remains an unreleased CD of Beatles covers that he had been working on for several years before his death. Many tracks from this CD were previewed by him at The Fest For Beatles Fans shows in the years before his death. Preston had battled kidney disease in his later years, brought on by his hypertension. He received a kidney transplant in 2002, but his health continued to deteriorate. He died on June 6, 2006 in Scottsdale, Arizona, of complications of malignant hypertension that resulted in kidney failure and other complications. He had voluntarily entered a drug rehabilitation clinic in Malibu, Calif., and suffered pericarditis there, leading to respiratory failure that left him in a coma since November 21, 2005. His funeral was held on June 20 at the Faithful Central Bible Church in Inglewood, California. Preston was interred at Inglewood Park Cemetery, Inglewood, California.