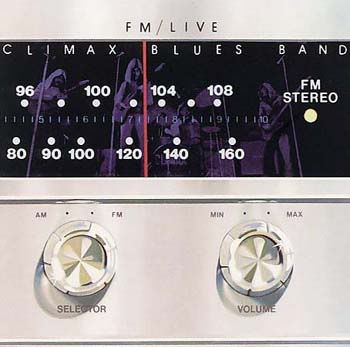 Climax Blues Band
-
FM Live
-
1973
-
Sire
Recorded live in 1973 at the Academy of Music in New York and broadcast live on WNEW-FM radio. Climax Blues Band were a very underrated 70s English blues band. CBB was usually the opening act for bands of far lesser talentt. CBB released many albums during their career, but this live album demonstrates CBB doing what they did best - playing live in front of a live audience. "FM Live" has a few brilliantly played originals and also superb covers of Willie Dixon's classic "Seventh Son," and Jimmy Reed's "Goin' to New York". The album concludes with a great version of Wilbert Harrison's "Let's Work Together" which was covered superbly by the great Canned Heat. This is an album of convincing live takes. It shows the strength, energy, and technical know-how of this great band. A brilliant album which has received huge acclaim from audiences and critics alike, and VHR by
A.O.O.F.C.
Buy the band's great "Rich Man" album
TRACKS / COMPOSERS
1 All the Time in the World - Climax Blues Band
2 I Am Constant - Climax Blues Band
3 Flight - Climax Blues Band
4 Seventh Son - Dixon
5 Standing by a River - Climax Blues Band
6 So Many Roads - Paul
7 Mesopopmania - Climax Blues Band
8 Country Hat - Climax Blues Band
9 You Make Me Sick - Climax Blues Band
10 Shake Your Love - Climax Blues Band, Gottehrer
11 Goin' to New York - Reed
12 Let's Work Together - Harrison
BAND
Colin Cooper - Guitar, Saxophone, Vocals
Peter Haycock - Guitar, Vocals
Derek Holt - Bass, Drums
John Cuffley - Drums
REVIEWS
This live recording finds the British boogie-band stadium rockers at their mature best, performing their unique take on blues and jazz classics like "Seventh Son," "Going to New York," and "Let's Work Together." There's an extended instrumental passage on "Flight," and "Mesopopmania" highlights Colin Cooper and Peter Haycock's Allmans-style dueling guitars, while "So Many Roads" features a gorgeous Peter Green-style guitar workout, and "Shake Your Love" is a bone-rattling Bo Diddley-esque jam. © 2000-2009 HBDirect
If you were looking for a band with substantial blues roots, technically excellent playing both individually and collectively, and a live excitement that grabs and never lets go, you couldn't do much better than the Climax Blues Band. This English quartet has been around in roughly the same form ever since Rod Stewart and Long John Baldry were obscure blues singers; and FM Live is a fine sampler of their live act, using uptempo blues-rockers to establish a primal intensity sustained throughout a spirited set. Colin Cooper's booming baritone vocals and inventive sax blowing (he plays lines like pre-Thirties Chicago blues guitarists) are spectacularly well-blended with Pete Haycock's tastefully flashy guitar, all of which is intertwined around the urgent poundings of a highly sympathetic rhythm section. The result is a lengthy but not excessive show that's highly enjoyable -- the product of a tight, talented professional unit. © Gordon Fletcher, © Rolling Stone, 4/11/74.
Good time rock, spiced with a bluesy feeling, is the happy calling card of this band heard in a concert in New York. Its vocal blend is basically in the midrange with simple guitar breaks and drums that don't drive you nuts. "All The Time In The World" and "Flight" showcase the fine musicianship of Pete Haycock on guitar, Colin Cooper on sax and guitar, Derek Holt on bass and John Cuffely on drums. The music tends to run a little fuzzy ("Goin' To New York"), but it's livable. © Billboard, 1974.
A truly superior double LP set from one of England's more interesting exponents of blues. Combining straight blues-rock with some belligerent jazz bastardizations, this exciting foursome gets a lot of mileage out of their musical idiom. With anchoring bass and cannon volley drum rhythms laying a firm foundation, Climax lets loose some frenzied reed work and the hottest, nastiest guitar work this side of early Clapton and Page. Although not a perfect album, FM/Live comes close enough to please the beejeebers outta ya. © Ed Naha, Circus, 1/74.
SHORT BIO
Led by Colin Cooper, the former frontman of the R&B unit The Hipster Image, the Stafford, England-based Climax Chicago Blues Band was one of the leading lights of the late-1960s blues boom. A sextet also comprised of guitarists Derek Holt and Peter Haycock, keyboardist Arthur Wood, bassist Richard Jones and drummer George Newsome, the group debuted in 1969 with a self-titled effort recalling the work of John Mayall. Prior to the release of 1969's Plays On, Jones left the group, prompting Holt to move to bass. In 1970 the Climax Chicago Blues Band moved to the Harvest label, at the same time shifting towards a more rock-oriented sound on the LP A Lot Of Bottle. Around the release of 1971's Tightly Knit, Newsome was replaced by drummer John Holt; upon Wood's exit in the wake of 1972's Rich Man, the unit decided to continue on as a quartet, also dropping the "Chicago" portion of their name to avoid confusion with the American band of the same name. In 1974 The Climax Blues Band issued Fm Live, a document of a New York radio concert. 1975's Stamp was their commercial breakthrough, and 1976's Gold Plated fared even better, spurred on by the success of the hit "Couldn't Get It Right." However, the rise of punk effectively stopped the group in their tracks, although they continued recording prolifically well into the 1980s; after 1988's Drastic Steps, The Climax Blues Band was silent for a number of years, but resurfaced in 1994 with Blues From The Attic. © Jason Ankeny, All Music Guide