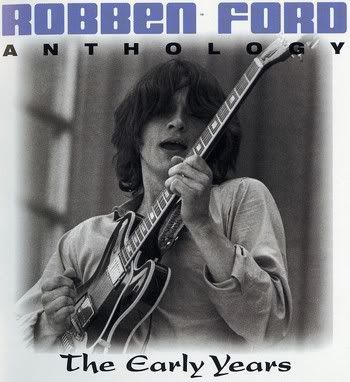 Robben Ford
-
Robben Ford Anthology
:
The Early Years
-
2001
-
Avenue Jazz

This incredible 19 track 2-CD compilation compiles many highlights from Robben Ford's early career, between 1972 & 1976. Thirteen of the tracks were recorded live via mobile studio. The collection charts Robben's progression as one of the greatest all time Blues guitarists. Not only is Robben Ford an outstanding guitarist, he is also a first class saxophonist, and many of the tracks here display the jazz and jazz fusion side of the great man. All of these tracks are already available on various CD's, and if you like Robben Ford, you may have heard them all. If you haven't, then this collection is the best introduction you will find to Robben Ford's music. It is a joy to hear 19 of these classic tracks together. Buy Robben Ford's "Mystic Mile" album, and listen to some stunning blues guitar. There is info on Jing Chi's amazing jazz rock and blues fusion "3D" album @
ROBFORD/JINGCHI/3D
Robben is joined on "3D" by the great Vinnie Colaiuta on drums and the Yellowjackets' fabulous bassist Jimmy Haslip. Robert Cray also joins the band, with a couple more special guests. "Robben Ford Anthology: The Early Years" is HR by
A.O.O.F.C
TRACKS / COMPOSERS
CD 1

1 Sweet Sixteen Josea, King 12:34
2 You Drive a Hard Bargain Ford 5:44
3 Raining in My Heart Bryant, Bryant 10:32
4 Blue and Lonesome Jacobs 8:27
5 Red Rooster Dixon 4:26
6 Eighty-One Carter, Davis 8:09
7 Miss Miss Ford 8:59
8 Sunrise Ford 11:29
CD 2
9 Oh Gee Unknown 6:33
10 You Don't Know What Love Is DePaul, Raye 8:51
11 Everday I Have the Blues Chatman 5:28
12 It's My Own Fault Hooker 10:29
13 Ladies' Choice Ford 6:33
14 Hawk's Theme Ford 6:25
15 S-K Blues King 3:45
16 Low Ride Ford 2:29
17 Softly Rolling Ford 7:30
18 Stella and Frenchie Ford 8:05
19 Goin' Down Slow Witherspoon 6:06
SELECTED MUSICIANS

Robben Ford (Guitar), (Guitar (Electric)), (Saxophone), (Sax (Tenor), (Vocals)
Stanley Poplin (Bass)
Paul Nagle (Keyboards)
Jim Baum (Drums)
Jimmy Witherspoon (Vocals)
REVIEWS
His guitar playing could also rock as well. Although Ford was a young man when these songs were cut, he played blues like a bluesman and jazz like a jazzman. There are some lengthy pieces here with room to jam and fans of great guitar playing will like this. If you're strictly a fan on one style, this may dissappoint as he doesn't stay locked in one groove for too long. [ Review from the fretplay.com website]
The music on these two CD's is truly electic -- ranging from straight blues to fusion pieces with three tracks of Robben on the tenor sax. This anthology consists of early recordings of Robben Ford from the years of 1972-1976. Personally, I didn't particulary like the fusion pieces, and found myself enjoying the blues stuff much better. The only exception to this being the track "Eighty One" which is a straight modern jazz number showcasing Ford's tenor sax chops. I think the first disc was better than the second. It's a good anthology, but I would've prefered a straight blues CD to this one for the price. [ Review from the fretplay.com website]
If you couldn't aready get the discs from which these tracks were taken, this collection would be the next best thing. "Anthology: The Early Years" is a reissue of previously avialable material. All of these tracks (and more) are available on discs which are currently available on Amazon. com. These discs are as follows: "Sunrise", "Discovering the Blues", "Schizophonic", "Live, Jimmy Witherspoon & Robben Ford" If you can get these other discs, buy all but Schizophonic (not my favorite) for a more complete collection. "Live" is especially wonderful and shouldn't be missed. Otherwise, this may be the best way to sample Robben Ford from my favorite of his musical periods, the early 1970's. Many of the cuts feature Paul Nagel (Fender Rhodes), Stan Poplin (bass), and Jim Baum (drums). For most of these performances, Robben's guitar is a Gibson Super-400CES. There are even a few cuts of Robben playing sax!. [ Review from the fretplay.com website]
Robben Ford has always been a very eclectic musician; therefore, the people who get the most out of his recordings tend to have eclectic tastes themselves. If you're the sort of broad-minded listener who holds blues, rock, and jazz in equally high regard, Anthology: The Early Years is a musical feast. This two-CD set, which Avenue Jazz provided in 2001, looks back on recordings that the singer/guitarist/saxman made from 1972-1976 (when he was in his early to mid-20s). Even then, Ford was difficult to categorize -- those who insist on pigeonholing musicians wondered if he was really a blues-rock singer or a jazz instrumentalist at heart. And, truth be told, he wore both hats equally well. Anyone who loves down-and-dirty blues-rock cannot help but applaud his gutsy versions of Willie Dixon's "Little Red Rooster" and B.B. King's "Sweet Sixteen." But Ford is equally convincing as a jazz instrumentalist on "Softly Rolling," "Miss Miss," and Miles Davis' "Eighty One." Many of the instrumentals are shining examples of 1970s fusion, but Ford favors more of a post-bop approach on the standard "You Don't Know What Love Is" (which is one of the tunes that finds him on tenor sax and is very John Coltrane-minded). Anthology: The Early Years isn't the last word on Ford in the 1970s, but Avenue Jazz' picks are generally excellent -- and it is certainly among the places to go if you're exploring his early output for the first time. © Alex Henderson, All Music Guide
This two-CD set is for the blues guitarist fan. For 140 minutes Robben Ford lets off kettle steam in that clean but electric style he's got. Disc One heats up tracks from a cool blues album called Discovering the Blues - Live, plus four cuts off his more jazz-oriented Sunrise. The later contains "Eighty One," co-written by Miles Davis, and it's a swinging instrumental full of steamy and often raunchy sax. With Ford on - tenor sax. Quite a shift from what you're expecting from this Yellowjacket. Robben Ford was born Dec. 16, 1951 in Woodlake, Califonia. His influences were Eric Clapton (of course) and Mike Bloomfield, and much of the time he's got that Bloomfield smoothness. Maybe a little like Larry Carlton sometimes. Ford has played with all the greats, having first turned pro by performing with Charlie Musslewhite in 1970. Then there were the tours with Jimmy Witherspoon, George Harrison and Joni Mitchell that took him through the '70s. In '78 he formed The Yellowjackets, all the while trying to lay down a good solo career, though he fared better with others. In the early '80s he toured with Michael McDonald, and in 1986 did a stint with Miles Davis. His virtuoso style helped Ford remain compatible with every act that came along. But this set takes on the Early Years (as it says), and for sheer jazz stature and bite, you must be impressed with the Jeff Beck-like way of the Sunrise album, splitting progressive rock and jazz right down the middle. All 19 tracks are taken from four albums. Two I have mentioned. The other two, Schizophonic, and From Jimmy Witherspoon & Robben Ford Live, appear on the second CD, intermingled. "Hawk's Theme," written by Ford, shows a closer quality, almost a lounge act of smooth vibe-guitar jazz that sits only a few feet away from the audience, bathed in a dark light or an open window on a cloudy day. Shows off Ford's more "humane" way of subtle performance. An instrumental of imposing character, much like the strength a one-person play might achieve (except you'd have to count the bass, trippy percussionist and synth tinkler in on this one). Honestly, this is a good overview to a great career. Easier than tracking down all phases of Ford's vocation. Should please the blues and the jazz fan alike, not to mention those of us on air guitar. © Ben Ohmart, 23 September 2001, © 2001 Peppercorn Press. All rights reserved
ABOUT THE ARTIST
Robben Ford (Born:Dec 16, 1951 in Ukiah, California), has had a diverse career. He taught himself guitar when he was 13 and considered his first influence to be Mike Bloomfield. At 18, he moved to San Francisco to form the Charles Ford Band (named after his father, who was also a guitarist) and was soon hired to play with Charles Musselwhite for nine months. In 1971, the Charles Ford Blues Band was re-formed and recorded for Arhoolie in early 1972. Ford played with Jimmy Witherspoon (1972-1973), the L.A. Express with Tom Scott (1974), George Harrison, and Joni Mitchell. In 1977, he was a founding member of the Yellowjackets, which he stayed with until 1983, simultaneously having a solo career and working as a session guitarist. In 1986, Ford toured with Miles Davis and he had two separate periods (1985 and 1987) with Sadao Watanabe, but he seemed to really find himself in 1992 when he returned to his roots: the blues. Ford formed a new group, the Blue Line, and has since recorded a couple of blues-rock dates for Stretch that are among the finest of his career. In 1999, he released Sunrise on Rhino and Supernatural on Blue Thumb.(c) Scott Yanow, All Music Guide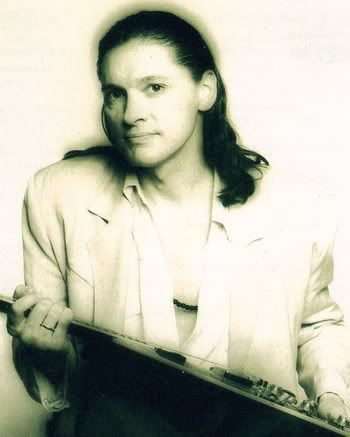 BIO
(Wikipedia)
Ford was born in Woodlake but raised in Ukiah, California, and began playing the saxophone at age 10, picking up the guitar at age 13. Robben and his brothers Mark (mouthharp) and Patrick Ford (drums) had a band they named the Charles Ford Blues Band in honor of their father. Ford began playing professionally at age 18 when the Charles Ford Blues Band got a gig backing Charlie Musselwhite. The band also recorded two albums The Charles Ford Band and Discovering the Blues. Next Ford put together a band with Bay Area musicians that became Jimmy Witherspoon's backup band. Ford recorded two albums with Witherspoon, Live and Spoonful'. The Ford Blues Band reunites periodically, and released live albums in the 1980s and 1990s. In the 1970s, Ford began to branch out into Jazz fusion, and joined L.A. Express led by saxophonist Tom Scott in 1974. That same year they backed George Harrison on his American tour. In addition to recording fusion albums, they served as Joni Mitchell's backup band on Hissing of Summer Lawns and her live album, Miles of Aisles. After leaving L.A. Express in 1976, Ford recorded his solo album, The Inside Story with a band that was to become the Yellowjackets. He went on to play a starring role on the first two Yellowjackets albums, although he was listed as a guest artist due to recording contract arrangements. Ford worked briefly with Miles Davis in 1986; he can be heard on Davis' Montreux box set. Ford released his next album, called Talk to Your Daughter in 1988, a return to his blues roots. In 1989 he joined Philippe Saisse, Marcus Miller and J.T. Lewis in the cast of The Sunday Night Band for the second and final season of the acclaimed late-night NBC television musical performance program, Sunday Night. His best work in the 1990s include Robben Ford and the Blue Line, and Tiger Walk. In addition to recording and touring with his own blues band, Ford continued to tour and play with other bands/artists such as Jing Chi (his fusion band), Gregg Allman and Phil Lesh. He has received nominations for four Grammy Awards. Several Ford tribute bands exist, a statement to his artistry and popularity with the cognoscenti. Ford was named one of the "100 Greatest Guitarists of the 20th Century" by Musician magazine. Ford uses Dumble Amplifiers. When travelling abroad he tends to use rented Fender amplifiers along with a Zendrive overdrive pedal by Hermida Audio. Guitar manufacturer Fender used to make a Robben Ford signature guitar, although lately Ford tends to favour Gibson Les Pauls and a custom-made model by Sakashta Guitars. Ford is married to the cabaret singer, Anne Kerry Ford, and collaborated with her on various projects.