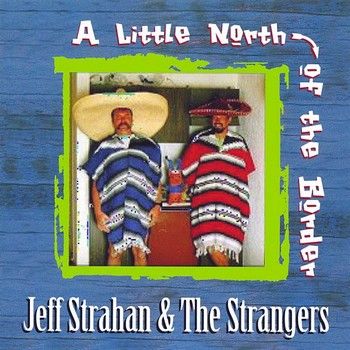 Jeff Strahan
&
The Strangers
-
A Little North of the Border
-
2002
-
Squaw Peaks
Jeff Strahan has described his music as Red Dirt Blues, a reference to the Permian red beds that colour the earth at the breaks of the Llano Estacado, the High Plains which straddle the Texas / New Mexico border. This metaphor is also a good way of describing Jeff Strahan's various music styles, like Texas swing, Tejano, country, rock, blues, and blues rock. "A Little North of the Border" is a good example of the way that Texas rock runs so deep. Check out the band's "Red Dirt Blues" album.
TRACKS
Del Rio
Psychotic Blues
Hard To Be A Cowboy
Mr. Big Easy
Don't Tell Me
Big Fat Lawyers
Sunshine
Viva Mexico
Lucille
Montana
BAND
Jeff Strahan (Lamesa, TX) -- Guitar, Keys, and Vocals
Wilson Carr (Austin, TX) -- Bass
Jack Watson (Gainsville, GA) -- Drums
JEFF STRAHAN
BIO

Jeff Strahan comes from Lamesa, Texas. He's a musician's musician; plays both guitar and piano with engaging skill and delivers fine tuned vocals with a good-natured quality. While growing up in Lamesa, Strahan had the chance to hear music from all over the charts: fiddle bands playing the Texas version of Western Swing, Tejano bands with accordions and trumpets, jazz guys with a standup bass player or local originals like Joe Ely or Jimmie Dale Gilmore on stage. Big stars were shining on the high plains as well: shows with famous musicians like ZZ Top, Ted Nugent, Floyd Cramer and Chet Atkins, to name a few. Some of Strahan's favorite bluesmen showed up as well, like Albert Collins and Buggs Henderson and Strahan idolized them all. Inspired by all this live music, Strahan started his own band at age 12. As he got older, his bands got better and they played around Texas during the late 70's and early 80's. Strahan eventually left Lubbock for the bigger musical pastures in Austin and Dallas. During the 1980's he played in countless bands covering genres from straight country to heavy metal from Austin to San Diego. When he wrote his own music, however, Strahan's musical foundation came from those sounds he heard as a kid in the Red Dirt region of Texas. It all blended together to form what you can now hear in Strahan's music, what Strahan calls "Red Dirt Music" - a passing reference to the Permian red beds that color the earth at the breaks of the Llano Estacado. It bears repeating: Strahan is a musician's musician. The bands that he puts together play kick-ass, great time blues rock. He's having fun, the band's having fun, he loves what he's doing and if you can't hear that in his music, you might need a hearing aid. It is pure joy-ride wild fun: think of a Saturday night bar packed with people ready to drink, dance and party. His guitar slinging style reminds us why we love electric guitars so much. You can hear many different influences in his music: hot slide work, gospel blues ballads, straight ahead rock, chicken funk blues, and when he plays piano, a little stride, a little straight ahead southern rock, some barrelhouse blues, and a whole lotta jumping jehosephat, like Jerry Lee Lewis. It all makes for a great time. Having started at such a young age, Strahan has a well developed guitar style that subtly draws on many influences, but stays his own and compares to the best of all of our many beloved Texas bluesmen. Think of the hot-and-cold ice picking of Albert Collins, the blues rock drive of Jimmie Vaughn or Billy Gibbons and (though it may cause me to be ex-communicated in Austin), well, hell, I'm just going to say it: he can out Buddy-Guy Stevie Ray Vaughn. He's got a fierce right hand. His piano playing is also a real treat. In a number of songs, he'll add piano solos at the end of his guitar solo, then play guitar and piano simultaneously. He'll whang a quick rhythm chord and then, with just his right hand, break out a 55-gallon drum of Jerry Lee whupass on the keyboard. Since 2000, he's released five CD's (all available on www.cdbaby.com.); in 2002, as Jeff Strahan and the Strangers, "A Little North of the Border"; in 2005, "Along for the Ride"; in 2006, as the Jeff Strahan Band, "Red Dirt Blues"; 2008's "Amen to the Blues" and this year, "Double Live at Billy's Ice". A prolific recording schedule for anyone; best of all, Strahan's live sound translates well in the studio. Growing up in Lamesa offered choices: cotton, cattle or crude. Not necessarily a raw deal, but fortunately for us, the muses provided an alternative for Jeff Strahan. It's been too long since I've been reminded of pure, rowdy, beer-drinking and dancing just for the hell of it and I'm glad I got to hear Strahan's version. It's the kind of music that makes you look forward to Saturday night. © 2000 Jeff Strahan, Squaw Peaks Recording, Inc., Lips Music, Inc.