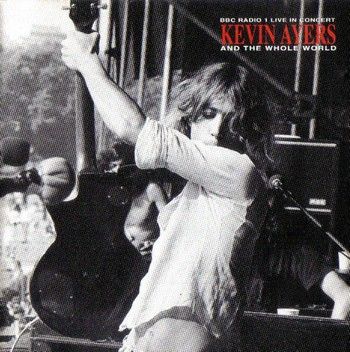 Kevin Ayers
-
BBC Radio 1 Live In Concert
-
1992
-
Windsong
"nobly idiosynchratic and genuinely timeless" David Sheppard, Mojo magazine 2008
"one of the great voices in British music." Simon Reynolds, Observer Music Monthly 2008
Live set by reformed Whole World (Ayers, Bedford, Coxhill, Oldfield and Dufort) and 12 piece orchestra, recorded at the Paris Theatre, London on 6/1/72 and broadcast on 15/1/72 for the BBC in London. The purpose of the concert was to promote Kevin's great "Whatevershebringswesing" album. Often regarded as an eccentric, and whimsical musician, and known for his distaste for self-promotion, England's Kevin Ayers, the son of a diplomat, is an important figure in the development of English Psychedelic/Progressive rock. One newspaper journalist called him "The Unsung Hero of Psychedelia". Kevin may best be remembered as a founder and vocalist of the great 70's Canterbury Rock band, "Soft Machine", and was always closely associated with the Canterbury genre. His Canterbury associations include Caravan, and Gong's Daevid Allen. Kevin has also worked with artists like Colosseum, Brian Eno, and the late Ollie Halsall of the brilliant band, Patto. Many critics say that Kevin's live performances can be "erratic" and "overexperimental". It is true that Kevin Ayers' music is eclectic. There is free-form jazz, symphonic rock, and avant-garde elements in his music, and he has always been a "genre hopper". Kevin Ayers has said himself, "It's just the way I am—it's as simple as that—and it's to my disadvantage, I think. If you think about most best-selling albums, they're all basically one tone, one direction, repeating the same thing over and over again. I just wasn't able to do that. But there certainly wasn't any showing off in it at all, I can assure you. That's just how my mind works". This live album is an excellent example of some of Kevin Ayers' best songs. Again, as stated before on this blog, don't let terms like avant-garde, abstract, or free-form jazz deter you from listening to music like this. In a recent interview, Kevin Ayers said, "I don't really listen to pop music these days. I listen to jazz—the old jazz—and classical music. I'm not trying to be snobby about it; there's just so much crap around. I turn the radio on, and listen, and I just have to turn it off again. I'll listen to world music, but mainstream pop, or whatever, I just find to be totally uninteresting". The guy has a point. Listen to Kevin's incredible "Whatevershebringswesing" album, and for music in a similar vein, listen to Matching Mole's 1972 s/t album.
TRACKS
1 Lady Rachael 6:36
2 May I 4:00
3 Clarence In Wonderland 5:02
4 Whatevershebringswesing 6:36
5 There Is Loving 6:55
6 Margaret 3:36
7 Colores Para Dolores 6:21
8 Crazy Gift Of Time 4:52
9 Why Are We Sleeping 12:05
[
N.B
:
This track has a guitar solo that Mike Oldfield reused at the end of Tubular Bells Part Two.
]

All songs composed by Kevin Ayers
MAIN MUSICIANS
Guitar, Vocals - Kevin Ayers
Guitar - Mike Oldfield
Bass - Archie Leggatt
Keyboards - David Bedford
Saxophone - Lol Coxhill
N.B
:
This album was re-released as Disc 1 of Too Old To Die Young in 1998. The actual concert sequence was Track 2, 5, 6, 4, 3, 7, 1, 8, & 9. The concert was introduced by the BBC presenter, "Whistling" Bob Harris, famous for his BBC TV prog. rock programme, "The Old Grey Whistle Test", which introduced many great bands to the public

BIO
Kevin Ayers is one of rock's oddest and more likable enigmas, even if often he's seemed not to operate at his highest potential. Perhaps that's because he's never seemed to have taken his music too seriously — one of his essential charms and most aggravating limitations. Since the late '60s, he's released many albums with a distinctly British sensibility, making ordinary lyrical subjects seem extraordinary with his rich low vocals, inventive wordplay, and bemused, relaxed attitude. Apt to flavor his songs with female backup choruses and exotic island rhythms, the singer/songwriter inspires the image of a sort of progressive rock beach bum, writing about life's absurdities with a celebratory, relaxed detachment. Yet he is also one of progressive rock's more important (and more humane) innovators, helping to launch the Soft Machine as their original bassist, and working with noted European progressive musicians like Mike Oldfield, Lol Coxhill, and Steve Hillage. Ayers cultivated a taste for the bohemian lifestyle early, spending much of his childhood in Majorca before he moved with his mother to Canterbury in the early '60s. There he fell in with the town's fermenting underground scene, which included future members of the Soft Machine and Caravan. For a while he sang with the Wilde Flowers, a group that also included future Softs Robert Wyatt and Hugh Hopper. He left in 1965, met fellow freak Daevid Allen in Majorca, and returned to the U.K. in 1966 to found the first lineup of the Soft Machine with Allen, Wyatt, and Mike Ratledge. Wyatt is usually regarded as the prime mover behind the Soft Machine, but Ayers' contributions carried equal weight in the early days. Besides playing bass, he wrote and sang much of their material. He can be heard on their 1967 demos and their 1968 debut album, but by the end of 1968 he felt burned out and quit. Selling his bass to Mitch Mitchell of the Jimi Hendrix Experience, he began to write songs on guitar, leading to a contract with Harvest in 1969. His relationship with his ex-Soft Machine mates remained amiable; in fact, Wyatt and Ratledge (as well as Ayers' replacement, Hugh Hopper) guested on Ayers' 1969 debut. Ayers' solo material reflected a folkier, lazier, and gentler bent than the Soft Machine. In some respects he was comparable to Syd Barrett, without the madness — and without the ferocious heights of Barrett's most innovative work. Ayers was never less than enjoyable and original, though his albums were erratic right from the start, veering from singalong ditties and pleasant, frothy folk ballads to dissonant improvisation. The more ambitious progressive rock elements came to the forefront when he fronted the Whole World in the early '70s. The backing band included a teenage Mike Oldfield on guitar, Lol Coxhill on sax, and David Bedford on piano. But Ayers only released one album with them before they dissolved. Ayers continued to release albums in a poppier vein throughout the '70s, at a regular pace. As some critics have noted, this dependable output formed an ironic counterpoint to much of his lyrics, which often celebrated a life of leisure, or even laziness. That lazy charm was often a dominant feature of his records, although Ayers always kept things interesting with offbeat arrangements, occasionally singing in foreign tongues, and flavoring his production with unusual instruments and world music rhythms. He (or Harvest) never gave up on the singles market, and indeed his best early-'70s efforts in that direction were accessible enough to have been hits with a little more push. Or a little less weirdness. Even Ayers at his most accessible and direct wasn't mainstream, a virtue that endeared him to his loyal cult. That cult was limited to the rock underground, and Ayers logically concentrated on the album market throughout the 1970s. Almost always pleasant, eccentric, and catchy, these nonetheless started to sound like a cul-de-sac by the mid-'70s. Ayers pressed on without changing his approach, despite the dwindling audience for progressive rock and the oncoming train of punk and new wave. He only recorded sporadically after 1980, though he remained active in the early 1990s, mostly on the European continent. The 2007 release The Unfairground was first 21st Century release. © Richie Unterberger, allmusic.com, http://allmusic.com/cg/amg.dll?p=amg&sql=11:09fyxqr5ldae~T1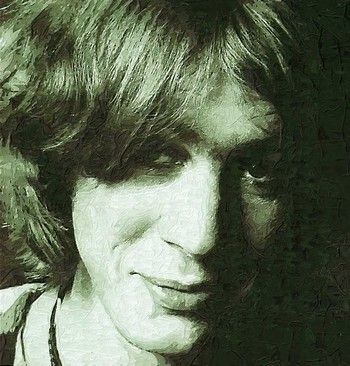 MORE ABOUT
KEVIN AYERS
Kevin Ayers is one of the finest and most influential musical talents to have emerged in Britain during the mayhem and madness of the late Sixties. Yet like peer and fellow Harvest records pioneer Syd Barrett, he has always been profoundly uneasy with the self-promotion that the pop music world demands. In fact, he abhors it. Ayers is an English eccentric, a supreme raconteur, a maverick innovator who has always remained true to his musical ideals and for these reasons his legacy is being celebrated by a new generation of performers today. Ayers commands a devoted following throughout the world, gained through a succession of unique and innovative albums. He redrew the boundaries of songwriting, fusing wit, wisdom and eccentric observation to produce music of lasting originality. Born in Herne Bay, Kent on August 16th 1944, Ayers moved, with his family, to Malaysia when he was six years old, as his stepfather took up a position as a District Officer. Returning to Herne Bay at the age of twelve, the young Kevin sought the physical and mental freedom of his earlier childhood. This search eventually led to Canterbury and a circle of bohemian friends with Robert Wyatt at its core. At the large Georgian house owned by Robert's mother, Honor, Kevin shared the company of Hugh and Brian Hopper, Mike Ratledge and a drifting Australian beatnik, Daevid Allen, spending many hours listening to modern jazz and being immersed in the world of beat poetry and Dadaist art. By June 1963 this group of people had formed the band The Wilde Flowers with Robert Wyatt on drums, Hugh Hopper on bass, Brian Hopper on guitar and saxophone, Richard Sinclair on rhythm guitar and Kevin Ayers as vocalist. Wilde Flowers would go through many changes with musicians such as Richard Coughlan and Pye Hastings joining the outfit. In 1965 Ayers travelled to Deya in Mallorca with Robert Wyatt to stay with the poet Robert Graves; lured by the prospect of good weather, blue sea and a relaxed life style. O n a subsequent trip to the island Ayers and Allen were introduced to Wes Brunson, an American who was heir to a fortune and in search of bohemia. Brunson urged the two travellers to start a serious band, lavishing sums of money on them in the process. In the early Autumn of 1966 the pair returned to Canterbury and enlisted the services of Robert Wyatt, Mike Ratledge and, briefly, guitarist Larry Nolan to form Soft Machine. The remnants of Wilde Flowers, (Pye Hastings, Richard Coughlan and Richard Sinclair) eventually formed the equally influential band Caravan. Soft Machine, along with Pink Floyd, soon became the darlings of the burgeoning London psychedelic scene, with their legendary performances at the UFO club on Tottenham Court Road securing them a one-off single contract with Polydor records. The resulting release "Love Makes Sweet Music" b/w "Feelin' Reelin' Squealin'" gained a number 28 spot on pirate radio station Radio London's chart, but failed to make any impact on the national listings. Polydor declined an option to release further Soft Machine work and the band spent April of 1967 working on a series of demos with producer Giorgio Gomelsky. Following a string of concert dates in France and a summer spent on the beaches of St. Tropez, Daevid Allen was refused re-entry into the UK at Dover due to "irregularities" with his passport. This left Soft Machine to continue as a trio with Allen travelling to Paris to eventually form the band Gong. Soft Machine were signed by Jimi Hendrix's management team of Mike Jeffrey and Chas Chandler and the band undertook an absurdly long tour of the USA as support to the Jimi Hendrix Experience, which lasted from February to August 1968. In April Soft Machine took three days out in New York to record their eponymous debut album with producer Tom Wilson which featured outstanding Ayers compositions such as "Why Are We Sleeping?" and "Joy of a Toy" . Exhausted by their tour, Ayers retreated to Mallorca, to be replaced in Soft Machine by the band's roadie and friend, Hugh Hopper. Ayers spent time in Deya writing songs with an acoustic guitar. He returned to England and recorded a series of demos on a Bayercord four-track tape recorder in Herne Bay. These caught the attention of Peter Jenner and Andrew King, original managers of Pink Floyd and now proprietors of Blackhill Enterprises, organisers of the Hyde Park Free Concerts and managers of Syd Barrett, Roy Harper and the Edgar Broughton Band among others. Signing to Blackhill Enterprises led to Ayers becoming one of the first artists to secure a contract with EMI's newly established label, Harvest. In July 1969 Ayers entered Abbey Road studios under the supervision of producer Peter Jenner with a group of musicians that included Robert Wyatt on drums and arranger David Bedford on keyboards. The music that would be recorded over the ensuing eight weeks would comprise one of the most enduring and original albums to appear on the Harvest label. The arranging skills of David Bedford came to the fore on pieces such as "Joy of a Toy" and "Town Feeling" (which featured a beautiful oboe part played by Paul Minns). Other highlights destined to achieve legendary status in the Ayers canon were the evocative "Girl on a Swing" and "Song for Insane Times" which featured Ayers' old band, Mike Ratledge and Robert Wyatt. Ratledge contributed his distinctive keyboard sound to the gloriously psychedelic "Stop this Train (Again Doing It)", a track which began with an innovative use of a gradually sped up tape recorder to simulate the sound of a steam train gathering momentum. Equally enduring would be "Eleanor's Cake (Which Ate Her)" a vignette featuring a charming David Bedford arrangement. Perhaps the definitive Ayers track recorded in those summer months of 1969 was "The Lady Rachel", a song that immediately became (and remains) a Kevin Ayers live favourite. Such was the appeal of "The Lady Rachel" that in February 1972 the song was re-recorded at Abbey Road studios with a full and dramatic orchestral arrangement written by David Bedford. Originally intended for release in the USA as part of an abandoned Ayers compilation project, the track eventually appeared in a shortened and remixed form on the compilation Odd Ditties in February 1976. A final session took place in September 1969 to record the superb "Soon Soon Soon". The song featured a refrain of Ayers' composition "We Know What You Mean", a track recorded by Soft Machine in April 1967. Joy of a Toy was released in December 1969. Although failing to make the UK chart listings, the album made a significant impact on the ever growing "progressive" audience and was critically acclaimed. With pressure to produce a single now on, Kevin retreated to Herne Bay and composed "Singing a Song in the Morning", an extremely catchy celebration of the joy of living. Sessions were duly booked at Abbey Road. Kevin was an avid enthusiast of former Pink Floyd front man and wayward genius, Syd Barrett, and felt Syd's contribution could enhance his latest composition. On the way to Abbey Road studios, Kevin called into Barrett's flat and requested his presence on the session. And so it was on November 9th 1969 Ayers and Barrett worked on the first version of of the song which was then titled "Religious Experience". Take 9 proved to be the master take and overdubs were undertaken onto the eight-track master. A finished mix, long since lost from the archives, was cut onto several acetate discs and taken away by various parties for evaluation. After some consideration it was felt that Syd Barrett's psychedelic guitar contribution was too chaotic and the track overlong. The decision was made to re-record "Religious Experience". Over the years, rumours and supposed bootlegs abounded of the legendary "lost" Syd Barrett session. Eventually in 2003 the recording appeared as a bonus track on the remastered CD reissue of Joy of a Toy. Further work on "Religious Experience" was undertaken on December 21st 1969, resulting in a final single master being completed. Re-titled "Singing a Song in the Morning", the song was coupled with "Eleanor's Cake (which ate her)" and was released as the single Harvest HAR 5011 on April 19th 1970. By the time of its release Ayers was already considering his next album for Harvest records, Shooting at the Moon. For the recording of the album, Kevin assembled a full time band for recording and touring purposes. The absence of a regular group had hampered the promotion of "Joy of a Toy" on the concert stage, so to counteract this , Ayers' new group, The Whole World, were ready to tour. Featuring David Bedford on keyboards, Lol Coxhill on saxophone, Mick Fincher on drums and a young introverted guitarist and bass player, Mike Oldfield, the Whole World was an amalgam of musical styles and backgrounds. Sessions for the album Shooting at the Moon, began in April 1970 and reflected the diversity of influences within Kevin's band. As a result the record was considerably different in character from Joy of a Toy. The album's title track was based on the early Ayers composition "Jet Propelled Photograph", recorded in 1967 by Soft Machine, and was an excellent up tempo track with psychedelic overtones. Stylistically different, "May I?" reflected a suave continental influence and ranks as one of Kevin's finest moments. Equally excellent, although considerably different in feel was the marvellous "Rheinhardt and Geraldine / Colores Para Delores", an altogether darker work. "The Oyster and the Flying Fish" was a lighter affair featuring the guest vocalist Bridget St. John, a singer-songwriter of considerable talent who was signed to DJ John Peel's Dandelion label. Kevin would return the favour by appearing on Bridget's single "If You've Got Money", released in November 1970. To coincide with the release of Shooting at the Moon, Harvest also issued "Butterfly Dance" c/w "Puis Je?" (a French language version of "May I?"), perhaps one of Kevin's most convincing singles. The Whole World continued to tour Europe until the early Summer of 1971 when Ayers disbanded the group before commencing work on his third solo album. Retaining the services of David Bedford as keyboard player and arranger and Mike Oldfield on guitar and bass, sessions began for the album Whatevershebringswesing in July. One of the earliest tracks to be recorded was the remarkable "There is Loving / Among Us / There is Loving", which began with an orchestral motif that was also used on the track "Butterfly Dance" the previous year. This motif gave way to an impressive and lengthy Ayers composition that would prove to be one of the highlights of this album. Early July also saw the recording of another Ayers classic, "Stranger in Blue Suede Shoes" and the equally appealing "Stars". Both tracks were chosen for release as a single in August 1971 as Harvest HAR 5042. Although gaining some airplay, the single failed to chart. Another early recording in these sessions was the dark and experimental "Song from the Bottom of a Well", an unusually sinister Ayers composition that benefited from the latest Abbey Road studio trickery. Other notable material recorded included "Margaret", "Oh My" and the classic Whatevershebringswesing, which saw Kevin duet to great effect with Robert Wyatt. In August 1971, following some intensive weeks of recording, Kevin undertook a series of European concerts with Daevid Allen's outfit, Gong. The pairing proved to be a successful one, and rumours circulated that Kevin was planning to join Allen's group of self-titled "pot head pixies", although the fiercely independent creative minds of both Allen and Ayers meant such a union eventually failed to materialise. The album Whatevershebringswesing was released in January 1972 and fared better than Shooting at the Moon both commercially and critically. Unfortunately the release of the album coincided with Ayers being without a permanent band for live work, and, so there was no lengthy tour to promote the record, although a memorable performance for the BBC Radio One In Concert programme was staged at the Paris Theatre in London with a 12-piece orchestra arranged and conducted by David Bedford. It was around this time that Ayers began to work with bass guitarist Archie Leggett, a musician introduced to Kevin by Daevid Allen. The two musicians began to work together on an occasional basis under the name Kevin Ayers and Archibald. After a period of recuperation during which Kevin composed a selection of new songs, work began on the album Bananamour in June 1972 with a variety of musicians including Leggett, Eddie Sparrow, Robert Wyatt, Mike Ratledge, Steve Hillage and others. Bananamour featured some remarkably strong material such as "Don't Let it Get You Down", "Interview" (a song inspired by the inane questions music journalists frequently asked their subjects), "Decadence" (a tune inspired and dedicated to Nico, chanteuse with the Velvet Underground) and the delightful "Oh, Wot a Dream!" (dedicated to Syd Barrett). In November 1972 Ayers unveiled a new band, Decadence, which featured Steve Hillage, Archie Leggett and Eddie Sparrow. After a series of British dates the band spent the month of December touring France. The end of the tour also saw the demise of Decadence as Steve Hillage opted to remain in France to work with Gong. April 1973 saw Ayers unite with another group, 747, a band formed by Archie Leggett, featuring Leggett on bass alongside Cal Batchelor (guitar), Gerry Fitzgerald (guitar), Henry Crallan (keyboards) and Henry Smith (drums), to promote the release of the single "Caribbean Moon" b/w "Take Me to Tahiti" and the album Bananamour. In May, 747 toured the UK successfully, culminating in a special concert at the Queen Elizabeth Hall in London. For this performance the band were augmented on stage by Liza Strike, Doris Troy and Barry St. John. A mobile recording unit was despatched by Harvest records to capture the event on 8-track tape. The recording of the concert was full of atmosphere - a fine example of Ayers at his best on stage. However, it remained consigned to the EMI vaults until now - mixed from the original multi-track master tapes – it is now added as the final disc in this four CD collection. Thirty five years later, it is now possible to hear the recordings made that night in their true context, as a document of a key point in Ayers' career. One month after this memorable concert, Kevin was to return to the Queen Elizabeth Hall to take part in the live performance of a work by his former musical associate, Mike Oldfield, Tubular Bells. The release of Bananamour saw Kevin's contract with Harvest records fulfilled and he left the label to sign to Island. He began his short association with Chris Blackwell's label with the release of The Confessions of Doctor Dream and Other Stories. Recorded at AIR studios in London, the album featured an impressive cast of musicians, including Mike Oldfield, Mike Giles, Caravan members Geoffrey Richardson and John G. Perry, Lol Coxhill and Nico. The material recorded was of high standard, with the lengthy title track dominating the proceedings. Also of note were "It Begins with a Blessing / Once I Awakened / But it Ends with a Curse", a reworking of the Soft Machine classic "Why Are We Sleeping", "See You Later" and the brief "Ballbearing Blues". Significantly, the record would also be the first occasion that Kevin worked with the very gifted guitarist, Ollie Halsall. Halsall had previously been a member of the band Patto and over the next eighteen years would contribute much to Kevin's work both on record and on stage. The release of The Confessions of Doctor Dream was followed on June 1st 1974 by a concert at the Rainbow Theatre in London which saw Kevin headline a bill that included, Nico, Brian Eno and John Cale. It showcased music of all these artists and featured guest appearances by Mike Oldfield, Robert Wyatt, Archie Legget and Eddie Sparrow. The result was recorded by Island records, mixed, edited and compiled to be released just 28 days later. But the record drew a mixed reaction, leaving Kevin feeling dissatisfied with the event. Largely this was due to Kevin being at odds with Island Records' attempts to make him a big star, a role which he has always been too self - effacing and knowing to embrace. Kevin's second album for Island, Sweet Deceiver, was released in March 1975. Recorded at the Manor studios in Oxfordshire, it was a further break from his musical past and included musicians with whom Kevin had never previously worked. Ayers assumed production duties with Ollie Halsall and the album offered some fine compositions, opening with "Observations", a piece of Ayers commentary that set the tone of the record . Another outstanding track was "Toujours la Voyage" which featured Elton John on piano. Songs such as "Diminished but Not Finished" and "Farewell Again" were also classic Ayers, although elements of the music press felt that Kevin was treading water creatively. Partly as a result of this reaction to Sweet Deceiver and partly through increasing unhappiness with Island records, Kevin left the label and re - signed with Harvest records in 1976. He also, at this time, departed England for good taking up permanent residence first in France and then in his old haunt Deya, Mallorca. The first fruit of this new life was the much improved "Yes, We Have No Mananas", an album that saw Kevin hand over production duties to Muff Winwood and deliver some tremendous new compositions. For the sessions, Kevin was joined once more by Ollie Halsall, along with an impressive array of talents including Zoot Money, Rob Townsend, Charlie McCracken, Andy Roberts, Rick Wills and B.J. Cole. "Yes I Do" was one of the most achingly beautiful ballads Ayers had written . "Love's Gonna Turn You Round", a more optimistic tune, provides a contrast. "Blue" was vintage Ayers, with its effective choral arrangement by David Bedford and a superb solo from Ollie Halsall which brought the album to a close. Kevin continued his association with Harvest in April 1978 with the release of Rainbow Takeaway. Although it was now the height of Punk rock, Kevin stuck firmly to his musical convictions and delivered a record that featured the outstanding "Ballad of a Salesman Who Sold Himself" which segued into "A View from a Mountain". "Beware of the Dog 2" was a fine up tempo highlight, whilst the closing piece was the marvellous piece of nonsense, "Hat Song", a tune which had been performed by Kevin since 1970 and had originally been recorded by the Whole World during sessions for "Shooting at the Moon". Kevin's final album for Harvest was released in March 1980. That's What You Get, Babe still divides Kevin Ayers fans. Some see it as a brave attempt to get to grips with a rapidly changing musical climate, while others see its production style as unsuited to Kevin's music. Whatever, the record did have redeeming features such as "Money, Money, Money", "Super Salesman" and the wonderful "Where do the Stars End". Ayers retreated back to Deya in Mallorca to reconsider his musical future. In December 1980 he recorded a series of songs at Maller studios in Palma de Mallorca with Spanish musicians, although Ollie Halsall made a guest appearance. These recordings were to remain unreleased until 1984 when they appeared in Spain as the album Deia Vu. Kevin re-emerged in Europe in 1983 with the album Diamond Jack and the Queen of Pain which appeared on the Charly label to a mixed reaction. This was followed in 1986 with As Close as You Think on the Illuminated label. Neither revived Kevin's commercial fortunes. However, the following year Kevin gained attention from the music press when he guested on Mike Oldfield's album Islands. It was thanks to Oldfield that Ayers ' next album, Falling Up appeared on the Virgin label in Britain and Germany in 1988. This featured a gathering of Spanish musicians alongside Ollie Halsall and a guest appearance from Mike Oldfield and was an improvement upon Ayers' 1980s output to this point. Kevin entered the new decade with Still Life with Guitar, perhaps one of his better post-Harvest albums. Released in 1992, it featured an impressive cast of musicians, including Ollie Halsall, Mike Oldfield, Anthony Moore, B.J. Cole and Danny Thompson. Kevin embarked on a series of well received concerts with Halsall to promote the album. Sadly, in May 1992, Halsall died suddenly of a drug related heart attack. The music world lost a great and uniquely gifted guitarist and Kevin a close friend. Aside from the occasional concert appearance, Kevin Ayers shied away from recording for the next decade and a half, whilst his earlier work was attracting reappraisal and acclaim. In September 2007 he re-emerged with the studio album The Unfairground, widely cited as one of the finest of his career. On the record he was joined by a host of musicians whom he had influenced, such as Teenage Fanclub and Ladybug Transistor alongside old friends such as Bridget St. John, Phil Mazenera and Hugh Hopper. This record led to the widest press coverage Kevin had received since the 1970s and proved that the compositional genius that began with his work with Soft Machine and continued on a succession of wonderful albums in the 1970s was still alive. © Mark Powell 2008, www.kevin-ayers.com/aboutbottom.html