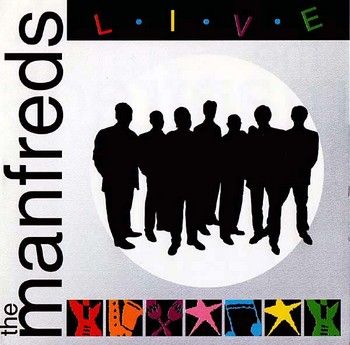 The Manfreds
-
L
.
I
.
V
.
E
-
1999
-
Not On Label
(Manfreds, The Self-released)

Manfred Mann, the great British beat, and rhythm and blues quintet formed in 1962, originally consisted of Manfred Mann, Mike Hugg, Mike Vickers, Dave Richmond, and lead vocalist Paul Jones. The band's line-up changed many times. Other band members at various times included Tom McGuinness, Jack Bruce, Klaus Voorman, and Mike d'Abo. After the group's breakup in 1969, Manfred formed his Earth Band, which still plays today. In 1991, The Manfreds got back together, and have sold out concerts worldwide. The Manfreds comprises four of the original crew from the great 60s Manfred Mann band – Paul Jones, Tom McGuinness, Mike D'Abo and Mike Hugg. This album contains many of Manfred Mann's great hits, including the brilliant, and seldom heard pop rock/R&B songs like "Ragamuffin Man", "Oh No Not My Baby", "Pretty Flamingo", and "Fox On The Run". Also included are Mike d'Abo's fantastic "Build Me Up Buttercup", (recorded by The Foundations), and the classic "Handbags & Gladrags (recorded by Chris Farlowe, Rod Stewart, The Stereophonics, and hundreds more). There are also songs written by Gallagher & Lyle including "Heart on My Sleeve", "When I'm Dead & Gone", and "Malt & Barley Blues", (the latter two songs covered by the great McGuinness Flint band). Tom McGuinness, and Benny Gallagher also appear on this album. "L . I . V . E" is a fantastic testament to some of the greatest British R&B/beat, and pop rock musicians and songs of the sixties, and is
VHR by A.O.O.F.C.
Try and find the "Maximum Manfreds" album for more vintage British R&B/beat music of the highest calibre. Try and listen to Manfred Mann's 1964 album, "The Five Faces of Manfred Mann", and Manfred Mann's Earth Band's "The Roaring Silence" albums. Detailed analysis of this "L . I . V . E" album is worth reading @
ABOUT "L.I.V.E"
and information about the band can be found @
MANFREDS
Check out Manfred Mann's biography @
MM/BIO/WIKI
There is some great info on individual MM members, past and present @
MM/MEMBERS
TRACKS / COMPOSERS
1 The One in the Middle - P. Jones 3:36
2 Just Like a Woman - Bob Dylan 3:28
3 My Name Is Jack - John Simon 3:23
4 Sha La La - Robert Mosely/Robert Taylor 6:08
5 Malt & Barley Blues - Benny Gallagher/Graham Lyle 3:18
6 Heart on My Sleeve - Benny Gallagher/Graham Lyle 4:51
7 My Little Red Book - Burt Bacharach, Hal David 5:24
8 Fox on the Run - Tony Hazzard 3:28
9 Driva Man - Brown Jr/Max Roach 6:24
10 Semi-Detached Suburban Mr. James - John Carter/Stevens 2:39
11 Pretty Flamingo - Mark Barkan 8:57
12 5-4-3-2-1 - Mike Hugg/Paul Jones/Manfred Mann & Bo Diddley - Ellas McDaniel 7:52
13 Ragamuffin Man - Callender, Pete/Mitch Murray 9:56
14 Watermelon Man - Herbie Hancock/Jon Hendricks 3:43
15 When I'm Dead & Gone - Benny Gallagher/Graham Lyle 4:37
16 Oh No, Not My Baby - Gerry Goffin/Carole King 4:07
17 Ha! Ha! Said the Clown - Tony Hazzard 5:04
18 Come Tomorrow - Frank Augustus/Bob Elgin/Phillips, Dolores 3:35
19 Build Me Up Buttercup - Michael d'Abo/Tony Macaulay 3:55
20 Do Wah Diddy Diddy - Jeff Barry/Ellie Greenwich 5:30
21 Smokestack Lightning - Howlin' Wolf 6:07
22 Mighty Quinn (Quinn the Eskimo) - Bob Dylan 4:37
23 Handbags and Gladrags - Michael d'Abo 7:23
24 If You Gotta Go, Go Now - Bob Dylan
N.B
:
Released as a 2 X CD Album: Tracks 1 - 11 on CD 1, & Tracks 12 - 24 on CD 2

MUSICIANS
Tom McGuinness - Guitar, Vocals
Benny Gallagher - Bass, Vocals
Michael d'Abo - Keyboards, Vocals
Mike Hugg - Percussion, Keyboards
Rob Townsend - Drums
Mike Vickers - Flute, Saxophone
Paul Jones - Harmonica, Vocals
BIO
(WIKIPEDIA)

The Manfreds are a British pop group, formed in 1991 as a reunion of former members of the 1960s pop group Manfred Mann, however without their eponymous founder Manfred Mann himself.
MORE
The Manfreds are the reunited core members of Manfred Mann without Mann himself. Originally gathered together to help promote a television-marketed compilation of the old group's 1960's hits, Mike Hugg, Mike Vickers, Tom McGuinness, Paul Jones, and Mike D'Abo enjoyed playing together sufficiently to extend their reunion activities by years, past the middle of the 1990s. In 1999, the band released their debut, 5-4-3-2-1, and a live album followed the next year. © Bruce Eder, All Music Guide, allmusic.com