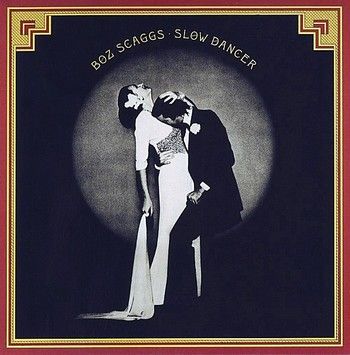 Boz Scaggs
-
Slow Dancer
-
1974
-
Columbia
Featuring his would-be-soulman sound, Slow Dancer finds Boz Scaggs straddling the apparently fine line between Van Morrison and Isaac Hayes. While Silk Degrees is often touted as Scaggs' best '70s album -- based largely upon the chart success of "Lowdown" -- Slow Dancer features just as many catchy melodic tunes that meld a kind of boogie pub rock with an organic urban soul. Produced by Motown regular Johnny Bristol, Scaggs delivers some of his best performances on the Bristol-penned track "Pain of Love" and the Neil Young meets Marvin Gaye ballad "Sail on White Moon." © Matt Collar © 2011 Rovi Corporation. All Rights Reserved http://www.allmusic.com/album/slow-dancer-r17465
One of Boz Scaggs' best earlier albums and
HR by A.O.O.F.C.
Try and forget about "Silk Degrees" and give this a listen. Boz's "Silk Degrees" is usually the standard by which all his other albums are judged. This is a common dilemma for many great artists. However, he has released other albums which have not been as successful as "Silk Degrees" but really should be heard by more people. Buy Boz Scaggs' great "Fade Into Light" album, and check this blog for more related releases. Boz's brilliant "Greatest Hits Live" album is @
BOZSC/GHLIV
TRACKS / COMPOSERS

A1 You Make It So Hard (To Say No) - Boz Scaggs
A2 Slow Dancer - Boz Scaggs, George Daly
A3 Angel Lady (Come Just In Time) - Johnny Bristol, Jim McDonough
A4 There Is Someone Else - Boz Scaggs
A5 Hercules - Allen Toussaint
B1 Pain Of Love - Johnny Bristol
B2 Sail On White Moon - Johnny Bristol
B3 Let It Happen - Boz Scaggs, Johnny Bristol
B4 I Got Your Number - Johnny Bristol, Eddie Reeves
B5 Take It For Granted - Boz Scaggs, Barry Beckett
MUSICIANS
Lead Vocals, Guitar - Boz Scaggs
Guitar - Jay Graydon, David Cohen, David T. Walker, Dennis Coffee, Greg Poree, Wah Wah Watson, Orville "Red" Rhodes
Bass - James Jamerson, James Hughart
Keyboards - Clarence McDonald, Jerry Peters, Joe Sample, Michael Melvoin, Russell Turner
Drums - Ed Greene, James Gadson
Percussion [Various], Vibraphone [Vibes] - Gene Estes, John Arnold
Congas [Conga] - Joe Clayton, King Errison
Saxophone - Ernie Watts, Fred Jackson, John Kelson
Trombone - George Bohannon, Lon Norman
Trumpet, Flugelhorn - Chuck Findley, Jack Laubach, Paul Hubinon, Warren Roche
Backing Vocals - Carolyn Willis, Julia Tillman, Lorna Willard, Myrna Matthews, Pat Henderson
Strings Arranged & Conducted by By - H.B. Barnum
BIO
After first finding acclaim as a member of the Steve Miller Band, singer/songwriter Boz Scaggs went on to enjoy considerable solo success in the 1970s. Born William Royce Scaggs in Ohio on June 8, 1944, he was raised in Oklahoma and Texas, and while attending prep school in Dallas met guitarist Steve Miller. Scaggs joined Miller's group the Marksmen as a vocalist in 1959, and the pair later attended the University of Wisconsin together, where they played in blues bands like the Ardells and the Fabulous Knight Trains. Scaggs returned to Dallas alone in 1963, fronting an R&B unit dubbed the Wigs; after relocating to England, the group promptly disbanded, and two of its members -- John Andrews and Bob Arthur -- soon formed Mother Earth. Scaggs remained in Europe, singing on street corners. He also recorded a failed solo LP in Sweden, 1965's Boz, before returning to the U.S. two years later. Upon settling in San Francisco, he reunited with Miller, joining the fledgling Steve Miller Band; after recording two acclaimed albums with the group, Children of the Future and Sailor, Scaggs exited in 1968 to mount a solo career. With the aid of Rolling Stone magazine publisher Jann Wenner, Scaggs next secured a contract with Atlantic. Sporting a cameo from Duane Allman, 1968's soulful Boz Scaggs failed to find an audience despite winning critical favor, and the track "Loan Me a Dime" later became the subject of a court battle when bluesman Fenton Robinson sued (successfully) for composer credit. After signing to Columbia, Scaggs teamed with producer Glyn Johns to record 1971's Moments, a skillful blend of rock and R&B which, like its predecessor, failed to make much of an impression on the charts. Scaggs remained a critics' darling over the course of LPs like 1972's My Time and 1974's Slow Dancer, but he did not achieve a commercial breakthrough until 1976's Silk Degrees, which reached number two on the album charts while spawning the Top Three single "Lowdown," as well as the smash "Lido Shuffle." 1977's Down Two Then Left was also a success, and 1980's Middle Man reached the Top Ten on the strength of the singles "Breakdown Dead Ahead" and "Jo Jo." However, Scaggs spent much of the 1980s in retirement, owning and operating the San Francisco nightclub Slim's and limiting his performances primarily to the club's annual black-tie New Year's Eve concerts. Finally, he resurfaced in 1988 with the album Other Roads, followed three years later by a tour with Donald Fagen's Rock and Soul Revue. The solo effort Some Change appeared in 1994, with Come on Home and My Time: The Anthology (1969-1997) both released in 1997. The newly energized Scaggs spent the next few years consistantly releasing new material, including Here's the Low Down, Fade into Light, Dig, and a collection of standards called But Beautiful. An expanded reissue of Silk Degrees and Runnin' Blue (a recording of a 1974 performance) appeared in 2007, and Speak Low saw him reinterpreting a number of jazz standards in 2008. © Jason Ankeny © 2011 Rovi Corporation http://www.allmusic.com/artist/boz-scaggs-p5359/biography
BIO
(Wikipedia)


Boz Scaggs (born William Royce Scaggs, 8 June 1944, Canton, Ohio) is an American singer, songwriter and guitarist. He gained fame in the 1970s with several Top 20 Hits in the United States along with the #2 album Silk Degrees. Scaggs continued to release and record in the 1980s and 1990s, and still tours into the 2000s. Scaggs was born William Royce Scaggs in Canton, Ohio, the son of a traveling salesman. The family moved to Oklahoma, then to Plano, at that time a Texas farm town just north of Dallas. He attended a Dallas private school, St. Mark's, where a schoolmate gave him the nickname "Bosley". Soon, he was just plain Boz. After learning guitar at the age of 12, he met Steve Miller at St. Mark's. In 1959, he became the vocalist for Miller's band, The Marksmen. The pair later attended the University of Wisconsin-Madison together, playing in blues bands like The Ardells and The Fabulous Knight Trains. Leaving school, Scaggs briefly joined the burgeoning rhythm and blues scene in London. After singing in bands such as The Wigs and Mother Earth, he traveled to Sweden as a solo performer, and in 1965 recorded his solo debut album, Boz, which was not a commercial success. Scaggs also had a brief stint with the band The Other Side with fellow American Jack Downing and Brit Mac MacLeod. Returning to the U.S., Scaggs promptly headed for the booming psychedelic music center of San Francisco in 1967. Linking up with Steve Miller again, he appeared on the Steve Miller Band's first two albums, Children of the Future and Sailor, which received good reviews from music critics. After being spotted by Rolling Stone publisher Jann Wenner, Scaggs secured a solo contract with Atlantic Records in 1968. Despite good reviews, his sole Atlantic album, featuring the Muscle Shoals Rhythm Section and slide guitarist Duane Allman, achieved lukewarm sales, as did follow-up albums on Columbia Records. (His Atlantic album was deleted and replaced with the exact same cover and tracks, but it was given a new catalog number and it was completely remixed in Los Angeles in 1977. This new remix brought Duane Allman's guitar up to the front, but it greatly altered the original feeling. On the track "Finding Her", the volume fades down real low for the last minute, an obvious mixing error by engineer Craymore Stevens. The original has never been available on CD.) In 1976, he linked up with session musicians who would later form Toto and recorded his smash album Silk Degrees. The album reached number 2 on the U.S. charts and number 1 in a number of countries across the world, spawning three hit singles: "Lowdown", "Lido Shuffle", and "What Can I Say", as well as the MOR standard "We're All Alone", later covered by Rita Coolidge and Frankie Valli. A sellout world tour followed, but his follow-up album, the 1977 Down Two Then Left, did not fare as well commercially as Silk Degrees. The 1980 album Middle Man spawned two top 20 hits, "Breakdown Dead Ahead" and "Jojo," and Scaggs enjoyed two more hits in 1980-81 ("Look What You've Done to Me" from the Urban Cowboy soundtrack, and "Miss Sun" from a greatest hits set, both U.S. #14 hits). But Scaggs' lengthy hiatus from the music industry (his next LP, Other Roads, wouldn't appear until 1988) slowed his chart career down dramatically. "Heart of Mine" in 1988, from Other Roads, was Scaggs' final top 40 hit but was a major adult contemporary success. Scaggs continued to record and tour sporadically throughout the 1980s and 1990s, and for a time was semi-retired from the music industry. He opened the San Francisco nightclub, Slim's, in 1988, and remains a co-owner as of 2008. After Other Roads, Scaggs took another hiatus and then came back with Some Change in 1994. He released Come On Home, an album of blues, and My Time, an anthology in the late 1990s. He garnered good reviews with Dig although the CD, which was released on September 11, 2001, was lost in the post-9/11 melée. In May 2003, Scaggs released But Beautiful, a collection of jazz standards that debuted at number 1 on the jazz charts. He tours each summer, has a loyal cadre of fans, remains hugely popular in Japan, and released a DVD and a live CD in 2004. Other releases followed. In 2008, Scaggs began an expanded tour, and is scheduled to appear across the country from spring through fall. Scaggs and his wife grow grapes in California's Napa County and have produced their own wine.