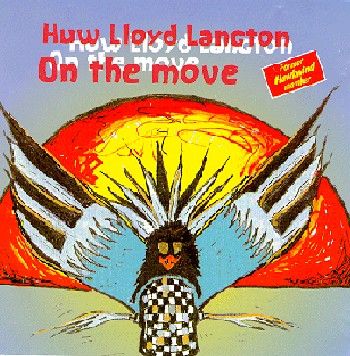 Huw Lloyd-Langton
-
On the Move
-
1997
-
BMA Records (Sweden)


Guitarist Huw Lloyd Langton departs from the psychedelic space rock trappings of his former band, Hawkwind, in favor of a gutsy blues-rock approach. The results are consistently crisp, and powerful, especially when mixed with his riff-oriented brand of rock & roll. Langton gives his bluesy side free rein on a glistening slide guitar piece, "Farewell," and the epic "Lonely Man," a ten-minute display of fleet-fingered guitar power. Angel Air, which has reissued this Swedish-only album worldwide for the first time, has also added bonus tracks of "Big Boss Man," "Shame Shame Shame," and "Rollin' and Tumblin'." They're great, raunchy fun, and reveal a side not commonly associated with him. "On the Move" finds the guitarist exploring an instrumental jazz fusion side only implied on his other solo releases, while "Finally Finding" is a jangling Latin rock number. Other highlights include the social critiques of "Outside the Law," and "No Participation." Langton's guitar is fine form throughout this album, which ranks near the peak of his solo work. © Ralph Heibutzki, © Rovi © 2011 Answers Corporation http://www.answers.com/topic/on-the-move-plus
This album by Hawkwind alumni Langton is a great rocking release. The disc has no weak material and quite a bit that is very strong. Langton shows himself to be both a great guitarist and excellent songsmith. The material on the CD ranges from bluesy rock to arena rock and even includes one extended space jam. © Gary Hill © 2011 Rovi Corporation. All Rights Reserved http://www.allmusic.com/album/on-the-move-r529142
Huw Lloyd Langton, the former lead guitarist from Hawkwind originally released this album in 1997 on BMA records in Sweden. There is no Hawkwind style synth here but there's plenty of great "no messin" blues rock, R&B and Rock 'N' Roll as well as two great instrumentals. The 2001 release added three bonus tracks included here. Huw has always seemed to be a low profile rock musician, but he's a hugely talented guitarist and songwriter. Listen to Huw's great "Hard Graft" album
TRACKS
1. Got Your Number
2. I Could Cry
3. Wrong Streets
4. On the Move
5. Move Over Lady
6. Finally Finding
7. Farewell
8. Just the Same
9. No Participation
10. Outside the Law
11. Lonely Man
12. Off the Cuff
13. Big Boss Man (2001 Bonus)
14. Shame Shame Shame (2001 Bonus)
15. Rollin' and Tumble (2001 Bonus)
All songs composed by Huw Lloyd-Langton, & Marion Lloyd-Langton except "Big Boss Man" by Al Smith, & Luther Dixon, "Shame Shame Shame" by Jimmy Reed, and "Rollin' and Tumble" (Trad.).


MUSICIANS
Huw Lloyd Langton - Guitar, Vocals
Calle Mansson - Guitar
Mats Stahl - Bass
Lasrs Schill - Drums
1997 ALBUM NOTES

Who can number both HAWKWIND, LEO SAYER, WIDOWMAKER and PRETTY THINGS among their previous gigs? Groups who contained musicians like Pete Becket (Little Feat), John Lingwood (Manfred Man), Ginger Baker (Cream), Steve Ellis (Love Affair) and Ariel Bender (Mott the Hoople)? The answer is HUW LLOYD LANGTON and now he moves on with his new CD on BMA Records, quite logically entitled, "On the Move". After starting his professional career in Germany in the late '60's, Huw returned to England and formed Hawkwind together with Dave Brock and Nik Turner and the next 2 years saw them recording their first classic albums which still to this day sell regularly. The 70's also saw him working with Leo Sayer. A cooperation which gave him the opportunity to show his versatility as a guitarist, which included replicating the banjo part on Sayer's first hit, "I Won't Let the Show Go On".
Huw rejoined Hawkwind in 1979 and stayed with them for all of the '80's before concentrating on his solo career in the '90's. And here it is, his new album. A collection of songs, written together with his wife, Marion. They all have the trademark of Huw's experiences through the years....." [From the original 1997 CD's liner notes (written by & © Producer Bjorn Almquist)]
A VERY SHORT BIO

A founding member of Hawkwind, Langton stayed with them at that time for two years, recording two albums with them. He suffered an illness in 1971 that took him away from Hawkwind, but not forever. Langton went on to do a large number of smaller gigs, but also found time to work with such groups as Bonzo Dog Band, Leo Sayer, and Widowmaker. In 1979, he joined back up with Hawkind and stayed with them until 1989. Since that time, he has pursued a solo career, but also played with Pretty Things and others. © Gary Hill © 2011 Rovi Corporation. All Rights Reserved http://www.allmusic.com/artist/huw-lloyd-langton-p189232
BIO
(WIKI)


Huw Lloyd-Langton (born Richard Hugh Lloyd-Langton, 6 February 1951, at the Park Royal Hospital, Harlesden, North West London) is an English guitarist, famous as the guitarist for Hawkwind. He also had his own band, the Lloyd Langton Group with bass player Kenny Wilson and drummer John Clark (along Ultravox drummer Warren Cann), and is the session lead guitarist for UK band The Meads of Asphodel. As a member of Hawkwind he appeared on their first album, Hawkwind, before leaving the band. He rejoined the band in 1979, appearing on the Live Seventy Nine album release from that year and the subsequent Levitation album. He continued performing with Hawkwind until 1988. Since then he has made occasional guest appearances, rejoining for a brief spell in 2001/2002 until ill health, Legionnaires' disease, forced him to leave once more. He sometimes plays solo as a support act for Hawkwind, including at The Brook in Southampton in December 2009.