Clifford T. Ward
-
Home Thoughts
-
1973
-
Charisma
Right in the middle of glam rock 1973 came a homely singer/songwriter from the town of Stourport-on-Severn, north Worcestershire, England, named Clifford T. Ward who took the charts by storm with a simple love song, "Gaye," telling the age-old story of a girl and how much she meant to him. This was like a breath of fresh air in the overproduced mid-'70s by its very nature. For here was a man who told simple stories, with beautiful melodies, played with the minimum of fuss. Hot on the heels of the single "Gaye" came his second album, Home Thoughts, which Ward was heavily involved with writing and producing, as well as playing keyboards. Home Thoughts opened with the lovely ballad "Gaye" and continued in the same vein as the single with piano backed ballads sung with clear, concise lyrics, reflecting Ward's homespun family thoughts, living as an ordinary man with a wife and three children, spurning the attention from the media, refusing to tour or play any live gigs that would take him away from his family, and also shying away from the pop press, interviews, and photographs, except when absolutely necessary. Clifford T. Ward had been working as an English teacher at a local school and it was here he developed his love of poetry and words, an asset he brought to his songs, especially "Where Would That Leave Me" and "Time the Magician," "Home Thoughts from Abroad," and "The Open University" in which he namechecks his favorite authors, and "Wherewithal," a song he wrote simply because he liked the sound of the word. But for all the beautiful songs on Home Thoughts, the standout track is the hit single "Gaye" with its instantly memorable singalong melody. © Sharon Mawer © 2011 Rovi Corporation. All Rights Reserved http://www.allmusic.com/album/home-thoughts-from-abroad-r52312/review
A masterpiece. So strong are the melodies, so succinct and sympathetic are Richard Hewson's arrangements, that lyrics like, "Would you like to have a drink or two with big fat Joan/She knows what it's all about at twenty stone" and, "Does the cistern still leak?/Will it last another week?" do not grate in the slightest. The Traveller is sublime, Wherewithal comes over as smart rather than smug and the inspired simplicity of Time, The Magician still astounds twenty two years on. Thirteen outstanding songs. Unlucky for those who have never heard any of them. Essential. (1973). Star Rating: * * * * * (out of 5) © Waves - Fanzine (© Clive Winstanley)
Cliff made several great albums, including "Escalator", "No More Rock and Roll", "Waves", and "New England Days" but his romantic style of songwriting was never compatible with the "glam rock", punk or New Wave eras and his songs were dismissed by some as unfashionable. He wasn't the first and he certainly won't be the last songwriter to be categorized like this, however his songs will be around forever. Other great "unfashionable" songwriters include Janis Ian, Al Stewart, and Roy Harper. The great author/singer/songwriter/poet Richard Digance said, 'Home Thoughts From Abroad' is still the greatest 'British' song that I have ever heard. Cliff had no pretentious Americanisms, and it's still the only popular song with the word Worcestershire in it." Melody Maker stated that 'This album is so beautiful it makes you want to forget the idiot antics of the rock 'n' roll world. Some of Ward's songs are the finest since McCartney penned "Yesterday" - "Gaye" and the title track for instance. He is a tender poet writing real love songs and in this jungle of music he offers a clearing where you can lay down, rest your head, and dream sweet dreams.' A beautiful diamond of an album and
VHR by A.O.O.F.C.
Listen to his "Singer Songwriter" and "Gaye & Other Stories" albums
TRACKS
SIDE 1
1 Gaye
2 Wherewithal
3 The Dubious Circus Company
4 Nightingale
5 Where Would That Leave Me?
6 The Traveller
SIDE 2
1 Home Thoughts From Abroad
2 Where's It Going To End?
3 Time, The Magician
4 Give Me One More Chance
5 Cold Wind Blowing
6 The Open University
7 Crisis
MUSICIANS
Clifford T. Ward - Vocals, Keyboards
Derek Thomas - Guitars
Terry Edwards - Bass
Ken Wright - Drums, Percussion
Orchestral Arrangements - Richard Hewson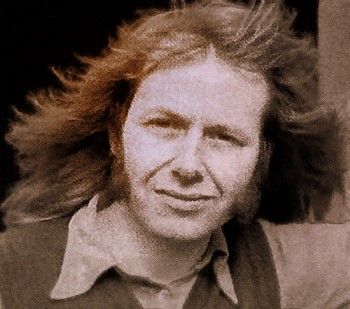 BIO
(WIKI)


Clifford Thomas Ward (10 February 1944, Stourport-on-Severn, Worcestershire — 18 December 2001) was a popular English singer-songwriter, best known for his career as a solo artist. Ward was one of five children, having one sister and three brothers. He was educated at Stourport Secondary Modern School, and there he met his wife, Pat, when she was 13 years old, and he 14. At school he spent some time as a choir boy. Ward and Pat married when he was 17 and she 16, after Pat became pregnant with the first of their four children: Debbie, Martin, Sam and Polly. In 1962, shortly after leaving school, Ward formed a beat band 'Cliff Ward and The Cruisers'. The band was popular in Birmingham and also in demand at American Army bases in France. It was during this time abroad that Ward wrote "Home Thoughts From Abroad" (a song that would later appear on his second solo album and also as the B-side of "Gaye"). In the mid 1960s and after several member changes, the group was re-named 'Martin Raynor and The Secrets' with Ward in the role of the elusive Raynor. The fictitious name was soon dropped and the band continued on as 'The Secrets', and went on to tour around Britain and France, achieving moderate success. Along the way, six singles were recorded by the group (ten of the songs penned by Ward himself), though these made little impact. In 1968, following the demise of The Secrets, Ward decided he needed to get a 'real job', and so spent the following three years at a teacher training college, ultimately finding employment at nearby North Bromsgrove High School, teaching English and drama. One of his pupils was the future wife of Sting, Trudie Styler. The children heard singing on Ward's early albums were from North Bromsgrove High School. In his spare time, he continued songwriting and recorded his first solo album Singer Songwriter. His first album, Singer Songwriter, was released in 1972 on Dandelion Records (a label formed by the late disc jockey John Peel) just before it went into liquidation. As a result, the album received little media coverage and went largely unnoticed. Signing a new recording contract with Charisma Records, Ward went on to have a hit with the single "Gaye". It sold over a million copies worldwide and reached number 8 in the UK Singles Chart in June 1973. In July 1973, following the success of "Gaye", Ward's second album Home Thoughts achieved healthy sales and reached number 40 in the UK Albums Chart. At this point, wanting to concentrate on music full time, he gave up the teaching profession. He made a rare public appearance in August, performing "Gaye" on Top of the Pops. In January 1974 Ward entered the singles chart again at number 37 with "Scullery", a track from his third album Mantle Pieces. Subsequent singles, notably "No More Rock'n'Roll", "Jigsaw Girl", "Ocean of Love" and "I Got Lost Tonight" (written by the U.S. singer-songwriter Tim Moore, one of the very rare occasions when he recorded outside material) were loved by BBC Radio presenters and programmers but Ward never made it into the UK charts again. It was said that he would have had more commercial success were it not for his dislike of touring, public appearances, interviews and photo shoots. "The Best Is Yet To Come", from the album Both of Us, enjoyed success when covered by Justin Hayward, and his songs were also recorded by Cliff Richard, Jack Jones, Art Garfunkel, and Judy Collins. He was compared to Paul McCartney by reviewers and his songs have strong melodies and concise, original lyrics. In 1984 Ward was diagnosed as having multiple sclerosis. He continued to record and write songs while living at home, cared for by his wife Pat. In 1994, Ward was interviewed by local paper, the Wolverhampton Express & Star. He told reporter Aidan Goldstraw: "I have not and will not come to terms with this illness. There are times - usually quite late at night - when I'm almost normal again. But unless they find a cure for this dreadful MS, then I don't see a future." Also then, he recorded his eleventh and what would be his last new album, Julia And Other New Stories, crawling on all fours into his home-based recording studio to finish it. At around the same time, a stage musical, Shattered World, was produced as a tribute to him, based on his life and his battle against MS. Half of the songs were Ward's own and half were numbers written by others about him. In the winter of 2001, he fell ill from pneumonia and entered a hospital. He died there a few weeks later, at 9 a.m. on Tuesday December 18.