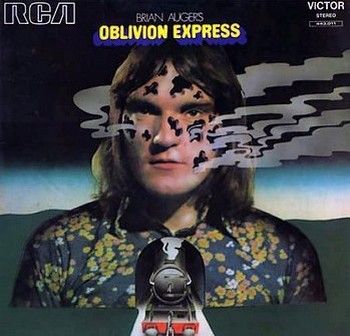 Brian Auger's
Oblivion Express
-
Brian Auger's
Oblivion Express
-
1970
-
RCA
The first outing by Brian Auger's jazz-rock ensemble the Oblivion Express, first issued in 1971, is one of the great masterpieces of jazz-rock fusion. Auger, having just disbanded his longtime band the Trinity in 1970, still had plenty of rock and roll in his system. His yearning for the open frontiers of electric jazz was certainly the driving force -- in the same way that it was for Miles Davis on A Tribute to Jack Johnson, and Lifetime was for Tony Williams -- but it was anchored in the visceral application of rock. With guitarist Jim Mullen, bassist Barry Dean, and drummer Robbie McIntosh, Auger charted into the unknown. This album fits like a glove, each tune moving ever forward into the next. From the opening knotty, rhythmic twists in "Dragon Song," to the subterranean counterpoint in "Total Eclipse," to the band's theme song that closes the album with its pumping bass and guitar interludes, and Auger's Lemmy Kilmister-like vocals, Oblivion Express is a classic in its genre. There is a rawness in passion and intent here that is balanced by wondrously imaginative arrangements for rock band instrumentation, and an aesthetic that is disciplined and visionary. © Thom Jurek © 2011 Rovi Corporation. All Rights Reserved http://www.allmusic.com/album/brian-augers-oblivion-express-r613318
Brian Auger, the "Grandfather of Acid Jazz", came out of the British Blues scene playing with artists like John Mayall. He was strongly influenced by organ players like Groove Holmes, Charles Earland, Jimmy Smith, Jack McDuff, Don Patterson, and many others. However, in his own right, Brian is equally as talented as any of these artists. In his early career, during the mid '60's in England, Brian was a "straight up jazz player". Later in his career he was accused by many music critics and fans of selling out, after he veered his music in a more R&B/jazz direction. At various times, he played with artists like Passport, Average White Band & Les McCann and Eddie Harris. "Brian Auger is one of the best B-3 artists I have ever heard in my life. His technique is awesome and the amount of energy he generates is unparalleled and relentless. He is a tremendous talent with a wonderfully warm and compassionate personality, a combination that is hard to beat. He deserves all the accolades."- Herbie Hancock: "My Favorite rock artists are Van Morrison, Bonnie Raitt, Brian Auger and Loudon Wainwright."- Mose Allison: This s/t album is now over 40 years old but is full of great probing grooves, and still is a great example of soul jazz rock. The album is
HR by A.O.O.F.C.
[
All tracks @ 320 Kbps: File size = 100 Mb
].
Listen to Julie Driscoll/Brian Auger & The Trinity's "Streetnoise" album, Brian Auger's Oblivion Express' "Reinforcements" album, and Karma Auger's great "Blue Groove" album. Search this blog for related releases.
N.B:
A little note for Steely Dan fans. One of Brian Auger's favourite musicians is the late English multi-instrumentalist, Victor Feldman, who played on at least five Steely Dan albums, and one of Brian Auger's favourite albums is Steely Dan's "Aja".
TRACKS / COMPOSERS
1 Dragon Song - John McLaughlin 4:27
2 Total Eclipse - Ball 11:35
3 The Light - Brian Auger 4:24
4 On the Road - Brian Auger, Jim Mullen 5:25
5 The Sword - Brian Auger 6:35
6 Oblivion Express - Brian Auger 7:51
7 Dragon Song (Live '72) [Bonus Track] - John McLaughlin 5:32
*
* Not on original LP issue. The track first appeared on a 2009 Japanese CD issue
BAND
Brian Auger - Keyboards, Lead Vocals
Jim Mullen - Lead Guitar, Vocal Harmony
Barry Dean - Bass Guitar, Vocal Harmony
Robbie McIntosh - Drums
BRIAN AUGER
BIO
Brian Auger was raised in London, where he took up the keyboards as a child and began to hear jazz by way of the American Armed Forces Network and an older brother's record collection. By his teens, he was playing piano in clubs, and by 1962 he had formed the Brian Auger Trio with bass player Rick Laird and drummer Phil Knorra. In 1964, he won first place in the categories of "New Star" and "Jazz Piano" in a reader's poll in the Melody Maker music paper, but the same year he abandoned jazz for a more R&B-oriented approach and expanded his group to include John McLaughlin (guitar) and Glen Hughes (baritone saxophone) as the Brian Auger Trinity. This group split up at the end of 1964, and Auger moved over to Hammond B-3 organ, teaming with bass player Rick Brown and drummer Mickey Waller. After a few singles, he recorded his first LP on a session organized to spotlight blues singer Sonny Boy Williamson that featured his group, saxophonists Joe Harriott and Alan Skidmore, and guitarist Jimmy Page; it was Don't Send Me No Flowers, released in 1968. By mid-1965, Auger's band had grown to include guitarist Vic Briggs and vocalists Long John Baldry, Rod Stewart, and Julie Driscoll, and was renamed Steampacket. More a loosely organized musical revue than a group, Steampacket lasted a year before Stewart and Baldry left and the band split. Auger retained Driscoll and brought in bass player Dave Ambrose and drummer Clive Thacker to form a unit that was billed as Julie Driscoll, Brian Auger and the Trinity. Their first album, Open, was released in 1967 on Marmalade Records (owned by Auger's manager, Giorgio Gomelsky), but they didn't attract attention on record until the release of their single, "This Wheel's on Fire," (music and lyrics by Bob Dylan and Rick Danko) in the spring of 1968, which preceded the appearance of the song on the Band's Music from Big Pink album. The disc hit the top five in the U.K., after which Open belatedly reached the British charts. Auger and the Trinity recorded the instrumental album Definitely What! (1968) without Driscoll, then brought her back for the double-LP, Streetnoise (1968), which reached the U.S. charts on Atco Records shortly after a singles compilation, Jools & Brian, gave them their American debut on Capitol in 1969. Driscoll quit during a U.S. tour, but the Trinity stayed together long enough to record Befour (1970), which charted in the U.S. on RCA Records, before disbanding in July 1970. Auger put together a new band to play less commercial jazz-rock and facetiously called it the Oblivion Express, since he didn't think it would last; instead, it became his perennial band name. The initial unit was a quartet filled out by guitarist Jim Mullen, bass player Barry Dean, and drummer Robbie McIntosh. Their initial LP, Brian Auger's Oblivion Express, was released in 1971, followed later the same year by A Better Land, but their first U.S. chart LP was Second Wind in June 1972, the album that marked the debut of singer Alex Ligertwood with the band. Personnel changes occurred frequently, but the Oblivion Express continued to figure in the U.S. charts consistently over the next several years with Closer to It! (August 1973), Straight Ahead (March 1974), Live Oblivion, Vol. 1 (December 1974), Reinforcements (October 1975), and Live Oblivion, Vol. 2 (March 1976). Meanwhile, Auger had moved to the U.S. in 1975, eventually settling in the San Francisco Bay area. In the face of declining sales, he switched to Warner Bros. Records for Happiness Heartaches, which charted in February 1977. Encore, released in April 1978, was a live reunion with Julie Tippetts (née Driscoll) that marked the end of Auger's association with major record labels, after which he dissolved the Oblivion Express and recorded less often. In 1990, he teamed up with former Animals singer Eric Burdon, and the two toured together during the next four years, releasing Access All Areas together in 1993. In 1995, Auger put together a new Oblivion Express. As of 2000, the lineup consisted of his daughter, Savannah, on vocals, Chris Clermont on guitar, Dan Lutz on bass, and his son Karma on drums. This group issued the album Voices of Other Times on Miramar Records one week before Auger's 61st birthday. © William Ruhlmann © 2010 Rovi Corporation. All Rights Reserved http://www.allmusic.com/cg/amg.dll?p=amg&sql=11:fpfrxqr5ldhe~T1