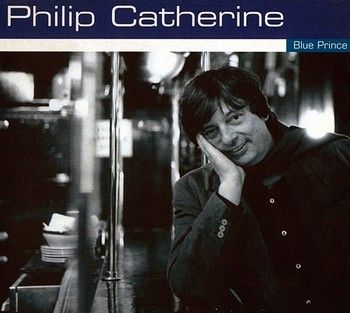 Philip Catherine
-
Blue Prince
-
2000
-
Dreyfus Jazz
Incredibly skilful guitar playing by the London born guitarist, Philip Catherine, one time Focus member, and christened the "Young Django" by Charles Mingus. Philip is widely acknowledged as one of Europe's most important and talented guitarists. His music is eclectic, extremely skilful and he is a brilliant improviser. Philip Catherine is not as widely known as he should be. He has said that "My first four records, September Man, Guitars, Babel and End of August, are my most personal albums, and nobody knows them.They've been hidden for too long. I have a legal advisor and I'm trying to find a way to have them come out again." "Blue Prince" is a wonderful jazz/fusion abum and
VHR by A.O.O.F.C.
[

Tracks are between 315 & 320 Kbps: File size = 139 Mb

]

.
Listen to Philip's "September Man" and "Guitars" albums. Focus' "Focus con Proby" features Philip on lead, rhythm, and acoustic guitar
TRACKS / COMPOSERS
1 Coffee Groove - Philip Catherine 3:41
2 Global Warming - Philip Catherine 5:03
3 With A Song In My Heart - Lorenz Hart, Richard Rodgers 3:49
4 The Creeper - Philip Catherine 7:42
5 The Postman - Philip Catherine 5:39
6 More Bells - Philip Catherine 6:35
7 Memories Of You - Andy Razaf, Eubie Blake 4:21
8 Kwa Heri - Philip Catherine 6:02
9 Blue Prince - Philip Catherine 4:09
10 Arthur Rainbow - Philip Catherine 6:32
11 Magic Box - Bert Joris 6:17
12 Sweet Lorraine - Clifford Burwell, Mitchell Parish 4:38
MUSICIANS
Philip Catherine - Guitar
Hein Van De Geyn - Bass
Hans Van Oosterhout - Drums
Bert Joris - Trumpet, Flugelhorn
BIO
(WIKI)
Philip Catherine (born 27 October 1942) is a Belgian jazz guitarist. He was born in London from an English mother and Belgian father. He began playing in the 60's with Lou Bennett then with Dexter Gordon and Stéphane Grappelli. He was then a member of Jean-Luc Ponty quintet, right after he recorded his first album (Stream, produced by Frenchman Sacha Distel) in 1971. A year later, he met John Scofield, Ran Blake, George Benson and more musicians in Boston. In 1977 Philip Catherine replaced Jan Akkerman in the Dutch rock group Focus and appeared on one album with the group, Focus con Proby which also featured American singer P. J. Proby. He also played with Charlie Mingus (who named him Young Django) and Chet Baker. He is now considered as the grandfather of Belgian jazz as he continues to play on the now very active Belgian jazz scene. He won the first Belgian Golden Django (in 1995) as best French-speaking artist.
MORE ABOUT
PHILIP CATHERINE
Philip Catherine has been called the "Young Django" by none other than Charles Mingus, and upon hearing his elliptical, rapid-fire, expressively melodic acoustic guitar, there can be no doubt as to whose records he was absorbing as a youth. Born to a Belgian father and English mother living in London during World War II, Catherine went back with his family to Brussels after the war, where he learned guitar and turned professional at 17. The examples of Larry Coryell and John McLaughlin led Catherine into jazz-rock; he played with Jean-Luc Ponty's Experience from 1970 to 1972 before taking a year off to study at Boston's Berklee School. Back in Europe in 1973, he founded the band Pork Pie, which recorded into the mid- and late '70s; he also formed a duo with Niels-Henning Ørsted Pedersen and worked with such musicians as Mingus and Stephane Grappelli. If anything, Catherine is best-known in America for his duets with Coryell, which began spontaneously in Berlin in 1976, triggered some lovely duo albums for Elektra, and helped steer Coryell back to the acoustic guitar. © Richard S. Ginell © 2010 Rovi Corporation. All Rights Reserved. http://www.allmusic.com/cg/amg.dll?p=amg&sql=11:aiftxqt5ldje
Philip Catherine: Overdue Ovation - A European legend seeks trans-Atlantic love [July/August 2010 by/© Andrew Gilbert © 1999–2010 JazzTimes, Inc. All rights reserved]
It's not that Philip Catherine feels misunderstood, underappreciated or neglected by the American jazz scene. Born in London during World War II and raised in Brussels by his English mother and Belgian father, he's widely acknowledged as one of Europe's foremost guitarists, a supremely eloquent improviser whose five-decade-long career encompasses an eclectic array of highlights. What irks Catherine is that the work he feels best represents his musical vision is largely unknown and unheard. "My first four records, September Man, Guitars, Babel and End of August, are my most personal albums, and nobody knows them," says Catherine, 67, from his home in Brussels. "They've been hidden for too long. I have a legal advisor and I'm trying to find a way to have them come out again." Catherine's recording activities in 1975 exemplify the way in which sessions under his own name have faded from view, while his superlative sideman work continues to win him new fans. It was the year he recorded Guitars, an intricately constructed, fusion-tinged session featuring multiple guitar overdubs and accompaniment by bassist John Lee and drummer Gerry Brown. (Alto saxophonist Charlie Mariano, a regular Catherine collaborator over several decades, also contributes on several tracks.) Focusing on Catherine's original compositions, the album is unlike anything else from the era, with its quiet but roiling drama and sly, lapidary textures. The same year, he appeared on several memorable SteepleChase albums, including Kenny Drew's Morning with Niels-Henning Ørsted Pedersen, and Dexter Gordon's Something Different with Pedersen and Billy Higgins, a fascinating addition to the saxophonist's discography as his only piano-less quartet session. Through the rest of the decade, he released a series of strangely beautiful albums under his own name, melodically charged sessions that defied easy categorization as fusion or straight-ahead. At the same time he was recording regularly for SteepleChase, contributing his marvelously poised and rhythmically assertive work alongside Drew, Pedersen, Higgins, Sam Jones and Tootie Heath. "That was one aspect of my music, making albums for SteepleChase, but it wasn't at all what I was trying to do," Catherine says. "I was doing Guitars, but it's disappeared, and everyone knows SteepleChase. I loved playing with Dexter and Kenny, but it was like old music for me. "If Catherine has been hard to pin down stylistically, it's not only because a significant chapter of his career is out of circulation. Many American jazz fans discovered the guitarist through his work with Larry Coryell, a brief association that was born from an impromptu duo set at Berliner Jazztage in 1976. Their obvious chemistry led to the popular Atlantic album Twin House (and later Splendid, on Wounded Bird Records), and many still think of Catherine as a fusion-era standard bearer. He did pick up the mantle in the mid-1970s, when he replaced Jan Akkerman in the Dutch prog-rock band Focus. While well past its "Hocus Pocus" heyday, Focus still featured the intricate, often elaborately inventive compositions of organist/flutist Thijs van Leer. And while totally unexpected for Catherine, the gig did put him on the prog-rock/fusion map—a location he never really felt he belonged in. "It was strange for me, like entering a different world, with less improvisation and roots more in classical European music and rock," Catherine says. "As opposed to mine in classical music and black American music—Miles, Coltrane, Erroll Garner, James Brown and jazz in general, including Django. It was a world with so much equipment, roadies and managers; a great opportunity but I really was not ready to enter the group at that time. I couldn't reach the singing tone of the guitar enough, though that tone may have been an enduring influence on my sound." Much like Coryell, Catherine has always been game for acoustic and electric settings, straight-ahead swing, postbop or fusion, whether collaborating with European masters or American jazz giants like Charles Mingus. He connected with the legendary bassist after Mingus saw a film of him and Coryell from Montreux and recruited the two guitarists for 1977's Three or Four Shades of Blue. For Catherine, who grew up listening to Mingus Dynasty and Mingus Ah Um, the opportunity to play with a hero proved to be tremendously fulfilling, personally and musically. "After the session everyone left but me and Mingus," Catherine recalls. "He was very warm with me. I started telling him about Mariano. We had someone in common. He was very curious, and was trying to find out who I was. I came back two days later for the next session with Ron Carter and John Scofield. I was so happy to meet Dannie Richmond. He had a very bright, special way of playing." When Three or Four Shades came out, Catherine found himself described by Mingus in the liner notes as the "Young Django," a tag that stuck for some time, though the praise never sat comfortably with him. ("It's exaggerated," Catherine says. "Django is very deep, not just as a guitarist but as a musician. Now I would be the old Django.") But it never became a burden, and several years later he recorded the marvelously swinging album Young Django with Coryell, Pedersen and Stephane Grappelli. The association with Belgium-born Reinhardt was probably inevitable, though the Manouche master wasn't Catherine's initial guitar inspiration. Catherine bought his first instrument at 14 while under the sway of the great French poet and singer George Brassens. His first guitar teacher taught him the rudiments of improvisation, and that's when he encountered Reinhardt's music. Catherine absorbed his elliptical phrasing and gift for melodic invention while also finding much to emulate in the great Belgian guitarist René Thomas, who had returned from the States after recording with Sonny Rollins and playing with Stan Getz, Miles Davis and Jackie McLean. Catherine quickly found his way to hard bop, devouring albums by Art Blakey, Clifford Brown and Max Roach, and got a first-rate bandstand education playing with Hammond B3 expert (and American expat) Lou Bennett and drummer Oliver Jackson. Catherine was still a teenager when he made his first recording, playing on an album by Belgian tenor saxophonist/arranger Jack Sels. Days later, they were on the road to Holland, where the Sels quartet opened for Thelonious Monk in Amsterdam. He continued his rhythmic education during a year working with Edgar Bateman when the late Philly drum master lived in Brussels. "I was very lucky to play with those guys," Catherine says. "Bennett and Jackson and Bateman gave me something I never forgot: this groove, this enormous groove that they had." Despite a growing reputation and regular work, Catherine didn't envision himself making a career in music. Devoted to his studies in philosophy and economics, he figured he was destined for a life in business or the bureaucracy until the fall of 1970, when Jean-Luc Ponty took a minute off from his gig with Frank Zappa and sent Catherine a letter asking him to join his group. So at 28, Catherine took the plunge. Deeply interested in the paths blazed by John McLaughlin and Coryell, he immersed himself in Ponty's fusion, spending a year with the electric violinist. After all his years in school, he finally had an opportunity to study music during a three-month summer session at Berklee. Upon returning to Belgium, his career accelerated through the 1970s as he forged a vast web of connections with artists on both sides of the Atlantic. His relationship with indefatigably creative altoist Charlie Mariano crystallized in 1974, when the Euro all-star band Pork Pie released its first album, Transitory, featuring Dutch pianist Jasper van't Hof, French bassist Jean-François Jenny-Clark and Italian drummer Aldo Romano. An intermittent relationship with Chet Baker culminated in 1985, when Catherine spent the year touring across Europe with the trumpeter and Belgian bassist Jean-Louis Rassinfosse. "Chet had great chops and was playing fantastic," Catherine says. "He wasn't fucked up that year." The guitarist allied himself with another lyrical trumpet master in 1990, when he recorded the Criss Cross album I Remember You with Tom Harrell and Dutch bassist Hein van de Geyn. The trio regrouped for the label two years later for two melody-besotted sessions, Moods volumes 1 and 2. His latest album, Concert in Capbreton (Dreyfus), is another sublimely lyrical excursion, recorded live with longtime collaborator Van de Geyn, Italian piano great Enrico Pieranunzi and the always sensitive Joe La Barbera, who honed a light, interactive touch on the kit as a member of pianist Bill Evans' last trio. Concentrating on standards like "My Foolish Heart" and "Speak Low," the quartet also explores Sam Rivers' "Beatrice" and Richie Beirach's "Broken Wings." The album follows up on 2001's acclaimed Alone Together (Challenge), a session organized by Van de Geyn. "I like to improvise in a melodic way, and I succeeded sometimes on Capbreton," Catherine says. "I liked the interplay. It's about trying to tell a story, but you don't know the meaning of the story." Still in prime form, Catherine has no shortage of laurels to rest on. He's won just about every major European jazz honor, including the Django D'or for Best European Jazz Artist, the ZAMU Lifetime Achievement Award from the Antwerp Conservatory and the Bird Award (now the Paul Acket Award) from the North Sea Jazz Festival. Creatively, he's always kept one hand dipping in the American wellspring, drawing inspiration from artists like Coltrane, Wynton Kelly and Herbie Hancock. But he rarely appears on Stateside bandstands, a source of abiding frustration. He's not complaining, just wishing for a little trans-Atlantic love. "When I had a chance to play with the great American musicians, I always felt comfortable," Catherine says. "A big part of inspiration comes from them. What astonishes me is that people will say that I'm so European. What does that mean? It's so strange. I think, 'You don't notice that I'm trying to play American?' I regret I don't have more chance to play in the States. Maybe I don't deserve it; I don't know. I would like to be known better there. That's ego. I cannot be bitter at all. I'm playing everywhere in Europe. I'm very grateful I can make a living." © 1999–2010 JazzTimes, Inc. All rights reserved http://jazztimes.com/sections/overdue-ovation/articles/26260-philip-catherine-overdue-ovation