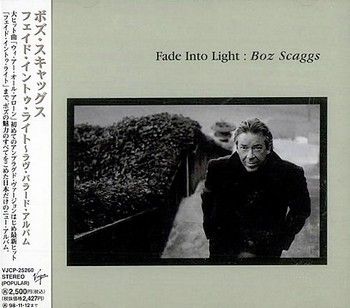 Boz Scaggs
-
Fade Into Light
-
1996
-
Virgin
(Japan)
Fade into Light is a stellar album. It features unplugged and redone performances from Scaggs' classic Some Change, Silk Degrees, and Middle Man, as well as some new tunes. The unplugged tunes include readings of "Dirty Lowdown" and "Simone." "Harbor Lights" is changed significantly as well, in that the disco riff in its ending has been replaced by smooth jazz. "Sierra" is a remarkable redo that gives the tune a completely different feel. "Just Go" has Scaggs playing almost everything on the track, and it is one of his most nakedly emotional performances committed to tape. The sheer brokenness in his voice reveals a depth and dimension in the performance that takes the listener deep into the lyric. It is followed by a sultry, nocturnal read of "Love T.K.O." that reveals his deep authority, allowing the lyric to speak through him, not because of him. There is an authority here that allows the vast emotion in the song to be read through the spirit of acceptance, and it all lies in his nuance and phrasing. It's so inspired, offering a view of the many sides of Scaggs as a singer, that Fade into Light is a must for anyone even remotely interested in Boz Scaggs. © Thom Jurek © 2011 Rovi Corporation. All Rights Reserved http://www.allmusic.com/album/r447517
[REVIEW REFERS TO BONUS TRACK EDITION]
Brilliant Pop/R&B melodies often tinged with jazz and blues overtones. This album includes acoustic versions of earlier material. This album was also re-issued in 2005. I have some doubt as to whether the tracks on this album are from the original Japanese Virgin 1996 CD issue. Can anybody provide a definitive musicians list for this album. Some of the tracks may have been reworked or re-mixed for the later 2005 CD issue, e.g The sax on this album sounds more like Tom Scott than Norbert Stachel. Perhaps both musicians played? Also it is not easy to pinpoint Dean Parks' guitar contribution, not to mention Robben Ford. Any help appreciated. Regardless of these queries, it's a great album from one of the greats of blue eyed soul.
[

All tracks @ 320 Kbps: File size = 129 Mb

]
TRACKS / COMPOSERS
1. Lowdown - Unplugged - Boz Scaggs, David Paich
2. Some Things Happen - Boz Scaggs, Marcus Miller
3. Just Go - Boz Scaggs
4. Fade Into Light - Boz Scaggs
5. Harbor Lights - Unplugged - Boz Scaggs
6. Lost It - Valley Version - Boz Scaggs
7. Time - Boz Scaggs
8. Sierra - Boz Scaggs
9. We're All Alone - Unplugged - Boz Scaggs
10. Simone - Unplugged - Boz Scaggs, David Foster
11. I'll Be The One - Remix - Boz Scaggs
MUSICIANS
[Not definitive]
Boz Scaggs - Guitar, Keyboards, Vocals
Robben Ford - Guitar
Fred Tackett - Guitar, Acoustic Guitar
Dean Parks - Acoustic Guitar
Nathan East, James "Hutch" Hutchinson, Dave Carpenter, Roscoe Beck, Neil Stubenhaus - Bass
Jai Winding, Kevin Bents - Piano
Greg Phillinganes - Electric Piano
Michael Omartian, Michael Rodriguez - Keyboards
Randy Kerber - Keyboards, Piano
Booker T. Jones, William McLeish Smith - Organ
Jim Keltner - Drums
Ricky Fataar, Curt Bisquera - Drums, Percussion
Tom Scott, Norbert Stachel - Saxophone
Lisa Frazier, Kathy Merrick - Background Vocals
BIO
(WIKI)
Boz Scaggs (born William Royce Scaggs, 8 June 1944, Canton, Ohio) is an American singer, songwriter and guitarist. He gained fame in the 1970s with several Top 20 Hits in the United States along with the #2 album Silk Degrees. Scaggs continued to release and record in the 1980s and 1990s, and still tours into the 2000s. Scaggs was born William Royce Scaggs in Canton, Ohio, the son of a traveling salesman. The family moved to Oklahoma, then to Plano, at that time a Texas farm town just north of Dallas. He attended a Dallas private school, St. Mark's, where a schoolmate gave him the nickname "Bosley". Soon, he was just plain Boz. After learning guitar at the age of 12, he met Steve Miller at St. Mark's. In 1959, he became the vocalist for Miller's band, The Marksmen. The pair later attended the University of Wisconsin-Madison together, playing in blues bands like The Ardells and The Fabulous Knight Trains. Leaving school, Scaggs briefly joined the burgeoning rhythm and blues scene in London. After singing in bands such as The Wigs and Mother Earth, he traveled to Sweden as a solo performer, and in 1965 recorded his solo debut album, Boz, which was not a commercial success. Scaggs also had a brief stint with the band The Other Side with fellow American Jack Downing and Brit Mac MacLeod. Returning to the U.S., Scaggs promptly headed for the booming psychedelic music center of San Francisco in 1967. Linking up with Steve Miller again, he appeared on the Steve Miller Band's first two albums, Children of the Future and Sailor, which received good reviews from music critics. After being spotted by Rolling Stone publisher Jann Wenner, Scaggs secured a solo contract with Atlantic Records in 1968. Despite good reviews, his sole Atlantic album, featuring the Muscle Shoals Rhythm Section and slide guitarist Duane Allman, achieved lukewarm sales, as did follow-up albums on Columbia Records. (His Atlantic album was deleted and replaced with the exact same cover and tracks, but it was given a new catalog number and it was completely remixed in Los Angeles in 1977. This new remix brought Duane Allman's guitar up to the front, but it greatly altered the original feeling. On the track "Finding Her", the volume fades down real low for the last minute, an obvious mixing error by engineer Craymore Stevens. The original has never been available on CD.) In 1976, he linked up with session musicians who would later form Toto and recorded his smash album Silk Degrees. The album reached number 2 on the U.S. charts and number 1 in a number of countries across the world, spawning three hit singles: "Lowdown", "Lido Shuffle", and "What Can I Say", as well as the MOR standard "We're All Alone", later covered by Rita Coolidge and Frankie Valli. A sellout world tour followed, but his follow-up album, the 1977 Down Two Then Left, did not fare as well commercially as Silk Degrees. The 1980 album Middle Man spawned two top 20 hits, "Breakdown Dead Ahead" and "Jojo," and Scaggs enjoyed two more hits in 1980-81 ("Look What You've Done to Me" from the Urban Cowboy soundtrack, and "Miss Sun" from a greatest hits set, both U.S. #14 hits). But Scaggs' lengthy hiatus from the music industry (his next LP, Other Roads, wouldn't appear until 1988) slowed his chart career down dramatically. "Heart of Mine" in 1988, from Other Roads, was Scaggs' final top 40 hit but was a major adult contemporary success. Scaggs continued to record and tour sporadically throughout the 1980s and 1990s, and for a time was semi-retired from the music industry. He opened the San Francisco nightclub, Slim's, in 1988, and remains a co-owner as of 2008. After Other Roads, Scaggs took another hiatus and then came back with Some Change in 1994. He released Come On Home, an album of blues, and My Time, an anthology in the late 1990s. He garnered good reviews with Dig although the CD, which was released on September 11, 2001, was lost in the post-9/11 melée. In May 2003, Scaggs released But Beautiful, a collection of jazz standards that debuted at number 1 on the jazz charts. He tours each summer, has a loyal cadre of fans, remains hugely popular in Japan, and released a DVD and a live CD in 2004. Other releases followed. In 2008, Scaggs began an expanded tour, and is scheduled to appear across the country from spring through fall. Scaggs and his wife grow grapes in California's Napa County and have produced their own wine.