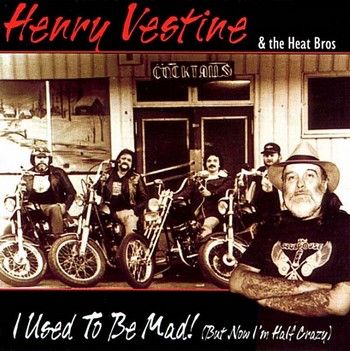 Henry Vestine
&
The Heat Bros
-
I Used To Be Mad!
(But Now I'm Half Crazy)
-
2002
-
Aim
Guitarist Henry Vestine gained notoriety through his on-again, off-again tenure with boogie rockers Canned Heat. Recorded after a 1981 tour of Australia and New Zealand, Vestine and members of Canned Heat entered a studio in New Zealand to record this affair. But the tapes were shelved for two decades. Yet at the behest of Canned Heat vocalist James Thornbury and a South African fan, this 2002 production marks Vestine's first solo recording. And while the hard-living artist passed away in 1997, these tracks duly intimate his ballsy chops and firmly implanted blues roots. The musicians work through soul-drenched rock numbers and a garage band-type rendition of "Johnny B. Goode," amid a straightforward version of the Canned Heat hit "Let's Work Together." However, one of the highlights features Vestine's soloing on the walking blues-type motif titled "Loquisimo," which is a piece that signifies one of the guitarist's several nicknames. Overall, Vestine's gritty and altogether animated line of attack is prominently displayed, although many of these tracks suffer from a lack of distinction. © Glenn Astarita © 2011 Rovi Corporation. All Rights Reserved http://www.allmusic.com/album/i-used-to-be-mad-but-now-im-half-crazy-r609443
"The compilation's second disc ("I Used To Be Mad! (But Now I'm Half Crazy)"proves to be just as bluesy and vibrant as the first -- nearly everybody else in the rock world may have been cutting their hair and introducing synthesizers into their music, but not Vestine, as such standouts as "Dust My Broom" and "Sunflower Blues" could easily be mistaken for Canned Heat tracks. For fans who may have lost track of Canned Heat sometime in the '70s, Human Condition Revisited/I Used to Be Mad! (But Now I'm Half Crazy) proves that they were still rockin' and rollin' far beyond Woodstock". - from review of the album "Human Condition Revisited/I Used to Be Mad! (But Now I'm Half Crazy)" © Greg Prato © 2011 Rovi Corporation. All Rights Reserved http://www.allmusic.com/album/human-condition-revisitedi-used-to-be-mad-but-now-im-half-crazy-r940247/review
At the end of an 1981 tour Canned Heat recorded "I Used To Be Mad! (But Now I'm Half Crazy)" at a studio in New Zealand. This album is credited to the late Henry Vestine, although all Canned Heat's members took part in the recording. It is a good mix of blues rock originals and Rock ''N" Roll and soul covers. Canned Heat (The Heat Bros) were in their prime around this time period. Audio quality is not always top notch, but shouldn't mar your enjoyment of this great boogie/blues rock album
[

All tracks @ 320 Kbps: File size = 118 Mb

]
TRACKS / COMPOSERS
1 Dust My Broom - Elmore James 4:37
2 Searchin' For My Baby - DeLaParra, Vestine 3:03
3 Sunflower Blues - DeLaParra, Vestine 2:45
**
4 Johnny B Goode - Chuck Berry 3:33
5 Ninety Nine & A Half - Henry Vestine 4:20
6 High School Dance - DeLaParra, Vestine 3:30
7 Loquisimo - DeLaParra, Vestine 7:25
8 The Stumble - Freddie King 3:23
9 Let's Work Together - Wilbert Harrison 3:28
10 I Need $100 - Sam Wilson 5:20
*
11 Kings Of The Boogie - DeLaParra, Hite, Rodriguez, Vestine 3:25
12 On The Road Again - Floyd Jones, Al Wilson 5:09
13 LSD Boogie - DeLaParra, Vestine 4:32
*
A track with the same title was composed by Sam Wilson
**
A track with the same title was composed by John Fahey
MUSICIANS
Henry Vestine - Guitar [Lead]
Mike 'The Mouth' Halby - Guitar, Guitar [Lead Between Henry's Two Solos] on Track 7, Lead Vocals on Tracks 5, 6, 11
Ernie Rodriguez - Bass Guitar, Lead Vocals on Tracks 2, 4, 9, 12
Fito de la Parra - Drums, Piano on Track 3
Ricky Kellogg - Harmonica, Lead Vocals on Tracks 1,10
BIO
Charles Vestine, a.k.a. "The Sunflower," was born on Christmas Day, December 25, 1944, in Takoma Park, Maryland, the only son of Harry and Lois Vestine . Henry's father was from Canada and his mother was from Arkansas. Henry lived in the toughest section of Takoma Park in Prince Georges County. He attended Jay Enos Ray Elementary School and Takoma Park Junior High School. In his late grade school and early junior high years Henry and his friends would spend the summers at an outdoor swimming pool at Coolidge High School in Washington DC. It was there that he, at age 11, and John Fahey , who also was born in Takoma Park, began to learn how to play guitar – trading chords and singing a mixed bag of pop, hillbilly , and country music, particularly Hank WilIiams . Six brothers, all young World War II veterans from a black family named Williams, taught them their first blues licks . The brothers also played country songs and liked to yodel. As he learned to play guitar, Fahey moved musically to country and western and then bluegrass. Henry, on the other hand, followed the blues, branching out into what Fahey called "John Lee Hooker type boogies" and a "plastique" music that was a kind of "soft jump rock." An early influence on Henry was Roy Buchanan . Henry knew Buchanan and used to go with Fahey to hear to him at a little bar on Highway 1 north of the University of Maryland. Henry's father was a noted physicist specializing in gravity studies. Shortly after the Soviet Union launched Sputnik he was offered a job in California and moved to Pacific Palisades. Henry took the sudden transplantation hard and shortly after his arrival began what was to be a lifelong association with drugs. He also tried to project an "East Coast Greaser" persona, according to his cousin Martha Magoon, but really had a heart of gold. He was often seen tooling around in a burgundy colored '57 Chevy with the words "Home of the Blues" stenciled on the side. He also was an Eagle Scout. In California, Henry joined his first band, Hial King and the Newports, in junior high school. By the time he was seventeen he was a regular on the Los Angeles club circuit. He became a familiar sight at many black clubs, where he often brought musician friends to turn them on to the blues. Henry became friends with Cajun guitarist Jerry McGhee. It was from him that Henry learned the flat pick and 3-fingerstyle that was to become so much a part of Henry's own style.
Henry Part 2 Posted: 01/02/2008
On his first acid trip with a close musician friend, Henry visited an East LA tattoo parlor and got the first of what was to be numerous tattoos: the words "Living The Blues". That same day he got his first mojo, John the Conqueror root, from a voodoo shop around the corner from the tattoo shop. He would often hang his mojo, in a red bag, on his guitar whenever he played boogie songs. Henry's love of music and the blues in particular was fostered at an early age when he accompanied his father on canvasses of black neighborhoods for old recordings . Like his father, Henry became an avid collector, eventually coming to own tens of thousands of recordings of blues, hillbilly, country, and Cajun music. At Henry's urging, his father also used to take him to blues shows at which he and Henry were often the only white people present. This was well before blues had become popular among white audiences. Henry was instrumental in the "rediscovery" of Skip James and other Delta musicians. He was fond of telling the story of how he, Bill Barth, and John Fahey found Skip James in Tunica, Mississippi. In June 1964, the three were on one of many trips they made to the South to canvas rural black communities of old recordings. In Northern Mississippi they learned that Skip James was in the county hospital in Tunica. Henry used to recall that when they walked into his hospital room, Skip James, without previously talking with Henry or knowing the purpose of his visit said he saw "music" around Henry. Fahey also recalls that James asked if they wanted old records and that he had made some in 1931. Fahey also recalls that James then said "You must be pretty stupid. Took you a long time to get here." While James discussed with friends the wisdom of going north and renewing his musical career, Henry, Fahey, and Barth went to Minden, Louisiana to stay with Fahey's mother and step-father. While Henry was on a pay phone the three were arrested by the local police who apparently thought they were civil rights agitators. With a little help from Fahey's stepfather and possibly Henry's father in paying off the appropriate people, the three were released after a night in jail. Shortly thereafter, James decided to renew his career and was booked at Newport. Fahey plans to recount his many collecting trips to the south in a book he is writing to be entitled "Fahey". Throughout the early to mid 1960's Henry played in various musical configurations and frequented after hour jam sessions. It was during this time that he played with Frank Zappa in the original Mothers of Invention. He married his first wife, Sandy, in 1965 but the marriage was to last only a few years. Fahey recalls that by the time he moved to California in the mid-60's Henry was a fantastic guitar player. In fact, one night Fahey went to a West LA club to hear the Henry Vestine Trio. He sat with the trio's biggest fans, four male college-aged students. 0ne, who was black, came to study Henry's guitar playing. He introduced himself to Fahey with the words, "Hi, I'm Jimi Hendrix ." Fahey was to be instrumental in the formation of Canned Heat . In 1966 he met Al Wilson in Boston and asked him to come out to the west coast to help Fahey write his Masters thesis on Charley Patton . He introduced Wilson, who roomed with him, to Henry and Bob and Richard Hite. Henry, Wilson. and the Hite brothers formed a jug band that rehearsed at Don Brown's Jazz Man record Shop. Shortly after Bob Hite and Alan Wilson formed Canned Heat, Henry was asked to join. As he told a musician friend in his trio at the time, he decided to go with the more rock oriented Canned Heat in order to get rich and see the world. He joined the band and the next year played with them at the Monterey Pop Festival. Canned Heat's first album was released in 1967. In his liner notes, Pete Welding praised Henry and his incendiary, unbearably exciting lead guitar work. Henry burst into musical prominence as a guitarist who stretched the idiom of the blues with long solos that moved beyond the genres conventional definitions. He had a piercing trademark treble guitar style that was his own. Albert Collins was invited to LA by Canned Heat to record hist first album. Henry did have his favorite guitar players, though, including T-Bone Walker , Johnny 'Guitar' Watson , Sonny Sherrock , Freddie King , and Albert Collins . Indeed, shortly after Canned Heat's first album, Henry and the band met Albert Collins in Texas and invited him out to Los Angeles to record his first album with them on Liberty. Henry had an on-again. off-again relationship with Canned Heat, who had hits with "Going Up The Country" and "0n The Road Again". Henry either quit or was fired from the band ten times over thirty years. He missed playing at Woodstock in 1969, having quit the band a week earlier. In 1995, he explained to an Australian reporter that "At the time, it was just another gig. It was too bad I wasn't there , but I just couldn't continue with the band at the time." It was shortly after he left the band in 1969 that Henry's love affair with Harley Davidson motorcycles really took off. He eventually owned eleven of them. Over the years he had also developed a close relationship with the Hell's Angels. Prior to his death he was looking forward to playing at their 75th Anniversary Celebration. While Canned Heat played at Woodstock in August of 1969, Henry was invited to New York City for session work with avant-garde jazz great Albert Ayler . That session work resulted in two re leases on the Impulse label. Throughout the years Henry was to play with numerous other musicians, perhaps the most notable being John Lee Hooker . Canned Heat met Hooker in the Portland Airport in 1970 and recorded "Hooker N' Heat" that same year in a recording session that was to be Al Wilson's last. Henry was to record with Hooker again in the late 1970's on a second "Hooker N' Heat" album and again many years later on "The Healer." Henry traveled the world with Canned Heat, playing throughout Europe, Australia, Asia, and the Americas. He and Bob Hite triggered much of the band's outrageous and legendary behavior. For Henry getting high wan not an offense – it was a given. The band's exploits are chronicled by long time drummer Fito de la Parrain a recently published book, "Living with the Blues" that is available through Canned Heats website. In the mid 1970's Henry married Lisa Lack and moved with her to Anderson, South Carolina. In 1980 they had a son, Jesse. While in South Carolina, Henry had numerous drunk driving arrests as well as difficulties with the IRS. Henry's marriage broke up and he found his way to Oregon in the Fall of 1983. He lived on a farm in rural Blodgett for a year and then in Corvallis, making a living doing odd jobs and playing music at rodeos and taverns in a blues band with Mike Rosso, an old friend from southern California who had played bass with Albert Collins and who had also moved to 0regon. Henry also played with Ramblin' Rex.
Henry Part 3 Posted: 01/01/2008
Terry Robb brought Henry to Portland and they did some recording together. Henry began playing with the Pete Carnes Blues Band and made his way to Eugene when the band folded in the mid 1980's. He played the regional club scene with a number of blues and blues-rock groups including James T. and The Tough. From that band he was to bring James Thornbury to a reconstituted Canned Heat. In recent years, Henry enjoyed touring with Canned Heat in Australia and Europe, where the band had a popularity that far surpassed the recognition they got in the United States. When he returned to Eugene he would play with The Vipers, a group of veteran Eugene blues musicians who perform throughout the Northwest. He continued to record including sessions with Oregon bands such as Skip Jones and The Rent Party Band , Terry Robb, and The Vipers. He also recorded the album "Guitar Gangster" with Evan Johns in Austin. Henry seemed to know that his health was failing. About a month before he left on his final tour with Canned Heat, Henry commented to my partner and me that he wanted his ashes sent to the Vestine Crater on the moon, which had been named posthumously after his father. Henry had finished that European tour with Canned Heat when he died in a Paris hotel on the morning of October 20, 1997, just as the band was to return to the United States. Although he had not seemed well during the latter part of the tour, he resisted suggestions to stop performing, insisting he would be okay. In addition to being a great musician, Henry was also a good and loyal friend to many. After his death one friend succinctly characterized him in a letter to a Eugene paper as follows: "Henry was a delightful personality, almost elfin, and a dualistic persona typical of genius. Very generous, but he loved to bargain. Private, but made himself available. Loved adulation, but admired his heroes with equal fervor. Very independent, but relied on friends. He paid his bills and never forgot his son's birthday. Henry's ashes are interred at the Oak Hill Cemetery outside of Eugene, Oregon. A memorial fund has been set up in his name. Contributions to the Henry Vestine Memorial Fund may be made by sending donations in care of OUR Federal Credit Union, PO Box 11922, Eugene, Oregon 97440. The fund will be used for maintenance of his resting place at Oak Hill Cemetery and, when it is possible, for conveyance of some of his ashes to the Vestine Crater on the moon. By & © Jon Silvermoon http://www.vipertoons.com/henry/