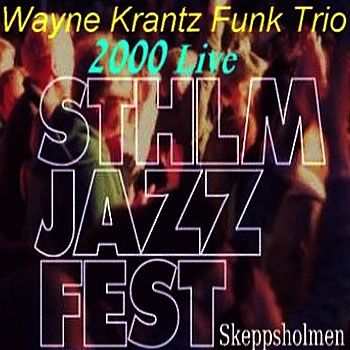 Wayne Krantz
Funk Trio
-
2000
Live
Skeppsholmen
Jazzfest
-
2000
-
Unoff
.
Recorded on Skeppsholmen Island near the King's Palace and Gamla Stan, Stockholm, Sweden on July 20th 2000 and broadcast on Swedish radio, as part of Stockholm's annual major summer jazz festival. This is a great album of jazz rock/fusion from three masters of their instruments. There is some ferocious guitar playing here from Wayne Krantz. The bass work from Tim Lefebvre, is an education in itself, and of course the drumming from the unbelievably talented Keith Carlock is out of this world. There are some quiet moments on the album, but overall it's very, very impressive. The three guys produce some magical grooves. Listen to Wayne Krantz and Leni Stern's "Separate Cages" album. You can also hear some of Wayne's superb guitar work on Donald Fagen's "Morph The Cat" album. It is also worthwhile listening to Keith Carlock on Marian McPartland's "Piano Jazz: McPartland/Steely Dan", a great in-studio radio recording. Check out John Petrucci's great "Suspended Animation" album which features Tim Lefebvre. For music in a similar vein, listen to the late Emily Remler's "Transitions" music. Check out the Wayne Krantz, Keith Carlock, Tim Lefebvre "Krantz Carlock Lefebvre" album @
KR-CA-LE
and search this blog for more Wayne Krantz.
[

All tracks @ 192 Kbps: File size = 72.9 Mb

]
TRACKS
1 Composition #1 / Short Band Intro
2 Composition # 2
3 Composition # 3
4 Composition # 4
5 Composition # 5 / Band Intros
6 Composition # 6 / Talking to Audience about "Greenwich Mean" album
7 Composition # 7
All music composed by W. Krantz &/or Tim Levebre, Keith Carlock
BAND
Wayne Krantz - Guitar
Tim Levebre - Electric bass
Keith Carlock - Drums
ABOUT
KEITH CARLOCK
(WIKI)
Keith Carlock is an American drummer originally from Clinton, Mississippi. He currently resides in New York City, NY. He has recorded and/or toured with such musical luminaries as Sting, Steely Dan, James Taylor, Donald Fagen, Walter Becker, Diana Ross, Faith Hill, The Blues Brothers Band, Leni Stern, David Johansen and the Harry Smiths, Richard Bona, Chris Botti, Wayne Krantz, Harry Belafonte, Oz Noy, Clay Aiken, Rascal Flatts, Paula Abdul and Grover Washington, Jr, to name a few. Perhaps the greatest testament to Carlock's mastery of the drums lies in him being the exclusive drummer for every track on Steely Dan's latest CD Everything Must Go (Steely Dan has used multiple drummers on each of the last several albums they've released over the past three decades, presumably because Walter Becker and Donald Fagen, with a reputation for relentless perfection in the studio, wanted a "specialist" drummer for each different groove required for a given song). While in the Jazz Studies program at the University of North Texas, Keith studied with many teachers, including Ed Soph. Keith is also the long time boyfriend of Ruff Ryders/Ruff Pop pop/rock singer/songwriter Lynne Timmes. In October 2009 he released an instructional DVD called "The Big Picture: Phrasing, Improvisation, Style, and Technique."
ABOUT
WAYNE KRANTZ
(WIKI)
Wayne Krantz (born July 26, 1956 in Corvallis, Oregon) is an innovative American musician, who is widely recognized as a technically advanced jazz fusion guitarist. He has played with top artists such as Steely Dan, John Zorn, Michael Brecker, Billy Cobham, and others, but currently has a solo act. Krantz released his first album, Signals, in 1991, sporting an array of recognized jazz musicians such as Dennis Chambers, Leni Stern, Anthony Jackson, and others. However, in 1992, he formed a trio with bassist Lincoln Goines and drummer Zach Danziger, and recorded two albums with them; Long To Be Loose, in 1993, and a live album, 2 Drink Minimum, in 1995. In doing so, he began to play periodically at the 55 Bar, a diverse and premier jazz club in New York City. In 1996, Krantz released an acoustic album with Leni Stern, dubbed Separate Cages. Wayne formed a new trio in 1997, consisting of his ferocious guitar skills, complemented by Tim Lefebvre on electric bass and Keith Carlock on drums, new sounds that would change his music's style drastically. On June 28, 2007, Krantz played his final regular Thursday night gig at NYC's 55 Bar. In an announcement by Krantz to his mailing list notifying his fans of the change, he stated a desire to move towards a "louder thing" requiring "bigger rooms, with stages and sound systems to pull it off." Krantz's first three solo albums were released on the jazz label, Enja Records, which was at the time also home to frequent collaborator Leni Stern. However, Krantz's last three albums, 1999's Greenwich Mean, 2003's Your Basic Live, and 2007's "Your Basic Live '06" were both released from Wayne's private website. Like 2 Drink Minimum, these two albums both are excerpts of various sets at the 55 Bar. These two albums also include more use of effects pedals, and are more unscripted and improvised than the previous three, implying Wayne's tendency towards nonconformism on and off the stage. He contributed to Steely Dan co-founder Donald Fagen's newest release, Morph the Cat, and participated in touring with Fagen's band in early 2006. In another rare sideman role, Krantz is featured on tenor saxophonist Chris Potter's 2006 release, "Underground." Additionally, he is to return to the studio in 2006 to record a new solo album, to be followed by touring. It is unknown whether this new album will feature Wayne's existing trio. Even with a lack of a record company, and thus an absence of excessive advertisement and sponsorship, Krantz's music still receives acclaim and a worldwide underground fan base, strongest in the New York metropolitan area and Britain. Wayne Krantz signed with record label Abstract Logix to release his first studio record in over fifteen years.Krantz Carlock Lefebvre (2009) features the core trio of Keith Carlock on drums, Tim Lefebvre on bass, and Wayne on guitar. As a guitarist, Krantz is known for being a relentless individualist, which is evidenced in his improvisational style. In his book "An Improviser's Operating System," Krantz outlines his approach to improvisation, which relies not on licks or memorized fretboard patterns but an awareness of musical "formulas" on the instrument. Krantz's improvisation is known for its spontaneity, and he makes a distinction between this form of improvisation and "composition," the latter of which may include any musical idea that is preconceived on the instrument. While many guitarists rely on other music as a model for their own playing, Krantz is highly committed to realizing his own voice on the instrument and claims not to derive a great deal of inspiration from other music. Though Krantz has studied other players in the past, he does not consider himself a stylist (i.e. someone who models his or her playing on a predefined stylistic template, such as pure bebop, rock, blues or funk.) In addition to its concern for melody and harmony, Krantz's music demonstrates a high rhythmic awareness, often incorporating polyrhythms, odd metric groupings and displaced beats. Krantz is most identified with a Stratocaster-type electric guitar. Recently he has played a model manufactured by Tyler Guitars. Earlier releases such as "Signals" feature a chorus effect commonly associated with fusion guitar. Within several years, however, his sound became more organic, featuring analog effects such as overdrive, wah-wah, and a Moogerfooger ring modulator. For amplification, Krantz has used both Fender Deluxe Reverb and, more recently, Marshall amplifiers for a heavier sound. On May 22, 2004, Krantz married smooth jazz vocalist Gabriela Anders. Together they live in New York City with their daughter Marley.
ABOUT
TIM LEFEVBRE
Tim Lefebvre (bass) is one of the most skilled and sought after bass players in NY. Tim has made appearances in Saturday Night Live's house band over the last few years - his work has also been heard on The Apprentice, The Sopranos, Late Show With David Letterman, The Knights of Prosperity (CBS), 30 Rock (NBC), Oceans 12, Ocean 's 13, The Departed, Harold & Kumar Go To White Castle, and Analyze That!. Tim was the Musical Director/Leader on The Caroline Rhea Show on ABC and has appeared recently with Chris Potter, Patti Austin, Uri Caine, and Dave Binney. This summer Tim is touring with Chuck Loeb, Dennis Chambers, Till Bronner, Eric Marienthal and Jim Beard. Tim brings his incredible support and huge low sounds to the Rudder vibe. © All About Jazz and/or contributing writer/visual artist. All rights reserved