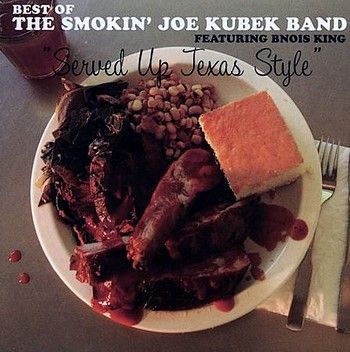 Smokin' Joe Kubek
-
Served Up Texas Style:
The Best Of
The Smokin' Joe Kubek Band
-
2005
-
Rounder Select
Smokin' Joe Kubek and Bnois King first hooked up in 1987, and their musical association has lasted nearly 20 years. Their albums are dependable affairs that stick close to good old barroom Texas blues, and if they seldom deviate from that, well, that's fine, because they do it as well as anyone this side of Stevie Ray Vaughan. Served Up Texas Style collects key tracks from the seven albums they recorded during the their ten-year stay at the Bullseye Blues label, an association that ended in 2003 when the band jumped to Blind Pig. The tone of this body of blues rock is so consistent that Served Up Texas Style unwinds as a unified, cohesive sequence, with a steady march of good old Texas roadhouse fun. Highlights include "Damn Traffic" from 1998's Take Your Best Shot, a loose as a goose cover of Jimmy Reed's "Natural Born Lover" from 1991's Steppin' Out Texas Style, the blistering "Texas Cadillac" from the 1994 album of the same title, and "Corn Palace," a delightful blues funk instrumental from 1995's Cryin' for the Moon. Nothing here will change your idea of modern music (the band follows the blues-rock template so faithfully that it is actually almost startling when Kubek uses a guitar talk box on "If You Know What I'm Sayin'" from 2000's Bite Me!), but there is a lot to be said for keeping things basic, and like the cover art for Served Up Texas Style, which shows a big ol' plate of barbecue servings, this band delivers music that will stick to your bones and you won't wander around afterward wondering what you just ate. © Steve Leggett © 2011 Rovi Corporation. All Rights Reserved http://www.allmusic.com/album/served-up-texas-style-the-best-of-the-smokin-joe-kubek-band-r796609/review
Blues guitarist Smokin' Joe Kubek was born in Grove City, Pennsylvania but as a youngster, moved to Irving, Texas. For many years now Joe and guitarist/vocalist Bnois King, from Monroe, LA have been producing blues rock albums of the highest standard. "Served Up Texas Style" contains 15 great uncompromising blues rock tracks covering ten years and seven albums. Predominantly Texas blues, the album also has a touch of Chicago and New Orleans style blues, and Bnois King often produces some nice jazzy guitar touches. The album includes two previously unreleased tracks from the "Texas Cadillac" sessions ("Big Legs", and "I'm In An Awful Mood"), and a guest appearance from the late blues legend, Little Milton. The album is
VHR by A.O.O.F.C
and an absolute pleasure to hear the blues played like this. The Smokin' Joe Kubek Band featuring Bnois King's "Cryin' For The Moon" and "Got My Mind Back" albums can be found on this blog. Buy SJK's great "Steppin' Out Texas Style" album, and keep the blues alive!
[

All tracks @ 256 Kbps: File size = 127 Mb
]
TRACKS / COMPOSERS
1. Can't See For Lookin' - B. King / J. Kubek 4:39
2. TV Light - B. King / J. Kubek 5:44
3. Damn Traffic - B. King / J. Kubek 3:41
4. Natural Born Lover - J. Reed 3:34
5. Player Got Played - B. King / J. Kubek / J. Stephens 6:27
6. Texas Cadillac - J. Kubek / R. Levy 4:11
7. Walk With You - B. King / J. Kubek 4:49
8. Got My Mind Back - B. King / J. Kubek 4:09
9. Walk On - B. King / J. Kubek 5:21
10. If You Know What I'm Sayin' - Kazanoff / B. King / J. Kubek 4:21
11. Corn Palace - B. Chitwood / B. King / J. Kubek / K. Stern 4:36
12. Hands On It - Big Bill Broonzy 3:01
13. One Night Affair - B. King / J. Kubek 5:37
14. Big Legs - Bihari / Phillips 3:11
15. I'm In An Awful Mood - G.C. McDaniel / T-Bone Walker 5:16
MUSICIANS
Smokin' Joe Kubek - (Guitars, 12-String Guitar, Slide Guitar)
Bnois King - (Guitars, Vocals)
Little Milton - (Guitars)
Bobby Chitwood, Gregg Wright, Paul Jenkins - (Electric Bass)
Jerry Hancock - (Electric Bass, Percussion)
Ron Levy - (Piano, Organ, Hammond B-3 Organ)
Mark "Kaz" Kazanoff - (Tenor Saxophone, Harmonica)
Sax Gordon - Tenor Sax
Jim Spake - (Saxophone)
Tino Barker, Les Izmore - (Baritone Saxophone)
Scott Thompson, Gary Slechta - (Trumpet)
Phil Campbell , Ralph Power, Mark Hays, Jimmy "Blue Shoes" Pendleton, Keith Stern - (Drums)
Jas Stephens - (Drums, Percussion)
Rusty McFarland - (Cowbells)
Jackie Johnson, Susan Marshall - (Background Vocals)
SHORT BIO
Another young Texas axeman from the old school, Smokin' Joe Kubek issued his band's debut disc in 1991 on Bullseye Blues, Steppin' Out Texas Style. Kubek was already playing his smokin' guitar on the Lone Star State chitlin circuit at age 14, supporting such musicians as Freddie King. Soon, he formed his own band and began playing a number of bars across Dallas. In the '80s, he met guitarist/vocalist Bnois King, a native of Monroe, LA, and the duo formed the first edition of the Smokin' Joe Kubek Band. The Smokin' Joe Kubek Band began playing the rest of the Southwest in the late '80s. In 1991, they signed to Bullseye Blues, releasing their debut, Steppin' Out Texas Style, the same year. Following its release, the band launched its first national tour. For the rest of the '90s, the Smokin' Joe Kubek Band toured the United States frequently and issued records like 1993's Texas Cadillac, 1996's Got My Mind Back, and 2000's Bite Me. In 2003 Kubek and guitarist/vocalist Bnois King released Roadhouse Research on the Blind Pig label. The duo's second release for Blind Pig, Show Me the Money, came out in 2004. A single-disc collection of some of the best tracks from the Bullseye Blues years, Served Up Texas Style, came out in 2005. A third album from Blind Pig Records, My Heart's in Texas, was released in 2006. Another joint effort with King, Blood Brothers, appeared in 2008. Kubek and King followed it with Have Blues Will Travel in 2010. © Bill Dahl © 2011 Rovi Corporation. All Rights Reserved http://www.allmusic.com/artist/smokin-joe-kubek-p413/biography
MORE ABOUT
SMOKIN' JOE KUBEK
Smokin Joe Kubek was born on November 30, 1956 in Grove City, Pennsylvania. Shortly after he was born his family moved to Irving, Texas where he grew up Kubek was playing in Dallas clubs at the age of 14. Three years later, he took a deeper interest in blues, prompted by Eric Clapton and Peter Green, and formed his first band. Shortly afterwards, he played rhythm guitar behind Freddie King until King's death in December 1976. After a short spell with Robert Whitfield's Last Combo, he joined Al Braggs" band. Examples of his work can be heard on Braggs" 1979 production of tracks by R. L. Griffin. He also recorded with Charlie Robinson, Big Ray Anderson and Ernie Johnson, and on Little Joe Blue's album, "It's My Turn Now". In 1989, he teamed up with inger/guitarist Bnois King, from Monroe, Louisiana, whose soul-tinged vocals and jazz-orientated style contrasted well with Kubek's more strident finger and slide techniques. "The Axe Man" is an album of covers recorded before their Bullseye Blues debut. Subsequent releases have consolidated their reputation as a solid, entertaining band. Smokin' Joe Kubek is one of those people who was born to play the guitar. Kubek has the technique and the chops to burn up any stage and has been doing so for the past 27 years. A guitar prodigy at the age of 14 the Texas born guitar slinger frequented the Dallas bar scene during the 1970's and early 80's playing with Stevie Ray Vaughan and people like the three Kings, B. B., Albert and Freddie. He was even ready to go on tour with Freddie King before his death. Kubek, with his staggering arsenal of instruments, effects and technique, delivers a frenzied, flame-throwing guitar display that is tempered by the remarkable accompaniment of Bnois King's jazz influenced guitar. Kubek, coming from the blazing Texas blues/rock background, found in Bnois King's smoothh. jazz guitar stylings a finesse and fat chord sound that was a perfect complement to his technique. The combination just clicked with a seamless mesh of styles. King lays down a bed of smooth supporting jazz chords on his hollow bodied Gibson that allows Kubek to take center stage and play with almost reckless abandon. Together this dynamic duo has recorded 7 albums for Bullseye Blues & Jazz Records, the newest being the 2000 "BITE ME." So buckle up and get ready for a one-two punch, thrill-a-minute ride of high-octane Texas blues. Muscling his way through the proceedings both live and on disc, Kubek will pull, bend, pick, and push his strings well beyond what you'd think they'd normally endure as he runs through his and King's songs. Using Hendrix-style crybaby wah-wah leads and ear-bleeding, Johnny Winter-meets-Elmore James slide work on songs such as the title/leadoff cut and the shuffling "She's It," he brings things to a boiling point with screeching and shimmering lines that rattle speaker cones and make the fillings in your teeth vibrate. Then, applying the brakes, he runs through some of the sweetest, most beautiful slow blues on "I'm Here for You" and "Cryin' By Myself" with shimmering high notes, hanging in the air above heavy turnarounds. Throughout, King (no relation to Freddie) will comp along on his Gibson, shout lyrics, and, in general, make the whole package complete. This union began during a regular Monday-night gig in Dallas when Kubek invited King to sit in and found that King's softer, jazz-based guitar and vocals perfectly complemented Kubek's headier rock-inspired guitar work. Although the partnership is a natural, Kubek still seems amazed that it worked at all. Months earlier, the two shared an uncomfortable meeting that he still recalls today. "We laugh at it now," he says, "but when we first ran into each other, it was in some club dressing room a while before I'd invited him to sit in with my band. Neither of us remembers why we were there, because it wasn't our gig. We never said a word to each other. We just kinda sat there and looked at each other. It was weird." The pair became fast friends and eventually found themselves on the road in support of their first Bullseye disc, Steppin' Out, released in 1991. On early tours, the band did weeks in the Northeast in the dead of winter in an old Ford van, without heat. "It was kinda like that movie Alive," Kubek notes with a laugh. "We'd drive all bundled up. And it got so cold sometimes, I'd actually think of building a fire inside the thing just to keep warm. Then to top it off, every hotel we stopped at only had heat int the rooms when you rented 'em. So they never got warm. I had to sleep with my hair dryer the whole time. The goal was just to get home alive." In 1991, they signed to Bullseye Blues, releasing their debut, Steppin' Out Texas Style, the same year. Following its release, the band launched their first national tour. For the rest of the '90s, the Smokin' Joe Kubek Band toured the United States and toured frequently and issued records like 1993's Texas Cadillac, 1996's Got My Mind Back, and 2000's Bite Me. In 2003Kubek and King released Roadhouse Research on the Blind Pig label. The duo's second release for Blind Pig, Show Me the Money, came out in 2004. A single-disc collection of some of the best tracks from the Bullseye Blues years, Served Up Texas Style, came out in 2005. A third album from Blind Pig Records, My Heart's in Texas, was released in 2006. [ © www.smokinjoekubek.com/bio.htm ]