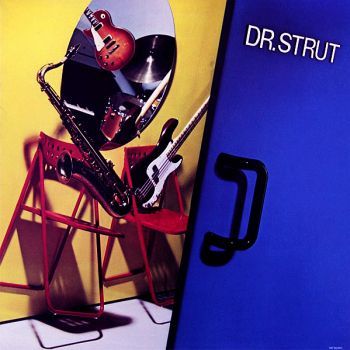 Dr. Strut
-
Dr. Strut
-
1979
-
Motown
A great debut album from the obscure but great jazz funk band, Dr. Strut. Dr. Strut was a relatively unknown jazz funk band. Formed in 1977, they were originally called "The Legendary "Dynamic" Groovadelics." When, unusually, Berry Gordy signed the band to Motown for who they recorded two albums, he changed their name to Dr. Strut and called them "the flagship of the new jazz division." The Motown albums sold well. Their second "Struttin" album was also reasonably successful. (Both albums placed high on the Billboard Jazz Charts). Most cuts were first or second takes with the minimum of overdubbing. The day before the band was to record the third album, "Soul Surgery", Berry Gordy closed the jazz division of the label. Engineer Barney Perkins was adamant that the band record the third album to distribute to American labels. Strangely, there wasn't much interest from the American distributors, which was a pity, as it could have led to bigger things for the band. However, the band was popular in Japan, and thankfully, the Agharta/Canyon label released it in 1982. The great saxophonist David Woodford felt that "Soul Surgery" was the best of the three albums that the band recorded. David has said that the band was hugely influenced by artists like Tom Scott & the LA Express, and the Brecker Brothers. All Dr. Strut's albums are very hard to come by, but are worth seeking out. All the cuts here are good, and the musicianship is first class. "Its all instrumental jazz funk with punchy horns, tweety sax solos and driving bass and rhythm guitars with the odd epic lead guitar solo thrown in".
This album has a strong Steely Dan connection. Tim Weston, the band's guitarist is a lifelong friend of Steve Khan, and was also the assistant engineer on the Steely Dan "Countdown To Ecstasy" album. The album features a very rare Becker & Fagen (Steely Dan) instrumental composition called "Canadian Star" composed by Walt & Don during the recording of their "Gaucho" album. The track is a beautiful, melodic tune featuring some lovely sax and guitar interplay between Tim Weston and Dave Woodford. The album was mixed by the late, great "The Immortal" Roger Nicholls who contributed so much towards Steely Dan's sounds.
Buy Kenny Sara and The Sounds of New Orleans' "Gumbo Live" album and support Dave Woodford, a great guy, and a fantastic saxophonist. Dave sent me an e-mail thanking me for putting this album on this blog. He was very glad to know that this album was not being forgotten and invited me to come and see him play at Ralph Brennan's Jazz Kitchen at Downtown Disney, California. I don't know if Dave is still gigging there, but this Dr. Strut s/t album is
HR by A.O.O.F.C.
Try and listen to the band's "Struttin'" album
[
All tracks @ 320 Kbps: File size = 76.4 Mb
]
TRACKS / COMPOSERS
SIDE ONE
1. GRANITE PALACE - D. Woodford, T. Weston 3:38
2. THE LOOK IN YOUR EYES - K. Bassinson 4:36
3. CANADIAN STAR - Walter Becker & Donald Fagen 4:23
4. MORE STUFF - D. Woodford 4:57
SIDE TWO
1. BLOWTOP - D. Woodford 3:15
2. SOUL SERMONETTE - D. Woodford, T. Weston 4:30
3. CHICKEN STRUT - T. Weston 3:22
4. EDDIEISMS - D. Woodford 3:09
5. WHO CARES - D. Woodford 3:00
6. NO! YOU CAME HERE FOR AN ARGUMENT - D. Woodford 0:57
BAND
Tim Weston - Electric Guitar
Peter Freiberger - Bass
Kevin Bassinson - Keyboards
Claude Pepper - Drums
Everett Bryson - Percussion
David Woodford - Saxophone & Flute
"The Immortal" Roger Nicholls RIP - Mixing Engineer