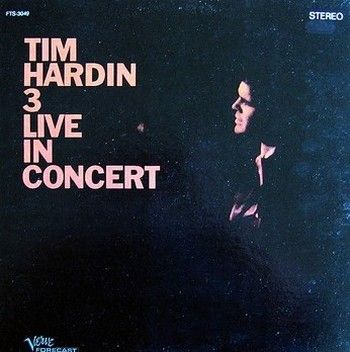 Tim Hardin
-
Tim Hardin 3 Live In Concert
-
1968
-
Verve Forecast

Rolling Stone (2/1/69, p.29) - "...There is, to be sure, a very heavy charisma about Hardin and this album, recorded live at New York's Town Hall...is evidence of both devotion and charisma..."
Originally titled Tim Hardin 3, this set was recorded live in 1968 with a backing band comprised primarily of jazz musicians. The support crew is a bit tentative; it's evident that they hadn't played much with Hardin, and in places the tempo comes close to breaking down. It's still a good, effective performance; Hardin is in good voice (a condition which apparently couldn't be readily counted on, even in his early days), and on the songs that had already been released on his first two albums, the arrangements vary from the recorded versions in interesting fashions. Live in Concert includes renditions of most of his best early compositions ("If I Were a Carpenter," "Red Balloon," "Reason to Believe," "Misty Roses," "Lady Came From Baltimore," "Black Sheep Boy") and half a dozen Hardin originals that didn't make it onto his first pair of albums. The best of these is the Lenny Bruce tribute, "Lenny's Tune," which Nico covered on her first solo album (where it was retitled "Eulogy to Lenny Bruce"). The 1995 CD reissue of this album adds three previously unreleased bonus tracks from the same concert. © Richie Unterberger, allmusic.com
A great live concert, recorded at the Town Hall in NYC on April 8, 1968. The late Tim Hardin never achieved the success he truly deserved, but he was a great singer-songwriter , with a very distinctive voice. Tim's music style was fundamentally Chess blues influenced by artists like Mose Allison, Ray Charles, and Lefty Frizell. Tim once said that "I've always thought of myself as a jazz singer. Jazz to me is just personal. Everyone who is a jazz player, according to my definition, plays like only he (Lefty Frizell) plays. No one else plays that way. I also feel that jazz is blues is jazz is blues is... Blues is not a restrictive term... If it ain't true it ain't jazz and if it's true it's the blues". He tragically died at 39 years of age, but even today he remains a very influential artist, and his songs are consistently being covered by other artists. Listen to Tim Hardin's brilliant "Tim Hardin 1", and "The Shock of Grace" albums, and give a listen to Paul Weller's outstanding "Studio 150" album, on which he does a marvellous cover of Tim Hardin's "Don't Make Promises".
TRACKS
A1 The Lady Came From Baltimore 2:00
A2 Reason To Believe 2:30
A3 You Upset The Grace Of Living When You Lie 4:05
A4 Misty Roses 4:35
A5 Black Sheep Boy 2:05
A6 Lenny's Tune 6:45
B1 Don't Make Promises 4:02
B2 Danville Dame 6:15
B3 If I Were A Carpenter 3:20
B4 Red Balloon 3:21
B5 Tribute To Hank Williams 3:55
B6 Smugglin' Man 3:30
All songs composed by Tim Hardin
MUSICIANS
Guitar, Vocals, (Piano on track A6) - Tim Hardin
Guitar - Daniel Hankin
Bass - Eddie Gomez
Piano, Clavinet - Warren Bernhardt
Drums - Donald MacDonald
Vibraphone - Mike Mainieri
BIO
(WIKIPEDIA)

Timothy James Hardin (December 23, 1941 – December 29, 1980, was an American folk musician and composer. He is best remembered for writing the Top 40 hits "If I Were a Carpenter", covered by Bobby Darin and Robert Plant, and "Reason to Believe", covered by Rod Stewart, as well as his own recording career. Hardin dropped out of high school at age 18 to join the Marine Corps. He spent part of 1959 in Vietnam as a military advisor. He told the story that his sergeant was killed on patrol that year, but because the US didn't admit to any military dead until 1961, his sergeant was listed as having been killed that year. Hardin is said to have discovered heroin in Vietnam. After his discharge he moved to New York City in 1961, where he briefly attended the American Academy of Dramatic Arts. He was dismissed because of truancy and began to focus on his musical career by performing around Greenwich Village, mostly in a blues style. After moving to Boston in 1963 he was discovered by the record producer Erik Jacobsen (later the producer for The Lovin' Spoonful), who arranged a meeting with Columbia Records. In 1964 he moved back to Greenwich Village to record for his contract with Columbia. The resulting recordings were considered a failure by Columbia, which chose not to release them and terminated Hardin's recording contract. After moving to Los Angeles, California in 1965, he met actress Susan Morss (known professionally as Susan Yardley), and moved back to New York with her. He signed to the Verve Forecast label, and produced his first authorized album, Tim Hardin 1 in 1966. This album saw a transformation from his early traditional blues style to the folk style that defined his recording career. This LP contained "Reason To Believe" and the ballad "Misty Roses" which did receive Top 40 radio play. Tim Hardin 2 was released in 1967 and contained one of his most famous songs, "If I Were a Carpenter". An album entitled This is Tim Hardin, featuring covers of "House of the Rising Sun", Fred Neil's "Blues on the Ceilin'" and Willie Dixon's "Hoochie Coochie Man", among others, appeared in 1967, on the Atco label. The liner notes indicate the songs were recorded in 1963–1964, well prior to the release of Tim Hardin 1 by Verve Records. Tim Hardin 3 Live in Concert, released in 1968, was a collection of live recordings along with re-makes of previous songs; it was followed by Tim Hardin 4, another collection of blues-influenced tracks believed to date from the same period as This is Tim Hardin. In 1969, Hardin again signed with Columbia and had one of his few commercial successes, as a non-LP single of Bobby Darin's "Simple Song of Freedom" reached the US Top 50. Hardin did not tour in support of this single and a heroin addiction and stage fright made his live performances erratic. Also in 1969 he appeared at the Woodstock Festival where he sang his famous "If I Were a Carpenter" song. He recorded three albums for Columbia—Suite for Susan Moore and Damion: We Are One, One, All in One; Bird on a Wire; and Painted Head—none of which sold well. His output as a songwriter decreased and eventually ceased during this period, a circumstance blamed on his ongoing drug problems. In 1973, Hardin appeared on stage with Harry Chapin as part of Chapin's concert in Potsdam, New York. They jammed on a blues riff that survives in a bootleg recording. Some of the topics covered in the seven minute jam include drug use, travel and death. In Chapin's introduction, he makes reference to Hardin's participation as a session musician on his first two albums. During the following years Hardin moved between England and the U.S. His heroin addiction had taken control of his life by the time his last album, Nine, was released on GM Records in the UK in 1973 (the album did not see a US release until it appeared on Antilles Records in 1976). He sold his writers' rights in the late 1970s. Tim Hardin died of a heroin and morphine overdose in 1980, and is buried in the Twin Oaks Cemetery in Turner, Oregon.
MORE ABOUT
TIM HARDIN
A gentle, soulful singer who owed as much to blues and jazz as folk, Tim Hardin produced an impressive body of work in the late '60s without ever approaching either mass success or the artistic heights of the best singer/songwriters. When future Lovin' Spoonful producer Erik Jacobsen arranged for Hardin's first recordings in the mid-'60s, Hardin was no more than an above-average white blues singer, in the mold of many fellow folkys working the East Coast circuit. By the time of his 1966 debut, however, he was writing confessional folk-rock songs of considerable grace and emotion. The first album's impact was slightly diluted by incompatible string overdubs (against Hardin's wishes), but by the time of his second and best LP, he'd achieved a satisfactory balance between acoustic guitar-based arrangements and subtle string accompaniment. It was the lot of Hardin's work to achieve greater recognition through covers from other singers, such as Rod Stewart (who did "Reason to Believe"), Nico (who covered "Eulogy to Lenny Bruce" on her first album), Scott Walker (who sang "Lady Came From Baltimore"), Fred Neil ("Green Rocky Road" has been credited to both him and Hardin), and especially Bobby Darin, who took "If I Were a Carpenter" into the Top Ten in 1966. Beleaguered by a heroin habit since early in his career, Hardin's drug problems became grave in the late '60s; his commercial prospects grew dimmer, and his albums more erratic, although he did manage to appear at Woodstock. His end was not a pretty one: due to accumulated drug and health problems, as well as a scarcity of new material, he didn't complete any albums after 1973, dying of a drug overdose in 1980. © Richie Unterberger, allmusic.com