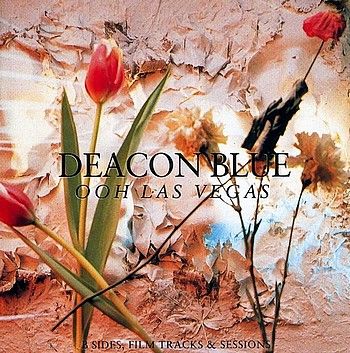 Deacon Blue
-
Ooh Las Vegas
-
1990
-
CBS
In their early days (1988-1990), Ricky Ross and his Deacon Blue bandmates (who all hail from Scotland) were one of the most prolific U.K. bands scaling the top of the European music charts. Early copies of their 1988 debut album Raintown contained Riches and More, a bonus CD featuring an album's worth of B-sides and other tracks that didn't make it on to the mother album. Although their 1989 follow-up, When the World Knows Your Name, did not feature a bonus disc, this 1990 two-disc release more than makes up for it. Containing almost two dozen non-album B-sides, soundtrack recordings and unreleased tracks (and no songs from Riches and More), this may be too much Deacon Blue for the average person, but is an absolute treasure trove for those smitten with the band since the debut album. Yes, the band may be too slick for their own good, and yes, they do tend to come off as pretentious, but 'pretentious' has never sounded so passionate and fun! Ross' gravely vocals lead the way, followed by the sweet and soulful backing vocals of Lorraine McIntosh (who was on the debut but not a full-time bandmember until 1989), Deacon Blue successfully mix pop, jazz, soul and rock together and create a unique sound. If you want musical references, then imagine Steely Dan impersonating Sade's backing band covering Prefab Sprout songs! From "Disneyworld" to "Don't Let the Teardrops Start," the 22 songs contained on these two silver platters are just as good as the tracks that made the first two albums. The gentle "My America" is a standout in this abundant sea of musical misfits. Ross' odd, off-key delivery at the beginning of the otherwise uplifting "Ronnie Spector" definitely led to this track being left off of their sophomore release. Apart from that, most everything here is pretentiously ace! © Steve "Spaz" Schnee © 2010 Rovi Corporation. All Rights Reserved. http://www.allmusic.com/cg/amg.dll?p=amg&sql=10:gifexqr5ldje
The album is a collection of songs written for the TV play, "Dreaming" by William McIlvanney. It also has some unreleased tracks, and B-sides. The Japanese CD issue includes the four tracks from the "Four Bacharach & David Songs EP". If you're a Deacon Blue follower, you most likely have that EP. Somebody made a relevant comment about these "left over" albums saying that "It's a funny thing that when you put a lot of good sounding B-sides together in a double album format it suddenly sounds like a collection of 20 plus songs which didn't quite set the heather on fire". Many music critics were of the opinion that the album was an attempt to cash in on Deacon Blue's popularity. However, in 1990, many of the songs on this album had not been heard by many people, including Deacon Blue followers. There were definitely enough good songs on the album to make the release worthwhile. In hindsight, Ricky Ross said that the album was the band's "worst career move. It was just a junk collection of songs that might be interesting for fans." Ricky also said that "he felt the release of the album was the bands biggest mistake". It was written that at the time that Rick was happy to release the album without any hype. He also said that "with a major record company like CBS behind you it's not that simple". Still, the album hit No.3 in the UK album charts, and Ricky was possibly deliberately "downgrading" the quality of the songs because of his attitude towards large record companies to releasing numerous repackaged "Best Of", and "Greatest Hits" compilations.
Paul Heaton of the great The Beautiful South band once made an "interesting" comment, saying "Who are the people who buy Deacon Blue records? Eh? Do you know any?"
The comment sounds a bit sarcastic, and not having read the full article, maybe it is taken out of context. (I know many people who bought DB's "Raintown", "Fellow Hoodlums", and "Homesick" albums, including "Yours Truly"). Deacon Blue once held the reputation as one of the best live acts in the UK. When they played Glasgow's SECC in May, and December, 1989, they broke the world record at the time for the fastest sell-out concerts. In 1990, DB played in front of 250,000 fans at the free "The Big Day" concert, in Glasgow Green, Scotland. It is estimated that Deacon Blue shifted over six million albums, but considering that one of their albums, "Raintown", was in the UK album charts for over nineteen months, the figure may be understated. The band released six studio albums, one live album, and numerous compilation albums, most of which received good reviews and sales. If you listen to timeless songs like "Dignity", "Queen Of The New Year", "Fergus Sings The Blues", "Chocolate Girl", and "Real Gone Kid", and albums like " Raintown", and "Fellow Hoodlums", it is obvious that DB was a hugely talented band, and a class act.
"Who are the people who buy Deacon Blue records? Eh? Do you know any?"....
YES !!
For music in the same genre, listen to Prefab Sprout's classic "From Langley Park to Memphis" album
TRACKS
1."Disneyworld [Remix]" - 2:49
2."Ronnie Spector" (Ross, Kelling, Prime) - 3:29
3."My America" (Ross, Prime) - 3:10
4."S.H.A.R.O.N." - 4:13
5."Undeveloped Heart" (Ross, Prime) - 4:59
6."Souvenirs" - 2:41
7."Born Again" (Hayes, Porter) - 3:23
8."Down in the Flood" (Ross, Prime, Deacon Blue) - 4:33
9."Back Here in Beanoland" - 3:01
10."Love You Say" (Ross, McIlvanney) - 5:34
11."Let Your Heart Be Troubled" (Ross, McIlvanney) - 6:31
12."Gentle Teardrops" - 3:13
13."Little Lincoln" - 3:06
14."That Country (Beneath Your Skin)" - 3:50
15."Is It Cold Beneath the Hill?" (McIntosh, Prime, McIlvanney) - 3:57
16."Circus Lights (Acoustic Version)" - 2:56
17."Trampoline" (Cope) - 3:36
18."Las Vegas" - 3:55
19."Killing the Blues" (McIlvanney, Ross) - 3:49
20."Long Window to Love" - 3:12
21."Christine" - 2:26
22."Take Me to the Place" (Ross, Traditional arr.) - 2:26
23."Don't Let the Teardrops Start" - 3:01
All songs composed by Ricky Ross, except where stated
N.B
:
On the original 1990 CBS 2 X CD release, CD 1 contains tracks 1 - 11: CD 2 contains tracks 12 - 23

MUSICIANS
Ricky Ross – guitar, vocals, piano, keyboard
Graeme Kelling RIP – guitar
Ewen Vernal – bass
James Prime – keyboard
Dougie Vipond – drums
Lorraine McIntosh – vocal
SHORT BIO
Taking their name from a Steely Dan song, Deacon Blue is one of the best unknown bands in Scotland. With the vocals of singer-songwriter Ricky Ross backed by jazz and soul-inspired melodies, the group recorded several British hits in the late-1980s. Their success, however, failed to carry over to American audiences. Frustrated by their inability to secure international popularity, the group disbanded in the summer of 1994. Although he launched a solo career, Ross had no greater success than he had as frontman for Deacon Blue. In May 1999, the group agreed to reunite for a series of concerts in Great Britain and Europe. Their first new album in five years, Walking Back Home, was released shortly afterwards. Formed in 1985, Deacon Blue performed their first concert as the opening act for The Waterboys' first show in England. The group continued to go through personnel changes with only Reed and drummer Dougie Vipond remaining from the original band. As of November 1999, Deacon Blue was rounded out by bassist Ewen Vernal, guitarist Graeme Kelling, keyboardist Jamis Prime and second vocalist Lorraine McIntosh. Craig Harris © 2010 Rovi Corporation. All Rights Reserved http://www.allmusic.com/cg/amg.dll?p=amg&sql=11:gifrxqe5ld6e
BIO
(WIKI)

Deacon Blue are a Scottish pop band. Their name is rumoured to be taken from the title of the Steely Dan song "Deacon Blues". Formed in 1985 once Ricky Ross moved from Dundee to Glasgow, Deacon Blue were one of the top-selling UK bands of the late 1980s and early 1990s. The group's members were Ricky Ross, Lorraine McIntosh, James Prime, Dougie Vipond, Ewen Vernal and Graeme Kelling. Ross, a former school teacher originally from Dundee, was the group's frontman, penning the vast majority of Deacon Blue's songs. He married female vocalist Lorraine McIntosh in the later years of the band's career. In 1986, the band contributed a track ("Take the Saints Away") to a compilation cassette entitled Honey at the Core, featuring then up-and-coming Glasgow bands, including Wet Wet Wet and Hue and Cry. The band's debut album, Raintown, produced by Jon Kelly and released in 1987, is regarded by many as the band's finest effort, spawning the singles "Dignity", "Chocolate Girl" and "Loaded". Many consider Raintown to be a concept album, since nearly all the songs contribute to the overall theme of being stuck in a dead-end life in a deprived city, longing for something better. The city that the album's title refers to is Glasgow, and the memorable cover art of the album is a photograph (by the Scottish-Italian photographer Oscar Marzaroli) of the River Clyde's docks taken from Kelvingrove Park on a miserable day. The second album, 1989's When the World Knows Your Name, was the band's most commercially successful, generating five UK top 30 hits, including "Real Gone Kid", "Wages Day", and "Fergus Sings the Blues" (all five singles from the album were top 10 hits in Ireland). However, music critics began to criticise the band for pursuing commercial success over artistic integrity, citing the earlier achievements with Raintown. By this time, the band had gained a reputation as one of the best live acts in the UK. Ticket sales for shows in Glasgow's SECC in both May and December 1989 would break the world record at the time for the fastest sell-out. The following year saw the band play in front of an estimated 250,000 fans at the free concert on Glasgow Green "The Big Day", which was held to celebrate Glasgow being named that year's European City of Culture. The band also played Glastonbury and the Roskilde festivals that summer, as well as released Ooh Las Vegas, a double album of B-sides, extra tracks, film tracks, and sessions. This seemed to confirm the band's eminent status by reaching No. 3 in the UK album charts. Jon Kelly returned to the producer's chair in 1991 for the album Fellow Hoodlums. The album was met with more critical success, but by now the group's honeymoon period was over and their success had started to wane somewhat—the album peaked at No. 2 on the UK album charts. Fellow Hoodlums was followed up by 1993's Whatever You Say, Say Nothing, a much more experimental album in the vein of U2's Achtung Baby. The album garnered critical praise, but was not as commercially successful as the previous two albums, peaking at No. 4 on the UK album charts. The band embarked on another sold out UK tour in 1994, but not before recording new material for their greatest hits compilation Our Town. This saw the band return to No. 1 in the UK album charts and was one of the year's top sellers, while "I Was Right and You Were Wrong" and a re-release of "Dignity" saw the band reenter the Top 20 singles chart. With Vipond's decision to quit the group in favour for a career in television, Deacon Blue split up in 1994. Five years later, the band held an unexpected reunion gig in 1999, and this led on to a new album, Walking Back Home, with the band now working on a part-time basis. The band released another album, Homesick, in 2001. Though Graeme Kelling died from pancreatic cancer in 2004, the band has vowed to continue in his absence. The year 2006 saw Deacon Blue returning to the studio to record three new tracks for a Singles album - including the track "Bigger than Dynamite". The band performed at Manchester United's Old Trafford stadium, as the pre-match entertainment for the Rugby League Super League Grand Final on the 14 October, and continued on to a full UK tour in November. They were also due to open Stirling's New Year party in 2006, but this was cancelled at the last minute due to extreme weather. They did appear at Stirling's Hogmanay in 2008. Deacon Blue appeared at the Montrose Music Festival Deacon Blue appeared at The Homecoming Live Final Fling Show, at Glasgow's SECC on 28 November 2009, and headlined Glasgow's Hogmanay on 31 December 2009. Ricky Ross, who had released a solo album before the formation of Deacon Blue, released two solo albums during the time between Deacon Blue's breakup in 1994 and reformation in 1999. Due to Deacon Blue's part time status after reformation, Ross released additional solo albums in 2002 and 2005 and has written for and with other recording artists. In 2009 Ricky and Lorraine McIntosh recorded an album together under the name 'McIntoshRoss'. This album, The Great Lakes, will be released on 28 September 2009.