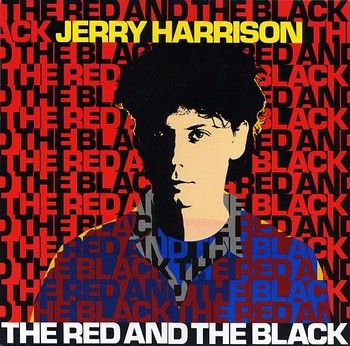 Jerry Harrison
-
The Red And The Black
-
1981
-
Sire Records Company
Jerry Harrison's first solo album is a collection of low-intensity, minimalist funk jams that never really gets out of park: rhythm guitars and keyboards lay down a groove that repeats endlessly ("Worlds In Collision"), and Harrison speaks stream of consciousness lyrics. No development, no dynamics, no tension released - it's all the Heads' excesses with none of their strengths. That said, a couple of the grooves themselves are pretty good - notably "Magic Hymie," cowritten by Nona Hendryx and Bernie Worrell, who also appear on several less memorable tunes. Belew guests on most of the tracks too, but doesn't supply the shot in the arm the disc sorely needs; other musicians include Yogi Horton (drums), George Murray (bass), and Koko Mae Evans. Produced by Harrison with Dave Jerden. © Wilson & Alroy's Record Reviews http://www.warr.org/talking.html
Despite some poor reviews of the album, it is easily as good as some of TH's early albums. In many ways, it is similar in sound to TH's "Remain In Light" album. The music is complex, but never dull. You've got funky musical patterns and dynamic rhythms, and the all round musicianship of the backing band is great. Naturally, there are similarities at times to Talking Heads' music, but nothing wrong with that. Jerry Harrison had nothing to prove with this album which is
HR by A.O.O.F.C.
Buy Jerry Harrison's "Casual Gods" album, and if you can find it, listen to the unofficial release, "Jerry Harrison Live Town & Country Club, Kentish Town 1988". Listen to Talking Head's outstanding 'Speaking In Tongues', album. Check out David Byrne's "Unplugged + More" album @
DAVBYR/U+M
and try and listen to Tom Tom Club's "Close to the Bone" album
(there are some TTC albums on this blog. The links are broken, but if you're interested please contact this blog)
.
TRACKS
A1 Things Fall Apart 4:19
A2 Slink 5:08
A3 The New Adventure 4:49
A4 Magic Hymie 4:48
B1 Fast Karma / No Questions 4:00
B2 Worlds In Collision 5:04
B3 The Red Nights 4:06
B4 No More Reruns 4:28
B5 No Warning, No Alarm 3:36
All songs composed by Jerry Harrison, except A 4, by Jerry Harrison , Bernie Worrell, & Nona Hendryx
MUSICIANS
Vocals, Guitar, Bass, Synthesizer, Clavinet, Organ, Piano, Melodica, Percussion - Jerry Harrison
Guitar [Solos] - Adrian Belew on A 1, A 3, B 2, B 3, & B 5: Guitar on A 2
Bass - Tinker Barfield on A 2, A 4, B 1, & B 4: George Murray on A 1, A 4, B4, & B 5
Organ - Bernie Worrell on A 2: Clavinet, Synthesizer on A 4: Clavinet on B 1
Drums - Yogi Horton on A 1, A 4, B 1, B 2, B 3, B 4, & B 5: John Cooksey on A 2
Drums, Percussion - Steve Scales on A 3
Backing Vocals - Dolette McDonald , Koko Mae Evans, Nona Hendryx
REVIEW
While the myth has been widely propagated that David Byrne was the sole creative presence of any consequence among his Talking Heads cohorts, The Red and the Black makes perhaps the strongest case against such a claim. Jerry Harrison, no musical novice by any stretch (check out his work with the early Modern Lovers), proves his formidable talent as a multi-instrumentalist and songwriter for the first time in this close-up. There's little doubt that Harrison's debut is informed most directly by the last few Talking Heads albums, particularly the genre-defining Remain in Light. The polyrhythmic exercises, spoken word interludes, and Enoesque knob twiddling are standard parts of Harrison's palette. He's also free to indulge in some impressive keyboard pyrotechnics, much of which hints at the arena funk of Stop Making Sense. Denser, more abrasive, and yet more musical than Remain in Light, The Red and the Black mines the same musical terrain, but it does so with more urgency and focus. While David Byrne sounded like a man suffocating under the weight of the modern world, Harrison takes a more sober, straightforward approach. He's able to discriminate the desirable parts from the undesirable, and to celebrate the whole. While Byrne's persona was strictly that of an observer, Harrison isn't afraid to get his hands dirty. His baritone warble may lose pitch or escape as a helpless bark on occasion, but there's warmth and humanity to his timbre, a yearning to connect rather than to distance. This is reflected most immediately in Harrison's no-nonsense pep talks that pop up in the middle of a few songs, just when the intensifying rhythms and synth lines become almost too cacophonous to bear. "Have you ever been in a traffic jam?," he inquires in "Slink." "Have you ever needed a gram? I have, but I got over it." When Harrison shifts the focus from third person to second, the effect is jarring and surprisingly effective. On "Magic Hymie" he grows more impatient with us: "There's a way out of that corner you painted yourself into...you gotta decide you wanna do it, and then you're just gonna do it." Throughout much of the album, Harrison continues to lay heavy condemnation upon modern attitudes of helplessness and irresponsibility. Modern, particularly urban, life has its pitfalls, he seems to say, but we're all equipped to deal with them if we accept some accountability. Besides the relentless attack of fired-up synthesizers and frenzied rhythms, Harrison incorporates a cast of soulful female background vocalists, many of whom would end up on the next Talking Heads record and following tour. Not surprisingly given Harrison's brainy and self-conscious approach, the singers add little soul, but serve rather as a Greek chorus, repeating Harrison's lyrical motifs and bringing substantial drama to his already tense and paranoid compositions. Elsewhere, on "Worlds in Collision," he throws in samples of barking hounds and Hitlerian rally cries to punctuate the monotone din of the rest of the song. The Red and the Black more than holds its own against the rest of Talking Heads' oeuvre, and shows where the band could have gone, had they not opted for a more minimalistic approach later in their career. As a solo project, Harrison's debut is phenomenal. The album's complex and funky musical style has aged impressively, as have Harrison's observations on the modern condition. © Christian Huey © 2010 Rovi Corporation. All Rights Reserved http://www.allmusic.com/cg/amg.dll?p=amg&sql=10:hzfoxq85ldte
BIO
Though he's hardly a cult persona, Jerry Harrison has failed to be recognized as a crucial figure in the history of punk rock, a portion of the music which influenced it, and the styles which had grown out of punk more than 15 years later. Best known as the keyboard player and occasional guitarist of Talking Heads during the 1980s, Harrison had begun his career ten years before, playing with Jonathan Richman's seminal Modern Lovers during the early '70s. He recorded several solo albums while on occasional hiatus from Talking Heads in the '80s, but when the band disintegrated in the late '80s, Harrison resumed his busy production schedule, working with some hot alternative acts. Born in 1949 in Milwaukee, Jerry Harrison began playing with bands while in high school, and continued his work after graduation, while he studied at Harvard during the late '60s. By the beginning of the decade, Harrison and bandmate Ernie Brooks were encouraged to form a band by local Boston friend Jonathan Richman. Named the Modern Lovers, the group moved quickly and recorded demos in 1972 with John Cale. Finally released in 1976, the songs proved to be a major influence on underground bands in New York; the Modern Lovers had broken up by that time, though, with Harrison going back to Harvard to teach. In April of 1976, however, he attended a Talking Heads show in Boston and convinced them to let him join. The band signed to Sire just one year later, and became one of the most intelligent alternative bands of the '80s, recording an astounding variety of material and even earning several pop hits. During an extended Talking Heads vacation during 1981, Harrison recorded his first solo album, The Red and the Black. The album was recorded with Bernie Worrell, Nona Hendryx, and Adrian Belew — all of whom had appeared on Talking Heads' Remain in Light. Three years later, he released a hip-hop single on Sleeping Bag, recorded as Bonzo Goes to Washington. His second full solo album, however, appeared three years later. Casual Gods had a similar feel to his debut, with loose funk-rock grooves and an open-ended song structure (which suited Harrison's vocals well) but boasted more tuneful songs. Talking Heads was effectively disbanded by that time, and Harrison had already begun producing in 1986, with the Bodeans and Violent Femmes. During the '90s and early 2000s, Harrison became an important and respected producer, working on popular albums by Live, Crash Test Dummies, the Verve Pipe, No Doubt, and the Von Bondies. He also helped launch garageband.com, an Internet resource for independent musicians. His playing was limited during these years, though he and fellow Talking Heads alumni Tina Weymouth and Chris Frantz recorded as the Heads (No Talking Just Head, 1996). In 2002, Talking Heads played together again, if only for one night, to celebrate the band's induction into the Rock & Roll Hall of Fame. © John Bush © 2010 Rovi Corporation. All Rights Reserved http://www.allmusic.com/cg/amg.dll?p=amg&sql=11:jifrxqe5ld0e~T1
BIO
(WIKI)

Jerry Harrison (born Jeremiah Griffin Harrison, 21 February 1949, in Milwaukee, Wisconsin) is an American songwriter, musician and producer. He was the keyboardist and guitarist for the influential New Wave group Talking Heads and an original member of The Modern Lovers. Harrison played with Jonathan Richman in The Modern Lovers when he was an architectural student at Harvard University. Harrison was introduced to Richman by mutual friend and journalist Danny Fields, and the pair bonded over their shared love of the Velvet Underground. He joined the Modern Lovers in early 1971, playing on their debut album in 1972 (not released until 1976), and leaving in February 1974 when Richman wished to perform his songs more quietly. Subsequent to his work with The Modern Lovers, Harrison joined Talking Heads; the latter band already had a single out when Harrison left the Modern Lovers to join them. Harrison's solo albums include The Red and the Black, Casual Gods, and Walk on Water. After the 1991 break-up of Talking Heads, Harrison turned to producing and worked on successful albums by such bands as Violent Femmes, The Von Bondies, General Public, Live, Crash Test Dummies, The Verve Pipe, Rusted Root, The Bogmen, Black 47, Of A Revolution, No Doubt, Josh Joplin and most recently The Black and White Years, Kenny Wayne Shepherd, and Bamboo Shoots. He was recently confirmed as the producer of the forthcoming debut album by The Gracious Few. Harrison also had a small part in the 2006 film The Darwin Awards as "Guy in Bar #1" alongside John Doe of the band X.
MORE ABOUT
JERRY HARRISON
Born in Milwaukee, (21-Feb-1949), Jeremiah Harrison initiated his musical training in the fourth grade, intermittently pursuing piano lessons while also briefly studying clarinet and saxophone. Throughout high school he kept active with a variety of bands, and this activity carried over into his three years at Harvard, where he formed the outfit Albatross with roommate Ernie Brooks. Albatross disbanded in mid-1969, but Harrison continued his partnership with Brooks in Catfish Black and briefly in The Eagles. Harrison's career as a professional musician was finally launched in 1971 as a result of his association with Jonathan Richman -- although it was prevented from getting properly underway until several years later for this same reason. Shortly after their first meeting at a party in Cambridge, Richman invited both Harrison and Brooks to join The Modern Lovers, but -- despite support from John Cale and interest from both Warner Brothers and A&M Records -- the singer's difficult behavior prevented any releases from materializing during the band's three year lifespan. This lack of recorded output did not prevent The Modern Lovers from establishing a dedicated following through their live performances, and a posthumous 1976 album culled from sessions produced by both Cale and Alan Mason (seperately) proved to be a significant influence on the emerging punk/new-wave scene.Upon the dissolution of The Modern Lovers, Harrison joined up with songwriter Elliott Murphy for the album Night Lights (1976) and its associated tour; brief tenures with a handful of other bands followed, but ultimately he chose to resume his study of architecture at Harvard. His schooling was soon interrupted a second time by an invitation to join Talking Heads, and after completing one more semester Harrison was lured, once and for all, into the life of a professional musician. By the time of his membership, the trio configuration of Talking Heads had already established themselves on the New York City club circuit and released the single Love Goes to a Building on Fire on Sire Records; but it was as a four-piece that the band's popularity expanded to an international scale, particularly with the release of their debut full-length Talking Heads: 77 and the single Psycho Killer. Three more albums were released by the onset of the next decade (More Songs About Buildings and Food (1978), Fear of Music (1979) and Remain in Light (1980)), each of which served to increase the band's reputation amongst both critics and fans. During a break from band activity in 1981, Harrison recorded his first solo effort The Red and the Black, an album which featured contributions from guitarist Adrian Belew, former P-Funk keyboardist Bernie Worrell and vocalist Nona Hendryx (all participants in the expanded Heads line-up that had recorded Remain in Light). The release was not given as much attention as his bandmate's extra-curricular projects (David Byrne's Catherine Wheel score and his Brian Eno collaboration My Life in the Bush of Ghosts, Chris Frantz and Tina Weymouth's album as Tom Tom Club), and it would be six years before the appearance of his second solo album Casual Gods (1987). The interim between the two was primarily filled by his work on three further studio albums and two film projects with Talking Heads, although 5 Minutes -- a one-off recording with Bernie Worrell and Bootsy Collins working under the name Bonzo Goes to Washington -- was issued in 1984. During this period Harrison also launched a parallel career as a record producer, helming sessions for The Blind Leading the Naked by The Violent Femmes, Milwaukee by Elliott Murphy, and producing several tracks for the Jonathan Demme film Something Wild (all three of which took place between 1985 and 1986). After the release of the Talking Heads' final album Naked in 1988, the focus of Jerry Harrison's activities shifted to his production work (although a third solo album Walking on Water and its associated tour were realized in 1990). In the 90s his credits (and industry standing) as a producer grew to considerable proportions through involvement with platinum-selling releases by acts such as Live, Crash Test Dummies, The Verve Pipe, and Kenny Wayne Shepherd. His extensive resume also included albums by Poi Dog Pondering (Volo Volo, 1991), Black 47 (Home of the Brave, 1994), Fatima Mansions (Lost in the Former West, 1995), Rusted Root (Remember, 1996) and Bijou Phillips (I'd Rather Eat Glass, 1999). A short-lived musicial reunion with Frantz and Weymouth came about in 1996 when the three formed The Heads, a project originally intended as a Talking Heads reunion and then altered when Byrne refused to participate; consequently, the group's sole album No Talking, Just Head made use of several replacement vocalists ranging from Debbie Harry to Andy Partridge. A proper reunion of the full band did eventually take place (although only for a single evening) on the occasion of their induction into the Rock and Roll Hall of Fame in 2002. Harrision has since continued to concentrate on his career as a producer for other artists, in addition to maintaining his role as Chairman of the Board for Garageband.com (an internet music resource he co-founded in 1999). © 2010 Soylent Communications http://www.nndb.com/people/431/000052275/