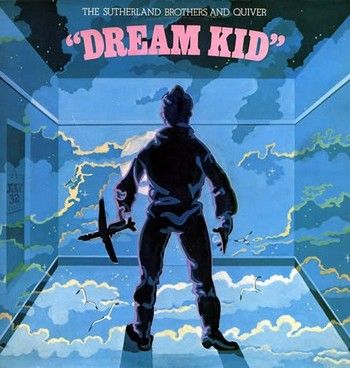 Sutherland Brothers
and
Quiver
-
Dream Kid
-
1973
-
Island
An artists conception of The Dream Kid looking out into a blue universe, standing in a clear cube with clouds and seagulls in his line of sight, is a colorful and good visual equivalent to the music inside this team-up of two musical forces. Songwriters Ian Sutherland and his brother Gavin Sutherland recruit three members of the Warner Bros. group Quiver — drummer Willie Wilson, guitarist Tim Renwick, and bassist Bruce Thomas — and come up with a smooth and very satisfying product. Gone is Quiver songwriter vocalist Cal Batchelor, and it is a unique transition concept. Where Chris Thomas produced 1972's Gone in the Morning album for Quiver, Muff Winwood is enlisted to guide the rhythm section and guitarist behind the singing and playing Sutherland Brothers. Interestingly enough, they've retained Quiver engineer Bill Price and cover artist Barney Bubbles from the Warner Bros. days and issue the newer sounds on Island. The album's history lesson aside, the music is an excellent early- to mid-'70s hybrid of folk-rock and pop, with more emphasis on the clever pop side of things. This is Eric Carmen's Raspberries gone underground with less of the jangle guitar — sounds more borrowed from early Beatles' hits by way of latter day Traffic, and that comfortable silky vocal sound, especially on the five-minute-55-second suite which ends the album, track ten, comprised of three titles, "Rollin' Away," "Rocky Road," and "Saved By the Angel." These Ian Sutherland titles all melt into one another and are easy on the ears, good listening music, though there is nothing on this album as extraordinary as their minor hit "You Got Me Anyway" or the song Rod Stewart picked up from them, "Sailing." Like labelmates Traffic, this is an adult rock endeavor, meant for those who want to hear the lyrics as they take in the solid melodies. "Seagull" is a song that embodies what the band is all about, ebbing and flowing with hooks and pauses, not your typical rock outfit, which might explain why they slipped through the cracks without making a bigger noise. Peter Noone, like Stewart, was smart enough to cover their music, and it is a pity that "Flying Down to Rio" and "You and Me" didn't get more time on FM radio. "I Hear Thunder" and "Lonely Love" are standouts, precursors to AAA radio like Barclay James Harvest and Matthew's Southern Comfort. The strong lyrics are included on the album sleeve, and enough good things can't be said about this album: bouncy guitars and spirited rock which producer Muff Winwood squeezes into the grooves. You've got to spin it three or four times before it catches you; it's one of those special discs that doesn't grab the listener first time around, but when it does, it gets you good. © Joe Viglione © 2010 Rovi Corporation. All Rights Reserved http://www.allmusic.com/cg/amg.dll?p=amg&sql=10:gcfwxq95ldse
The Sutherland Bros. & Quiver are another seventies band who never got the success and recognition they deserved. The early 70s had many bands like the Sutherland Brothers. They were great songwriters, more than competent musicians and made great records, none of which sold in any great numbers. Iain Sutherland is a remarkably talented songwriter. As an individual, and with his brother, Gavin, he wrote many great songs, the most notable being "Sailing," and "Arms of Mary". Yet many of the duo's great songs have never been heard by so many people. The brothers wrote many fine, catchy, and melodic pop songs with tasteful instrumental work and fine harmony vocals. "Dream Kid" is one example of a SB & Q album that went largely unnoticed. Like so many other bands on this blog, they are really only remembered for one or two songs. The Sutherland Brothers will always be remembered for "Arms Of Mary", but the duo wrote many great songs. Even now, a lot of people don't know that Rod Stewart's famous anthemic "Sailing" was penned by Gavin Sutherland. There is not a bad track on this album, which was the first full album with Quiver. The band's wonderful folk rock sound is here, and the vocals are great. Sadly, in Britain and elsewhere, good folk rock was declining in popularity from the mid seventies onwards. Check out Quiver's "Gone in the Morning" album, the Sutherland Brother's "Lifeboat" album, (UK Version), Gavin Sutherland's "Diamonds and Gold" album, and the Sutherland Brothers and Quiver's "Beat of the Street" album. "The Very Best Of The Sutherland Brothers & Quiver" can be found @
SB&Q/VBO
For more music in the same vein, listen to Gallagher & Lyle's great "Seeds" album, or the "Ferguslie Park" album by Stealers Wheel. Also check out some of Gerry Rafferty's early recordings. His "Can I Have My Money Back" album is a good example. Search this blog for more SB & Q related albums. As an afterthought, isn't it incredible, the musical talent that Scotland has produced :- Alex Harvey, The Proclaimers, Deacon Blue, Aztec Camera, Blue Nile, Average White Band , and Maggie Bell. There are dozens omitted here, but Rock On, Scotland The Brave!
TRACKS
A1 You And Me 4:20
A2 I Hear Thunder 4:37
A3 Flying Down To Rio 2:30
A4 Seagull / Lonely Love 4:28
A5 Champion The Underdog 4:16
B1 Bluesy World 2:43
B2 Bad Loser 2:05
B3 Dream Kid 3:12
B4 Maker 4:35
B5 Rollin' Away / Rocky Road / Saved By The Angel 5:55
All songs composed by Gavin Sutherland, and/or Ian Sutherland
N.B
:
The 1999 CD release has two bonus tracks, "Silver Sister", and "Don't Mess Up"
MUSICIANS
Gavin Sutherland - Bass, Guitar, Vocals
Ian Sutherland - Guitar, Keyboards, Vocals
Bruce Thomas - Guitar, Keyboards
Tim Renwick - Guitar, Vocals
Peter Wood - Keyboards
Willie Wilson, John Wilson - Drums
QUIVER
BIO
A melodic UK progressive rock band, Quiver occasionally followed a country rock path but achieved more success following their merger with the Sutherland Brothers. The line-up comprised Tim Renwick (7 August 1949, Cambridge, England; guitar, vocals, flute) and Cal Batchelor (guitar, vocals, keyboards). Renwick had formerly been with Junior's Eyes, and he and Batchelor recruited Cochise drummer John 'Willie' Wilson (b. 8 July 1947, Cambridge, England). Subsequently, the line-up of Wilson, Renwick, Batchelor, and ex-Village bass player Bruce Thomas (b. 14 August 1948, Middlesbrough, Cleveland, England; bass/vocals), recorded the self-produced Quiver. For the recording, they were augmented by Dick Parry (saxophone). The same line-up recorded Gone In The Morning, but due to lack of commercial success the band was subsequently dropped by Warner Brothers Records. The members were not coming up with new songs, and so they decided to join the Sutherland Brothers, the two line-ups merging in late 1972 with the addition of Pete Wood (b. Middlesex, England, d. 1994, New York, USA; keyboards). Shortly afterwards they were signed to Island Records, and with a number of personnel changes, achieved a degree of chart success. Renwick went on to form 747 and Kicks and is now an in-demand session guitar player, touring with bands such as Pink Floyd and Mike And The Mechanics. Wilson plays with the Coyotes, and Thomas with Elvis Costello's backing band the Attractions. Quiver's greatest claim, however, is being the first ever band to play the legendary Rainbow Theatre in London. [ Source: The Encyclopedia of Popular Music by Colin Larkin. Licensed from Muze ]
THE SUTHERLAND BROTHERS & QUIVER
BIO

Folk rockers the Sutherland Brothers formed originally in London during 1970, but it wasn't until a few years later (when the group fused together with another band) that they enjoyed their greatest chart success. Brothers Ian (vocals, guitar) and Gavin (bass, vocals) first went by the name of A New Generation (at the insistence of their manager at the time) before the duo changed their name to the Sutherland Brothers and recorded a demo. The tape caught the ear of former Traffic bassist Muff Winwood, who helped sign the duo to Island Records, a label that Winwood served as an A&R man for at the time. A pair of largely folk-based recordings were issued in 1972, a self-titled debut and Lifeboat, the latter of which scored the group their first bona fide hit, "(I Don't Want to Love You But) You Got Me Anyway," as well as an original composition that would later be covered by Rod Stewart, "Sailing." By the dawn of 1973, the Sutherland Brothers decided to augment their group (they were unhappy with their live sound at the time) by teaming up with an obscure rock act named Quiver (who had issued a pair of underappreciated albums on their own — 1971's self-titled release and 1972's Gone in the Morning) — as the new group went by the name of the Sutherland Brothers & Quiver, or SBQ. The Sutherland Brothers & Quiver remained intact for much of the '70s and Stewart's aforementioned cover of "Sailing" hit the number one spot in the U.K. and during 1975, the group scored another sizeable hit on their own with "The Arms of Mary" (peaking at number five in the U.K.). The group steadily toured both the United States and Europe, issuing such further releases as 1973's Dream Kid and 1974's Beat of the Street before leaving Island for Columbia Records and releasing 1975's Reach for the Sky, 1976's Slipstream, 1977's Down to Earth, and 1979's When the Night Comes Down. But by the dawn of the '80s, the hits had dried up and SBQ decided to call it a day. Both of the Sutherland brothers attempted to launch solo careers on their own during the early '80s, but both failed to retain the audience of their previous band. © Greg Prato, © allmusic.com
THE SUTHERLAND BROTHERS
BIO
(Wikipedia)

Sutherland Brothers (Gavin, born 6 October 1951, Peterhead, Aberdeenshire, Scotland, bassist / vocalist ) and Iain (born 17 November 1948, Ellon, Aberdeenshire, Scotland) - vocalist / guitarist / keyboards) originally performed as a folk / rock duo in the field of British music in the early 1970s, and then joined with Quiver to record and tour as The Sutherland Brothers and Quiver. The Sutherland Brothers began their career in 1968 as A New Generation, having some yearly success with the single "Smokie Blues Away" (which used a melody based on the main theme of Dvořák's, New World Symphony). Subsequently re-billed as The Sutherland Brothers Band, they won a new recording contract with Island Records and put out two albums in 1972. Their first minor hit was "The Pie" in 1970. In an effort to diversify and expand their folk based sound, the Sutherland Brothers joined forces with a local rock band known as Quiver. Quiver originally comprised guitarist and singer Cal Batchelor, guitarist Tim Renwick, bassist Bruce Thomas and drummer John "Willie" Wilson. Keyboardist Peter Wood had replaced Batchelor just before the band joined up with the Sutherland Brothers. The band were then known as The Sutherland Brothers and Quiver. Their joint greatest success came under this name. Several moderately successful albums were released by Island Records throughout the 1970s under this joint name before they moved to CBS Records where they recorded, amongst other songs, the Top Ten hit single, "Arms of Mary", which also became a hit when covered two years later by the Canadian group, Chilliwack. The band were just reaching their peak as the punk music explosion happened; they ended up being ousted from their residency at London's Marquee Club to make way for the likes of The Damned and X-Ray Spex. The group quickly found that its cheerful, folk-rock style had fallen out of fashion, and disbanded after recording a final album in 1979. One of the earlier Sutherland Brothers recordings is "Sailing", which exists in two versions: one with The Sutherland Brothers alone, the other together with Quiver. "Sailing" was no success for the Brothers, but in 1975, it became a major hit for Rod Stewart. Quiver's Tim Renwick went on to play with Al Stewart, and even a later incarnation of Pink Floyd. Bassist Bruce Thomas went on to join Elvis Costello and the Attractions. Peter Wood (aka Peter Woods) later worked with Cyndi Lauper. Born in 1950 in Middlesex, England, he died in 1994 in New York.