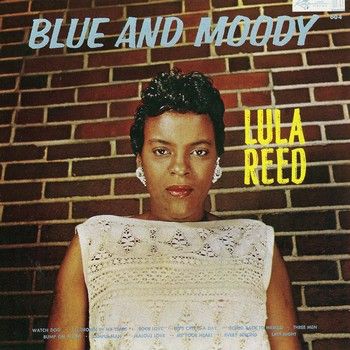 Lula Reed
-
Blue And Moody
-
1958
-
King
The longtime protegé of King Records house pianist/arranger/ producer Sonny Thompson possessed a sultry style well-suited to blues ballads in the urban vein and lighthearted upbeat fare — both of which reside on this reissue of her vintage King album. © Bill Dahl, All Music Guide © 2010 Answers Corporation http://www.allmusic.com/cg/amg.dll?p=amg&sql=10:k9foxqt5ldke
Lula Reed had a delicate, sultry, and sometimes gospel-tinged voice. "Blue And Moody" is a collection of 12 of her singles A, & B sides from 1951 to '56. Some of her best known songs are included on this album, including "Watch Dog", "I'll Drown In My Own Tears", Rock Love", "Bump On A Log", "Last Night" and "Jealous Love". Lula was backed by the band of her husband Sonny Thompson. If you like R&B/Soul of this period, you may like this album. Check out Freddy King, Lula Reed And Sonny Thompson's 1962 "Boy-Girl-Boy" album
TRACKS / COMPOSERS
where known
1 Watch Dog - Don Covay/Henry Glover
2 I'll Drown In My Tears - Henry Glover
3 Goin' Back To Mexico - Sonny Thompson
4 Three Men - unknown
5 Sample Man - unknown
6 Last Night - Henry Glover
7 Rock Love - Henry Glover
8 Let's Call It A Day - Henry Glover
9 Bump On A Log - Henry Glover
10 My Poor Heart - Sonny Thompson
11 Every Second - unknown
12 Jealous Love - Henry Glover, Sonny Thompson
N.B
:
Who composed tracks 4,5,and 11? Was track 5 originally issued as "Simple Man", and who composed it ? All info gratefully received
MUSICIANS
Lula Reed (Vocals)
Sonny Thompson (Piano)
Zain El Hussaini (Bass)
Billy Gene English (Drums)
Walter Hiles (Baritone Sax)
Tina Brooks (Alto Sax)
Henry Glover, Lee Harper (Trumpet)
N.B
:
This line-up is probably partly correct. Has anybody got the definitive list of musicians? Thanks!

SHORT BIO
A longtime cohort of pianist/producer Sonny Thompson, singer Lula Reed recorded steadily for Cincinnati-based King Records during the mid-'50s after debuting on wax in 1951 to sing Thompson's original version of the moving ballad "I'll Drown in My Tears" (a 1956 smash for Ray Charles as "Drown in My Own Tears"). After serving as Thompson's vocalist at first, the attractive chanteuse was sufficiently established by 1952 to rate her own King releases. She was versatile, singing urban blues most of the time but switching to gospel for a 1954 session. Reed's strident 1954 waxing "Rock Love" was later revived by labelmate Little Willie John. She briefly moved to the Chess subsidiary Argo in 1958-1959 but returned to the fold in 1961 (as always, under Thompson's direction) on King's Federal imprint. While at Federal, she waxed a series of sassy duets with guitarist Freddy King in March of 1962. Another move -- to Ray Charles's Tangerine logo in 1962-1963 -- soon followed. After that, her whereabouts are unknown. © Bill Dahl, All Music Guide © 2010 Answers Corporation http://www.answers.com/topic/lula-reed
LULA REED
( © Dave Penny )

Born Lula Marietta McClelland, 21 March 1921, Minjo Junction, Ohio. Died 21 June 2008, Detroit, Michigan. An attractive singer in whom the seed of soul is particularly strong, Lula Reed belongs to that coterie of stylists who closely followed the lead of Dinah Washington in the early 1950s. Many sounded like little girls - many were little girls - but Lula, like Dinah, clearly wasn't. Unlike Dinah, her switch from praising the Lord to singing the Devil's music was more of a wrench for her and it ultimately resulted in Lula turning her back on the limelight and retreating to the welcoming bosom of Christianity. According to her King press kit, Lula Reed was born in Port Clinton, Ohio, possibly in 1927. She found her voice singing in her local church choir and was taken under the wing of Professor Harold Boggs, who nurtured the young talent. Himself a well-known gospel singer, Boggs began his recording career on King Records in Cincinnati in August 1952, about six months after Lula had made her well-starred debut for the label with Sonny Thompson's Orchestra. Her only national hits would prove to be those first two Henry Glover-penned songs recorded as vocalist with Thompson's band on 14th December 1951: "Let's Call It A Day" attained the #7 position of the Billboard Rhythm & Blues Chart, while "I'll Drown in My Tears" surpassed it to stall at #5. The former song was revived by Billy Gayles and Ike Turner in 1956, while the latter - retitled Drown in My Own Tears - was taken to the top of the Billboard R&B chart in early 1956 by Ray Charles on Atlantic, since which time it has been covered dozens of times by artists as diverse as The Righteous Brothers, Dinah Washington, Aretha Franklin, and Blood, Sweat & Tears. From early 1953, with two big R&B hits under her belt, Reed began enjoying releases under her own name, although the backing band was invariably still Thompson's. Sadly, despite the commercial promise of her first two releases and being voted the nation's #4 rhythm and blues singer by The Cash Box trade magazine in 1954, Reed spent six more years with King Records searching in vain for another elusive hit. She and her now husband, Sonny Thompson, took a break from the label from 1958 to 1960, with Reed spending two years with Chess' Argo subsidiary (during which time, King released her only solo LP "Blue and Moody"), but they returned briefly to the fold in 1961, recording on the Federal label. The following year Reed was teamed up with Freddy King for a handful of duets and the celebrated "Boy Girl Boy" LP on the King label, but by the end of 1962 she had left the company, left Cincinnati and left Thompson to spend a year with the label owned by her early admirer Ray Charles- Tangerine Records. By late 1963 it was all over: always one of those troubled artists in whom the secular constantly warred with a more dominant spiritual side, Lula Reed quit the world of R&B in the early 1960s to go back home and the church that had uncovered her talent. All efforts to contact her and interview her about her "wicked" recording career have since been rebuffed. Recommended listening:Ace CDCHD 984 - I'll Drown in My Tears: The King Anthology 1952-1955; 24 track cherry-picking of Lula's King recordings with Sonny Thompson's band;Classics 5136 - The Chronological Lula Reed 1951-1954, first of three CDs covering Lula's complete recording career, including her rare early gospel sides. These pages were saved from "This Is My Story" for reference usage only. Please note that these pages were not originally published or written by BlackCat Rockabilly Europe. For comments or information please contact Dik de Heer at dik.de.heer@hetnet.nl Return to "This Is My Story" Index @ http://www.rockabilly.nl/references/references.htm © http://www.rockabilly.nl/references/messages/lula_reed.htm