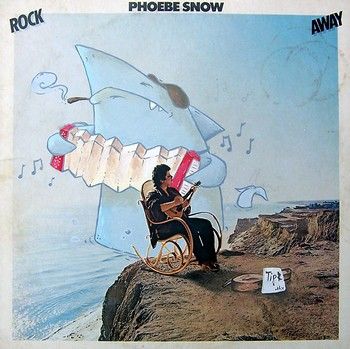 Phoebe Snow
-
Rock Away
-
1981
-
Mirage Records
Phoebe Snow a rock singer? Well, she certainly had the pipes, and producers Greg Ladanyi and Richie Cannata surrounded her with Billy Joel's backup band for a standard New York rock sound. With Snow contributing only three original tunes, the song selection was odd: Rod Stewart's "Gasoline Alley," the Buckinghams/Cannonball Adderley hit "Mercy, Mercy, Mercy," Bob Dylan's "I Believe in You." Rock Away sold better than her last two albums and produced two chart singles, "Games" (number 46) and "Mercy, Mercy, Mercy" (number 52). But anyone who had heard her first two albums knew that this was not the whole story by a long shot. © William Ruhlmann © 2010 Rovi Corporation. All Rights Reserved http://www.allmusic.com/cg/amg.dll?p=amg&sql=10:gxfuxq85ldse
Since her self-titled debut album in 1974, Phoebe Snow has remained one of the most distinctive voices in popular music. Her 1974 self titled album has become one of the most acclaimed debut albums of all time. It produced the great hit single, "Poetry Man," winning her a Grammy nomination for Best New Artist and established her as a great singer/songwriter. "Rock Away" is not regarded as one of Phoebe's "stronger" albums, but it's still a good mix of blues, folk, jazz, and soul. Phoebe penned three good songs, and the other tracks were written by great musicians like Bob Dylan, Allen Toussaint, Rod Stewart & Ron Wood, and more. Musicians include members of Billy Joel's 1981 backing band, the world class trumpeter, Randy Brecker, and Little Feat's Bill Payne on piano and organ. The 1983 Rolling Stone Record Guide said "One of the most gifted voices of her generation, Phoebe Snow can do just about anything stylistically as well as technically ... The question that's still unanswered is how best to channel such talent." The album deserves to be heard by ever lover of great music. Buy her terrific "Second Childhood" album, and also the outstanding "New York Rock And Soul Revue Live At The Beacon Theater In New York City" album, which was a live concert organized by Donald Fagen in 1992, and features Phoebe Snow, and many other musical legends.
TRACKS / COMPOSERS
A1 Cheap Thrills - Bob McDill
A2 Baby Please - Carolyne Mas
A3 Gasoline Alley - Rod Stewart , Ron Wood
A4 Rock Away - Phoebe Snow
A5 Mercy, Mercy, Mercy - Don Covay, Ronald Dean Miller
B1 Games - Vince Melamed, Andrea Farber
B2 Down In The Basement - Phoebe Snow
B3 Shoo-Rah Shoo-Rah - Allen Toussaint
B4 Something Good - Phoebe Snow
B5 I Believe In You - Bob Dylan
MUSICIANS
Phoebe Snow - Guitar, Vocals, Vocals (bckgr)
David Landau Guitar - (Electric)
Dave Brown - Guitar (Electric), Slide Guitar
Doug Stegmeyer - Bass
Bill Payne, Ralph Schuckett - Organ, Piano
Craig Doerge, Robbie Kondor - Piano
Liberty DeVitto, Russ Kunkel - Drums
Randy Brecker - Trumpet
Arnold McCuller, David Lasley, Ula Hedwig, Lennie Delduca, Krystal Davis, Mark Clark, Richie Cannata, Jocelyn Brown, Patti Austin - Vocals (bckgr)
Bob Dylan, Allen Toussaint, Rod Sifwart, Andrea Farber, Bob McDill, Vince Melamed, Carolyne Mas - Performers
SHORT BIO
Born Phoebe Laub on July 17, 1952 in New York City, Phoebe borrowed her stage name from the Lackawanna Railroad's passenger train called Phoebe Snow which ran from Hoboken, NJ to Buffalo, NY. She recorded for Shelter, Columbia and Atlantic records prior to an eight year layoff which ended with the release of "Something Real" in 1989. In June 1997, Phoebe told me, "I feel better than I ever have in my life and ready to resume making music." She added, "I love a lot of what's happening in contemporary music today, and although radio formats seem to confound some people, I love where they're going. CHR in the New York-New Jersey area are a great mixed bag of alternative-urban-dance-folk music." Phoebe is hard to categorize. She sings jazz, pop, rock, soul, gospel--she can do it all. She credits Aretha Franklin as an early influence. Phoebe said, "I've enjoyed performing over the years with such luminaries as Linda Ronstadt, Billy Joel, Dave Mason, Cheap Trick, Jewel, Buddy Miles, Al Green, Bonnie Raitt, Jackson Browne, and all the performers at the 1979 "No Nukes " Benefit at Madison Square Garden." © 1996-2007. All Rights Reserved. www.vdebolt.com/phoebehome/phoebetext/bio.html
BIO
(Wikipedia)

Phoebe Snow (born Phoebe Ann Laub on July 17, 1952) is a singer, songwriter, and guitarist, best known for her 1975 hit "Poetry Man". Born in New York City, Snow was raised in a household where Delta blues, Broadway show tunes, Dixieland jazz, classical music and folk music recordings were played around the clock. Her father, Merrill Laub, was an exterminator by trade and her mother, Lili, was a dance teacher who died of bone cancer.[1] She grew up in Teaneck, New Jersey and graduated from Teaneck High School.[2] As a teenager, she carried her prized Martin 00018 acoustic guitar from club to club around Greenwich Village, playing and singing on amateur nights. Her stage name is the same as a fictional advertising character created in the early 1900s for the Delaware, Lackawanna and Western Railroad, a young woman named Phoebe Snow, that appeared on boxcars traveling near her hometown of Teaneck. She changed her name from Phoebe Laub to Phoebe Snow. She was briefly married to Phil Kearns, and, in December 1975, gave birth to a severely brain-injured daughter, Valerie.Snow resolved not to institutionalize her but instead care for her at home, which she did until Valerie died on March 18, 2007 at the age of 31. Snow's efforts to care for Valerie greatly and negatively affected her professional career, nearly ending it; it also adversely affected her personal life. Snow continues to take voice lessons and studies opera informally. She resides in New Jersey. It was at the Bitter End Club in 1972 that a promotions executive Denny Cordell for Shelter Records was so taken by the singer that he signed her to the label and produced her first recording. She released an eponymous album, Phoebe Snow, in 1974. Featuring guest performances by The Persuasions, Zoot Sims, Teddy Wilson, David Bromberg and Dave Mason, Snow's album became one of the most acclaimed debut recordings of the era. It spawned the Billboard Hot 100 Top 5 hit single, "Poetry Man," reached number 4 on the Billboard 200 album chart, won Snow a nomination for the Grammy Award for Best New Artist, and established her as a formidable singer/songwriter. The cover of Rolling Stone magazine followed, while she performed as the opening act for tours by Jackson Browne and Paul Simon (with whom she recorded the hit single "Gone at Last" in 1975). Legal battles took place between Snow and Shelter Records, and Snow ended up signed to Columbia Records. Her second album, Second Childhood, appeared in 1976, produced by Phil Ramone. It was jazzier and more introspective, and suffered disappointing sales. Snow moved to a harder sound for It Looks Like Snow, released later in 1976 with David Rubinson producing. 1977 saw Never Letting Go, again with Ramone, while 1978's Against the Grain was helmed by Barry Beckett. After that Snow parted ways with Columbia; she would later say that the stress of her parental obligations degraded her ability to make music effectively. In 1981, Snow, now signed with Mirage Records, released Rock Away, recorded with members of Billy Joel's band; it spun off the Top 50 hit "Games". The 1983 Rolling Stone Record Guide summed up Snow's career so far by saying: "One of the most gifted voices of her generation, Phoebe Snow can do just about anything stylistically as well as technically ... The question that's still unanswered is how best to channel such talent." However, Snow would now spend long periods away from recording, often singing commercial jingles for AT&T and others in order to support herself and her daughter. During the 1980s she also battled her own life-threatening illness. Snow returned to recording with Something Real in 1989 and gathered a few more hits on the Adult Contemporary charts. Also, Snow composed the Detroit's WDIV-TV Go 4 It! campaign in 1980. In 1990 she contributed a cover version of the Delaney & Bonnie song "Get ourselves together" to the Elektra compilation Rubáiyát. In 1992, she toured with Donald Fagen's popular New York Rock and Soul Revue and was featured on the group's album recorded live at the Beacon Theater in New York City. Even when she wasn't recording her own works, Phoebe continued to tour extensively as a solo artist throughout North America, Great Britain, Germany, and the Far East. Throughout the '90s she made numerous appearances on the Howard Stern radio show. She sang live for specials and birthday shows. In 1997, she sang the Roseanne theme song a cappella during the closing moments of the final episode. Snow has performed with a Who's Who of prolific artists including Lou Rawls, Ladysmith Black Mambazo, Dave Grusin, Avenue Blue with Jeff Golub, Garland Jeffreys, Jewel, Donald Fagen, Paul Simon, Billy Joel, Queen, Hiroshi Fujiwara, Jackson Browne, Dave Mason, Linda Ronstadt, Bonnie Raitt, Michael McDonald, Boz Scaggs, Cyndi Lauper, Roger Daltrey, Chaka Khan, CeCe Peniston, Take 6, Michael Bolton, Thelma Houston, Mavis Staples, Laurie Anderson, Tracy Nelson, and The Sisters of Glory (with whom she performed at the second Woodstock festival), among many, many others. She also sings the title track on the 1997 Laura Nyro tribute album, Time and Love, and recently Snow joined the pop group, Zap Mama, who recorded its own version of "Poetry Man," in an impromptu duet on the PBS series, "Sessions At West 54th." Hawaiian girl group Na Leo also had a hit on the Adult Contemporary chart in 1999 with their cover version of "Poetry Man." Decorating an already vibrant career, in May of 1998, Snow received the Cultural Achievement Award by New York City Mayor Rudolph Giuliani. She is also the recipient of a Don Kirschner Rock Award, several Playboy Music Poll Awards, New York Music Awards and the Clio Award. One of President Bill Clinton's favorite vocalists, she performed for the President, the First Lady, and his cabinet at Camp David in 1999. In 2003, Snow released her album Natural Wonder on Eagle Records, containing ten original tracks, her first original material in fourteen years.