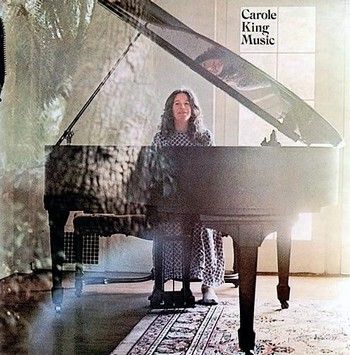 Carole King
-
Music
-
1971
-
Ode Records
In the 1970's, Carole King, the great singer/songwriter released some brilliant, critically-acclaimed albums, like "Writer", "Rhymes & Reasons", "Wrap Around Joy", and of course the all time classic "Tapestry". "Tapestry" was praised by critics and fans alike, went to number one and included the hit singles "It's Too Late" and "So Far Away." In 1972, Carole won four Grammy Awards: Record of the Year for "It's Too Late," Album of the Year for Tapestry, Song of the Year for "You've Got a Friend," and Best Pop Vocal Performance by a Female for Tapestry. Over the next few years, Carole released a number of albums, for a total of eight Gold, five Platinum and one Diamond certification to date. However, most of Carole King's later releases are forever being compared to albums like "Writer" and especially "Tapestry". Many of her albums have been discounted by music critics for not living up to the very high standards of those two albums. In the music business, it's hard to win. You are only as good as your last release, and after a string of hugely successful seventies' albums, Carole found it hard to receive much recognition for albums as good as "Colour of Your Dreams". Many music lovers regard "Music" as being as good, if not better than "Tapestry". Carole's albums will always be compared to her classic "Tapestry", but all of the songs on "Music" have beautiful melodies, wonderful song structures, and the album contains some classic pop rock songs like "Sweet Seasons", "It's Going to Take Some Time", "Some Kind of Wonderful", "Song of Long Ago", and more. Some of the artists on the album include Danny Kortchmar, and James Taylor on vocals and guitar, and Merry Clayton on background vocals. Although "Music" is a highly successful album, it is often overlooked. It was released 10 months after "Tapestry" and although the album hit No.1 nearly everywhere, and went platinum, many people have not heard it! It is
VHR by A.O.O.F.C.
There is more to Carole King than "You've Got A Friend", or "It's Too Late". Carole King from Brooklyn, NYC remains one of the greatest living singer/songwriters. Listen to Carole's "Carnegie Hall Concert: June 18, 1971" album, and search this blog for other Carole King related releases
TRACKS
1 Brother, Brother
2 It's Going to Take Some Time
3 Sweet Seasons
4 Some Kind of Wonderful
5 Surely
6 Carry Your Load
7 Music
8 Song of Long Ago
9 Brighter
10 Growing Away from Me
11 Too Much Rain
12 Back to California
All songs composed by Carole King except Tracks 2,3,11 by Carole King and Toni Stern, and Track 4 by Carole King and Gerry Goffin

MUSICIANS
Carole King - Synthesizer, Guitar, Piano, Celeste, Piano (Electric), Vocals, Vocals (bckgr)
Danny Kortchmar - Guitar (Acoustic), Guitar, Guitar (Electric), Vocals, Vocals (bckgr)
James Taylor - Guitar (Acoustic), Guitar, Vocals, Vocals (bckgr)
David T. Walker - Guitar
Charles Larkey - Bass, Bass (Electric), Bass (Acoustic)
Ralph Schuckett - Organ, Piano, Celeste, Keyboards, Piano (Electric)
Joel O'Brien, Russ Kinkel - Drums
Tessie Calderone - Percussion
Bobbye Hall - Percussion, Bongos, Conga, Tambourine
Theresa Colderon - Conga
Mike Altschul, Plas Johnson, William Green, Buddy Collette - Flute, Saxophone, Wind, Woodwind
Curtis Amy - Flute, Sax (Tenor), Wind
Oscar Brashear - Flugelhorn, Wind
Ernie Watts - Wind, Woodwind
Merry Clayton, Abigale Haness - Vocals, Vocals (bckgr)
REVIEWS
After years as one of the most prolific and successful songwriters in pop music, Carole King emerged in the '70s with Tapestry, an album that catapulted her to the forefront of the singer/songwriter movement. While she had mined her back catalog for that album, she relied more heavily on songs written with new collaborator Toni Stern for Music. Coming out on the heels of the classic Tapestry, it's hard not to feel like this album was a bit of a letdown. However, time has shown this album to be one of her finest. While these songs lyrically lack the simplistic beauty of Gerry Goffin-penned tunes, the melodies are very strong and Carole King adds some nice texture to her piano-based tunes with the tasteful percussion of Bobbye Hall. When King goes for grand statements, however, it doesn't always work. Her call for peace and brotherhood works on songs like the opening track, "Brother, Brother," but her voice is not strong enough and does not convey enough emotion to prevent uplifting tunes like "Carry Your Load" from sounding a bit hollow and preachy. But her songwriting is still in peak form, and there are many highlights including "It's Gonna Take Some Time" (also made into a hit by the Carpenters) and "Song of Long Ago" (with backing vocals by James Taylor). © Vik Iyengar © 2010 Rovi Corporation. All Rights Reserved http://www.allmusic.com/cg/amg.dll?p=amg&sql=10:w9fixq95ldfe
Carole King's "Music" is not an overlooked masterpiece (it sold over four million copies upon its release), but certainly one which has been forgotten over the years. Perhaps too closely released on the heels of "Tapestry", "Music" has certainly been overshadowed by that previous trademark, landmark work. With "Music", King experiments with some new sounds and styles, such as the R & B track "Brother, Brother" which opens the album with a sound reminiscent of the tune "What's Going On?" The title track is a truly uplifting jazz waltz with an incredible sax improvisation as a centerpiece. The simplicity and honesty of "It's Going To Take Some Time" is stunning and certainly surpasses The Carpenter's more orchestrated version of the tune during the same year. Throughout "Music", she effectively utilizes a pair of strong female backup vocalists who strengthen King's own delivery of her material and who bring a richness and soulfulness to tunes such as "Growing Away From Me" and the Goffin/King standard "Some Kind of Wonderful." If this album had received as much press and airplay through the years as "Tapestry" did, tunes like "Song of Long Ago" (with background vocals courtesy of James Taylor) and "Carry Your Load" would now be instant classics. As it is "Sweet Seasons" is the only top-10 single from the album and the only one most people would be likely to recall. Over all, "Music" does not have the musical cohesiveness of her next two projects "Rhymes & Reasons" and "Fantasy", but song for song it certainly contains some of the best material she has ever recorded. Like Tapestry. . . . a classic! © "earthvolunteer" © 2008-2010 KickassTorrents.com
Anyone who failed to follow up an album that had sold four million copies with a very similar album would have to be either a fool or Bob Dylan. Carole King is neither, and her new album Carole King Music, follows with gingerly tread in the footsteps of Tapestry. The spirit of her music remains warm and strong, her lyrics still carry personal messages of friendship and loyalty, and the same musicians are playing in back of her. Despite the similarity between the two albums, the songs on Carole King Music are not as immediately likeable and the new album doesn't have its predecessor's sure, unified sense of style. Carole King is the most naturally, unaffectedly black of our white pop stars -- black in her phrasing, in the feeling of the songs she composes, and in her deep love of rhythm and blues. So it is fitting that she launches the album with "Brother, Brother," a song that appears to be a response to Marvin Gaye's "What's Going On." Carole evokes the musical feeling of Marvin's song with bongos and a beseeching vocal. Marvin had sung "Brother, brother, there's too many of you dying." Now a white sister takes up the same "Brother, brother" refrain and adds her heartfelt assent: "You have always been so good to me/ And though you didn't always talk to me/ There wasn't much my lovin' eyes could not see/ And I don't believe you need all your misery." Whether Carole is speaking to some generalized conception of blacks in America or to one raceless individual, her lyric stands as beautiful. "Brother, Brother," the best song on the new album, is a perfect example of vintage King. The chord progression -- characteristically neat, logical, compelling and unforgettable -- marks it as a pop hit. The lyric, as usual, contains an urgent and complex message -- a hint of frustration, some warm words of encouragement and a passionate avowal that "you know I love you like no other." In her own songs (as opposed to those with lyrics by Gerry Goffin or Toni Stern), Carole invariably addresses a "you." She is incapable of writing a song that is not to someone; it is because she writes from this personal impulse, not from a pop impulse, that her songs are so moving. This same urgency to reach out and reassure gives her voice its haunting, inimitable tug. Beyond all this, "Brother, Brother" is unmistakably cast in the black idiom. Three other songs on the album could serve as deadly accurate Motown follow-ups. One has no trouble hearing Smokey Robinson wrapping the raw silk of his voice around the exquisite first two bars of "Surely" -- one of the most subtle, serpentine melodic lines Carole has ever written. The wonderful rhetoric of the lyric, inflated with dignity borrowed from Roberts' Rules of Order ("Surely you know how I sta-hand on the issue of my loving you") is worthy of Smokey's "I Second the Emotion." "Brighter" and "Growing Away from Me" could both have come from the Motown songwriting team of Ashford and Simpson and would have made perfect numbers for Marvin Gaye and Tammi Terrell. I find that my second-favorite song on the album, one I listen to again and again, has the simplest arrangement. "Song of Long Ago," in which Carole celebrates the ripening of accidental friendships, features Carole on piano over a spirited bongo and bass bottom, with James Taylor filling in a rich middle on his acoustic guitar. Suddenly Carole has complete control again. The piano punctuates her vocal phrasing, the vocal stands out, and once again we hear what an instinctively brilliant singer she is -- a fact disguised by some of the other arrangements. When James weaves his voice with hers, it makes for a meaningful, touching duet, not just background filler. But there are also whole songs that are disappointments -- throwaways like "Sweet Seasons" and "Back to California." And one of the lowest points on the record is the follow-up to "Will You Still Love Me Tomorrow" -- another Goffin-King classic, "Some Kind of Wonderful." Carole gave the Shirelles some real competition in her version of "Will You," but the Drifters' crisp "Some Kind" has it all over Carole's rendition, which is drenched in soupy background vocals. Like Tapestry this album is rich in both emotion and melody, and in its almost encyclopedic view of friendship it surpasses most popular music. There is no question about the value of the content, only the validity of the style. Carole now has to choose between simplicity and complexity -- between piano-cum-combo and a full scale orchestra. The middle ground where she is now standing isn't good enough for her and the sooner she moves on the better. Meanwhile, "Brother, Brother," "Song of Long Ago," and "Surely" provide new evidence that Carole King continues to be one of the major individual talents in pop music today. © Tim Crouse, Rolling Stone, 1/20/72.
Carol King's words on the back cover best describe the contents of this exciting package: "music is playing inside my head over and over and over again my friend, there's no end to the music." Suggested cuts? After one listen, all twelve will be your favorites. A blockbuster. - Billboard, 1972.
This is Carole King's third solo album. In years to come it will probably be looked back on as one of those transition LP's that crop up in most artists' careers. 1971 saw Carole move from being a decent writer of pop songs into being a superstar perfomer. Small wonder then that Music is a rather cautious and steady LP. Most of the dozen songs roll up into a pleasant enough little ball, but fall quite a bit short of the things on Writer and Tapestry. Exceptions: "Carry Your Load," marked by a thoughtful lyric; "Some Kind Of Wonderful," a blast from the past done up with as much energy as the original Drifters version; and "Back To California," the LP's final track and the only one where Carole pulls out all the stops, throws her head back and sings her ass off. Lots of talented folk turn up at the sessions: James Taylor, Merry Clayton, Danny Kootch and Abigale Haness to name a few. Carole's piano playing is precise and often invigorating. But what the record does most is whet the appetite for the next Carole King album. It just might be a great one. - Ed Kelleher, Circus, 3/72.
BIO
An introspective, stage-frightened woman with a wispy though resonant voice, Carole King seemed an unlikely bet in the early 1970s to become one of the top-selling recording artists of all time. But she moved quickly into that elite class with just one album, 1971's Tapestry, which by itself has sold more than 14 million copies worldwide and was the best-selling LP of all time until the Bee Gees surpassed it at the height of the disco craze with their Saturday Night Fever soundtrack. While Tapestry made King a household name as a singer, her previous career as a songwriter had already firmly established her reputation in recording industry circles. As Jon Pareles and Patricia Romanowski reported in the Rolling Stone Encyclopedia of Rock, "King has had two outstanding careers. Throughout the Sixties, she was one of pop's most prolific songwriters, writing the music to songs like 'Will You Love Me Tomorrow' and 'Up on the Roof,' with most lyrics by her first husband, Gerry Goffin. Then in 1971, with her multimillion-selling Tapestry, she helped inaugurate the Seventies' singer/songwriter style." King seemed to arrive at the peak of her talents just in time to take advantage of a post-psychedelic generation that yearned for songs with a more personal, acoustic sound and lyrics that reflected simpler values. Actually, King's arrival at the superstar level was due more to a long fermentation in the shadows of the music industry. Born Carole Klein on February 9, 1942, in Brooklyn, New York, King took an early interest in music and had formed her first band, the Co-sines, while still in high school. While attending Queens College, King met Goffin; the two began what would become a long personal and professional relationship. Along with notable songwriters Neil Sedaka--a childhood friend of King's--Cynthia Weil, and Barry Mann, King and Goffin joined Al Nevins and Don Kirshner's Aldon Music company and composed hundreds of songs in the Brill Building's cubicles, famous for incubating hit songs for decades. In 1961, King--who was not yet 20--and Goffin had their first hit when "Will You Love Me Tomorrow" became a Number One single for the Shirelles. In the early 1960s there was a strong push among music publishers for songs written exclusively for black artists; King's longtime interest in rhythm and blues stylings gave her a head start on the competition, as evidenced by the Drifters's Top Ten hit with the King-Goffin composition "Up on the Roof." Soon, Goffin and King were the hottest songwriters in the business. They followed their chart-topping success with the hits "Hi-De-Ho" for Blood, Sweat, and Tears, "One Fine Day" for the Chiffons, "Natural Woman" for Aretha Franklin, "Oh, No, Not My Baby" for Maxine Brown, and "Locomotion," the Number One hit the Goffins wrote for their seventeen-year-old baby-sitter, Little Eva. As Jon Landau wrote in Rolling Stone: "The songs of Goffin and King are superb examples of the songwriting craft of the Sixties. Finely honed to meet the demands of the clients who commissioned them, and written with the requirements of AM radio always firmly in mind, they still managed to express themselves in a rich and personal way. Like Hollywood directors who learned how to make the limitations of the system work for them and in the process created something of their own pop vision." A mid-1960s attempt by Goffin, King, and Al Aronowitz to launch their own Tomorrow label failed, as did the Goffin marriage, which ended in divorce and King's move to Los Angeles with their two daughters. King was relatively inactive during this period, although she did continue to write both music and lyrics. In 1968 she formed a group called The City with bassist Charles Larkey--who would become her second husband--and Danny Kortchmar, a former member of the New York City club band Flying Machine, who introduced King to that group's vocalist, James Taylor. Because of King's stage fright, The City never toured; their only LP was an unsuccessful effort for Lou Adler's Ode label called Now That Everything's Been Said . At this point it was Taylor who provided the encouragement King needed to take the next logical step in her career. Taylor had been much impressed by many of King's compositions for The City, particularly "You've Got a Friend," which he later turned into a hit himself. Taylor urged King to continue to write and record her own songs; the result was the 1970 album Writer, which displayed flashes of a new maturity in King's writing along with her richly textured piano chords. Writer enjoyed just enough success to merit another solo effort, Tapestry, which featured the hits "I Feel the Earth Move," "So Far Away," "It's Too Late," and King's own version of "You've Got a Friend," which Taylor had already taken to Number One on U.S. charts. Tapestry made it to Number One on the album charts, scored four Top Ten hit singles, and remained on the charts for 302 straight weeks--until 1977. Understandably, King could never quite duplicate the incredible success of Tapestry, but for a period of years after its release she continued to produce quality work on LPs like Music, Rhymes and Reason, Fantasy, and Wrap Around Joy. King switched to Capitol Records in 1975 and immediately produced the gold record Simple Things, but it seemed clear by this time that her most productive period had passed. She continued recording into the 1980s, but sporadically and never with as much success as in earlier years. By that time she had become something of a recluse, preferring to live quietly in her Idaho home and make only a few concert appearances. King did, however, break new ground in her career in 1988 by appearing in an off-Broadway play called A Minor Incident [ © David Collins [ from Contemporary Musicians, December 1991 , Volume: 6, by David Collins , www.concentric.net/~Jjones24/carole.html]