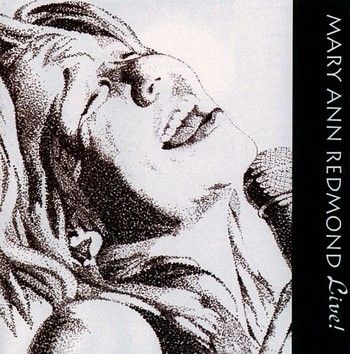 Mary Ann Redmond
-
Live
aka
"Live At Blues Alley"
-
1997
-
Spellbound
Singer/songwriter Mary Ann Redmond was described as "an exciting vocal talent" in a Billboard magazine article that also said that "Redmond is wowing club audiences as a completely formed stylist, who sings heartfelt ballads and funky tunes with equal ease and enthusiasm in an alto voice that soars effortlessly to soprano range." Dave Nuttycombe of the Washington City Paper said "If Aretha is the Queen of Soul, Redmond must be considered an official Lady in Waiting." Mike Ryan, of the Boston Herald said "Virginia's Mary Ann Redmond falls somewhere between Dusty Springfield and Aretha Franklin. Yes, her voice is that good." Taped at Blues Alley in Georgetown, Washington DC, this is a great album of rock, jazz, blues and R&B. There are 12 wonderful tracks of both covers and originals. This lady has an outstanding voice, and should be heard by all lovers of good rock, jazz, blues and R&B. Live aka "Live At Blues Alley" is
HR by A.O.O.F.C.
Mary Ann founded an independent music company, Spellbound Music, to handle both her albums and her original songs. All of her material except "Here I Am" has been released on the Spellbound label. Buy her "Here I Am" album, and keep the blues alive!
TRACKS
1. Whispering Your Name
2. Too Many Cooks
3. Crossroads
4. Georgia (Intro)
5. Georgia
6. Yellow Moon
7. Footprints on the Ceiling
8. Tell Me What It Feels Like
9. I Can't Stand the Rain
10. Over the Hills and Far Away
11. (He'll Call) Right About Now
12. Many Rivers to Cross
MUSICIANS
Mary Ann Redmond - vocals, guitar
Mike Ault - guitar
Steve Taylor - bass
Benjie Porecki - Keyboards
Deren Blessman - Drums
BIO
(WIKIPEDIA)
Mary Ann Redmond (born 1959) is an American singer known for her soulful and wide-ranging vocal style in popular and jazz music. She is based in the greater metropolitan Washington, D.C. area, but has performed in several locations in the United States and in other countries. Both her live performances and her four CDs to date have earned her acclaim from audiences and recognition from the music industry, although she has never achieved national fame on a par with many of the performers she has worked with, such as Mary Chapin Carpenter. She is primarily a regional artist and has won 16 Washington Area Music Awards (Wammies). Redmond was born in Richmond, Virginia, the youngest of three children. As a child she attended St. Elizabeth's Parochial School, where at the age of 6 she performed the song "Dominique," made famous by The Singing Nun. Later, she joined up with her brothers in a band singing pop tunes. Redmond eventually attended Virginia Commonwealth University (VCU) where she studied opera and voice while playing gigs at nights with the Jack Diamond band. As her career progressed, Redmond left VCU to sing with a series of bands and casino lounge acts during the 1980s. In addition to pop music, she performed jazz and blues tunes as well, developing a broad repertoire. In the mid 1990s, Redmond began singing with a band led by saxophone artist Al Williams. Tired of the road life, she settled in the Washington, DC area and with the Williams band recorded her first album, Prisoner of the Heart, first released in 1994 (a remixed version was re-released in 2002). It was around this time that the major recording company Motown signed Mary Ann Redmond to a development deal. However, before she had the opportunity to record or release any product, a change in personnel at the label resulted in her being dropped from Motown. Rather than seek another major label, Redmond founded an independent music company, Spellbound Music, to handle both her albums and her original songs. With the exception of her third album Here I Am, all of Redmond's material has been released on the Spellbound label. In 1995, Mary Ann Redmond formed her own supporting band and went out as a solo act, performing at Washington-area clubs and private parties. One of her first major shows was at the famed jazz club Blues Alley. This performance was recorded and released as Mary Ann's second CD, Live At Blues Alley. Redmond became increasingly well known, earning awards and positive reviews in major trade publications such as Billboard. Other artists began to seek her out, and she occasional worked with other performers in duos for specific shows. One of her friends was another upcoming artist of the period, Eva Cassidy. Redmond and Cassidy had different vocal styles but they performed together one night at "Fleetwoods," and when Cassidy was stricken with cancer, Redmond sang at a Georgetown benefit to raise funds for her. Following Cassidy's death in 1996, Redmond added her vocals to a version of Cassidy's song, "Hear," creating a recorded duet that is now considered a special track by fans of both women. After meeting fellow performer Jon Carroll, a member of Mary Chapin Carpenter's band, Carroll produced Redmond's 2000 CD, Here I Am. The album includes a song written by Mary Chapin Carpenter for Redmond, "Alone but Not Lonely." Another band member, John Jennings, later produced Redmond's 2005 release Send the Moon. Redmond also joined the others to perform during a USO show for the U.S. Armed Forces in Bosnia in 1999. The lineup of the Mary Ann Redmond Band is subject to change over the years and as of 2007 she is working with guitarist Dan Hovey (and sometimes Michael Ault), bassist Anthony Setola and drummer Derren Blessman. The Mary Ann Redmond Band performs every Sunday night (well almost every Sunday night) at Flanagan's Harp & Fiddle in Bethesda, Maryland. Since 1992, Mary Ann has won 16 Wammies (Washington Area Music Awards) with the latest award presented to her for the year 2007.
MORE
Had singer Mary Ann Redmond started recording in the '60s or '70s instead of the '90s, it's quite possible that she would have gone down in history as one of the major soul stars of the Baby Boomer era. A gritty, rugged, big-voiced belter whose primary influences range from Ike & Tina Turner to Etta James and Aretha Franklin, Redmond would have been perfect for the gospel-influenced soul climate of the '60s and '70s. Perhaps she could appeal to the urban contemporary market of the 21st century if she had more of a hip-hop-ish neo-soul approach à la Mary J. Blige, Lauryn Hill, Jill Scott, or Jaguar Wright, but Redmond's R&B is untouched by the high-tech, hip-hop-influenced urban contemporary sounds of the '80s, '90s, and 2000s — she is, for the most part, a gutsy, hard-edged soul singer in the classic sense (although with a definite rock edge most of the time), and Redmond's fans love the fact that she is unapologetically retro in her outlook. Some have described Redmond as a blues singer, which often happens when artists favor classic soul over urban contemporary; these days, the blues bins are full of CDs that are really more soul than blues. But even though Redmond can easily handle 12-bar blues (as well as rock and jazz), soul is really her main focus, at least on her CDs. Born and raised in Richmond, VA, Redmond grew up listening to a variety of R&B, rock, and pop. Redmond's interest in music was encouraged by her mother (who sang, although not professionally) and her two brothers (one of whom taught her to play the guitar). As a teenager, she learned to play "House of the Rising Sun" on the guitar, but singing — not guitar playing — would become Redmond's primary focus. After graduating from high school, Redmond majored in voice at Virginia Commonwealth University (VCU) and studied operatic classical singing. But at night, she performed in various rock and jazz bands on and around the VCU campus. Although the faculty at VCU felt that Redmond had great potential as a classical singer, she decided that a classical career wasn't for her and opted to concentrate on rock, R&B, and jazz instead. After moving to the Washington, DC area in the early '90s, Redmond was hired as a featured vocalist for the soul/funk-oriented band that saxman/flutist Al Williams led in DC and its suburbs. Eventually, the singer left Williams' employ and formed her own band, which performed a combination of covers and Redmond originals. As a solo artist, Redmond developed a small but enthusiastic following in the Washington DC area, and along the way, she won quite a few Wammie awards. Held by the Washington Area Music Association (WAMA), the Wammies are the local DC equivalent of the Grammies, and in the '90s and early 2000s, Redmond won a total of 14 Wammies (including awards for "Best Rock-Pop Vocalist," "Best Female Jazz Singer," "Best Roots Rock/Traditional R&B Vocalist," "Best Urban Contemporary Vocalist," and "Best Female Blues Vocalist"). Locally, Redmond created enough of a buzz to open for major soul veterans when they passed through DC, including the O'Jays, the Pointer Sisters, Smokey Robinson, Ashford & Simpson, and the Neville Brothers. Also in the DC area, one of Redmond's strongest supporters has been singer/songwriter Mary Chapin Carpenter, who invited Redmond to go on tour with her in 1999 as a background vocalist. Another DC resident who was an enthusiastic Redmond supporter was her friend Eva Cassidy, an eclectic, hard-to-categorize singer who was only 33 when she died of cancer in 1996. Redmond's solo albums have included, Prisoner of the Heart, 1997's Live!, and 2000's Here I Am, all of which she released on her own Spellbound label. In 2002, Prisoner of the Heart was re-released by the independent Q&W Music Group. © Alex Henderson © 2010 Rovi Corporation. All Rights Reserved http://www.allmusic.com/cg/amg.dll?p=amg&sql=11:axfpxqqkldse~T1