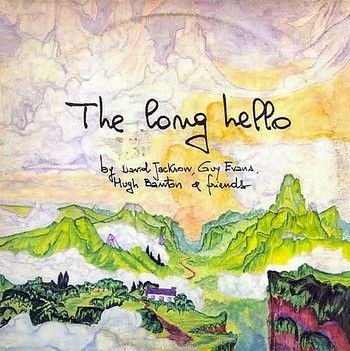 David Jackson,
Guy Evans
&
Hugh Banton
(
aka
The Long Hello
)
-
The Long Hello
-
1974
-
United Artists
(Italy)

A side project of Van Der Graaf Generator members Hugh Banton, David Jackson and Guy Evans, with the participation of former member Nic Potter and guests Ced Curtis and Piero Messina on guitars. From a compositional standpoint, it's mainly Jackson's album, with a single entry (the raucous "Brain Seizure") from Hugh Banton. In terms of attitude and performance, this is light, fluffy stuff, miles away from the usual dark VDGG moods. © Steven McDonald © 2010 Rovi Corporation. All Rights Reserved http://www.allmusic.com/cg/amg.dll?p=amg&sql=10:0xfexqw5ldae~T0
While Peter Hammill was off busy with his solo career, the Long Hello offered a rare glimpse into VDGG sans their leader. The initial impetus for the project revolved around Guy Evans and what would become his Foel Studios. Along with David Jackson, he got together with some Italian friends in Wales to record the resulting album. Jackson wrote most of the material and graces the album on sax and flute, while Nic Potter lends his hands on bass. Hugh Banton's role was primarily technical in nature, although he does contribute one rather lackluster track in its entirety. The instrumental album trades the fury of VDGG for a melodic beauty that, no doubt, reflected the environment in which it was recorded. Highly original, the album defies categorization. It has jazz elements, but is most certainly not jazz. It rocks, but that too would also be cutting it short. "The O Flat Session" approaches the sonic lunacy of Henry Cow, but there's nothing that high brow here. "Morris to Cape Roth" captures the immediacy of VDGG, but avoids any chaotic digression. The acoustic guitar of Piero Messina is one of the album's charms, providing an understated rhythmic element on the second side. "Fairhazel Gardens" in particular is a highlight. The album was issued several times in small numbers, ranging from a near white label pressing in the UK to a full color Italian issue. Three other volumes under the Long Hello umbrella would see release in the early '80s, each under the direction of a former VDGG member. all text © 2000-2010 progressiverock.com. all rights reserved http://www.progressiverock.com/1974.php
A side project of mainly Van der Graaf Generator musicians. David Jackson, Hugh Banton, Guy Evans had all been members of Van der Graaf Generator, but the band had split up in August 1972, and reformed in 1975. A decent instrumental jazz rock album. Sound quality is only fair, but the album is still worthy of a listen especially for the guitar work of Piero Messina. In 1981 Nic Potter and Guy Evans released a follow-up to this album, "The Long Hello Volume Two". There also is a "Long Hello Volume Three" (David Jackson and Guy Evans, 1982) and "Long Hello Volume Four" (David Jackson, Guy Evans, and Life of Riley, 1983). The album "Gentlemen Prefer Blues" (Jackson, Banton, Evans, 1985) is often regarded as a "Long Hello Volume Five".
TRACKS / COMPOSERS
A1 Fairhazel Gardens - D. Jackson & P. Messina
A2 Looking At You - D. Jackson
A3 I've Lost My Cat - D. Jackson
B1 The Theme From "Plunge" - D. Jackson
B2 The O Flat Session (Mistakenly listed as The Obsession) - P. Messina
B3 Morris To Cape Wrath - D. Jackson
B4 Brain Seizure - H. Banton
MUSICIANS

Piero Messina - electric guitar, acoustic guitar, piano
Ced Curtis - electric guitar, bass on "Fairhazel Gardens"
Nic Potter - bass
Hugh Banton - all instruments on "Brain Seizure", bass on "The O Flat Session"
Guy Evans - drums
David Jackson - saxophones, flute, piano
ALBUM RELEASE NOTES
The Long Hello was first possible by fans. In 1973, I wanted to create an outlet for collaborations involving former Van der Graaf members and others, free from the angst of record company involvement and the dreaded necessity to maintain a permanent band. Some close friends I had first met as Van der Graaf fans offered to finance the project. I set about finding a location, equipment and assistance, this, in days long before the availability of cheap compact multi-track machines. Finally, I a derelict farmhouse in Wales, a 3m machine and a valve mixing desk, both very ancient and Hugh Banton, recruited not, at his insistence, as a musician but as a technical advisor and engineer, since, at the time my technical knowledge was non-existent and my engineering experience, nil. There then followed the peculiar mix of musical design and random event wich has characterized the Long hello ever since. Large numbers of Italians came and went, a piano arrived by sheep trailer, David persuaded the local bird population to perform; Hugh Banton nbanned everyone from the studio in order to re-align the tape machine and ended up recording all the instruments on 'Brain Seizure'. The derelict farm became Foel Studio. © Guy Evans © http://www.gaudela.net/vdgg/the_long_hello-v1.html
BIO
Originally a side project developed by Van der Graaf Generator players Guy Evans, Hugh Banton, Nic Potter, and David Jackson while bandleader Peter Hammill was off making solo records after the release of Pawn Hearts, and originally marketed prominently via the Van der Graaf connection, the Long Hello became the umbrella name for a series of instrumental records centered around virtuoso drummer Evans (with bassist Potter on Vol. 2). As of Vol. 3, most of the connections with Van der Graaf Generator had been left behind. © Steven McDonald © 2010 Rovi Corporation. All Rights Reserved http://www.allmusic.com/cg/amg.dll?p=amg&sql=11:f9foxqu5ldte