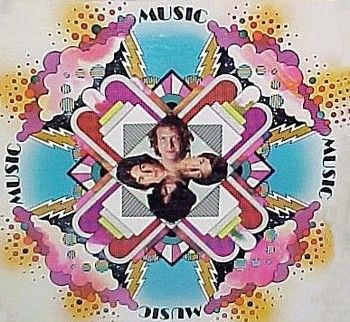 Music
(
Buzzy Linhart
)
-
Music
-
1970
-
Eleuthera Records
Released in 1971 around the same time as his solo Buddah release (The Time to Live Is Now), Music, on Artie Kornfeld's Eleuthera imprint distributed by Buddah, distinguished itself from the Carole King album of the same name because Music was also the title of this group led by songwriter Buzzy Linhart. Not the Music Explosion or Roxy Music or the Music or Music, Inc., the band known simply as Music feels like a cohesive unit, and the album plays with that rock band consistent groove. On "Everybody's Got (And Don't You Know)," Linhart veers off into Donovan Leitch's swimming pool; to be specific, he's vamping on the riff from Donovan's "Atlantis" inside this tune. "Mother's Red Light" is a whole other thing. Heavy with Linhart's vibes, Klingman's keyboards, and bassist Douglas Rauch playing some lead guitar, the song is psychedelic jazz, more so than Dave Grusin's acidic soundtrack to the film Candy, which came just a few years before. Produced by the band with engineer Eddie Kramer, the album is a solid effort boasting a heavier sound than Linhart's other solo efforts and a deliciously psychedelic gatefold cover. David Bromberg guest stars on dobro for the Mark Klingman composition "Kilpatrick's Defeat," while Moogy, of course, appears on piano and organ, musically supplementing the sounds of drummer John Siomos, lead guitarist Doug Rodriques, and the aforementioned bassist, Doug Rauch. Leiber & Stoller's "Searching" crawls and slinks with a rock & roll groove, the charm and band identity giving all the melodies on Music a solid spirit that comes from a group effort when everything is clicking, ending the album the way things began on "The Bag I'm In" — that Fred Neil number moving with a blues-rock earnest. Tim Hardin's "Reputation" almost goes honky tonky, a bit of a change from the Cream-meets-Stories sound of the album's first track. Stories were also on a Buddah imprint around this point in time, and the label seemed to be making a serious move into adult pop. The tragedy here is that Music didn't get to put out more...music. There's definitely something special in the grooves of this important but not very visible recording. © Joe Viglione © 2010 Rovi Corporation. All Rights Reserved http://www.allmusic.com/cg/amg.dll?p=amg&sql=10:0xfoxqw5ldje
Buzzy Linhart is a singer/guitarist from Cleveland who had been in the N.Y Greenwich Village music scene for years without any real success. He was around when Kama Sutra Productions was formed by Artie" Ripp, Hy Mizrahi and Phil Steinberg in 1964, and was a long standing artist with the Buddah/Kama Sutra label. Maybe thinking that a new label might aid his commercial success, he recorded an album (posted here) for Eleuthera in 1970, along with three other musicians as the group "Music", featuring Buzzy himself on vocals, guitar and vibes, Doug Rauch on bass, Doug Rodrigues on lead guitar and John Siomos on drums. This album also met with failure. He recorded for Buddah again when the Eleuthera label folded in 1971. "Music" was reissued the same year on Buddah as part of a two-LP set with "buzzy", an album he had recorded for Philips in 1969. "Music" is great early '70's psychedelic rock with jazz and funk elements. A real overlooked album, and
HR by A.O.O.F.C.
Listen to Buzzy Linhart's 1971 "The Time to Live Is Now" album
TRACKS / COMPOSERS
That's The Bag I'm In - Fred Neil
You Got A Reputation - Tim Hardin
Time To Go - Buzzy Linhart
Talk About A Morning - Buzzy Linhart
If You Love Me - Buzzy Linhart
Everybody's Got (And Don't You Know) - Buzzy Linhart
Mother's Red Light - Buzzy Linhart
Kilpatrick's Defeat - Michael Gayle, Mark "Moogy" Klingman
Searching - Jerry Leiber, Mike Stoller
MUSICIANS
Buzzy Linhart - Guitar, Percussion, Drums, Guitar (Rhythm), Keyboards, Vocals, Vibraphone
Douglas Rodriguez - Guitar, Percussion
David Bromberg - Dobro, Guitar
Doug Rauch - Bass, Guitar, Percussion
Mark "Moogy" Klingman - Keyboards
John Siomos - Drums
BIO
Buzzy Linhart was born March 3, 1943, in Pittsburgh PA. His mother, Agnes Linhart, was a music educator. His first musical inspiration was when he heard the crows singing in the 1941 Walt Disney animated feature Dumbo. His dad was in a Mason lodge as grand master, Linhart told AMG in a May 2002 interview: "He played some percussion and did novelty songs with an act called the Cornpoppers in their lodge so I saw this stuff when I was two and three years old. Rock & roll wasn't in yet, my parents liked to produce shows....They would do these big stage extravaganzas, a lot of music from the 1890s, they would write entire shows...including minstrel shows, so I really heard a lot of good live music when I was very young." He started taking classical drum lessons and performed in the grade-school orchestra at seven years of age. On Buzzy Linhart's first band: "When John Coltrane played it was just deeper. I've been trying to hire musicians that give you those goose bumps since I was starting my first band at age 11, the Five Diamonds. It was Dixieland, and we were reading out of the famous combo/orch books." He later formed the Bel-Aires, not the Scottish group of the same name, always having a band through junior-high and high school, sometimes under his own name. He studied classical xylophone and jazz xylophone with the mallet man for the Cleveland Symphony Orchestra, Robert Matson, "I got college-level music training when I was 13 and 14, and when I went into the Navy Conservatory's college-level school of music." He drove to D.C. to join the Navy Symphony and they took him even though Linhart was 4-F. "Their plan was to use me just playing music." He caught emphysema during the Cuban Missile Crisis from fighting a fire, also "a guy was killed ten feet from me on watch," creating post-traumatic stress disorder. He was 19 when he was let out of the navy: "Took my vibes in a car with this wild guy named Goose from Jersey City who got out through the psych ward like I did and we drove straight down to Miami to my friend's house 'cause he had written me a letter about the folk scene down there." On a tour of the coffeehouses, a 1943 Jaguar pulled up and it was a 19-year-old David Crosby. Crosby drove them to a club where he played with his brother, Chip Crosby, joined on-stage by Mama Cass Elliot. Fred Neil came in the next night. Simultaneous with this, Linhart auditioned for Tennessee Williams, and Williams' office immediately called to invite Linhart to be on staff as an actor for the entire season. That same evening Linhart saw Fred Neil and Neil asked Linhart to play vibes with him. "I called Tennessee Williams' office the next day, I was young and didn't quite realize what was happening...I wanted to play with him [Fred Neil] so badly that I called Tennessee Williams' office back and said, 'Could you please tell him I'm very sorry but I can't work with him this season [laughing now at the absurdity of what he was doing] but I certainly would enjoy working with him some time in the future.'" So he joined the folk-rock scene "and started really starving." He began hanging out with Tim Hardin, Fred Neil, Dylan, "it was crazy the quality of music we were exposed to." The first record Linhart tracked in New York was Buffy Sainte-Marie's "Timeless Love" with Felix Pappalardi arranging and Linhart on vibes. Buzzy Linhart performed in a trio with Tim Hardin and Pappalardi at this time, also playing vibes for Richie Havens at the Night Owl. Record exec Lou Reizner cut demos with Linhart and courted him to sign with Mercury; but it wasn't until he was opening act for Mitch Ryder & the Detroit Wheels in London that he re-connected and signed a deal with Reizner, resulting in the first album titled simply Buzzy in 1969. Two albums were released in 1971: Music, titled after his band of the same name, and The Time to Live Is Now. He appeared on Carly Simon's 1971 debut as did his song "The Love's Still Growing." In 1972, Kama Sutra released another album called Buzzy (The Black Album), which insiders dubbed "The Black Album" so as not to confuse it with his 1969 debut LP. 1974 saw the release of Pussycats Can Go Far on Atlantic. His legacy is rich and impressive, appearing on Cat Mother & the All Night Newsboys' 1973 disc, Last Chance Dance, as well as performing vibraphone on tapes by a producer of the Cat Mother group, his friend Jimi Hendrix. At an April 2002 event on behalf of Linhart in New York City, producer/engineer Eddie Kramer gave insight into what Jimi Hendrix wanted for his First Rays of the New Rising Sun project, and how he came to put Linhart's vibes on the original Cry Of Love album. Artists like Jake & the Family Jewels, LaBelle, Barry Manilow, John Sebastian, Mother's Finest, his friend Moogy Klingman, and many others have had "the Buzzman" songs or musicianship on their various recordings. Two excellent compilations released by Klingman give history and detail: Old Times, Good Times: A Musical History and The Buzzy/Moogy Sessions, 1983-1994. Perhaps Linhart's best-known composition is one that has graced numerous Bette Midler albums and has become something of a theme song for her, a tune he co-wrote with Mark Klingman, "Friends." His webpage lists Buzzy Linhart as head songwriter, a comedy writer, and Bill Cosby's sidekick, Buzzy, on the 1976 family-hour variety show, Cos. It also states he was the music director of The Groove Tube, and composed the score for the film Rush It, starring Tom Beringer. Linhart even wrote the music for the off-Broadway musical, The Trials of Oz. In August 1998, Linhart appeared on the debut of Fox and Friends morning news magazine on the Fox News Network. They used a clip of him singing as a music bumper for a couple years after that. He and Moogy Klingman appeared on their third-anniversary Fox and Friends show, performing "Friends" for 177 countries simultaneously. Linhart's later collaborators include rhythm guru Muruga, George Clinton, Buddy Miles, David Peel, Harvey Mandel, and the Cannabis Healers. His BuzzArt Publishing Company has 15 songs entitled BuzzArt Publishing Catalog, Vol. One. His webpage also notes that Buzzy Linhart lives in the Bay Area of Northern California. Although he is in a wheelchair due to degenerated knees, he continues to write, record, and perform to the extent he can with his current health issues. © Joe Viglione © 2010 Rovi Corporation. All Rights Reserved http://www.allmusic.com/cg/amg.dll?p=amg&sql=11:j9frxqu5ldte~T1
BIO
(WIKI)

Buzzy Linhart (born 3 March 1943) is an American rock performer and musician. Born William Linhart in Pittsburgh, Pennsylvania, he began honing his craft playing percussion for symphony at the age of seven, switching to vibraphone at ten. (It is not known specifically when he actually acquired his nickname of "Buzzy.") At fourteen he entered the Cleveland Music School Settlement which was a world renowned conservatory of music. Because of this training he led bands all through school and at the age of 18 entered the U.S. Navy School of Music as a percussionist. In 1963, he moved to New York City and became friends and roommates with John Sebastian. He also became a protege to the senior guitarist and folk singer Fred Neil. One of his first bands, with fellow musicians Steve De Naut, Serge Katzen, and Max Ochs, was the Seventh Sons, who released one influential raga-rock LP for ESP Records. Buzzy eventually released a series of solo albums from the late 1960s to the mid-1970s starting with his Philips debut buzzy (the title with a small "b") in 1969. His prowess on the vibraphone found him performing as a session musician on recordings by Buffy Sainte-Marie, Richie Havens, Carly Simon, Cat Mother & the All Night Newsboys, and even Jimi Hendrix (on the Cry of Love album). Perhaps Linhart's biggest claim to fame was his joint authorship and composition of "(You Got To Have) Friends," a collaboration with Mark "Moogy" Klingman, which became singer Bette Midler's de facto theme song. This was the end of his major label career, but although he never achieved commercial success, Linhart has continued to write, record, sing and compose music to this day. He also achieved some notoriety from his appearance in the opening sequence of the cult movie The Groove Tube, as a hippie hitchhiker.