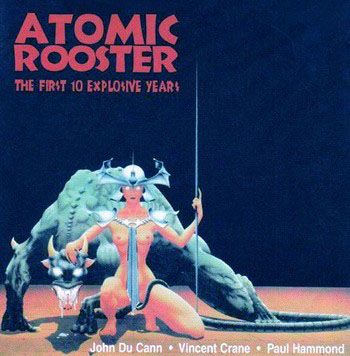 Atomic Rooster
-
The First 10 Explosive Years
-
1999
-
Angel Air
...My late teens were soothed by bands like Atomic Rooster, a band... that sat between progressive rock and heavy metal... Very much compared with Deep Purple, this band achieved what few other rock bands achieved, that being several successes in the Top Ten singles chart. Those successes are heard here in live form, 'Devil's Answer' and 'Tomorrow Night'... This album is 16 tracks long and is a rocking testament to that of the early 70's and early '80s. Those too young to remember could learn an awful lot by purchasing this, especially if your musical diet includes Deep Purple... - Martin Hudson, "Wondrous Stories"
Put together by guitarist and Rooster original John Du Cann, this oddly-titled 16-song 'definitive' covers the gamut of prog/hard rock that he espoused with ex-Arthur Brown organ whizz Vince Crane and buddies between '70 and '72, and then 1979-82...Squawkin'! - Tim Jones, "Record Collector" (March 1999)
One of the most enjoyable discs that has dropped through the mail slot this year...one of the best examples of the progressive rock/ heavy metal hybrid...be assured that the listener is taken on 75+ minute joy ride...which could just as easily have been titled "The Best Of Atomic Rooster"...As with all Angel Air releases this too comes with extensive liner notes and rare photos of the band - "On The Record" Music America magazine
...the songs stand up well, bringing into sharp focus the Rooster's unique ability to marry metal toughness with prog pretensions in an eccentric style that's so British. For long standing fans, '...10 Explosive Years' is a chance to rediscover old gems and hear a couple of unreleased tracks. If you're not familiar with their work, check this out. You might be surprised. - Malcolm Dome, Classic Rock Jan-Feb 1999
... all who remember putting on their circa-1970 headphones and having their skull pecked open by a nuclear-powered chicken is not going to hold that against them. Atomic Rooster deserves far more respect than recent years (and reissues) have given the group. The First Ten Explosive Years goes some way to delivering that. - Jo-Ann Greene, Goldmine March 1999
The album...contains some great stuff, and whilst a lot of it is definitely 'of that period' it still raises those neck hairs... - The Modern Dance #13
...strong and dynamic songs with lots of great solos on organ and guitar...and hot and furious interplay between these instruments...This 'heavy progressive' music often evokes a sound between Deep Purple and Argent but more aggressive and harder-edged... - Background (May 2000)
The Power Trio present their best work - well, not quite but this is still a delight. With a new lineup and a new tour a compilation was inevitable. Du Cann was an apt replacement and features on some of the tracks. The First 10 Explosive Years attempts to capture the heavy prog brilliance of Atomic Rooster to wrap up their long career for newbies to the band, and almost succeeds apart from the omission of some tracks that should always grace an AR compilation but this is a great CD if you have none of the AR albums. Of course this compilation covers every album and my favourite was always "Death Walks Behind You" and from that we have on this comp Sleeping for Years, Seven Streets, I Can't Take No More, Death Walks Behind You and a great live version of Tomorrow Night. There's tracks from the mediocre "Atomic Rooster '80" such as Lost in Space, and there are tracks from their classics such as Head in the Sky and Break the Ice. The great live track Devil's Answer is a delight and there are some tracks you rarely see on a compilation such as Rebel With a Clause, Night Living, It's So Unkind, and When You Go to Bed, some of the more recent material when it comes to their repertoire. There are far worse comps about and this certainly has a typically eye catching cover you may want to hide from the parents. I recommend this comp but it's not as good as the 2 CD package "Heavy Soul: Anthology". © & by AtomicCrimsonRush | 3/5 | 2010-6-7 © Prog Archives, All rights reserved http://www.progarchives.com/Review.asp?id=285429
Atomic Rooster was an English hard rock/progressive rock band, composed of former members of the Crazy World of Arthur Brown. The band may be remembered for their two great 1971 hits, "Tomorrow Night" (UK no. 11) and "The Devil's Answer" (UK no. 4). The tracks on this 1999 compilation are taken from original tapes owned and remastered by John Du Cann. The tracks were originally recorded between 1970 and 1982. The album was later reissued and repackaged at least twice: In 2004, it was released as The First Ten Explosive Years Volumes 1&2, and released on the Recall Records label as a double CD titled "Tomorrow Night". In 2005, it was reissued on the German Ambitions/Membran International label as disc one of a two disc set entitled "Rebel with a Clause". The second disc was the 11 track reissue of "Headline News". Atomic Rooster's "The Collection" album is @
ATOMICR/COLL
The band's "Space Cowboy" album is @
ATOMICR/SPCBY
and the "Atomic Rooster (AKA Atomic Rooster 2)" album is @
ATOMICR/2/
"The First 10 Explosive Years" is a great album from an underrated band and
HR by A.O.O.F.C.
TRACK INFO
1 "Sleeping for Years" 5:26 originally on the 1970 "Death Walks Behind You" album
2 "Seven Streets" 6:41 originally on the 1970 "Atomic Rooster" album
3 "I Can't Take No More" 3:31 originally on the 1970 "Death Walks Behind You" album
4 "Taken You Over" aka "They Took Control of You" 4:48 originally on the 1980 "Atomic Rooster aka Atomic Rooster 2" album
5 "Lost in Space" - Vincent Crane, John DuCann, Neil Young 5:51 originally on the 1980 "Atomic Rooster aka Atomic Rooster 2" album
6 "Play it Again" - Vincent Crane, John DuCann 3:10 originally on the 1989 "The Devil Hits Back" album
7 "Devil's Answer" (live in Milan 1981) 4:09 originally on the 1970 "Atomic Rooster" album
8 "Rebel with a Clause" aka "Start to Live" 2:56 originally on the 1999 "The First 10 Explosive Years" album
9 "Night Living" aka "Living Underground" 3:36 originally on the 1989 "The Devil Hits Back" album
10 "Death Walks Behind You" - John DuCann, Vincent Crane 7:18 originally on the 1970 "Death Walks Behind You" album
11 "It's So Unkind" 4:05 originally on the 1999 "The First 10 Explosive Years" album
12 "When You Go to Bed" 3:42
13 "Head in the Sky" 5:38 originally on the 1971 "In Hearing of Atomic Rooster" album
14 "Break the Ice" 4:57 originally on the 1971 "In Hearing of Atomic Rooster" album
15 "Play the Game" 4:45 originally on the 1970 "Atomic Rooster" album
16 "Tomorrow Night" (live studio version 1981) 4:50 - Sam Coslow, Vincent Crane, Will Grosz, Hank Thompson originally on the 1970 "Death Walks Behind You" album
All songs composed by John DuCann (John Cann) except where stated
MUSICIANS
John DuCann - Guitar, Vocals
John Goodsall aka Johnny Mandala, Steve Bolton - Guitar
Nick Graham - Bass,Vocals
John McCoy - Bass
Vincent Crane RIP - Keyboards, Vocals
Carl Palmer, Ric Parnell, Preston Heyman, Paul Hammond RIP - Drums
Pete French, Chris Farlowe - Vocals
ABOUT
ATOMIC ROOSTER
Line-Up: John Du Cann (vocals / guitar), Vincent Crane (keyboards), Carl Palmer (drums)
Led by the extraordinary keyboard talents of Vincent Crane (né Cheeseman) ATOMIC ROOSTER purveyed a unique sound based on a hard driving Hammond organ rather than the guitar. Crane suffered from manic depression and as such the career of the band and Crane is an erratic one of unfulfilled promise. ATOMIC ROOSTER are now being increasingly recognized by the Doom / Stoner generation as having been of great influence. Crane first came to prominence as a founder member and main lyric writer for THE CRAZY WORLD OF ARTHUR BROWN, which initially comprised Brown, Crane and drummer Drachen Theaker. Crane had played keyboards on the number one hit 'Fire' by CRAZY WORLD quitting the band in the middle of an American tour. He formed ATOMIC ROOSTER with former CRAZY WORLD, drummer Carl Palmer and bassist Nick Graham in the early '70s. the debut album made the British charts at number 49 before dropping straight out again. 1970 saw the addition of former ANDROMEDA guitarist John Cann (he was later to change his name to John Du Cann). YES guitarist STEVE HOWE had auditioned too but Cann got the job. Cann overdubbed guitar on the first album for its American release but before touring commenced the band lost their bass player, Graham leaving to form SKIN ALLEY and later ALIBI. Somewhat inexplicably Crane refused a replacement and so ATOMIC ROOSTER's unique sound manifested itself with Crane performing bass parts on the lower end of his organ as the band soldiered on as a trio. Cann meanwhile had to radically change his playing style to cover for the missing bass and perform lead vocals. Second album 'Death Walks Behind You' fared better hitting the top 20 and yielded two hit singles in 'Tomorrow Night' and 'The Devil's Answer'. After nine months of solid touring Palmer also upped and left to join form the massively successful Progressive Rock trio EMERSON LAKE AND PALMER and drum duties were entrusted to ex-HORSE man Rick Parnell. However, the new drummer's tenure was brief and before long FARM member Paul Hammond was poached into the line-up. Parnell was to surface as part of Italian Jazz Rock outfit NOVA and much later relocated in America with ex-MC5 guitarist WAYNE KRAMER, a 1997 act BROWN RING and even as one of spoof Rockers SPINAL TAP's unfortunate drummers! Meantime back with ATOMIC ROOSTER the early '70s also found Crane guesting for Irish Blues Rock guitarist RORY GALLAGHER. Although successful on the surface internally ATOMIC ROOSTER were engaged in bitter in-fighting. Cann and Crane had got into a dispute regarding royalties for the second album. Although the line-up managed a third album, the top 5 'In Hearing Of...' Crane, on the eve of an American tour and toying with the idea of turning the band into a funk project, sacked Du Cann from the band. The hapless frontman found out via a job advert in the Melody Maker advertising his position! Hammond left in protest. Crane enrolled ex-CACTUS vocalist Pete French as replacement and also pulled in guitarist Steve Bolton and a redrafted Parnell. The departing duo of Du Cann and Hammond meanwhile founded BULLET signing to DEEP PURPLE's Purple Records, a band that released one single prior to being sued by an American band of the same name and retitling themselves HARD STUFF. With this act Cann issued two albums. Du Cann later undertook a German tour in 1973 with THIN LIZZY as guitarist but his stay in the band was purely a temporary one, filling in contracted gigs after Gary Moore had quit unexpectedly. Du Cann was later to reinvent himself as Johnny Du Cann and assembled an ad hoc band featuring STATUS QUO members Francis Rossi, Pete Kershaw and Andy Bown plus GILLAN's John McCoy on a proposed "Powerpop" project! The album, cut for Arista and to be titled 'The World's Not Big Enough' was never issued. The guitarist reverted back to his former name and gained himself a solo hit single with 'Don't Be A Dummy'. Cann's role in ATOMIC ROOSTER was to be filled by Bill Smith. French left in 1972, later recording a solo album 'Ducks In Flight' featuring THIN LIZZY guitarist Brian Robertson, and was replaced by ex-COLOSSEUM singer CHRIS FARLOWE, a man lauded by none other than MICK JAGGER as "having the best rock voice in Britain". Farlowe was to record the 'Made in England' and 'Nice n' Greasy' albums. Bolton was supplanted by former BRAND X man Johnny Mandala (real name John Goodsall) in 1973. Bolton formed HEADSTONE with ex-ARRIVAL bassist Phil Chen, former TRANQUILITY keyboard player Tony Lukyn and a pre-RARE BIRD Mark Ashton. Bolton was to turn up again over a decade later with the 1986 project MAX & THE BROADWAY METAL CHOIR. The '90s found Bolton as guitarist for PAUL YOUNG and then in 1990 for THE WHO. Bill Smith joined JADE WARRIOR for their 1978 Egyptian concept album 'Way Of The Sun'. Despite releasing some excellent albums ATOMIC ROOSTER were continually dogged by line-up changes. Crane re-joined ARTHUR BROWN to record the 1978 album 'Chisholm In My Bosom' on Gull records' reuniting again in 1980 to release 'Faster Than The Speed Of Sound' on I.C. Records. Resurrecting ATOMIC ROOSTER once more in 1980 Crane settled his differences with John Cann once more. Session man Preston Hayman was pulled in on drums for live work (he much later appeared on ASIA's 'Archiva 2' album of 1996) before none other than ex-CREAM drummer GINGER BAKER took his place. However, Baker's tenure was short and Hammond was re-enlisted to release an eponymous album on EMI Records. The band were blighted by an horrendous piece of bad luck as the pressing plant used to manufacture their 1981 single 'Play It Again' went on strike. Calculations made afterwards revealed this had cost the band a number 15 chart placing. Another stab at rekindling the flame arose in 1983 as Crane reassembled the band with drummer Paul Hammond once more and ex-GILLAN guitarist BERNIE TORME. This line-up toured Europe before with the release of the worthy 'Headline News' album featuring Hammond, Torme and guest musicians ex-ENERGY / OZO guitarist John Mizaroli and PINK FLOYD's guitarist DAVE GILMOUR. Torme joined OZZY OSBOURNE's band replacing Randy Rhoads on the road in America. Crane spent his post ROOSTER time playing keyboards for DEXY'S MIDNIGHT RUNNERS live band. Another attempt to re-ignite the ATOMIC ROOSTER flame with ex-CHEVY guitarist Barry Eardley never got off the ground. Crane was also assembling some unreleased ATOMIC ROOSTER material for a projected album on the Demi Monde label titled 'Something Old, Something New - The Rooster Tapes'. Sadly Crane committed suicide in February 1989 after suffering years of depression. The 1999 album 'The First Ten Explosive Years' adds bonus tracks re-recorded with bass from GILLAN's John McCoy. Cann and McCoy are working on a new ATOMIC ROOSTER album. Drums are being handled by no less than original IRON MAIDEN drummer Ron Rebel. © Garry Sharpe-Young http://www.cherryred.co.uk/books/book_rd_doom.php © Cherry Red Records - All Rights Reserved 2009 http://www.cherryred.co.uk/books/book_rd_doom.php
SHORT BIO
Atomic Rooster was a British progressive-rock group formed in 1969 with an original lineup of Vincent Crane (organ), Nick Graham (bass), and Carl Palmer (drums). Their debut album, Atomic Rooster, hit number 49 in the U.K. in June 1970, after which Graham and Palmer left the group. Crane maintained the name and recruited guitarist/singer John Cann and drummer Paul Hammond for the second album, Death Walks Behind You, which hit number 12 in the U.K., where it featured the number 11 single "Tomorrow Night," and number 90 in the U.S. Pete French of Cactus assisted on the third album, In Hearing Of, which featured the number-four U.K. single "The Devil's Answer" and reached number 18 in England and number 167 in America. Then the group split up again, and again Crane assembled a new Atomic Rooster, this time featuring singer Chris Farlowe, guitarist Steve Bolton, bassist Bill Smith, and drummer Rick Parnell. Made in England reached number 149 in the U.S. in 1972, but the group had split again by 1974. Crane fronted lineups of Atomic Rooster into the '80s, before taking up with Dexys Midnight Runners in 1983. In 1989, he committed suicide. © William Ruhlmann © 2011 Rovi Corporation. All Rights Reserved http://www.allmusic.com/artist/atomic-rooster-p15527/biography