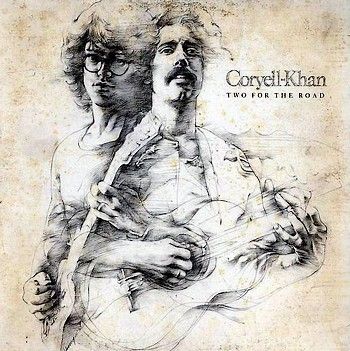 Coryell
/
Khan
-
Two For The Road
-
1977
-
Arista
It's hard to believe, from my first meeting with Larry Coryell, in the back of "Shelly's Manne-Hole" sometime in 1968, when he was with Gary Burton's ground breaking quartet, that some 7 years later I would be sharing so many airplanes and stages with a major inspiration. Over the years, Larry and I had spent mostly social time together, but, from '74-'75, we worked opposite each other on several occasions. I was part of Steve Marcus' Count's Rock Band, and Larry was leading his newly formed Eleventh House group. So, it was sometime in early 1975 that Larry's manager, Vince Cirrincione suggested that he and Tom Paine would like to try forming a duet context for Larry. It would be primarily acoustic, but could include some electric....whatever it was to be, it would be a tremendous help to the finances. On March 8th, 1974, Larry and I met at his house in Wilton, Connecticut to rehearse and see if this was even possible. I came armed with books of music, an acoustic guitar, an electric guitar, an amp....and a Univox rhythm machine on the wild chance that it could be worked into the program. We decided to draw from several sources: music from Larry's career; and tunes that people would not expect an acoustic guitar duo to attempt. Hours later, it seemed like it could work, we smiled and I returned to New York City...still skeptical if I could hold-up my end of this duo! Well, there wasn't much time to worry as our first gig was booked and we were off for a weekend in Detroit. As it was with most of our gigs, that year, many people showed-up expecting to see he Eleventh House. Amazingly though, it worked and between Larry's work with the Eleventh House and my work with the Brecker Bros. Band, we did the duo thing whenever possible. More often that not Larry just played stuff on the guitar that I just couldn't believe, and if it hadn't been impossible to stop playing, I would have probably stopped and applauded myself! I wondered: "What am I doing on the same stage with this guy? I must be NUTS!" In general, it was a wonderful experience, and it was all too sobering to sit next to someone, who, night after night, hit moments of sheer guitar genius. "TWO FOR THE ROAD" represents the acoustic portion of our program and I wish to thank Vince and Tom and all those who came to see us play, and I hope that these performances will bring back wonderful memories of those evenings. - Steve Khan http://www.stevekhan.com/discog1.htm
On the road as an acoustic duo between gaps in the schedules of their respective ultra-hip fusion bands, Larry Coryell and Steve Khan managed to record several shows and then panned the tape stream to find the nuggets for posterity. Coryell's flair for Wayne Shorter extends beyond simply mastering the tunes to conceptualizing unique guitar settings. Parts of "Juju"'s head are pronounced in simple, chiming harmonics, a delightful way of pointing out that these players understand the guitar in its totality, not just the parts of it that can be used to impress speedfreaks. The hot version of "Footprints" doesn't really express the mystery of Shorter's original mood, yet is terrifically in line with the Django Reinhardt approach to playing a tune, once again full of the kinds of activities fans of acoustic guitar music will find pleasurable. "St. Gallen" is, in some ways, a remarkable performance. The long introduction sounds like a solo from Coryell, parts of which might be the missing link between him and Derek Bailey. An episode thick with minor seconds and low, throbbing dissonance... the piece in its initial moments includes passages of purely show-off rapidity culminating in a lethal swipe at the bridge, the equivalent of a mad critic throwing a knife at a fusion guitarist mid-solo stream. Khan's admiration for his partner is evident from the liner notes alone. His own style is edgy and observant. The live recording quality is excellent, the tracks fading quickly when the applause begins. [from Editorial Reviews: Product Description © 1996-2011, Amazon.com, Inc. or its affiliates http://www.amazon.com/Two-Road-Larry-Coryell/dp/B0019L7E6W
Intermittently on the road as an acoustic duo between gaps in the schedules of their respective ultra-hip fusion bands, Larry Coryell and Steve Khan managed to record several shows and then panned the tape stream to find the nuggets for posterity. There are choices that might have been made out of the fashions of the day, such as the version of Chick Corea's "Spain" that opens the album's first side. Thankfully there are also selections that are here because both guitarists must have realized they were playing magnificently. Coryell's flair for Wayne Shorter extends beyond simply mastering the tunes to conceptualizing unique guitar settings. Parts of "Juju"'s head are pronounced in simple, chiming harmonics, a delightful way of pointing out that these players understand the guitar in its totality, not just the parts of it that can be used to impress speedfreaks. The hot version of "Footprints" doesn't really express the mystery of Shorter's original mood, yet is terrifically in line with the Django Reinhardt approach to playing a tune, once again full of the kinds of activities fans of acoustic guitar music will find pleasurable. "St. Gallen" is, in some ways, a remarkable performance. The long introduction sounds like a solo from Coryell, parts of which might be the missing link between him and Derek Bailey. An episode thick with minor seconds and low, throbbing dissonance is only one of many stops on a route that in some ways is as breathtaking as the "milk run" that leaves the St. Gallen station and heads into the Swiss Alps, stopping at farmhouses along the way to pick up fresh dairy shipments. Prior to evoking this image, the piece in its initial moments includes passages of purely show-off rapidity culminating in a lethal swipe at the bridge, the equivalent of a mad critic throwing a knife at a fusion guitarist mid-solo stream. Khan's admiration for his partner is evident from the liner notes alone. His own style is edgy and observant, and while he doesn't sound simply like someone trying to keep up, he too easily agrees to participate in moments of pieces that come off as more or less typical jamming, such as "Son of Stiff Neck." As for the previously mentioned "Spain," it's too bad they went there -- although anybody performing on this scene during this era was expected to play this "In the Midnight Hour" of jazz standards. A chord emphasized much beyond its importance immediately sets the stage for a flat performance in which the main question listeners might ask themselves is why are there so many notes in the theme -- not the desired reaction when performing a head. The live recording quality is excellent, the tracks fading quickly when the applause begins. © Eugene Chadbourne © 2011 Rovi Corporation. All Rights Reserved http://www.allmusic.com/album/two-for-the-road-r137109/review
Recorded Live on tour 1975-1976, Larry Coryell and Steve Khan's playing will amaze you. An exceptional album from two of the masters of jazz/jazz fusion. For music in a similar vein listen to Larry Coryell & Philip Catherine's "Twin House" album, and Steve Khan's " The Blue Man" album.
Spare a thought for the late, great jazz guitarist, Emily Remler.
Listen to her playing the blues on my
NEOPIXEOS
site
@
http://neopixeos.weebly.com/how-to-play-the-blues.html
Listen to her "Firefly" album, sometime. Check this blog for related releases.
TRACKS / COMPOSERS
1 Spain - Chick Corea 5:27
2 Bouquet - Bobby Hutcherson 5:47
3 Son of Stiff Neck - Larry Coryell, Steve Khan 5:41
4 Ju Ju - Wayne Shorter 3:17
5 St. Gallen - Larry Coryell 7:27
6 Footprints - Wayne Shorter 5:52
7 General Mojo's Well Laid Plan - Steve Swallow 4:17
ABOUT
LARRY CORYELL
As one of the pioneers of jazz-rock -- perhaps the pioneer in the ears of some -- Larry Coryell deserves a special place in the history books. He brought what amounted to a nearly alien sensibility to jazz electric guitar playing in the 1960s, a hard-edged, cutting tone, phrasing and note-bending that owed as much to blues, rock and even country as it did to earlier, smoother bop influences. Yet as a true eclectic, armed with a brilliant technique, he is comfortable in almost every style, covering almost every base from the most decibel-heavy, distortion-laden electric work to the most delicate, soothing, intricate lines on acoustic guitar. Unfortunately, a lot of his most crucial electric work from the '60s and '70s is missing on CD, tied up by the erratic reissue schemes of Vanguard, RCA and other labels, and by jazz-rock's myopically low level of status in the CD era (although that mindset is slowly changing). According to Coryell, his interest in jazz took hold at the age of four, and after his family moved from Galveston to the state of Washington three years later, he began to learn the guitar, studying records by Tal Farlow, Barney Kessel and Johnny Smith. As a teenager, he played in a band led by pianist Mike Mandel, and by 1965, he gave up his journalism studies at the University of Washington in order to try his luck in New York as a musician. Before the year was out, he attracted much attention jamming in Greenwich Village and replaced Gabor Szabo in Chico Hamilton's band. In 1966, he made a startling recorded debut on Hamilton's The Dealer album, where his blues and rock ideas came to the fore, and that year, he also played with a proto-jazz-rock band, the Free Spirits. Coryell's name spread even further in 1967-68 when he played with Gary Burton's combo, and he was one of the most prominent solo voices on Herbie Mann's popular Memphis Underground album (recorded in 1968). He, Mandel and Steve Marcus formed a group called Foreplay in 1969 (no relation to today's Fourplay), and by 1973, this became the core of the jazz-rock band Eleventh House, which after a promising start ran aground with a string of albums of variable quality. In 1975, Coryell pulled the plug, concentrating on acoustic guitar and turning in a prolific series of duo and trio sessions with the likes of Philip Catherine, Emily Remler, John Scofield, Joe Beck, Steve Khan and John McLaughlin. In the mid-'80s, Coryell toured with McLaughlin and Paco DeLucia, and in 1986 participated in a five-way guitar session with his old idol Farlow, Scofield, Larry Carlton and John Abercrombie for the Jazzvisions series. Coryell has also recorded with Stephane Grappelli, Charles Mingus, Sonny Rollins and Kenny Barron, and has taped Brazilian music with Dori Caymmi for CTI, mainstream jazz for Muse, solo guitar for Shanachie and Acoustic Music, and (for Nippon Phonogram in Japan) an album of classical transcriptions of music by Stravinsky and Rimsky-Korsakov. In other words, Coryell will probably remain as eclectic as ever throughout his career, which will no doubt make life difficult for musicologists with a yen for pigeonholing. Coryell's career in the 21st century has been just as active. 2004 saw the release of Tricycles, an excellent trio date with drummer Paul Wertico and bassist Mark Egan. Electric from 2005 found Coryell playing jazz standards and rock anthems with Lenny White on drums and Victor Bailey on electric bass. In 2006, he released the performance album Laid Back & Blues: Live at the Sky Church in Seattle. © Richard S. Ginell © 2011 Rovi Corporation. All Rights Reserved http://www.allmusic.com/artist/larry-coryell-p6340/biography
ABOUT
STEVE KHAN
Steve Khan (born April 28, 1947) is an American jazz guitarist. Born in Los Angeles, California, Khan is known for his work with artists such as Steely Dan, Billy Joel, Michael Franks, Hubert Laws, Billy Cobham, Jack DeJohnette, James Brown, Maynard Ferguson, and Weather Report. In 1977, he toured with the CBS Jazz All Stars in Japan, and led a band called Eyewitness that featured musicians such as Steve Jordan, Anthony Jackson and Manolo Badrena. Khan is the author of five books on jazz music: Pentatonic Khancepts, Contemporary Chord Khancepts, The Wes Montgomary Guitar Folio, Pat Martino - The Early Years, and Guitar Workshop Series. His album Borrowed Time (TIEMPO PRESTADO) was a nominee for the 2007 50th Grammy Awards in the Best Latin Jazz Album (vocal or instrumental) category. During the 1980s and 90s he was a member of the group Elements. He is the son of lyricist Sammy Cahn. - Wikipedia