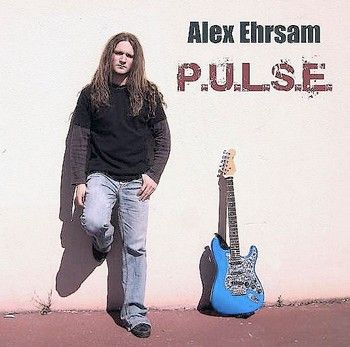 Alex Ehrsam
-
P.U.L.S.E.
-
2010
-
Shredguy Records
Shredguy Records introduces French guitarist Alex Ehrsam to guitar fanatics around the world with P.U.L.S.E. This ten track, all-instrumental release proves that fusion is still in fashion. Searing guitar and funk/fusion grooves abound. The album is driven along by the funky grooves supplied by the quality rhythm section of Anh-Quàn Lê on bass, and Olivier Wilhelm on drums! Alex handles all guitars tracks (except on Morning Cigarette rhythm played by Thomas Gutherlé). Alex's weapon of choice is the Stratocaster, a perfect machine for his rapid fire riffs and funky rythmn grooves. This platter cooks from start to finish with quality composition, performance and engineering. A funk/fusion extravaganza that is never boring or tedious. Despite intense and furious fusion motifs, there are a lot of dynamics as well, melodic sections within songs or the totally atmospheric ballad Time Sensitive. The soloing is to me most reminiscent of the funkier side of Greg Howe, obviously a huge influence, and perhaps something between Gambale and Henderson with also a touch of Mike Stern. This is a must have for those keen on instrumental guitar with serious chops funkiness and melody. Next to Mike Abdow, this is my favourite Shredguy release thus far. For more information about Alex Ehrsam alexehrsam.fr Rating – 85% - Review by & © Mike Blackburn © http://virtuosityone.com/2011/04/27/alex-ehrsam-p-u-l-s-e/
Despite being on the Shredguy label, the album is not all about "shredding". There are relatively few metal and/or mega-heavy riffs. "P.U.L.S.E." is primarily a great instrumental guitar dominated jazz rock album full of original instrumental fusion ideas, funky grooves, and unusual jazz chordal structures. Alex is a brilliant technical player and builds a bridge between instrumental jazz, and modern shredding guitar. Alex said in a 2008 interview that "I really don't care if I'm being associated with this or that guitar heavyweight. I know my influences, I try not to copy them, I know where I want to go musically speaking, and I don't care about remarks or bad reviews. I just play the way I feel, some like it, some don't, life goes on". If you like artists like Greg Howe, Scott Henderson, Joe Satriani, and Prashant Aswani you may enjoy this album. Listen to Alex's "djaz_dtox" album
[

All tracks @ 320 Kbps: File size = 109 Mb

]
TRACKS
1. Proximity Triggered (4:52)
2. Hollow Input (5:24)
3. Short Notice (4:01)
4. Round Trip (4:55)
5. Lush (5:39)
6. Time Sensitive (4:20)
7. Heat Signature (4:55)
8. Smooth Operator (4:56)
9. Side Step (4:20)
10. Morning Cigarette (4:50)
All tracks composed by Alex Ehrsam
MUSICIANS
Alex Ehrsam - Lead Guitar, Rhythm Guitar
Thomas Gutherlé - Rhythm Guitar on "Morning Cigarette"
Ahn-Quan Le - Bass
Oliver Wilhelm - Drums
REVIEW
Before I start waffling, I have a great perspective for this album as I've never heard it and don't know the artist on it.I know of the artist and know his influences Coltrane, Greg Howe, Prashant Aswani, Scott Hendersonthese are big boots to fill but is that not true for all our influences? I ask myself what boxes does a fusion shred album need to tick, and I answer with this list ; Timing ,groove ,tension, release, interaction , phrasing, tones, motifs , solo's and technical proficiency (not a must for fusion but as its got shred in the album genre) and a little strangeness is always a good thing. (This album did ticks those boxes) I also remind myself this album is live and a quartet comprising of;
Alex Ehrsam on Lead Guitar, Olivier Wilhem on Drums, Anh-Quàn on bass Thomas Gutehrlé on rhythm Guitar
TRACK 1 "Proximity Triggered"
Great , on the outset this has had some studio mastering to tech it up slightly , but it retains its live feel its definitely "Guitar on a Platter" stuff. The tonefull lead guitar take center stange and reacts to a composition rather than just changes which is great. Proximity takes an interesting turn into another mode to use a pun , its timbre changes and line after line the lead guitar shows its got all the stuff needed to do its business and do it well . The guitar goes for it but it still keeps in the confines of a composition and not a tangent of chaos (thank heavens) Great track.
TRACK 2 "Hollow Input"
This has a different vibe, totally away from the last some great analogue synths in there or filter fx , this is groove town means meaningfull sloucher, theres plenty for the guitar shredder to enjoy in soloing skills and great chord movements outlined well.
TRACK 3 "Short Notice"
Heavier number now and this track has that odd time, older fusion vibe, with a much more modern and up to date guitar virtuosity , nice hooky riffs . I get the vibe that this CD has been made to feel older , like a custom shop would do a guitar to seem older , this has that feel. The whole guitar trip gets mad at times but that is what your after isn't it? , its even got a Zappa touch to it too.
TRACK 4 "Round Trip"
Hold on whats this worth then?, Holdsworth pun there as the progression has that vibe. I think I'll stick to the song and leave the comedy , hey I think its the reverb that gives it that aged feel , there is either a real plate £18,000 or a great rack £5000 or an amazing vst £500 lol .There are some very Chick, Lee Retinour vibes here too. Nice changes sir
TRACK 5 "Lush"
Layed back , sensual sexy guitar (not porn and no theres no wah) . Nice thick tone and very clever hybrid work on the fretboard , I think only a guitarist would have spotted that (geek that I am). This is a great behind the beat and gibson SG sound , 80 's rock fusion is alive and well. Alex uses very subtle additives and brings on the the verb during some of the fast and high register guitar , then its gone giving the guitar tones a change of timbre, this is great fx use, There is no doubt that Alex can play the guitar and to a high standard and he sure doesn't hold it back either .
TRACK 6 "Time Sensitive"
Great intro , very cool use of delays and taps also the bass takes a great place in the first part of this track, its a great composition and has an interesting tonal atmospheric feel If floyd did fusion they would do it like this track ;) , cool fake end then swings in again to give it a real uplift to the ending.
TRACK 7 "Heat Signature"
All that mellowness was short lived , here come the freaks , its a freaky one this , now the fusion is really filtering into the room, I have a sneaky Henderson feel to this , the groove is good and the crunchy guitar thats playing it is just the right sound. I like that the album has had not additions post live take that are out of place or un-do-able live.
TRACK 8 "Smooth Operator"
The groove train is in the station and its mode-ville all the way , I think there is some Vai in there somewhere I'm sure , the change in tempos and timing makes the live aspect of this album evident. Although there is alot of notes flying by, its not out of place to the the albums vibe as a whole.
TRACK 9 "Side Step"
I like the groove ,twisted Bebop metal funk lol , the riffin and the twisted timing , nice , ahh a drum solo , I did wonder if Alex would use the drummer more, As in all the tracks Alex puts a little refrain and adds something a little different , this is for the shred lover be assured .
TRACK 10 "Morning Cigarette"
Damn I had been ok with giving up smoking until this songs title reminded me of that (I wont go there) . A chesty cough is a better reminder anyway back to the music. This good bye track is a bit like ahhhhh , much like the morning cigarette, I do like the way Alex is using the volume swell and his phrasing is very hard and aggressive. The Henderson influence I think is very evident as its fusion , shred , blues . Summary: Fusion, shred, blues sums this mans guitar on a platter album up. But to say that there's a massive amount of work gone into the composing and practicing to make this great albums tracks run so smoothly live. I would not buy this if jazz fusion is your cup of tea but you not into shred (not that anyone here would not be ) as the shredding may not be your thing and theres plenty of it. If long lines and "No Holds Barred" guitar work is your bag, then this bad boy will be an ideal gift to yourself, because...... "your worth it" Purists stay away theres not alot of acoustics here , its a rock album , fusion rock is the name of the game . There was some drum parts and some great bass parts that stood out but I'de like to have heard more from the obviose talent in the room. There is an older sound to P.U.L.S.E and modern guitar. I dont want to rate the CD in of 5 but its ranking at high numbers for virtuosity , high for composition . It lets itself down just a little in the production and mastering but 4 out of 5 is still not bad . Its not bad do not get me wrong but I think I'de not be doing my job right SK by not being honest and If I said it hit the same standards as albums that have has buckets of money thrown at it. Yes I'd be lying but having said that lets not forget it is a live album. If I heard this album live in a bar or club I'de be stoked and buzzing ,and as i said "there's nothing on it that would make it un-do-able live". I'd definately be totally blown away by Alex and buy the album. Thats one thing about the Cd, it has been into the studio but its not had nothing put onto it that couldnt be done live , I know i just repeated myself but it needed saying , I've heard people put samples and parts and harmonies that make it impossible to re-create , this is out of the box what it say's on the tin . OPEN HERE -FUSION SHRED ROCK INSIDE The album is available all over the place amazon , guitar nine , just google it or head to shredguy records. - from SK TRACK BY TRACK REVIEW BY & © MARK THOMPSON © http://www.shredknowledge.com/index.php?option=com_content&view=article&id=934:pulse-by-alex-ersham-and-shredguy-records&catid=162:artist-spotlight&Itemid=312
ABOUT ALEX
Hi, my name is Alex Ehrsam & I'm a guitar player from France. My debut album "djaz_dtox" blends instrumental fusion ideas, jazz chordal structures & funky grooves. It was well received in the instrumental guitar musical fields (check magazines' reviews below, thx). I've been playing guitar for the last thirteen years. I grew up in a musical environment listening to a lot of jazz & rag-time, discovering Miles & Coltrane, their universe & their vision of music... Since graduating from Music Academy International (Nancy, France) in december 2003, I've been trying to cut into basic guitar chops to create arpegiated approaches, developing a jazz feel through a specific choice of notes & yet sticking to a heavy rock sound. I'm mostly using mixolydian, dorian, altered, blues modes & a lot of chromatic tricks, through hybrid techniques combining legato, sweep & finger picking…..I also worked on building a smooth nu-jazz ambience in my music. "Elevator Shaft" is one of the tracks dedicated to this amazing musical movement. Dig it. I eventually had the chance to gather 3 musicians, patient, accurate & passionate to play my tunes live, hence giving a true shape to my music. Olivier Wilhelm on drums, Anh-Quàn Lê on fretless bass & Thomas Gutehrlé on guitar. We started playing gigs along 2009, we are poanning a Mini Tour for 2011. The 2d album is mixed, mastered & done. It will be available Ocober 2010 on the US label ShredGuy Records. No programming at all on that gig, only real live musicians this time. Wait & see. I am currently teaching guitar in several schools in the Montpellier area (South of France).© 2010 eMinor Inc ).© http://www.reverbnation.com/alexehrsam#!/page_object/page_object_bio/artist_1056640