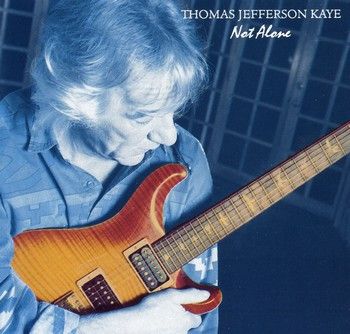 Thomas Jefferson Kaye
-
Not Alone
-
1992
-
Hudson Canyon Records
Thomas Jefferson Kaye was born in 1940 in S. California as Thomas Jefferson Kontos. He changed his name to Thomas Jefferson Kaye at a young age. As well as being a great songwriter, Tommy also was a very successful record producer. He produced hits by such artists as Three Dog Night, Jay and the Americans, ? and the Mysterians,The Shirelles and Link Wray. He also produced albums for Mike Bloomfield, Dr. John and John Hammond, and Gene Clark. In New York, Tommy was considered a genius in R&B, blues, pop, and Top Forty. He died in september 1994.
"Not Alone" is a forgotten album. There is a 22 year gap between Tommy's 1974 "First Grade" album and "Not Alone". Many critics compare this album to his early '70's albums which were more in the folk rock vein.
["Tommy Kaye was an acquaintance of mine. Through Tommy I met Rick Clark, brother of Gene Clark. Rick and I became guitar buddies and life long friends. We had the opportunity of joining Tommy in his L.A. studio during the recording of his album "Not Alone". Until recently I only had some early preliminary cassette recordings of some of the songs. I just obtained the "Not Alone" album and was pleasantly surprised at the production quality of the final recordings. Tommy was well connected with some of the best musicians of the day, and that shows through the fantastic contributions heard on the album. First of all, I think Tommy needs to be recognized for his songwriting style and his interesting melodies. He blends a number of styles - country rock, swamp rock, southern rock, and blues, to name a few. The recordings are enhhanced by the vocal and musical contributions of some top notch players of the day. Some of my favorite songs are: Tough Enough, Up To Your Old Tricks Again, Loop Garou, Livin' On Rock and Roll. I highly recommend this album to fans of great 70's rock, especially if you like The Eagles, Eric Clapton, Jackson Browne, Dr. John, BB King". - from Tommy Kaye - An unsung music man, January 16, 2009 By & © Corey Justin ****/5 © 1996-2011, Amazon.com, Inc. or its affiliates http://www.amazon.com/Not-Alone-Thomas-Jefferson-Kaye/dp/B00000DQJS]
Other reviews are not as complimentary, complaining about sound quality and saying that Tommy's voice is unrecognizable. This album needs to be listened to carefully. The songs are top notch, and although Tommy's voice is not as gritty or soulful as his '70's recordings, the album is full of quality and is
HR by A.O.O.F.C.
"Not Alone" features a line-up that includes Eric Clapton, Dr. John, Steve Miller, Rick Danko, Timothy B. Schmidt, Jeff "Skunk" Baxter, Joe Walsh, Don Henley and Robby Krieger. Tommy composed or co-wrote 13 of the 14 tracks on the album. Dr.John's great "Loop Garu" is the only cover on the album. Check the album notes for detailed song credits. TJK's s/t album can be found on this blog
[

Tracks @ 195-320 Kbps: file size = 76.6 Mb

]
TRACKS / COMPOSERS
1 Dixie Flyer - Thomas Jefferson Kaye 2:39
2 C'est La Bonne Rue - Thomas Jefferson Kaye, Tom Slocum 4:13
3 Vanessa - Thomas Jefferson Kaye, Alex Taylor 2:52
4 Shades of Blue - Thomas Jefferson Kaye 2:48
5 Shoot Out In the Desert - Thomas Jefferson Kaye, Tom Slocum 4:21
6 Facade Mirada (Facade Mirage) - Thomas Jefferson Kaye, Tom Slocum 3:19
7 Fantasy Seeker - Thomas Jefferson Kaye, Bob Krasnow, Richard Perry 3:14
8 Crazy Ladies - Thomas Jefferson Kaye, Gene Clark 3:54
9 Forgive Me Girl - Thomas Jefferson Kaye 5:46
10 Loop Garu - Dr.John 4:44
11 Up to Your Old Tricks Again - Thomas Jefferson Kaye, Karan Montgomery 2:25
12 Livin' on Rock & Roll - Thomas Jefferson Kaye, Dallas Taylor, Stephen Stills 2:53
13 Tough Enough - Thomas Jefferson Kaye 3:26
14 Stone Ball - Thomas Jefferson Kaye 3:42
MUSICIANS
Thomas Jefferson Kaye - Rhythm Guitar, Guitar, Acoustic Guitar, Keyboards, Lead Vocal, Backing Vocals
Eric Clapton, Robbie Kreiger, Danny Chauncy, Joe Walsh - Lead Guitar
Jeff "Skunk" Baxter, Jerry McGee - Lead Guitar, Rhythm Guitar, Bass Guitar
Greg Douglass - Lead Guitar, Rhythm Guitar
Dr.John - Lead Guitar, Keyboards, Piano
Steve Bruton - Rhythm Guitar, Guitar
Rick Vito, John Bialin - Rhythm Guitar
Rick Danko, Michael Detempo, Charlie Harrison - Bass Guitar
Mike Utley - Keyboards, Organ
Greg Thomas - Drums, Backing Vocals
Andy Kaye - Drums
Chicago Horn Section - Horns
Steve Miller, Mary Clayton Thomas, Rick Clark, Bob Carpenter, Timothy B.Schmidt, Charlie Williams- Backing Vocals
SHORT BIO
The late Thomas Jefferson Kaye was a producer, a songwriter and a musician. Born Thomas Jefferson Kontos, he decided to change his last name to Kaye in 1958 when he became the head of A&R at Scepter Records at the young age of 18. Everyone simply called him Tommy. He produced hits by such recording stars as Three Dog Night, Jay and the Americans, Bobby Neuwirth, ? and the Mysterians,The Shirelles and Link Wray. Working in New York, Tommy was considered a genius in R&B, blues, pop, and Top Forty, Tommy had never worked with folk music until working with Loudon Wainwright on the album Loudon Wainwright III. The record climbed to # 1 in the LP charts with the single "Dead Skunk" topping the singles chart. At the same time Tommy had a band "White Cloud" which he used with everyone he produced. In 1972 they released an album, in a beautiful snakeskin textured gatefold cover, on the obscure Good Medicine label. As well as their own solo projects the band played all over the Village, and back in those days the likes of Bobby Neuwirth and Bob Dylan would come around to see them play. Tommy's next career move took him to San Francisco to produce an album by Link Wray and he fell in love with Wally Heider's studio, the climate, the cable cars and Jerry Garcia. After completeing the Link Wray album, Tommy flew down to LA to meet up with his by now good friend Bobby Neuwirth. They spent a month hanging out and fueling their 24 hour days with cocaine, speed, pills, and alcohol before starting to work on Neuwirth's album. Kaye remembered "The hours are crazy, the alcohol thing is crazy, the pills are crazy, the people are crazy." Tommy also found time to record his own albums and in 1973 his self-titled first album was released. On the second album, First Grade, the idiosyncrasies of Kaye's voice become an asset and the record reached a small-scale perfection rarely found in pop. Kaye's third and final record, "Not Alone" was an all-star affair including among others Eric Clapton, Dr. John, Steve Miller, Rick Danko, Walsh, Don Henley and Robby Krieger. Twenty years later and diabetic, Tommy was a member of AA but couldn't completely quit drinking and smoking. Even though he underwent numerous surgeries, a result of the combination of diabetes and constricting capillaries, Tommy never lost his boyish look or his glibness. His final days were spent at the home of Marty Kupersmith. Suffering from pain due to toxemia, Tommy asked Marty for some Tylenol and the next day the bottle was found empty. Tommy died in St. Anthony's Hospital in Warwick, N.Y., September of 1994. © 2003-2011 Myspace Inc. All Rights Reserved http://latino.myspace.com/kontos_drums/blog/35894994
MORE
Thomas Jefferson Kaye carried on a close musical collaboration with Gene Clark through the mid-'70s. After stints in a group called White Cloud and as a sideman for Loudon Wainwright, he produced the supersession Triumvirate (CBS, 1973) for Mike Bloomfield, Dr. John and John Hammond. Around the same time, Kaye released two solo LPs, Thomas Jefferson Kaye (ABC/Dunhill, 1973) and First Grade (ABC/Dunhill, 1973). Both featured Walter Becker and Donald Fagen of Steely Dan prominently. Kaye then produced Gene Clark's baroque No Other (Asylum, 1974). The two remained close during the next few years, and Kaye then produced the next Clark LP, the country-rocker Two Sides to Every Story (RSO, 1977). Kaye was then part of the K.C. Southern Band (Kaye-Clark, get it?) until Clark reunited with McGuinn in late '77. Kaye and Clark co-wrote "Release Me, Girl," which turned up on McGuinn Clark & Hillman (Capitol, 1979). © 1997 Tim Connors. All rights reserved. http://www.ebni.com/byrds/relassociates09.html