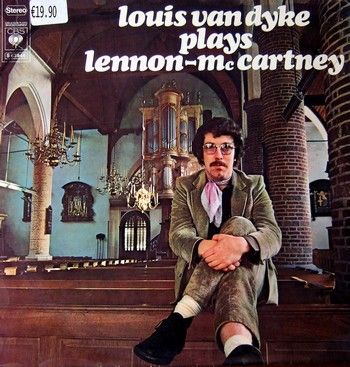 Louis Van Dyke
-
Louis Van Dyke
Plays
Lennon - McCartney
-
1970
-
CBS
I first became aware of Louis Van Dyke on the "Fond Memories of Frank Rosolino" CD and it became apparent that here was a creative mind with impeccable jazz abilities who was able to play into the sound of whatever environment he chose. This recording could be by a very different musician than heard on the Rosolino album as Van Dyke is able to switch hats and maintain the integrity of whichever he is wearing at the time. What we have here is unusual to say the least: 9 songs by the Beatles performed in 1974 on the Flentrop Organ in the Netherlands Reformed Chuch at Loenen a.d. Vecht. The opening medley "Golden Slumbers/Carry That Weight", sets the tone for what is to follow: a beautiful arrangement, reminiscent of Bach in its external presentation, but never losing the essence of the original melodies and building on them to produce greater emotional weight and beauty as the music unfolds. How this is achieved on a single instrument is a marvel and credit must be given not only to the reverence with which Van Dyke treats his material but how he builds the structural layers of his arrangements to enhance the overall expression. Some of the registration choices are uncannily apt such as that which begins "Lucy in the Sky With Diamonds" and it is impossible not to react at the recognition of the melody treated with such carefully selected timbres. This is only part of the actual musical content of the arrangements whose inventiveness is satisfying in each selection. Van Dyke has brought a freshness and even purity without cliches of similar attempts to make popular music sound Classical and vice versa. [from ***** Van Dyke Spins New Magic With The Beatles, August 16, 2011 By & © Charles Andrew Whitehead (Fort Worth, Texas) © 1996-2012, Amazon.com, Inc. or its affiliates http://www.amazon.com/Louis-Van-Dyke-Plays-Lennon/dp/B0002N7IBY
Louis van Dijk (Born 27 November 1941, Amsterdam) is a Dutch pianist, mainly active in the jazz genre. He studied solo piano at the Amsterdam Conservatorium. He played together with Pim Jacobs and Pieter van Vollenhoven under the name De Gevleugelde Vrienden (i.e. 'The Winged Friends'). In September 2005, he played at a charity concert at the Concertgebouw to raise funds for New Orleans after the city was hit by Hurricane Katrina. For his accomplishments as a musician, he has been awarded the honorary title of Knight of the Order of the Netherlands Lion. Louis was educated as a classical piano-player and like so many other jazz musicans he became fascinated by the instrument in church. His father was sexton in the Prinsessekerk in Amsterdam. This album of Beatles' covers featuring Louis van Dijk at the Flentrop Organ in the Netherlands Reformed Church at Loenen (aan de Vecht), Utrecht, 1970. Lennon & McCartneys songs have been adapted for every conceivable musical genre. This obscure album containing nine classic Lennon & McCartney songs played on a church organ is definitely one of the Beatles' most "unusual" covers albums. The adaptions work, not just because of Louis van Dyke's classical training on the piano, but also because of the melodic compositional songwriting skills of John Lennon & Paul McCartney, arguably the most talented songwriting duo in the history of music. This is timeless music, and can't fail to impress.
HR by A.O.O.F.C.
Louis & Selma van Dijk recorded an album called "Van Brubeck tot Bannink" which contains some magnificent piano work. Some of the songs on the album include "Cry Me A River", "Every Time We say Goodbye", and "Whatever Lola Wants". It's a beautiful album. Louis' "Mariposa" album also contains covers of songs by Lennon & McCartney, Leonard Cohen, Bach, and others
[

Tracks @ 224-256 Kbps: File size = 50.8 Mb

]
TRACKS
A1 Golden Slumbers and Carry That Weight 5:30
A2 She's Leaving Home 4:15
A3 For No One 2:55
A4 Eleanor Rigby 5:38
B1 Lucy In The Sky With Diamonds 4:55
B2 Hey Jude 4:40
B3 Goodnight 6:25
B4 Blackbird 3:05
B5 Nowhere Man 1:45
All music composed by John Lennon & Paul McCartney
1970
ALBUM LINER NOTES
The organ heard in this recording is the one in the Netherlands Reformed Church at at Loenen (aan de Vecht), Utrecht. It was constructed by D.A Flentrop of Zaandam, Holland. The tone-speech and voicing are characteristic of the great classic European organs. Special thanks are extended to Joop Reiziger, producer of many internationally praised organ recordings for CBS-Artone, whose assistance in the production of this album is greatly appreciated. This is not just another recording of Lennon & McCartney songs — it is a project which by its very dimension and unique conception immediately fired the enthusiasm of all concerned with Its production. When producer John Vis presented the idea to Louis van Dyke to make an album of music from the Beatles' Songbook performed on a church organ, Louis van Dyke was immediately carried away by it. The very first thing to be done, of course, was to find the one organ among the many magnificent church organs in the Netherlands on which tonal results could he achieved which would adequately suit the music. In fact, the project almost became an obsession to both of them during the time it was in the planning stage. Although, as a recording artist, Louis van Dyke has become a very popular pianist and leader of his own trio, he is originally a classically trained organist who has taken his conservatory degree. Tutored by the renowned Piet van Egmond and Simon C. Jansen, he has been playing the organ during services for ten years already. Add to this his great affinity for the music of the Beatles, and you have two good reasons why Louis seemed predestined to fully realize the projects scope. This Louis van Dyke LP is unusual from yet another point of view: the choice of material. When selecting the songs for this recording, Louis and John were struck by their strong relationship to classical music and old church music, in a harmonic as well as in a melodic sense. Being well versed in this particular idiom, it was only natural for Louis to approach these familiar tunes in the way which suits him best. That is, in a completely extemporaneous manner. Believe it or not, all of the music heard in this album has been fully Improvised! This recording, therefore, not only illuminates a hitherto obscured side of Louis van Dykes musicianship, it also helps to focus attention once again on a number of uncommonly attractive melodies. Golden Slumbers and Carry That Weight come from The Beatles' Abbey Road LP. And they are in fact companion pieces. Louis has here, too, conceived them as a musical unity. She's Leaving Home, one of the most moving melodies in the "Sgt Pepper" album, has become a two-part cantilene, whereas For No One has been transmuted by Louis into the trio-sonata form. In his performance ol Eleanor Rigby, from "Revolver", Louis has followed the procedure of the fugue. The initial section is followed by a further exposition which develops Into a distinct statement of the tune's second theme ("All the lonely people..."). The third section is an Improvised cadenza winding up with a re-statement of the main theme and a radiant major chord in the coda. Lucy In the Sky with Diamonds, another song from the "Pepper" LP, is being approached here as if It were a Hallelujah choir: a hymn of praise to heaven. Hey Jude is played In the manner of the celebrated chorale preludes by J S. Bach, the melody being embellished by the usual ornaments. Louis has made Goodnight into a blessing chorale, whilst the overall musical form is that of a passacaglia with parenthetic phrases. Blackbird easily is the most transparently reglstrated piece in this album. Louis only was interested In bringing out the beauty of the original music here. He carefully follows the melody, thus preserving it's tenderness. The same is true for Nowhere Man from the "Rubber Soul" album: not a single note of the original melody has been changed. Louis only altered a couple of chord sequences in order to transform the piece into a pure hymn. This makes for a particularly fitting finale of an exciting recording. A production which has provided Louis van Dyke with challenging foundations on which to develop his improvisational art. Set in appropriate superimposed forms, these unique interpretations are characterized by a truly marvellous feeling for the material. As you listen you will rediscover these well-known Lennon & McCartney songs and admire Louis' superb performance as an organist and as a creative musician. [from album liner notes © Pete Venudor - LvD 1970]
MORE ABOUT
LOUIS van DYKE
A few weeks ago I found the CBS LP What Now, My Love by the Louis van Dyke Trio. Louis van Dyke, in fact his surname was van Dijk, but that didn't look English enough I guess, made this LP March / April 1966 with his trio featuring himself at the piano, Jacques Schols bass and John Engels at the drums. It was his second album. In 1961 he had won the Loosdrecht Jazz concours with his trio and made his first album, titled Trio / Quartet in June 1964. In the quartet recordings Carl Schulze, the vibraphone player, was added. He won with this LP an Edison Award, one of the most important awards in the Dutch amusement world. He was educated as a classical piano-player and like so many other jazz musicans he became fascinated by the instrument in church. His father was sexton in the Prinsessekerk in Amsterdam. He studied at the Amsterdam Conservatory and became interested in jazz. For young jazz musicians the Loosdrecht festival was a usefull leg to success. I found this LP in a junk shop in my small village Heinkenszand (southwest part of The Netherlands) between BZN and Alle Dertien Goed ( = All Thirteen Tracks Okay - How did they come up with that ! ) and, to be honest, it seems rather easy to find LPs of this Dutch piano player. I'm glad it is a real jazz recording without a bunch of strings - used in those days to popularize Jazz for the General Public. He was very popular in the 1960s up to 1980s and as a kid I remember him as a skilled piano player. In fact, as a kid, Louis van Dyke and Pim Jacobs where piano players that played jazz. And jazz fascinated me !! Louis van Dyke is not a pure jazz musician. Like so many musicans he couldn't find a living in playing jazz music only, so he accompanied great artistst like Astrud Gilberto, Coretta KIng, Salena Jones, Liesbeth List, Ann Burton and Herman van Veen. He became famous as the accompanist of Ramses Shaffy, a popular singer in the Netherlands. He often played duets with other piano players like Pim Jacobs, Daniel Wayenberg, Jules De Corte and Pieter van Vollenhoven, the jazz-piano-playing husband of Princess Margriet, the sister of our queen Beatrix. I found a recent fragment in which you can hear Louis van Dijk plays a blues dedicated to Mr. Pieter van Vollenhoven, his duo-partner in their piano duets, labeled as Gevleugelde Vrienden. (A vleugel is the Dutch word for a grand-piano)
[from the great

KEEP (IT) SWINGING

blog @

http://keepswinging.blogspot.com/
Check it out!