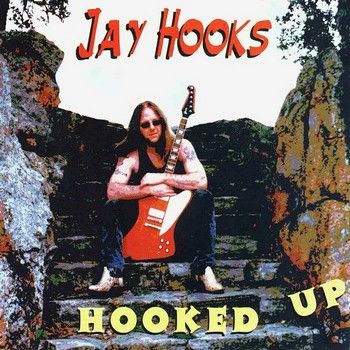 Jay Hooks
-
Hooked Up
-
1997
-
Sunburst
The great state of Texas, USA has turned out some of the greatest blues/rock artists of all time. Legends like Albert Collins, Stevie Ray Vaughan, Johnny Winter, Bobby Mack, and many others have produced some phenomenal blues rock. In fact, Texas blues/rock has become a genre unto itself. Jay Hooks can be added to this list. He used to play to audiences of thousands across Europe, and yet when he hit Houston, it was mostly the small bars and club venues where he hung out. He is constantly overlooked as a great blues rock artist, even though he is an experienced and proven performer who has always preserved the great, traditional Texas blues/rock sound. Unlike many of his contemporaries who have "sold out" to playing mediocre "run-of-the mill" commercial blues rock, Jay stayed loyal to the classic roots blues rock sound of the past, the kind of sound that helped to make the incomparable Stevie Ray and others so great. Jay Hooks is one hell of a good axeman, and "Hooked Up" is a great example of the traditional Texas blues/rock sound with stellar guitar work and kick ass groove. Jay can be a fiery and passionate guitarist, influenced by greats like Freddie King, SRV, Johnny Winter, and Jimi Hendrix. Jay has said, "I work real hard on perfecting my sound and have no plans of backing off the Hendrix/Vaughan style. I'm only interested in working on strictly guitar driven blues." Jay has had personal problems over the last few years and now only jams occasionally, sometimes with Maria Del Prete. Julypm (houstonpress.com/2003-04-24/music/jay-hooks) said that
"Blues musicians in the US don't get the recognition here that they deserve. It's not because we are 'spoiled by an excess of worthy talent', but rather exposed to an excess of worthless talent. Those of you with a Lady Gaga or Madonna collection will have no idea what I'm speaking of. Those with a Trower, Hendrix, Winter, Erickson or Gales collection know for sure what I mean".
"Hooked Up" is
HR by A.O.O.F.C.
Buy his great s/t album. You won't be disappointed. Support real musicians who play real music
[

All tracks @ 320 Kbps: File size = 80.5 Mb

]
N.B:
Does anyone in the Houston area know if Jay is still playing?
TRACKS / COMPOSERS
1. Greenlight (Ronnie Earl) [3'57'']
2. Ridin' The Blind (Mix Irving Music) [3'57'']
3. Strait Whiskey (J.Hooks, D. Whitehead) [3'31'']
4. All Your Lovin' (Otis Rush) [4'31'']
5. Ako's (Ronnie Earl) [4'09'']
6. I Don't Believe (Don Robey) [3'21'']
7. Right Place Wrong Time (Otis Rush) [5'02'']
8. Smothered (J.Hooks, D. Whitehead) [4'05'']
9. Villa Nova Junction (Jimi Hendrix) [2'48'']
BAND
Jay Hooks - Guitar, Vocals
Marie Del Prete - Bass, Vocals
Lil Joe Frenchwood - Drums
SHORT BIO
Houston native Jay Hooks can stand shoulder to shoulder with the long list of Texas electric blues guitar legends he emulates. He grew up playing guitar on the Houston bar circuit throughout the late '70s and '80s, earning his stripes by playing in the shadow of local legends like Albert Collins and Billy Gibbons. Taking a nod from these sources, Hooks' was able to incorporate the highly typified electric blues/rock sound of Stevie Ray Vaughan with his affinity for more traditional blues influences. He received his first major exposure after he was asked to join Texas R&B die-hard "Miss" Lavelle White on a series of national tours. Hooks intermittently toured as White's guitarist for about a year before putting together a backing band and going solo in 1997. He went into the studio as a band leader and came out with his solo debut, Hooked Up. The album features a collection of gritty, rock-tinged electric blues numbers that didn't stray far outside the conventions that his aforementioned guitar heroes had brought into an international spotlight. That same spotlight also found Hooks at the end of the '90s when a European record executive by the name of Ed van Zyl heard the record and offered Hooks a contract with international marketing and distribution. The result of the contract was a self-titled sophomore effort that Hooks recorded under the guidance of producer Ben Elliot (whose resumé boasts the likes of Leslie West and Eric Clapton) for Provogue/Mascot Records. Jay Hooks' self-titled full-length recalled the strong regional traditions of Texas' super-charged blues and was released in the fall of 2000. © Nate Cavalieri © 2012 Rovi Corporation. All Rights Reserved http://www.allmusic.com/artist/jay-hooks-p443197/biography
Aged 18, bassist,
Marie Del Prete
was the youngest permanent employee of NASA Johnson Space Center, Awards/Astronaut Selection Office. After 6 years, tired of "pen pushing" she quit when she was offered a 2 year acting/modelling contract. She could have renewed her contract but accepted a job offer from Stubbs Cycles to be the first computer/service writer woman in Houston for a steadier income. Then, Jay Hooks asked her to play bass in his band and sign a 5 record deal. She dropped everything to follow that dream.