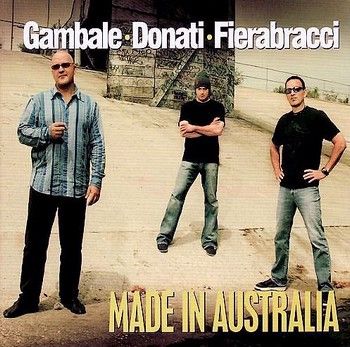 Gambale,
Donati,
Fierabracci
-
Made In Australia
-
2007
-
Wombat
All instrumental jazz fusion from the brilliant power trio of Frank Gambale, Ric Fierabracci, and Virgil Donati recorded on June 20th 2003 during a very successful Australian tour at the Evelyn Hotel, Melbourne. This is high calibre jazz fusion from three of the best musicians in the business. Dag Fjellby on cdbaby.com said that "Frank's unbelievable guitar playing is a 100% backed up by Virgil's insane drum licks and Ric's pure mastery of the bass guitars. A Highly recommended 5 stars, and remember to check out Gambale, Donati and Fierabracci's other work!" Check out Frank Gambale's "Resident Alien Live Bootlegs" album, and Virgil Donati, Scott Henderson, & Ric Fierabracci's "Just Add Water" album
[

All tracks @ 320 Kbps: File size = 170 Mb

]
TRACKS / COMPOSERS
1 The User - Donati 6:19
2 Little Charmer - Gambale 8:08
3 Joey's Waltz - Fierabracci 8:02
4 Yang - Gambale 11:06
5 Sphere of Influence - Fierabracci 6:37
6 Mind Over - Donati 6:11
7 Alien Hip-Hop - Donati 11:33
8 A Little Something - Gambale 16:59
MUSICIANS
Frank Gambale - Guitar
Ric Fierabracci - Bass Guitar
Virgil Donati - Drums
ABOUT
FRANK GAMBALE
(WIKI)
Frank Gambale (born 22 December 1958), is an Australian jazz fusion guitarist. He has released eleven studio albums over a period of more than two decades, and is renowned for his use of the sweep picking and economy picking techniques. Gambale graduated from GIT in Hollywood, with Student of the Year honors. He also taught there from 1984 to 1986. After graduation, he played the jazz club circuit with his own band and in 1985 released his first studio album, Brave New Guitar, through Legato Records (owned by Mark Varney, brother of Shrapnel Records founder Mike Varney) in what was to be a three-album contract. In that same year, he toured with Jean-Luc Ponty and shortly afterwards began a six-year stint with the Chick Corea Elektric Band in 1987. During his time with the latter, he has participated in five albums and shared a Grammy Award (with two nominations). In the 1980s, he released two studio albums and a live album. In 1988, he released Monster Licks & Speed Picking, the first of many instructional videos. An endorsement deal with Ibanez guitars resulted in the 1987 debut of the Frank Gambale Model (FGM) signature series, modeled after the Ibanez Saber. Yamaha also manufactured a signature guitar after he left Ibanez later in the 1990s. In 2011, he endorsed the Carvin FG1, a thin hollow body guitar made in the US. He signed with Victor Entertainment in 1989 as part of a five-album agreement, and released Thunder from Down Under the following year. The 1990s began for Gambale with a pair of albums—Truth in Shredding (1990) and Centrifugal Funk (1991)—as part of The Mark Varney Project. These were collaborations with fellow guitarists Allan Holdsworth, Brett Garsed and Shawn Lane, in a jazz fusion supergroup concept put together by Mark Varney. Around this time, he served as head of the guitar department of the Los Angeles Music Academy. In the 2000s, having parted ways with Victor, Gambale started his own record label named Wombat Records after purchasing his entire Legato discography with the intention of reissuing it himself. A live double album, Resident Alien – Live Bootlegs, was released in 2001, along with Imagery Suite; a duet featuring classical guitarist Maurizio Colonna. He also released a studio album, Coming to Your Senses, on guitarist Steve Vai's Favored Nations label in 2000. Gambale has also been a member of the jazz fusion band Vital Information since 1988, with the group consisting of keyboardist Tom Coster, drummer Steve Smith and bassist Baron Browne. Furthermore, in a group known as GHS, he has released three collaborative albums with Steve Smith and bassist Stu Hamm through Mike Varney's jazz-orientated label, Tone Center Records. In addition to concert recordings, he released an instructional DVD called Concert with Class in 2003. A reunion with Chick Corea came about in 2004, and Gambale subsequently toured with the Chick Corea Elektric Band. In 2006 and 2010, he released two all-jazz studio albums in the form of Natural High and Natural Selection, respectively.
ABOUT
RIC FIERABRACCI
Bassist Ric Fierabracci was born in Queens, New York and grew up in Bethpage Long Island. He moved to the diverse musical environment of Miami, Florida when he was twelve years old. Two years later, at age fourteen, Ric heard a friend of his from high school play bass in a neighborhood band. He was inspired by the sound of the bass and from this time on he has been dedicated to playing bass and composing music. The first two years of Ric's playing consisted of transcribing bass lines from records and playing at High School parties in various bands. One of his first bands included a guitarist who later became a famous American actor by the name of Johnny Depp. When Ric turned sixteen, he accompanied a friend to visit the University of Miami School of Music. His friend was auditioning to be accepted in the Jazz guitar program. Still in High School, Ric knocked on the Bass Principal's office to introduce himself but ended up auditioning for the experience anyway. The University of Miami ended up offering a four-year scholarship in their world-renowned "Studio Music and Jazz" program, a program that many great Jazz musicians had studied. Ric finished High School two years early to attend the University. It was there that he studied hard and took advantage of his opportunity. After graduation Ric stayed in Miami to play around town and to tour in the United States and Europe. In 1989 he moved to Los Angeles and has played on many recordings with many great musicians. In 2003 Ric moved to New York for a change and immediately started playing with "The Chick Corea Electrik Band", Billy Cobham Spectrum Band, Bill Evans Soulgrass, Dave Weckl Band and others. In 2008, his debut band's CD called "Hemispheres" was nominated for a Grammy in the 51st Grammy's as "Best Contemporary Jazz Album." That same year Ric was also nominated twice for "best Instrumental Jazz Solo" on other recordings. Ric now lives in Simi Valley ,California, outside L.A., where he records, teaches and writes. © http://www.ricfierabracci.com/ric/About_Ric.html
ABOUT
VIRGIL DONATI
Virgil was born and raised in Melbourne Australia. From the time he could barely utter a word, he keenly observed the regular band rehearsals his father held in the house. Virgil's interest in music and instinct for rhythm had been apparent to his parents for some time. They began considering a musical path for him, and one month prior to turning 3, he found himself sitting behind his first real drumset. Joining his first rock band and signing with his first major label at age 15 was surely the right choice for the young drummer. The band was called `Taste'. This was to give Virgil his early experiences in the studio, with three releases by the band. The relentless touring also allowed him to cultivate and improve his skills where it counts – on stage.At the age of 16, Virgil turned pro to enable him to tour and focus on music, and has since devoted his whole life and soul to his art. The motivation has been his endless and restless pursuit to express himself through his playing. At age 19 Virgil traveled to the U.S. to further study drumming, and also took classes in composition and arranging. Returning to Australia at age 21 his career was alight. He was in demand playing many genres of music, including jazz, rock, pop, theatre and studio work. He also worked with many visiting artists, including jazz pianist George Cables, vocalist Mark Murphy, Branford Marsalis and Kenny Kirkland, Melissa Etheridge. His next taste of commercial success came in the early 90's with Southern Sons. The band reached double platinum with their debut album. At the same time, throughout the mid 80's and 90's, Virgil's interest in progressive music was exploited with several bands he initiated, most notably Loose Change, and later, On The Virg. In 1996 Virgil uprooted and relocated in the U.S.A., in an attempt to expand onto the world stage. It has since proved to be a very rewarding and productive time. Recording and touring with the likes of Planet X, Steve Vai, CAB, Scott Henderson, Steve Walsh, Tribal Tech, Frank Gambale, Derek Sherinian, Mark Boals, Dave Stewart, Mick Jagger, Josh Stone, and many others, he continues to push the limits of the instrument to astonishing new levels. © 1997 - 2011 Drummerworld.com - Bernhard Castiglioni - Switzerland - all rights reserved http://www.drummerworld.com/drummers/Virgil_Donati.html