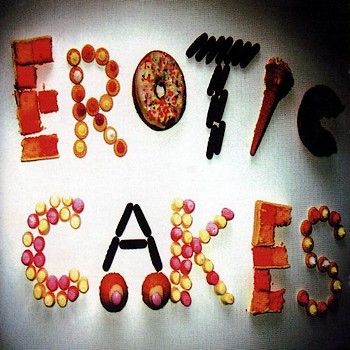 Guthrie Govan
-
Erotic
Cakes
-
2006
-
Cornford Records
A brilliant album from one of the greatest guitarists in jazz rock music today. Great guitarists like Joe Satriani and Paul Gilbert have praised Guthrie's masterful skills. Paul Gilbert said "Guthrie Govan gives shred a good name. It's absolutely heartwarming to hear someone play super fast and have musical depth to match. What a breath of fresh air." Joe Satriani said "What sets Guthrie apart, is that no matter what he's doing—picking, tapping, slapping, playing legato, whatever—he mixes everything up gracefully and absolutely nails each approach. And all the while the music sounds natural." "Erotic Cakes" is an exceptional album of metal edged jazz rock/fusion infused with hard rock and blues and
VHR by A.O.O.F.C.
Try and listen to the lesser known Guthrie Govan & The Fellowship's "The Basement Club Band" album
[
All tracks @ 320 Kbps: File size = 128 Mb
]
TRACKS
1 Waves 5:08
2 Erotic Cakes 3:50
3 Wonderful Slippery Thing 3:20
4 Ner Ner 8:04
5 Fives 4:35
6 Uncle Skunk 5:28
7 Sevens 5:56
8 Eric 5:05
9 Slidey Boy 4:34
10 Rhode Island Shred 2:17
11 Hangover 6:31
All tracks composed by Guthrie Govan
MUSICIANS
Guthrie Govan - Guitars
Richie Kotzen - Guitar Solo on "Ner Ner"
Bumblefoot (Ron Thal) - Guitar Solo on "Rhode Island Shred"
Seth Govan - Bass
Pete Riley - Drums
BIO
(WIKI)
Guthrie Govan (born 27 December 1971 in Chelmsford, Essex, England) is an English guitarist known for his work with the bands The Aristocrats, Asia (2001–2006), GPS, The Young Punx and The Fellowship as well as Erotic Cakes (a vehicle for his own music). He is a noted guitar teacher through his work with the UK magazine Guitar Techniques, Guildford's Academy of Contemporary Music and currently the Brighton Institute of Modern Music. He is the 1993 winner of Guitarist magazine's "Guitarist of the Year" competition. Govan began playing guitar aged three, encouraged by his father but initially learning mainly by ear. At the age of nine he and his brother Seth Govan played guitar on a Thames Television programme called Ace Reports. At secondary school he was exposed, via older classmates, to "shred" guitarists of the time. After leaving school, Govan read English at the University of Oxford, though he left after a year to pursue a career in music. Around this time (by Govan's own estimation, 1991 he sent demos of his work to Mike Varney of Shrapnel Records. Varney was impressed and offered him a record deal; ultimately however, Govan declined. Regarding his reasons he has explained: "it was as though all I really wanted to know was that I was good enough […] I found I was getting a bit wary of the shred movement." In 1993 he won Guitarist magazine's "Guitarist of the Year" competition with his instrumental piece Wonderful Slippery Thing (a version of which would eventually appear on his debut solo album); the demo of the track earned him a place amongst several other entrants in the live final, which he then won. Subsequently, he submitted a sample transcription (of a Shawn Lane piece) to Guitar Techniques magazine; this earned him a job as a contributor to the magazine, ending a spell working in fast food. Govan has since worked with Guitar Techniques, including an article providing a transcription of his track Wonderful Slippery Thing. Since the late 1990s, Govan has taught at the Guitar Institute in Acton, Thames Valley University, and the Academy of Contemporary Music; he currently teaches at Brighton Institute of Modern Music. In this context, he is known for his ability to teach a wide range of styles. Govan has published two books on guitar playing: Creative Guitar Volume 1: Cutting Edge Techniques and Creative Guitar Volume 2: Advanced Techniques. Govan began his involvement with Asia playing on the album Aura. With his work on the album complete, Govan was added to the Asia line-up for the tour to support the new album. Bad Asteroid, an instrumental in the live shows, was a Govan original composition; it dates back to his early 1990s demo. He went on to play on the band's 2004 album Silent Nation. In 2006, Asia keyboardist Geoff Downes left to reform an earlier Asia line-up; Govan and the other two band members, John Payne and Jay Schellen, along with and Erik Norlander continued as Asia featuring John Payne. Govan left in mid-2009 and was replaced by Mitch Perry. Payne, Govan and Schellen also formed GPS (named after the members' initials) and after the addition of Ryo Okumoto on keyboards the band released the album Window to the Soul (2006). Govan performs on a number of tracks on Your Music Is Killing Me, the debut album of UK electronic dance music act The Young Punx and is part of their live act. He also appears in the music video for their track Rockall. Govan has played live guitar for Dizzee Rascal, including a performance on Later With Jools Holland. In December 2010, Govan performed on all tracks on Docker's Guild album The Mystic Technocracy - Season 1: The Age of Ignorance, due for release in 2012 on Lion Music. The project also features some other Asia artists, notably John Payne on vocals and Simon Hanhart, who mixed the album. Other special guests include Gregg Bissonette (drums), Tony Franklin (bass), Jeff Watson (guitars), Douglas R. Docker (keyboards), Goran Edman, Tony Mills and Amanda Somerville (vocals). Govan's debut solo album, Erotic Cakes, was released through Cornford Records in August 2006. In the album's sleeve notes, Govan states the album is a Simpsons reference; he also explains that when playing live, the band is billed as Erotic Cakes rather than simply Guthrie Govan. In addition to bass by Govan's brother Seth and drumming by Pete Riley, the album features guitar solos by Richie Kotzen (whose Los Angeles studio was used to record the guitar tracks on the album) on Ner Ner and Bumblefoot on Rhode Island Shred respectively. Seth Govan and Pete Riley also complete the Erotic Cakes live band. Previous versions of Waves and Rhode Island Shred appeared on the compilation Guitar on the Edge, Vol 1. no.4 (Legato Records, 1993). A version of his Guitarist of the Year winning piece, Wonderful Slippery Thing appears on the album. While this is his first album, Govan had been collaborating with drummer Pete Riley on the music since the mid-1990s. The Erotic Cakes band line up, with the addition of saxophonist Zak Barrett, also forms jazz-fusion band The Fellowship. The band plays at the Bassment club in Chelmsford, Essex, every Thursday night and has done so for several years. In late 2011, Govan announced a new tour with new band The Aristocrats, featuring Bryan Beller on bass and Marco Minnemann on the drums. Their self-titled album was released worldwide in September 2011. In 2012, TBS began running a TV ad for the popular show "House of Payne" that features part of his solo from his jam track "Les is More." In June 2012, Govan was featured with a guest solo on the song, "Have a Blast" on progressive metal band Periphery's, second album Periphery II: This Time It's Personal. In September 2012, it was announced that Govan will be playing guitar on Steven Wilson's upcoming third solo album. Govan's earliest influences were Jimi Hendrix and Cream-era Eric Clapton; as such he describes himself as coming from a "blues rock background". While he is "wary" of 1980s technique driven guitar music ("shred") he cites the imagination of Steve Vai (as well as Frank Zappa, with whom Vai played) and the passion of Yngwie Malmsteen as influences. Jazz and fusion elements are an important part of his style: he cites Joe Pass as a pivotal influence in this respect. Govan is known for his virtuoso command of the electric guitar, due to both his technical ability and proficiency in various styles. Govan's MySpace profile lists quotes from various guitarists to this effect; elsewhere, fellow virtuosos Joe Satriani and Paul Gilbert have praised Govan's playing. Satriani said "What sets Guthrie apart, is that no matter what he's doing—picking, tapping, slapping, playing legato, whatever—he mixes everything up gracefully and absolutely nails each approach. And all the while the music sounds natural." Gilbert said "Guthrie Govan gives shred a good name. It's absolutely heartwarming to hear someone play super fast and have musical depth to match. What a breath of fresh air." He uses various Suhr guitars: three different Guthrie Govan Signature Model guitars, three custom Standards, a Modern 24-fret model, a Classic and Classic T. He plays Vigier fretless guitar. Govan also has used Cornford amps: the sleeve notes of Erotic Cakes state he has used an RK100, MK50 and Hellcat. In the last European tour of 2010 and 2011 he played Brunetti amplifiers (CustomWork Mercury 50) like his friend Dave Kilminster, and he recorded live his last CD/DVD during the Lapsus (Torino, Italy) show on the December 8th 2011. With "The Aristocrats" he is using Suhr Badger 30 amps live as well as a CAA PT-100 and the Badger 30 on the Album. On December 17, 2011 Guthrie and the Erotic Cakes band had their gear stolen after a show in Rome. Among the equipment stolen were Brunetti Mercury heads, a 1989 Warwick Streamer bass, yet-to-be-edited footage from the show played at Lapsus, Torino IT and more. In October 2012 Guthrie was seen using Charvel guitars on tour, however it was confirmed to be a prototype and will used be throughout The Aristocrats' current tour. Govan recently stated that he and Suhr parted ways, and that Suhr would no longer carry his signature guitar, however, he also mentioned that he did not have an endorsement deal with any brand.