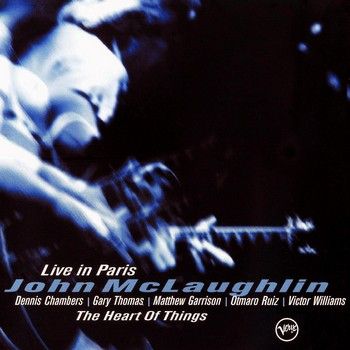 John McLaughlin
-
The Heart Of Things
:
Live In Paris
-
2000
-
Verve
"...A band of blowers without apology, and each gets a chance to show his stuff....affirming the fact that McLaughlin remains one of our greatest living guitarists..." - JazzTimes - 12/00, pp.100-1
John McLaughlin's 1997 The Heart of Things studio album and subsequent tour saw him returning to the sort of electric band format that most listeners associated with his days in the Mahavishnu Orchestra of the 1970s. This live album features the same group, with the exception of the keyboard player, as Otmaro Ruiz replaces Jim Beard, and three of the selections are drawn from the studio release. "Seven Sisters," which is actually shorter than the studio version, makes for a fairly mellow opening, while the new "Mother Tongue" is full of extremely rapid solos by McLaughlin, Ruiz, bass player Matthew Garrison, and Gary Thomas, who switches saxophones during the course of the nearly 13-minute tune. "Fallen Angels," another song from the studio release, is a slow, contemplative work, while "Divide" makes use of funk rhythms to support some noisy guitar work from McLaughlin and a solo full of electronic burps from Ruiz. The album's showpiece song is "Tony," a stately tribute to the late drummer Tony Williams that, appropriately enough gives drummer Dennis Chambers his chance to shine. One might complain that "Acid Jazz," the fiery closer, has nothing to do with the musical style that goes by that name, but McLaughlin obviously means to suggest an evolution of 1960s acid rock by the title, and he deliberately evokes Jimi Hendrix in playing that brings him as close to the Mahavishnu Orchestra sound as he has been in many years. It makes a powerful ending to an album that should be welcomed by long-time fans. (As if to emphasize that this was only one of his interests, however, McLaughlin simultaneously released both this disc and The Believer, an album with his Indian unit Remember Shakti, on October 3, 2000.) © William Ruhlmann © 2012 Rovi Corp | All Rights Reserved http://www.allmusic.com/album/the-heart-of-things-live-in-paris-mw0000070500
Guitar legend John McLaughlin has played every musical style over his long career, always creating innovative music. "The Heart of Things Live in Paris" recorded at La Cigale, Paris, on November 4th and 5th, 1998 is one of John's most dynamic albums in which he performs a no-holds barred performance of electronic fusion at it's best, accompanied by brilliant musicians that include bassist Matthew Garrison, and Dennis Chambers on drums. John McLaughlin is one of the most versatile guitarists in music today, and like the magnificent Jan Akkerman has maintained his reputation as one of the world's greatest living guitarists. This album is
HR by A.O.O.F.C.
Listen to The Free Spirits Featuring John McLaughlin's wonderful "Tokyo Live" album. Support real music
[
All tracks @ 320 Kbps: File size = 175 Mb
]
TRACKS
1 Seven Sisters 8:30
2 Mother Tongues 12:57
3 Fallen Angels 10:33
4 The Divide 16:41
5 Tony 13:56
6 Acid Jazz 14:53
All tracks composed by John McLaughlin except Track 4 by Gary Thomas
MUSICIANS
John McLaughlin - Electric Guitar
Matthew Garrison - Bass Guitars
Otmaro Ruiz - Keyboards
Dennis Chambers - Drums
Victor Williams - Percussion
Gary Thomas - Tenor & Soprano Saxophone
SHORT BIO
From Al DiMeola, Pat Metheny, and Mike Stern to John Scofield, Bill Connors, and Scott Henderson, John McLaughlin has been a strong influence on many of the top jazz/fusion guitarists of the last 30 years. McLaughlin's classic recordings of the 1970s have long been regarded as essential listening for anyone with even a casual interest in fusion, and if the British improviser had decided to retire in 1980, he still would have gone down in history as one of jazz-rock's most influential axemen. Born in Yorkshire, England on January 4, 1942, the guitarist is well known for his eclectic taste in music. McLaughlin was a child when he first fell in love with jazz and the blues, and he was just 11 years old when he began studying and playing the guitar. The 1960s found him playing jazz, rock, and blues in his native England, where he worked with Alexis Korner and Ginger Baker, among others, before moving to New York at the end of the decade. McLaughlin had a busy year in 1969 he recorded his debut album, Extrapolation, and started working with two seminal voices in early fusion: Tony Williams (who employed McLaughlin and organist Larry Young in his trailblazing group Lifetime) and Miles Davis. Never afraid to forge ahead, Davis had done a lot to popularize cool jazz and modal post-bop in the past and he continued to break new ground when he introduced fusion on his 1969 sessions In A Silent Way and Bitches Brew, both of which feature McLaughlin's playing. The guitarist was also featured on 1970's A Tribute To Jack Johnson, another Davis gem of the time. Like bebop in the 1940s and modal jazz in the early 1960s, fusion was controversial. Jazz purists felt that rock and funk rhythms had no place in jazz, but thankfully, McLaughlin disagreed and let his musical instincts guide him. After participating in Davis' and Williams' groundbreaking fusion combos, McLaughlin founded an influential group of his own in 1971: The Mahavishnu Orchestra, which boasted such greats as drummer Billy Cobham and keyboardist Jan Hammer. By the time Mahavishnu broke up in 1975, it had recorded several classic albums for Columbia (including Birds of Fire, Between Nothingness and Eternity, and Visions of the Emerald Beyond) and gone down in history as one of the 1970's most influential fusion outfits. In 1975, McLaughlin did the unexpected by founding Shakti, an acoustic group that employed traditional Indian musicians (including tabla player Zakir Hussain and violinist L. Shankar, Ravi Shankar's nephew) and underscored the guitarist's interest in India's music, culture, and religion. Shakti reminded listeners that McLaughlin was as appealing on the acoustic guitar as he was on its electric counterpart, and proved that he wasn't about to confine himself to playing any one style of music exclusively. Indeed, McLaughlin was heard in a variety of musical settings in the 1980's everything from a brief Mahavishnu Orchestra reunion in 1984 to an acoustic guitar summit with Al DiMeola and Paco de Lucia in 1982 to a classical album with the London Symphony Orchestra in 1988. McLaughlin was no less eclectic in the 1990s, when his Verve projects ranged from 1993's acoustic Time Remembered: John McLaughlin Plays Bill Evans (a tribute to the late pianist) to sessions featuring organist Joey DeFrancesco (1993's Tokyo Live and 1994's John Coltrane-minded After the Rain) to an acoustic McLaughlin/DiMeola/de Lucia reunion in 1996. It was in 1997 that McLaughlin reunited with Zakir Hussain and a reconfigured version of Shakti for several U.K. concerts that were documented on Verve's two-CD set Remember Shakti. "I'm a guitar player that's what I am primarily, that's what I'll always be," McLaughlin has been quoted as saying. "(And) I'm an eternal learner. I don't want to stop learning because I feel that no matter what I've done, I'm really just beginning again. I don't think I'll ever stop learning." © 1999 - 2012 Verve Music Group http://www.vervemusicgroup.com/johnmclaughlin/bio/