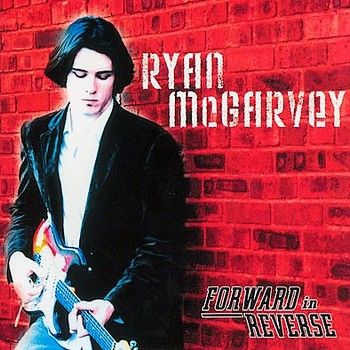 Ryan McGarvey
-
Forward In Reverse
-
2007
-
Audio & Video Labs, Inc. / Forward in Reverse
:: 2008 Best Musician:::: 2008 NM Music Award Nominee (Blues Song Of The Year):::: 2008 Blues Act Of The Year :::: 2007 Blues Act Of The Year :::: 2007 NM Music Award Winner (Blues Song Of The Year) :::: 2007 NM Music Award Nominee (Mainstream Rock Song Of The Year):::: 2006 Guitarmaggeddon Champion Of NM ::--------------At age 22, Albuquerque, New Mexico native Ryan McGarvey has in a relatively short amount of time not only gained a national, and international fan base, but admiration from his personal idols as well. In the past few years of Ryan's career he has had the honor, and the pleasure of sharing the bill with such top name act's as Blue Oyster Cult, Shemekia Copeland, Shannon Curfman, Chris Duarte, Ian Moore, John Hammond Jr. , Joe Bonamassa, Back Door Slam, Gov't Mule, The Fabulous Thunderbirds, and many more. His debut CD release "Forward In Reverse" recently reached the top 20 (out of over 200,000 Artist's Cd's) on the best sellers list on CDBaby (The worlds largest online independent distributor). With rave reviews complimenting everything from his fiery guitar chops, which range from everything from delta slide to heavy rock, his unique vocals, or mature songwriting skills, Ryan McGarvey's live shows will leave you breathless and wanting more. Absorbing influences from everything from early delta blues, to classic hard rock, to more contemporary blues/rock artist's of today. In 2006 Ryan was named Guitar Center 's "Guitarmaggeddon: Next King Of The Blues" champion of New Mexico . In 2007 & 2008 he was named "Blues Act Of The Year", and was runner up for "Singer/Songwriter Of The Year" in The Weekly Alibi's Annual Readers Poll. In 2007 Ryan took home the New Mexico Music Award for "Blues Song Of The Year" for his song "Cryin' Over You", and was nominated for "Mainstream Rock Song Of The Year" for his song "The One That Got Away". In 2008 Ryan was once again nominated for "Blues Song Of The Year" for his blues ballad "Blue Eyed Angel Blues". Most recently Ryan was featured by the editors of Guitar Player Magazine twice during the Summer of 2008 in their magazine. And was named "Best Musician" from Albuquerque The Magazine's Annual "Best Of The City" Readers Poll. With a solid rhythm section backing him, Ryan McGarvey and his band are embarking on bigger and better things... Don't miss your chance to catch them in a town near you! -------------- "Ryan's playing has the passion and exuberance of youth, but its further lifted by a deep dedication to his craft. His technique is awe-inspiring, but its the dawning subtleties and emotional range that hints of the greatest possibilities--" - Ian Moore --------------"Look for this young lion in the future because he's looking for his own sound and what I've heard so far; I like it." - Chris Duarte - © 1996 - 2012 CD Universe; Portions copyright 1948 - 2012 Muze Inc.
For personal non-commercial use only. All rights reserved
This very impressive and critically acclaimed debut album from Ryan McGarvey made many musicians and music critics in the world of blues rock sit up and take notice. Ryan has quickly gained notoriety as one of the most exciting and talented young guitarists around. He has shared the bill with the likes of Joe Bonamassa, Gov't Mule, Blue Oyster Cult, and more. This guy has huge potential and "Forward In Reverse" is
HR by A.O.O.F.C.
Check out Ryan's "Redefined" album
[
All tracks @ 320 Kbps: File size = 114 Mb
]
TRACKS
1 Right in All the Wrong Ways 5:21
2 Joyride 5:56
3 The One That Got Away 4:17
4 Watch Yourself 4:25
5 Texas Special 2:57
6 Someone Like You 3:38
7 Second Time Around 4:58
8 Cryin' Over You 5:26
9 Mystic Dream 7:06
10 Blue Eyed Angel Blues 5:32
All songs composed by Ryan McGarvey
MUSICIANS
Ryan McGarvey - Guitars, Harmonica, Tambourine, Vocals
Peter Panagakos - Bass
K.C.White - Drums
Leah Black, John Wall - Background Vocals on "Joyride"