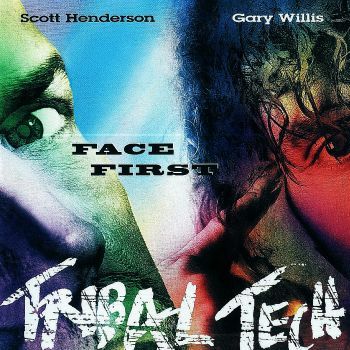 Scott Henderson,
Gary Willis,
Tribal Tech
-
Face First
-
1993
-
Bluemoon
The virtuoso jazz fusion unit Tribal Tech were formed in 1984 by guitarist Scott Henderson and bassist Gary Willis, debuting a year later with Spears. Over the course of subsequent efforts including 1987's Dr. Hee, 1990's Nomad, and 1992's Illicit, both Henderson and Willis emerged among the most acclaimed instrumentalists in contemporary jazz, with each frequently topping music magazine best-of lists; in the wake of 1995's Reality Check, Tribal Tech went on hiatus to allow the members the opportunity to pursue solo projects, finally reuniting four years later for Thick. Rocket Science was released in fall 2000. © Jason Ankeny © 2014 AllMusic, a division of All Media Network, LLC. | All Rights Reserved http://www.allmusic.com/artist/tribal-tech-mn0000022020/biography
Although it was their sixth album overall, Tribal Tech's 1993 release, Face First, was only the second to feature the still-existing lineup of guitarist Scott Henderson, bassist Gary Willis, keyboardist Scott Kinsey, and drummer Kirk Covington. Previously, Henderson and Willis had juggled lineups and eased further away from traditional jazz toward improvisational fusion through the 1985-1991 albums Spears, Dr. Hee, Nomad, and Tribal Tech. But the quartet of musical leftists gelled on Face First, improving on its promising 1992 debut, Illicit. Henderson's solo on the opening title track -- over a percolating Willis bassline -- shows the guitarist's range of influences from Jeff Beck and Jimi Hendrix to Albert King and Stevie Ray Vaughan. Funk pieces like "Canine" and "Uh...Yeah OK" show glimpses of the group's future, all-improvised CDs; hummingbird-quick drummer Covington's lead vocal on the cover-band farce "Boat Gig" set the stage for Henderson"'s solo blues debut the next year. In between, synth-master Kinsey's jazzy "After Hours" and Henderson's New Orleans-tinged "Revenge Stew" provide thought-provoking rest areas -- necessary because of breathtaking ten-minute thrill rides like the blues, bop, and beyond of "Salt Lick." Willis' Weather Report-like "The Precipice" and "Wounded" ease you to the finish of Face First, the album that made a statement that Henderson, Willis, and company have not yet begun to finish. © Bill Meredith © 2014 AllMusic, a division of All Media Network, LLC. | All Rights Reserved http://www.allmusic.com/album/release/face-first-mr0003132030
Guitarist Scott Henderson and bassist Gary Willis, known as Tribal Tech (the renegade rock/jazz/fusion warriors) are back with the release of their 1993 album, entitled "Face First". Equally adapt at recalling Miles Davis and Jimi Hendrix, the band successfully bridges the gap between jazz and rock, blending elements of entities such as Weather Report, The Mahavishnu Orchestra, Frank Zappa and Return To Forever, while simultaneously expanding the dimensions of jazz. Scott Henderson (also known for his work with the Chick Corea Elektric Band and The Zawinul Syndicate) is generally admired as one of the most exciting fusion guitarists in the world today. Gary Willis first made a name for himself in the bands of Wayne Shorter and Allan Holdsworth. Incredibly tasteful phrasing and standout guitar playing dominate "Face First", and interestingly, in a somewhat bizarre move, the band dedicated the song "Boat Gig" to Stevie Ray Vaughan and Albert King. © 1996-2013 Guitar Nine All Rights Reserved http://www.guitar9.com/facefirst.html
Tribal Tech is a virtuoso progressive jazz fusion band, formed in 1984 by guitarist Scott Henderson and bass player Gary Willis. From 1993 onwards the band included Scott Kinsey on keyboards and Kirk Covington on drums. From 1985 to 2000 the band released nine albums fusing elements of blues, jazz, and rock. Tribal Tech disbanded after releasing their "Rocket Science" album in 2000, but got together in 2010 to record their "X" album released in 2012. All band members are acclaimed musicians in the jazz rock/fusion world and all their albums are worth checking out. Floridian guitarist Scott Henderson has been quoted as saying that he is a "blues player at heart" and much of his music is based on blues, jazz, and rock influences. His early years were influenced by rock, blues, funk and soul, and his later jazz influences included artists like John Coltrane and Miles Davis. "Face First" is intense, all instrumental (except Track 9) jazz-fusion laced with plenty of funk, rock and blues. The compositions are sophisticated. The solos and grooves are memorable, and you will listen to this album for a long time to come. The album is
VHR by A.O.O.F.C.
Check out Tribal Tech's "Illicit" & "Live In Salzburg" albums, and Scott Henderson & Tribal Tech's "Reality Check" album on this blog. Buy Tribal Tech's classic "Thick" album and support jazz fusion at it's very best
[
All tracks @ 320 Kbps: File size = 165 Mb
]
TRACKS / COMPOSERS
1 Face First - Willis 7:04
2 Canine - Willis 6:24
3 After Hours - Kinsey 7:23
4 Revenge Stew - Henderson 6:07
5 Salt Lick - Henderson 9:45
6 Uh... Yeah OK - Tribal Tech 6:44
7 The Crawling Horror - Henderson 7:44
8 Boiler Room - Covington 1:35
9 Boat Gig - Henderson 6:00
10 The Precipice - Willis 6:17
11 Wounded - Willis 5:39
MUSICIANS
Scott Henderson - Guitar: Backing Vocals on Track 9
Gary Willis - Bass: Backing Vocals on Track 9
Scott Kinsey - Keyboards: Backing Vocals on Track 9
Kirk Covington - Drums: Lead Vocals on Track 9
Brett Garsed, Dana Sue Collins, Cheryl Graul - Backing Vocals on Track 9