British Blues Quintet
(
Featuring
Maggie Bell
)
- Live In Glasgow -
2007 -
Angel Air
Maggie Bell, from Scotland, is one of the world's greatest soul and blues singers. Maggie and drummer Colin Allen were both members of the legendary Stone The Crows. Zoot Money is one of the best 'good time' performers in the business. He not only plays great keyboards but also sings with guts and emotion. The other members of the quintet are Miller Anderson, who has played guitar with many top bands since the 1960s including the Keef Hartley Band, Savoy Brown, Chicken Shack, Mountain, T-Rex and Donovan's band, and Colin Hodgkinson who was in Alexis Corner's band for almost 20 years, and has played with Whitesnake. These musicians are among the best in their field. They've been "around the block" a few times and performed with some of the greatest names in music over the last 40 years. This tterrific quintet covers a great part of the British blues territory. The band go for the throat with a great collection of blues standards and their own songs, and here, not knowing their engineer is recording the concert, the BBQ are as natural as it gets. The rollicking shuffle of "What You Got Is So Good" is a perfect starter. All the tracks are great, but "Penicillin Blues," "Tamp 'Em Up Solid," "San Francisco Bay Blues," "It Never Rains But It Pours" and "Wishing Well" are knockout tracks. This great album has all the inherent features of the best of British blues, and keeps the great tradition alive. Check out Maggie Bell's albums, "Queen Of The Night" and "Suicide Sal." You should also listen to Stone the Crows superb 1970 album, "Ode To John Law."
TRACKS
1. What You Got Is So Good
2. As The Years Go Passing By
3. San Francisco Bay Blues
4. Tamp Em Up Solid
5. It Never Rains But It Pours
6. Wishing Well
7. That's The Way I Feel
8. Penicillin Blues
9. Walkin' Blues
10. I Wanna Thank You Baby
11. Fog On The Highway
12. Houston
13. I Just Wanna Make Love To You
14. Respect Yourself
Recorded at The Ferry, Glasgow, Scotland on October 12th, 2007
BAND
Zoot Money - vocals, keyboards
Colin Allen - drums, cymbals
Colin Hodgkinson - vocals, bass guitar
Maggie Bell - vocals
Miller Anderson - vocals, guitar
ABOUT THE BRITISH BLUES QUINTET [ © www.zootmoney.org/bbq-bios.htm ]
ZOOT MONEY - One of the best "good time performers" in the business. Zoot not only plays great keyboards but also sings with guts & emotion. He's been a formidable contributor to the British music scene for four decades! Playing with Alexis Korner, as well as his own Big Roll Band he became a permanent fixture at the Flamingo in Wardour Street – known for his somewhat outrageous antics on stage. Influenced in his early days by Jerry Lee Lewis & Ray Charles (gives you some idea of his inspiration). In addition to his live music & acting, Zoot is no mean songwriter – his song "It Never Rains But It Pours" (lyrics by Colin Allen), was recorded by Jimmy Witherspoon, for example, & has written for such artistes as Lulu, Maggie Bell & the late Long John Baldry. His prodigious musical knowledge is also called on from time to time as a radio-programming consultant, & Zoot turned producer for two very different artists; soul diva Ruby Turner & up-and-coming indie singer-songwriter Woodstock Taylor. He's been a writer, musical director, producer & actor. He tours, not only as a solo artist, but with his own Big Roll Band, & performs regularly with Alan Price. This man is not only hugely talented but great fun too!
MILLER ANDERSON - The guitarist who's played with many of the top bands since the 60's. Miller came to London in 1965 from Scotland. He joined the Keef Hartley Band in 1968 as vocalist & guitarist & recorded five albums on which he was also the main songwriter. The band appeared at the legendary Woodstock Festival. He has been a member of Savoy Brown, Chicken Shack, Mountain, T-Rex & Donovan's band. Miller has toured as a guest musician with Deep Purple, appearing on their live CD/DVD recorded at the Albert Hall in 1999, & of course Miller has been a member of The Spencer Davis Group for the past 15 years & has recorded & appeared live on Jon Lord's (Deep Purple) solo projects.
COLIN HODGKINSON - Colin began his career opening for the Beatles in 1963. Developing his talent as a formidable bass guitarist, he joined Alexis Korner in the late 60's & stayed with him for almost 20 years. He's toured extensively – spending a year with Whitesnake before joining various R&B all-star line-ups, featuring artists such as Brian Auger, Chris Farlowe, Spencer Davis, Tony Ashton & other names from the 60's. In 1999 he was invited by Bill Wyman to open on his Rhythm Kings tour with a 30 minute solo set & in 2001, Gary Moore asked Colin to open on his successful UK tour. During his career, Colin has recorded with many renowned rock artists including Mick Jagger, Jeff Beck, Jan Hammer (Miami Vice), James Young, Neal Schon (ex-Santana), Alexis Korner & Whitesnake, plus hundreds of recording sessions. 2004 saw Colin touring extensively in Europe & the UK with The Spencer Davis Group celebrating 20 years together.
COLIN ALLEN - Played drums with Zoot Money's Big Roll Band, John Mayall's Bluesbreakers, Stone the Crows, Focus, Donovan & Bob Dylan. Began playing the drums aged 18 years, playing with local jazz musicians. One of them would later become famous as the guitarist with "The Police" - Andy Summers. Colin moved to London in 1964 as a founder member of the legendary Big Roll Band. He's also played with many US blues artists including – John Lee Hooker, Sonny Boy Williamson, Memphis Slim & soul singer Solomon Burke. Colin went on to tour with Georgie Fame, before joining John Mayall's Bluesbreakers in 1968, the first thing he did with Mayall was to record the acclaimed "Blues from Laurel Canyon" album. Colin then became a founder member of the very popular band "Stone the Crows". He then went on to play & record with the classical influenced Dutch band "Focus". He then became a member of Donovan's band, touring Europe & the US, as opening act for Yes. In the early 80's whist living in Los Angeles, he played on Rod Stewart's gold & platinum album "Foolish Behaviour". Then he became a member of the Bluesbreakers once more & toured the US, Australia & Europe. In 1984 he toured Europe with Bob Dylan. Overall he's played on 50 plus albums & co-written over 60 songs that have been recorded by a variety of artists, including Paul McCartney's "Wings", Fleetwood Mac, Mick Taylor & the late Mick Ronson. He lives in Sweden & over the years has played with many of Sweden's top artists. Lately Colin has been appearing at various UK & European blues festivals as a member of the "British All-Star Blues Band.
MAGGIE BELL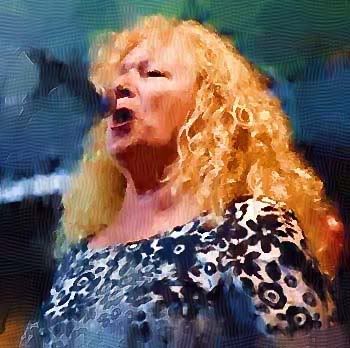 - Maggie, the Scots Queen of the Blues, once the star of Stone The Crows, the hard rock band from the early seventies, is one of the greatest blues and soul singers her time, blessed with a powerhouse voice that makes fans go weak at the knees. Maggie Bell was born in Glasgow into a musical family who, as a teenager, sang with local dance bands. In the sixties she toured German US Airforce bases before returning to Scotland to form 'Power' with guitarist Leslie Harvey which later became Stone The Crows. Managed by Mark London and Peter Grant, the man behind Led Zeppelin, some of Maggie's happiest memories are when she was jetting across America in luxury alongside her mates in Led Zeppelin. All was going well, but in 1972 due to a tragic accident, Leslie Harvey was electrocuted on stage, just as they were about to start playing. Jimmy McCulloch joined the band & they continued to tour & record, but eventually the management decided that Maggie should continue as a solo artist. Jerry Wexler wanted to team up with Maggie and together they sat down and listened to hundreds of songs, searching for the very best. After doing their homework and Maggie having learned the lyrics, they put a band of top class musicians together. The result was 'Queen Of the Night' which earned rave reviews. "It was wonderful," recalls Maggie. "Bette Midler said it was the best solo album from a female artist she'd ever heard, and it got great notices in the American magazines. There was even an article about me in Time Magazine! The record got to Number Ten in the charts and it did really well." Maggie went on the road and remembers some nerve-wracking dates with Earth, Wind & Fire in the Deep South, when the group were at the height of their fame. "I had to open the show and the audiences were all sitting there with their mouths hanging open and doing nuthin'." She hit on the idea of asking her road manager to make a wooden screen. "I told him that I wanted to sing the first song behind the screen and then appear on stage just to see what the response was like. Well the response was unbelievable! You see, at first they couldn't accept a white woman from Scotland singing the blues. Scotland? Where's Scotland - is that near Alaska? But we used the screen and then it was OK - ha, ha!" Maggie toured Germany in 1975 to promote 'Queen Of The Night' and the response was so good she was encouraged to record her second excellent album, 'Suicide Sal' "We recorded it at Ringo Starr's studio, they were wonderful people." Maggie enjoyed mixing songs by her favourite artists and fellow musicians - creating an appealing blend of moods. Paul Rodgers' 'Wishing Well', certainly got the album off to a flying start. "I've always loved Free and that song in particular, so I was keen to do my own version." The next track was 'I Was In Chains', written by the Sutherland Brothers. Jimmy Page from Led Zeppelin chipped in on 'If You Don't Know.' Next came the hard rocking 'What You Got' and the Leo Sayer and Dave Courtney's ballad 'In My I.ife.' 'Comin' On Strong' was supplied by her ex-drummer Colin Allen and Zoot Money and Maggie covered another Free song, 'Hold On', by Simon Kirke and Paul Kossoff. Then Maggie recorded her own special interpretation of Lennon & McCartney's 'I Saw I Her Standing There', suitably re-titled. "I used to do a great version of that on stage with Pete Wingfield. I thought it was just as good as Joe Cocker's 'With A Little Help From My Friends'." 'It's Been So Long', was contributed by Phil May of The Pretty Things. "Phil changed a few of the lyrics for me, and I did my version with him doing some of the vocal backings." The album sold well, particularly in the US and Europe, where audiences could accept her as more than just the lead singer of Stone The Crows. "No matter who you are, if you split away from a band, people have divided loyalties. Some fans don't like you to do solo albums. But it did okay and I did a lot of tours to promote 'Suicide Sal.' so I can't complain!" For many years Maggie Bell has lived in Holland where she continued singing and touring in Europe. Now she's back home in the UK with some of her favourite musicians. She's teaming up with Zoot Money, Colin Allen, Colin Hodgkinson and Miller Anderson to go on the road once more. She's strong, she's dynamic, she still has that great powerhouse voice. Maggie's back !