Bobby
Parker
-
Bent Out of Shape
-
1993
-
Black Top Records
The production on Bent Out of Shape may be a little too clean, but that can't distract from the fact that Bobby Parker's belated first album is a storming statement of purpose. His songwriting is sturdy and memorable, his singing impassioned and his guitar simply stings. He could have carried the album with just a little combo, but he's assembled a large, soulful backing band that gives the album soulful finesse. It would have been nice if the production was a little grittier, since Parker's performances are, but there's no denying his playing and songs elevate Bent Out of Shape to the status of one of the best blues records of the early '90s. © Thom Owens © 2010 Rovi Corporation. All Rights Reserved http://www.allmusic.com/cg/amg.dll?p=amg&sql=10:gvfyxqugldde
Though guitarist Bobby Parker's success is recent, he's been a driving behind-the-scenes force in the blues for a long time. Listening to his Black Top Records debut, 1993's Bent Out of Shape, it's easy to hear why. Parker has the sure skill of the veteran, so that even when his solos are at their most elaborate, he never sounds like he's showing off. He works with bassist Lee Allen Zeno to a degree rarely heard among blues guitarists; listen to how the lines play off of each other on "Bobby-A-Go-Go." In fact, the bass work is strong throughout, coming to the fore on "Break It Up" and the album's scorching closer, "Blues Get Off My Shoulder." Parker's a more than capable vocalist as well, whispering, shouting, and wailing with never a wrong note. Bent Out of Shape has the feel of a best-kept secret. Hopefully, that won't be so for long. © Genevieve Williams © 1996-2010, Amazon.com, Inc. or its affiliates http://www.amazon.com/Bent-Out-Shape-Bobby-Parker/dp/B000006KTO
Louisiana born Bobby Parker has worked and/or toured with artists including Chuck Berry, Buddy Holly, Little Richard, Fats Domino, Bo Diddley, Sam Cooke, Jackie Wilson, Laverne Baker, and Clyde McPhatter. He recorded tracks for Howlin Wolf and Muddy Waters, just to name two artists. His name may not be familiar to many but his achievements are many. His "Watch Your Step" album influenced many rock artists. The one and only John Lennon was highly influenced by Bobby Parker's music. Some guitarists even used some of Bobby Parker's great guitar riffs. Jimmy Page and Carlos Santana are just two of the great guitarists who adopted some of Bobby Parker's guitar techniques. The great Carlos Santana once said that "He's one of the few remaining guitarists on this planet who can pierce your heart and soothe your soul. He inspired me to play guitar." That's some compliment! In later years Bobby incorporated funk and D.C.'s "go-go groove" into his music, without selling out his great blues playing. "Bent Out of Shape" is a great album from a great guitarist and vocalist. The guy is a blues legend but still his music needs to reach a wider audience. Buy his brilliant "Shine Me Up" album, and promote the blues
TRACKS
1 Fast Train
2 It's Hard But It's Fair
3 Bent Out of Shape
4 So Glad I Found You
5 I Call Her Baby
6 Watch Your Step
7 Break It Up
8 Let That Be the Reason
9 I've Got a Way With Women
10 Bobby-a-Go-Go Parker
11 Blues Get Off My Shoulder
All songs composed by Bobby Parker except "Break It Up" which is © control
MUSICIANS
Bobby Parker - Guitar, Vocals, & Bass on "Bent Out of Shape"
Lee Allen Zeno - Bass
Sammy Berfect - Piano, Organ
Raymond Weber - Drums, Percussion
Mark "Kaz" Kazanoff - Tenor & Baritone Sax.
Willie Singleton - Trumpet
Rick Trolsen - Trombone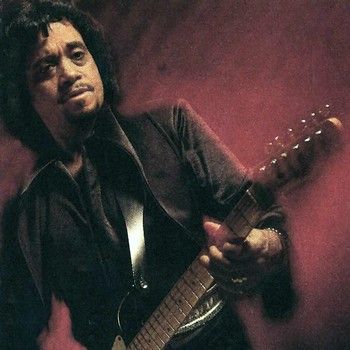 BIO
Guitarist, singer, and songwriter Bobby Parker is one of the most exciting performers in modern blues, and it's quite apparent he'll inherit the top blues spots left open by the unfortunate, early passings of people like Albert King, Johnny "Guitar" Watson, and others. That's because Parker can do it all: he writes brilliant songs, he sings well, and he backs it all up with powerful, stinging guitar. But things weren't always so good for Parker, and much of his newfound success is the result of years of hard work and struggling around the bars in Washington, D.C. and Virginia. Parker has two brilliant albums out on the BlackTop label out of New Orleans (distributed by Rounder), Shine Me Up (1995) and Bent Out of Shape (1993). He was born August 31, 1937 in Lafayette, LA, but raised in southern California after his family moved to Los Angeles when he was six. Going to school in Hollywood, the young Parker was bitten by the scenery, and decided he wanted to be in show business. At the Million Dollar Theatre, he saw big stage shows by Count Basie, Duke Ellington, Billy Eckstine, and Lionel Hampton. Although he had an early interest in jazz, the blues bit him when artists like T-Bone Walker, Lowell Fulson, Johnny "Guitar" Watson, and Pee Wee Crayton came to town. He began playing in the late '50s as a guitarist with Otis Williams & the Charms after winning a talent contest sponsored by West Coast blues and R&B legend Johnny Otis. Later, he backed Bo Diddley, which included an appearance on The Ed Sullivan Show before joining the touring big band of Paul "Hucklebuck" Williams. He settled in Washington, D.C. in the '60s, dropping out of Williams' band and making a go of it on his own. He is perhaps best-known for his 1961 song "Watch Your Step," a single for the V-Tone label that became a hit on British and U.S. R&B charts. Parker's song was later covered by several British blues groups, most prominent among them the Spencer Davis Group. And though Parker may not yet be a name as familiar to blues fans as say, Eric Clapton or B.B. King, he's been cited as a major musical influence by Davis, John Mayall, Robin Trower, Clapton, Jimmy Page, drummer Mick Fleetwood, John Lennon, and most importantly, Carlos Santana. Parker's style has been described by his protégé Bobby Radcliff as Guitar Slim meets James Brown, and that's not too far off the mark. In the summer of 1994, Santana was so happy about Parker's comeback on the BlackTop/Rounder label that he took him on the road for some arena shows on the East and West Coasts. "Carlos likes to tell people that he saw me playing in Mexico City when he was a kid, and that inspired him to pick up the guitar," Parker explained in a recent interview. Santana pays homage to Parker on his Havana Moon album, on which he covers "Watch Your Step." Dr. Feelgood also covered the tune in the '70s. For the rest of the '90s, Parker is destined to be one of the major players on the blues circuit, provided his stellar output and rigorous touring schedules continue. Unlike so many other blues musicians, Parker's live shows are almost entirely his own songs. He does very few covers. "Unless the music of the day has some kind of substance to it, the blues always comes back," Parker says, adding, "I think Stevie Ray Vaughan had a lot to do with bringing the blues to White audiences, and Z.Z. Hill helped bring the Black audience back to the blues." © Richard Skelly © 2010 Rovi Corporation. All Rights Reserved http://www.allmusic.com/cg/amg.dll?p=amg&sql=11:3xfrxq95ldfe~T1
BIO
(WIKIPEDIA)

Bobby Parker (born August 31, 1937, Lafayette, Louisiana) is an American blues-rock guitarist. He is best-known for his 1961 song, "Watch Your Step", a single for the V-Tone Records label that became a hit on the US R&B chart. Born in Lafayette, Louisiana, but raised in Los Angeles, California, Parker first aspired to a career in entertainment at a young age. By the 1950s, Parker had started working on electric guitar with several blues, R&B, and funk groups of the time, with his first stint being with Otis Williams and the Charms. Over the next few years, he also played lead guitar with Bo Diddley (including an appearance on The Ed Sullivan Show), toured with Paul Williams, Sam Cooke, Jackie Wilson, LaVern Baker, Clyde McPhatter, and the Everly Brothers. In the waning years of the decade, he also toured with Chuck Berry, Buddy Holly and Little Richard. His first single was recorded in 1958, while he was working primarily with Williams' band, and was titled "Blues Get Off My Shoulder". During that same year, he also performed frequently at the Apollo Theater in Harlem. By the early 1960s, Parker had settled into living in the Washington, D.C. area and played at blues clubs there after having left Williams' band. He recorded the single "Watch Your Step" in 1961, a regional hit that was later covered by the Spencer Davis Group, Dr. Feelgood and Santana. Due to the success of the song, both in the United States and overseas, he toured the UK in 1968 and recorded his next hit, "It's Hard to be Fair". Jimmy Page became a fan of Parker's after seeing him perform in a Washington D.C. nightclub during a 1972 tour by Led Zeppelin. Page wanted to sign up Parker with Swan Song Records and offered an advance of US$2000 to fund the recording of a demo tape, but Parker never completed the recording, and an opportunity for Parker to be exposed to an international audience was lost. For the next two decades, Parker played almost exclusively in the D.C. area. By the 1990s, Parker started to record again for a broader audience. He recorded his first official album, Bent Out of Shape, for the Black Top Records label in 1993, with a follow-up in 1995, Shine Me Up. In 1993 he also was the headliner for the Jersey Shore Jazz and Blues Festival. Parker continues to perform as a regular act at Madam's Organ Blues Bar in Washington.