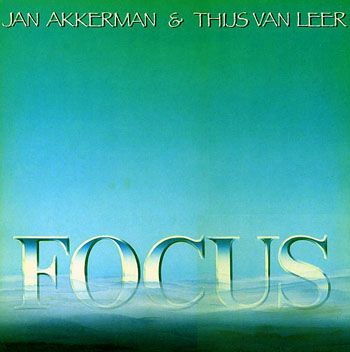 Jan Akkerman
&
Thijs van Leer
-
Focus
-
1985
-
Vertigo
Actually, this is not a Focus album but an Akkerman/Van Leer album, but since this duo of geniuses who knew each other so well but didn't always look eye to eye despite their shared musical interests in jazz-rock, prog and classical music were keen on the idea of taking back the essential Focus sound and refurbish it in the 80s era of digital sonic explorations, naming this album "Focus" happened to be logical and natural. This is the sort of thing that Focus should have released after the amazing "Hamburg" experiment, since the band finally suffered from inconsistency and loss of creative energy after reaching such a tremendous apex. Something is going terribly wrong with a great band when a compilation album ("Ship") immensely surpasses a studio effort ("Mother") and then, the following album's few highlights are written by newcomers. This "Focus" album conceived by this new encounter of Dutch progressive minds is the definitive testimony of the musical imagination that Focus had still in store but took so many years to take shape and meet its material reality. So, once you get this album and are treated with the stylish romanticism of 'Russian Roulette' and the lovely, refereshing flavors of 'King Kong', you can almost touch the creative vigor in pure Focus style. Van Leer remembers his old-time partner's vibe so well that you might bet that he wrote Akkerman's polished guitar lines for 'Russian Roulette' in his sleep; meanwhile, Akkerman seems to have Van had Leer's agile flute playing physically present in front of him while writing 'King Kong'. Nevermind if the digital keyboards are overwhelming in places or if the use of rhythm computers and an electronic drum kit feels "cold" or "lacks the human touch". The chemistry is there, unhidden, revealing in the wide open, and fueled with authentic creativity. 'Le Tango' is a track I find less brilliant than the first two, but it is still entertaining and well-constructed: it features Argentinean airs among its solid jazz-pog displays, of course. Adding rockier guitar parts (both electric and synth guitars) and exotic moods, 'Indian Summer' provides a captivating exercise on jazz-rock in its most refined form. Another rocker is 'Olé Judy', a piece that might as well have been expanded 1 minute longer since its catchiness doesn't seem to wear out yet while we get to the fade-out. I own both the vinyl and CD versions of this album, so I'm aware that the two long tracks are even longer in the latter edition. I admit that I find the 'Beethoven's Revenge' modern jazz-funky jam a bit too exhausting in its 18+ minute incarnation: it worked better for me in its 10+ minute vinyl version. On the other hand, the captivating lyricism of 'Who's Calling?' does resist the longer CD format quite efficiently. This is romantic, eerie prog rock at its best, Focus-style and all. It might have been entitled 'Focus VI' or something, since its introspective intimacy makes it quite related to the spirit 'Focus V' (from the "Ship" album). Overall conclusion: a very good album that provides the perfect testament of the Akkerman/Van Leer partnership, a long overdue progressive tribute to the significance of Focus that our friends Jan and Thijs paid from the bottom of their hearts. Better, way better than what other old 70s prog bands were doing at the time. **** Cesar Inca Special Collaborator Honorary Collaborator Cesar Inca 4/5 2010-6-7 From Progarchives.com, the ultimate progressive rock music website © Prog Archives, All rights reserved http://www.progarchives.com/Review.asp?id=285536
This is not a Focus album. The album is called "Focus", and is an 1985 collaboration between the two main Focus members, Jan Akkerman and Thijs van Leer. As is usual from these two artists, the musicianship is wonderful, and the album is a joy to listen to.
N.B: Tracks are @ 320 kbps.
Listen to Focus' magnificent "Live At The Rainbow" album, Jan Akkerman's "Tabernakel" album, and Thijs van Leer's "Introspection" album.
TRACKS / COMPOSER (S)

A1 Russian Roulette - Thijs Van Leer 5:54
A2 King Kong - Jan Akkerman 3:55
A3 Le Tango - Roselie Peters, Thijs Van Leer 4:55
A4 Indian Summer - Jan Akkerman 5:50
B1 Beethoven's Revenge (Bach-One-Turbo-Overdrive) - Jan Akkerman 10:47
B2 Ole Judy - Thijs Van Leer 3:52
B3 Who's Calling - Jan Akkerman, Thijs Van Leer 7:30
MUSICIANS
Jan Akkerman - Guitar, Synthesizer
Thijs Van Leer - Keyboards, Flute, Vocals
Tato Gomez - Bass (tracks: A1, A4)
Ruud Jacobs - Bass [Big Bass] - (tracks: B1)
Ed Staring - Synthesizer [Fairlight Synthesizer Programming]
Sergio Castillo - Drums [Fills] - (tracks: A3)
Ustad Zamir Ahmad Khan -Tabla (tracks: A4)
FOCUS
(BIO)

A former Amsterdam Conservatory student, Thijs van Leer (keyboards/flute/vocals) with Martin Dresden (bass) and Hans Cleuver (drums) formed a trio in 1969, they backed several Dutch singers in the late 1960's. At one of their rehearsals Brainbox guitar virtuoso Jan Akkerman stepped in and jammed along with them. The manager of Brainbox, John van Setten found out and kicked him out of the band. This led to Akkerman joining Focus. In 1970 they backed the Dutch version of Hair, they can also be heard on the Dutch Hair album. After their work for the musical they named their band Focus. A few months later Focus recorded their debut album, In And Out Of Focus, released in 1970. The album consists of both vocal and instrumental tracks. As a single the non-album track, House Of The King, was released which became a big hit. After a few months Akkerman wanted to rejoin with his Brainbox mate Pierre van der Linden to form a new band. Van Leer was asked to join them, or to stay with his own trio. He decided to join them. They also asked Cyril Havermans to play bass and do the vocals. This left Dresden and Cleuver aside. With this new line up they worked on their second album. It was produced by Mike Vernon, who would remain their producer throughout their whole career. This was Focus II, or Moving Waves (the name of the album outside the Netherlands). The single Hocus Pocus, with some frantic yodeling and brilliant guitar work, became an enormous hit just as the album did. Focus toured the Netherlands and England and gained a lot of popularity. As another single Sylvia was released and became a hit also. In the summer of 1971 there was also a change in the line up. Cyril Havermans left the band to pursue a solo career. His place was taken by Bert Ruiter. With him as a new member they started recording their third album, Focus 3. it was supposed to be a single album, but so much material was recorded in a three week period they decided to make it a double album project. This album went straight to number one in the Dutch charts. And then in early 2002 drummer Ruben van Roon contacted guitarist Jan Dumée and bass player Bobby Jacobs to form a Focus tribute band, which they call Hocus Pocus. The rehearse together and when the time is right they invite Thijs van Leer to come over and play with them. Van Leer comes over and is so much impressed that they decide to do a few concerts together. In stead of Hocus Pocus they band name is changed to Focus. They play all over the world at several festivals, and start to record an album. By this time Ruben van Roon has left the band because of personal circumstances and is replaced by Bert Smaak. In the fall of 2002 a new Focus album is released. In 2004 an album with BBC recordings form 1976 is released. On this album tracks are featured that have never been released by Focus before. Even more remarkable is the return of Pierre van der Linden in Focus the same year. In 2006 Jan Dumée leaves the band, he starts the band On The Rocks with former Uriah Heep singer John Lawton. He is replaced by Niels van der Steenhoven. The band is also working on a new album New Skin, which is released at the end of 2006. - (sources: Oor Popencyclopedie, Nationaal Pop Instituut, Album sleeves, Nederpop)
JAN AKKERMAN
BIO
A musician of nearly legendary prowess, Jan Akkerman for a time eclipsed Eric Clapton, Jimmy Page, and Jeff Beck among reader polls in England as the top guitarist in the world. Akkerman was born in Amsterdam, Holland, and showed his musical inclinations early, taking up the guitar while still in grade school. His taste and interests were extraordinarily wide-ranging, from pop/rock to classical, with room for blues, Latin, and other influences. He joined his first band, Johnny & His Cellar Rockers, in 1958, at age 11, which included his boyhood friend Pierre van der Linden on drums. Later on, the two were members of the Hunters, an instrumental group whose sound was heavily influenced by that of the Shadows. He acquired a special interest in the lute while on a visit to England during the mid-'60s, during which he saw a performance by legendary classical guitarist Julian Bream, whose repertoire of medieval works also fascinated Akkerman. This interest, which broadened to embrace a fixation on medieval England and its countryside, later manifested itself in such works as "Elspeth of Nottingham" from Focus III. During the late '60s, Akkerman, van der Linden, bassist Bert Ruiter, and singer Kaz Lux formed Brainbox, who were good enough to get a recording contract with Parlophone Records. He was involved with an early incarnation of the group Focus, founded by conservatory-trained flutist Thijs Van Leer, but didn't join until after that group had issued its unsuccessful debut album — he took Van der Linden with him from Brainbox and, with Van Leer and bassist Cyril Havermans (later succeeded by Ruiter) from the original Focus, formed a new group of that name. With Akkerman's virtuoso guitar work and arrangements coupled to Van Leer's classical influence (and his yodeling on their breakthrough hit, "Hocus Pocus"), the new group found a large international audience beginning in 1972, which transformed Akkerman into a superstar guitarist. His solo career actually dated from 1968, though his attempt at a solo album, later titled Guitar for Sale — containing his covers of numbers such as "What'd I Say," "Ode to Billy Joe," and "Green Onions" — was so primitive by the standards of the time that it was deemed unreleasable until Akkerman started topping reader surveys in the mid-'70s. Profile, released in 1972 after he'd begun making some headway with his reputation, also dated from 1969 and his days with Brainbox. Akkerman's first real solo album reflecting his music and interests at the time appeared in 1974, in the form of Tabernakel, which was recorded during the summer of that year at Atlantic Recording Studios in New York — having finally acquired a medieval lute of his own, he taught himself to play it and the results comprise more than half of this LP, made up of authentic medieval music and originals composed in a medieval mode. It was certainly the most unusual record ever to feature the playing of Tim Bogart (bass) and Carmine Appice (drums), as well as soul drummer Ray Lucas. After leaving Focus in 1976, Akkerman began releasing a stream of solo albums, which frequently embraced classical, jazz, and blues, and started leading his own bands. Much of his work during the 1980s wasn't released officially outside of Holland, but his periodic recordings with Van Leer, coupled with efforts to revive Focus with its two major stars, kept his name circulating in international music circles. The only problem that Akkerman faces derives from the sheer eclecticism of his work, which makes him very difficult to categorize — two different branches of Tower Records in the same city listed him as a jazz and a rock artist, respectively, but one could just as easily make a claim for him as a classical artist. © Bruce Eder © 2010 Rovi Corporation. All Rights Reserved http://www.allmusic.com/cg/amg.dll?p=amg&sql=11:kifqxqw5ldae~T1
THIJS VAN LEER
BIO
(WIKIPEDIA)

Thijs van Leer (born 31 March 1948, Amsterdam) is a Dutch musician, singer and composer, best known for heading the Dutch progressive rock band, Focus, as primary vocalist, Hammond organ player, and flautist. He also sings, yodels and whistles. In his later years, Van Leer went on to release many solo albums which were also classical music and jazz-based. Van Leer received his first flute at the age of eleven from his father, a classical flautist. He studied History of Art at Amsterdam University; after when he began studying flute and composition at the Amsterdam Conservatorium. He received a degree for flute from Geneva Conservatoire and also studied piano, orchestration (with Rogier van Otterloo) and organ (with Anthon van der Horst). While still at school, van Leer led a jazz group on piano. He went on to play the flute and sing with the Shaffy cabaret group. In 1969 he joined Martijn Dresden (bass) and Hans Cleuver (drums) to form a trio that covered songs by Traffic and backed other Dutch musicians, as well as playing their own material. Later in the year guitarist Jan Akkerman joined, completing the initial line-up of Focus. They released several albums in the early 1970s. Van Leer headed Focus through several line-up changes, and by 1977 he was the only remaining original member. The group disbanded in 1978. In 1985, van Leer briefly reunited with Akkerman to make Focus 1985. In 2002, van Leer created a new Focus line-up, which has since released the albums Focus 8 and Focus 9 / New Skin. A British tour was undertaken in spring 2006. He also appeared as a guest musician on the album, Into the Electric Castle, by Arjen Anthony Lucassen's musical project Ayreon. In 2008 Explore Multimedia released van Leer's first solo album in nearly a decade, The Home Concert. The album featured recordings made in his living room as he played material for Focus 9. The album is exclusively available via the Internet, and at concerts.