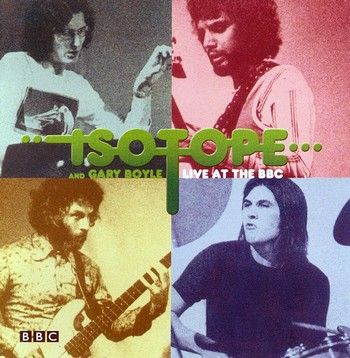 Isotope
And
Gary Boyle
-
Live At The BBC
-
2004
-
Hux
This nine-track, 48-minute CD presents material from three BBC sessions, two by Isotope (in which Gary Boyle played guitar), the other by Boyle solo. The Isotope sessions were recorded in October 1973 and March 1974, featuring songs from their debut self-titled album (including two versions of one of them, "Upward Curve"). The liner notes make much of comparisons between Isotope and Mahavishnu Orchestra at the time, though actually this instrumental fusion, more jazz than rock, sounds at least as much like early- to mid-'70s Soft Machine (with whom Gary Boyle had guested on a two-hour German TV special in 1973). It's busy fusion heavy on the guitar-organ interplay, influenced by the early Miles Davis fusion records as well as those of Soft Machine and Mahavishnu. Isotope don't sound as distinguished as any of those points of reference on this disc, but they do have a somewhat lighter and wittier touch than many of the bands that hurtled down this particular path. The final three songs come from a 1977 solo Boyle session, all from his debut solo album, The Dancer, and these get a little funkier and slicker, with future Yes man Geoff Downes on keyboards. An interview with Boyle discussing his '70s work is included in the liner notes. © Richie Unterberger © 2010 Rovi Corporation. All Rights Reserved http://www.allmusic.com/cg/amg.dll?p=amg&sql=10:hnfexqqaldde
Gary Boyle formed the great jazz-rock band, Isotope in 1973 with three other experienced jazz musicians, Nigel Morris, Brian Miller & Jeff Clyne (ex Nucleus). The band released three good albums during the mid 70s, which were well received, with some reviews comparing the band with John McLaughlin's Mahavishnu Orchestra. "Live At The BBC" is composed of three separate parts; An Isotope BBC Radio 1 concert from October 1973, a BBC Old Grey Whistle Test performance from March 1974, and a Gary Boyle John Peel session from August 1977. "Live At The BBC" is a great album of pure funk fusion from the Canterbury influenced progressive jazz rock fusion band. The Gary Boyle Peel session is a real bonus. Check out Isotope's
"Deep End"
album, and Gary Boyle's
"The Dancer"
album, which won the 1978 Montreux Jazz/Pop Award. For music in the same vein, search this blog for albums by Ian Carr/Ian Carr's Nucleus. Three albums worth hearing are Gary Boyle's wonderful "Games" album, Brand X's "Moroccan Roll" album, and Nucleus' "Labyrinth" album.
N.B:
Sound quality varies on this post which is not unusual for BBC studio recordings from the '70's.

TRACKS / COMPOSERS
Isotope Radio 1 'In Concert' 12.10.73
1 Upward Curve - B. Miller
2 Do The Business - B. Miller
3 Retracing My Steps - B. Miller
4 Honky Donkey - G. Boyle
Isotope Old Grey Whistle Test 26.3.74
5 Bite On This - B. Miller
6 Upward Curve - B. Miller
Gary Boyle Peel Session 22.8.77
7 The Dancer - Z. Kronberger
8 Cowshed Shuffle - G. Boyle
9 Almond Burfi - G. Boyle
MUSICIANS
Guitar - Gary Boyle
Bass - Jeff Clyne (tracks: 1 to 6) , Steve Shone (tracks: 7 to 9)
Keyboards - Brian Miller (2) (tracks: 1 to 6) , Geoff Downes (tracks: 7 to 9) , Zoe Kronberger (tracks: 7 to 9)
Drums - Nigel Morris (tracks: 1 to 6) , Sergio Castillo (tracks: 7 to 9)
GARY BOYLE
BIO

b. 24 November 1941, Patna, India. After learning to play the guitar during childhood, Boyle attended the Leeds College of Music in the north of England in the early 60s. He then joined Eclection, a folk rock band. His first high-profile engagement was a mid-60s spell with singer Dusty Springfield. He then made concert tours of the UK, Europe and the USA, and also sometimes recorded, backing artists such as Brian Auger and Julie Driscoll. In the early 70s he was a London-based session musician, appearing on numerous albums as well as playing on radio, television and on film scores, together with a stint composing jingles. Among artists with whom he recorded during this period are Mike Gibbs, Bert Jansch, Keith Tippett, Mike Westbrook, Norma Winstone and Stomu Yamash'ta. He also backed saxophonist Eddie Harris for a gig at Ronnie Scott's club. Despite all this activity, Boyle was eager to lead his own band and in 1973 he formed Isotope with, initially, Jeff Clyne (bass), Brian Miller (keyboards) and Nigel Norris (drums). During the two years of this jazz-fusion band's existence there were national and international tours and a number of albums. In the late 70s, now a solo artist, Boyle was voted New Star in the Melody Maker Poll and his first solo album, The Dancer, won the Pop/Jazz Award at the Montreux International Jazz Festival. In the early 80s Boyle was resident for a while in Denmark, where he recorded further albums. Back in the UK, he formed a trio he named Triple Echo with which group he featured the Roland Guitar Synthesizer. He also became deeply involved in education and has taught at several establishments, chiefly in the north west of England, including Wigan & Leigh College and the Liverpool Institute of Performing Arts. In addition to jazz rock fusion, Boyle has also sustained an interest in traditional folk music. Other artists with whom Boyle appeared over the years are John Etheridge, Jim Mullen and Eberhard Weber. In the early 00s, in addition to leading his own trio, he was also co-leader of the Gary Boyle/Nat Birchall Quartet and sometimes worked in duo with singer Brigitte Escobar. © IPC MEDIA 1996-2009, All rights reserved
ISOTOPE
(BIO)

The more-jazz-than-rock fusion band Isotope may have not had the longest career, but they played an integral part in the Canterbury Scene with some of its key players spending time in the band. Guitarist Gary Boyle had been playing in Dusty Springfield's band for a couple of years before he caught the prog rock bug. He got it while playing in Brian Auger & the Trinity and afterward decided to go back to school to further his musical studies. After leaving school he played with Keith Tippett and Mike Gibbs, but it was in Stomu Yamash'ta's East West band that he met drummer Nigel Morris. The two formed Isotope in 1973 and soon bassist Jeff Clyne was onboard. The band's self-titled debut appeared in 1974, followed soon after by Clyne's departure. Former East West bassist Hugh Hopper joined the band in March of 1974, the same year Boyle was to place third in the category of "Best British Guitarists" in Melody Maker's reader poll. Keyboardist Laurence Scott was added to the band for 1975's Illusion and the band gathered more fans on a U.K. tour supporting Gong. Hopper and Scott left the band and were replaced by bassist Dan K. Brown and two keyboardists — Frank Roberts and Zoe Kronberger — for 1976's Deep End. Management and record company struggles caused the band to break up in 1977. The See for Miles label reissued the band's albums in the mid-'90s and Hux unearthed two radio sessions for 2004's Live at the BBC. © David Jeffries © 2010 Rovi Corporation. All Rights Reserved http://www.allmusic.com/cg/amg.dll?p=amg&sql=11:39ftxqu5ld0e~T1
MORE ABOUT
ISOTOPE
This British jazz-rock group was founded in June 1972 by guitarist Gary Boyle, who had previously played with Dusty Springfield, Brian Auger and Eclection, as well as guesting on numerous jazz sessions. The original line-up of the band featured former Nucleus bassist Jeff Clyne, as well as two unknown young players he'd met on the jazz circuit : keyboardist/composer Brian Miller (who wrote almost all the tracks on the band's eponymous debut) and drummer Nigel Morris. The original line-up briefly featured Stan Sulzmann (sax) and Aureo De Souza (percussion°. The band soon signed with Gull Records in England and Motown (!) in the USA, and started touring colleges and clubs around Britain, as well as touring on the continent - France, Germany and Scandinavia. In March 1974, shortly after the release of the first album, a clash of egos led to Miller and Clyne suddenly leaving. They were replaced by Laurence Scott, a semi-pro keyboard player, and Hugh Hopper, whom Boyle had met while working with Stomu Yamash'ta. The new line-up embarked on a UK tour in June and July, followed by dates in Germany and the Netherlands in August. They then entered the studio, with Poli Palmer (ex-Eclection and Family) producing, to record Illusion. The writing was now shared equally between Boyle, Scott and Hopper. Intensive touring in Britain followed, and a US tour was undertaken in March and April 1975. Percussionist Aureo DeSouza was then added to the line-up for a European tour, and drummer Jeff Seopardie also reinforced the band for British dates later that year. In December 1975, Scott left and was replaced by Frank Roberts. At that point, management problems resulted in a very difficult financial situation and Hugh Hopper decided to leave. In March 1976, a third album, Deep End, was recorded (production duties were handled by Brand X's Robin Lumley), with Hopper playing on only his own composition "Fonebone". Bassist Dan K. Brown and second keyboardist Zoe Kronberger were added at that point, but gigs became sparser. There was one last line-up change in 1977, with only Boyle surviving from previous incarnations, alongside Geoff Downes on keyboards (later in Yes and Asia), Steve Shone on bass and Colin Wilkinson on drums, but this new Isotope never went beyond the rehearsal stage, only recording a couple of radio sessions. Gary Boyle subsequently embarked on a solo career. © http://calyx.perso.neuf.fr/bands/related.html