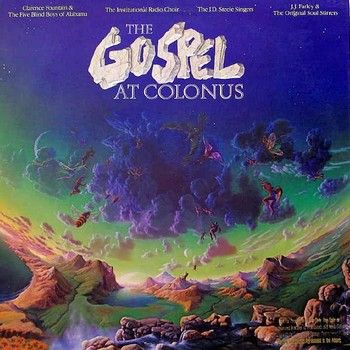 Lee Breuer
&
Bob Telson's
The Gospel at Colonus
-
1984
-
Warner Bros
Playwright Lee Breuer and composer Bob Telson had an idea: Retell the story of Oedipus using a gospel choir and soloists as the storytellers. The result was The Gospel at Colonus, which had a very successful theatrical run and produced the extraordinarily beautiful song suite presented here. Telson made the inspired decision to allow much of the weight of the enterprise to be borne by the enormous talents of Clarence Fountain & the Five Blind Boys of Alabama and the J.D. Steele Singers, featuring the absolutely incredible voice of Jevetta Steele (who would have a bit of a hit with the title song from the film Calling You). Some of the songs are priceless: "Stop Do Not Go On," with its heartfelt vocal urgings from Sam Butler, is a showstopper of its own, but it's followed by "How Shall I See You Through My Tears," a devastating number with Steele singing in a voice possessed of positively unearthly beauty. Intriguingly, not only can Breuer's lyrics be read as either traditional gospel text or pertaining to the story of Oedipus, but they can also often be heard as love songs from the R&B tradition. There's not a weak song on the record. Telson, a one-time member of the Philip Glass Ensemble and an associate of numerous jazz musicians (Lenny Pickett and John Hagen are in the ensemble here, for instance), successfully sublimates these influences and manages to create a remarkably authentic pop-gospel hybrid by entrusting the interpretation of his pieces to the artists who deeply know the genre. When the entire cast converges for the penultimate "Lift Him Up," the effect is nothing short of electrifying. Highly recommended not only for fans of gospel music but also for anyone interested in the diverse directions of contemporary music in general. © Brian Olewnick, All Music Guide © 2010 Answers Corporation http://www.answers.com/topic/the-gospel-at-colonus-original-cast
In the Summer of 1983,
Donald Fagen
saw a show at the Next Wave Festival in N.Y called The Gospel at Colonus, which was based on an adaption of Sophocles' "Oedipus At Colonus." The show was set in a black Pentecostal church and Donald loved it. He paid for engineer
Daniel Lazerus
to see it too. On viewing the show, Daniel wondered if anyone had spoke to the show's writer and arranger Bob Telson about possibly recording it. Later Daniel approached Bob Telson in the orchestra pit and asked him if anyone had been interested in a recording deal. Bob said no, but mentioned that there had been a considerable buzz about the show, and that the great David Byrne (Talking Heads) had expressed some interest. Daniel later spoke to Donald Fagen who approached Warner Bros. Anything that Donald Fagen showed an interest in was always taken seriously. Eventually Donald Fagen, Bob Telson, and Daniel Lazerus were producing the album in Clinton Studios.
Gary Katz
also became involved in the recording. The album was recorded quickly, but in the mid '80's there wasn't a big demand for Gospel music, and even with the
Steely Dan
connection, Warner Bros were unable to promote the album sufficiently enough to make it successful. Nevertheless the album features some beautiful singing, and includes musicians like Hugh McCracken on harmonica and slide guitar.
Donald Fagen, Gary Katz, and Daniel Lazerus
provide background vocals on the album.
N.B: This album is a 128 Kbps version, and sound quality is average. It may be of interest to

Steely Dan

fans
TRACKS
Live Where You Can
Fair Colonus
Stop Do Not Go On
Who Is This Man
How Shall I See You Through My Tears
A Voice Foretold
Never Drive You Away
Numberless Are the World's Wonders
Lift Me Up (Like a Dove)
Sunlight of No Light
Eternal Sleep
Lift Him Up
Now Let the Weeping Cease
All tracks composed by Bob Telson & Lee Breuer, except "Lift Him Up" by Billy Funk, Bob Telson, & Lee Breuer
MUSICIANS
Sam Butler - Guitar, Vocals
Hugh McCracken - Slide Guitar, Harmonica
Lincoln Schleifer, Zev Katz - Bass
Bob Telson - Synthesizer, Piano, Vocals
Butch Heyward - Organ
Leroy Clouden - Drums
John Hagen - Alto Saxophone, Baritone Saxophone
Bob Malach - Alto Saxophone
Mark Johnson - Trombone
Chris Royal -Trumpet
Donald Fagen, Gary Katz, Daniel Lazerus,
Blind Boys of Alabama, Terrence Moore, Walter Dixon, Beverly Graham, Joan Faye Wright, Linda Wilkerson, The Original Soul Stirrers, Joe Watson, Denise Martin, Zack Kelly, Joyce Taylor, George Cooper, Ezekiel Tobby, Monique Williams, Isabell Monk, Angie Haddock, Mary Fiser, Keith Doars, Deborah C. Brett, Mary Hunt, Martin Jacox, Carolyn Johnson-White, David Hewitt, Vincent Haddock Jr., J.T. Clinkscales, Betty Cooper, Clarence Fountain, Bobby Butler, Jearlyn Steele Battle, Donald Ballard, Morgan Freeman, J.J. Farley, Jevetta Steele, Institutional Radio Choir, Little Village - Vocals
Ben Odom, Willie Rogers, Jackie Banks - Vocals, Background Vocals
Donald Fagen, Gary Katz,
Bob Telson - Producer
Michael David - Executive Producer
Sherman Warner - Executive Producer, Sound Design
Daniel Lazerus
- Producer, Engineer
David Hewitt - Engineer, Sound Design
Lee Breuer, J.D. Steele - Director