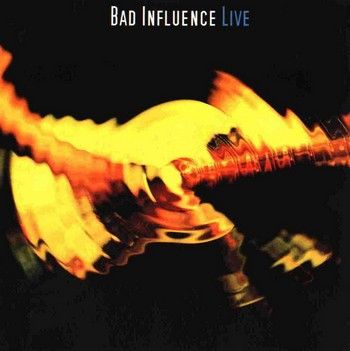 Bad Influence
-
Live
-
2002
-
Bad
This band should not be confused with the US based blues rock band Bad Influence from Washington, DC. The British band, Bad Influence are fundamentally a blues rock band, with hints of country and funk. The band play originals and also cover songs from artists like the Georgia Satellites, Steve Miller, ZZ Top, Fleetwood Mac, the Doobie Brothers, Tom Petty and many more. This is a great "rockin'" album from a really good live band. The songs were recorded at various British venues in Summer, 2001. According to the band's website, Bad Influence released their first live album in 2003 entitled "Here There and Everywhere."
The album posted here ("Live") was available in 2002. The sleeve notes here say that the album was recorded live in the Summer of 2001 "here, there, and everywhere." Presumably "Live" and "Here There and Everywhere" is the same album. If not,

A.O.O.F.C

would love more information.
Buy the band's "Carousel" album and promote bands that can really play good live rock music, and not the studio manufactured rubbish all too prevalent today
TRACKS / COMPOSERS

1. Won't Back Down - Tom Petty, Jeff Lynne
2. Give It Up, Or Let Me Go - Bonnie Raitt
3. Keep Your Hands To Yourself - Dan Baird
4. Mercury Blues - K.C. Douglas
5. Rather Go Blind - Bill Foster, Ellington Jordan
6. Dreams - Stevie Nicks
7. I Was Made to Love (Her) Him - Henry Cosby, Lula Mae Hardaway, Sylvia Moy, Stevie Wonder
8. Long Train Running - Charles Thomas Johnston
9. La Grange - Frank Beard, Billy Gibbons, Dusty Hill
10. Slow Down - Larry Williams
MUSICIANS
Val Cowell - Guitar, Vocals
Chris Childs - Bass, Backing Vocals
Richard Hayes - Lead Guitar
Harry James - Drums, Backing Vocals
James "Red" Henry - Organ on Tracks 4, & 5
BIO
The History
: - Originally formed in 1986, by Val Cowell (lead vocals & rhythm guitar), and Richard Hayes (lead & slide Guitar), the band has seen many line ups in the years since. Whilst Val and Richard have been the consistent driving force, the rhythm section has seen some changes. Ever since the beginning the band has toured constantly, playing in a wide variety of venues, including the now legendary Marquee Club (both Wardour St and Charing Cross Rd) on a great many occasions.
1986 - 1991
- In the beginning there is Ray Knott (Chicken Shack/Babe Ruth/Liquid Gold) and Chris Sharley (Sassafras, Mick Clarke Band). This line up records one album's worth of material (and releases it untitled in cassette format, remember them?).
1991
- Ray & Chris leave for pastures new and are replaced by Malcolm Foster on Bass (Pretenders) and Andy Wells on Drums (Meatloaf/Romeo's Daughter).
1993
- Chris Taylor takes over on Bass, and Neil Salmon joins on drums. Another untitled cassette LP is recorded and sells like hotcakes at gigs.
1996
– Neil Salmon leaves and Harry James (Thunder/Magnum) takes over on drums. The band records their first CD, entitled "Bad Influence", released in 1997.
1998
– Chris Taylor leaves and in steps Chris Childs (Then Jericho/Sam Fox/Go West/Thunder etc etc). Once again the touring goes on and on and on. By now this band has certainly paid their dues..
2000
- "One Way Love" is recorded. National airplay is achieved when BBC Radio 2 takes an interest (in the guise of Paul Jones), a live studio slot follows, as well as subsequent featured live concerts.
2003
–
Bad Influence releases their first Live LP - "Here There and Everywhere".
Once again the sales are phenomenal, helped along by the Radio 2 airplay.
2005
– "Closer" is the brand new CD for 2005. Featuring 11 brand new songs, all written by the band, and produced by Chris Childs, it's the strongest most cohesive recording to date, and shows the band is going from strength to strength.
2006
– With the taking of a backseat from Chris Childs for a while due to other musical commitments, Val, Rich and Harry are very happy to welcome Peter Stoud (Papa George Band and Peter Green's Splinter Group) and Bob Skeat (Wishbone Ash) to the Bass stand . This year also marks the 20th anniversary of Val and Richard forming the band. (New album in progress)
2008
– Pete Stroud (Peter Green/Buddy Whittington) sticks around and the band and Pete are working on long awaited CD , everyone's' busy schedules permitting!!
2009
...sees the release of the bands' 6th CD "CAROUSEL" with the new song writing collaboration. This title includes 11 original songs and 2 covers taken from Dixie Chicks/Keb Mo and Lucinda Williams.
The Style
:- Bad Influence is described as a "Rock and Blues" band and that is where they sit quite comfortably. However, this band has many musical influences and it shows in just about every song on the new CD. Val is often described as "Bonnie Raitt gone raunchy" or "powerful like Janis Joplin". Richard squeezes every ounce of passion from the guitar, whilst Harry and Pete hold it very tightly together at the back. Val & Richard sometimes go out as a duo too, so they can tailor their show to just about any occasion. The live show is exciting and packed full of both original songs and killer cover versions, with songs from artists as diverse as Tom Petty, Dixie Chicks and even Rory Gallagher. All are delivered in their own distinctive style, retaining the gutsy R & B flavour (in the old sense of the phrase) the band holds so dear. Bad Influence have survived the perils of the live circuit for a number of reasons, but the most striking reason is quite simply because they're very, very good at what they do. For information on upcoming shows, CDs, mail order merchandise or just about any aspect of Bad Influence,
check out the website @ www.badinfluence.org.uk
© Bad Influence © http://www.badinfluence.org.uk/bio/