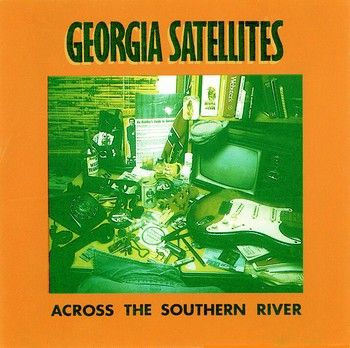 Georgia Satellites
-
Across The Southern River
-
1988
-
Off Beat Records

A very underrated, and not very prolific band, The Georgia Satellites created some great rock & roll music with a Southern slant. The band had some success, but should have been taken more seriously. They are best known for their 1986 top five hit single "Keep Your Hands to Yourself". The original band were only around for five or so years in the eighties, but were overshadowed by the post punk/new wave genre, and never really took off the way they should have. A tremendous live band, proven by the fabulous performances on "Across The Southern River". The album is full of great Rock 'N' Roll, and is hugely enjoyable. Some of Rick Richards guitar work is amazing. Sound is fair to good and could be from an FM radio broadcast or good quality soundboard source. There is some minor clicking on "Every Picture Tells A Story/Gasoline Alley", and "Nights Of Mystery" which is not unusual for recordings of this "kind". Even with the minor sound glitches, this is a fantastic "rockin'" album and
VHR by A.O.O.F.C.
Some of the covers include songs by Chuck Berry, Bobby Womack, Eddie Cochran, and Rod Stewart & Ron Wood. This album has also been released unofficially as "In The Land Of The Midnight Sun", "Live In Tokyo", and "Sun Plaza Boogie 1987". It would be really something if these tapes could be remastered for official release. "Yours Truly" would be first in the queue to buy it ! Live rock 'n' roll as good as this is very rare nowadays. There is another 20 track GS compilation, "Let It Rock: The Best of the Georgia Satellites" available, which includes a great version of John Fogerty's "Almost Saturday Night/Rockin' All Over the World"
TRACKS / COMPOSERS

1 Muddy Water - Joseph T. Babcock
2 The Myth Of Love - Dan Baird
3 School Days - Chuck Berry
4 Battleship Chains - Terry Anderson
5 Nights Of Mystery - Dan Baird
6 No Money Down - Chuck Berry
7 Red Light - Dan Baird / Neil Bogan
8 It's All Over Now - Bobby Womack / Shirley Jean Womack
9 Over And Over - Dan Baird
10 Something Else - Eddie Cochran / Sharon Sheeley
11 Rick's Guitar Solo - Can't Stand The Pain - Rick Richards
12 Keep Your Hands To Yourself - Dan Baird
13 Every Picture Tells A Story/Gasoline Alley - Rod Stewart / Ron Wood
14 You Can't Catch Me - Chuck Berry
All tracks recorded at the Sun Plaza Hall, Nakano, Tokyo, Japan on April 23rd, 1987 except "You Can't Catch Me" which was recorded at the Kentish Town & Country Club, London, UK in 1988

BAND
Rick Richards - Lead Guitar, Vocals
Dan Baird - Guitar, Vocals
Rick Price - Bass, Background Vocals
Mauro Magellan - Drums
SHORT BIO

At a time when rock & roll didn't care about its roots, the Georgia Satellites came crashing into the charts with a surprise hit single to remind everybody where the music had come from. The hit single, 1986's "Keep Your Hands to Yourself," rocked as hard as an old Chuck Berry song, as well as being almost as clever. The Satellites weren't a back-to-basics roots rock band, either — their straightforward sound borrowed equally from Berry, the Rolling Stones, the Faces, Little Feat, and AC/DC, with a Southern backwoods bent. At their best, the Satellites were just a damn good rock & roll band, driven by the classic yet fresh songwriting of lead singer/guitarist Dan Baird. On the strength of "Keep Your Hands to Yourself," their first major-label album sold well, but the follow-up, Open All Night, did not; radio and MTV had treated the band as a kind of novelty — a bunch of hicks kicking out rock & roll offered a break between the slick pop-metal of Bon Jovi and the introspective pop of Peter Gabriel. By the time they released Open All Night in 1988, no one was interested, even if the album was only slightly weaker than the debut. After one more album, 1989's In the Land of Salvation and Sin, the band called it quits. Guitarist Rick Richards joined Izzy Stradlin's Ju Ju Hounds three years later; Baird pursued a solo career and had a small hit in late 1992 with "I Love You Period." In 1996, he helped form the Yayhoos after releasing his second solo album. The Yayhoos have two albums, the most recent being 2006's Put the Hammer Down. During the mid-'90s, the Georgia Satellites reunited without Baird. They released Shaken Not Stirred in 1997. © Stephen Thomas Erlewine, allmusic.com
BIO
(Wikipedia)


The Georgia Satellites is a Southern rock band from Atlanta, Georgia. They are best known for their 1986 top five hit single "Keep Your Hands to Yourself", and draw inspiration from Chuck Berry, Little Feat and AC/DC, among others. Formed in 1980, a lineup of Dan Baird, Rick Richards, Dave Hewitt (Bass), and drummer Randy Delay recorded a six-track demo at Axis Studios in Atlanta. For a short period of time from 1981 to 1982 drummer Randy Delay was replaced by a new drummer, Keith Christopher (formerly of The Brains). Christopher left the band in 1982 to perform with Frank Marino & Mahogany Rush. Jeff Glixman, who had produced the likes of Paul Stanley and Kansas, was enlisted to produce. Soon after the demo was recorded, the band broke up in the summer of 1984. However, while the band felt they weren't making any progress on their musical path and had moved on, their English manager took the demo to a small Yorkshire record label, Making Waves, who liked the material and released the demos as the Keep The Faith EP in 1985 (Kerrang #113). The press response to the EP was positive and prompted the band to regroup in the United States. Baird had been playing with the Woodpeckers in North Carolina, while Richards remained in Atlanta with the Hell Hounds, who included both Mauro Magellon (drums) and Rick Price (bass). With Baird essentially joining the Hell Hounds, the Satellites were reborn and American record labels started taking notice of the band. By 1986 only Elektra Records was willing to sign the band, who then reunited with Glixman to record their debut full-length album at Cheshire Sound Studios in Atlanta. The album, Georgia Satellites, was their most successful album, featuring the track "Keep Your Hands To Yourself." The song peaked at #2 on the Billboard chart, topped only by Bon Jovi's "Livin' on a Prayer," It went into extremely heavy MTV rotation. Other minor hits included "Battleship Chains" (#86) and "Can't Stand The Pain." In 1988, the band recorded a cover of The Swinging Blue Jean's 1964 hit "Hippy Hippy Shake" for the movie Cocktail. Released as a single, the song made it to #45 on the Billboard chart. During the year the band released their second album, Open All Night, which included a cover of the Ringo Starr song "Don't Pass Me By," though the album didn't build on the success of the debut. A single, "Open All Night" backed with "Dunk 'N' Dine," failed to chart. A third studio album, "In The Land Of Salvation And Sin," was released in 1989, which included re-recordings of "Six Years Gone" and "Crazy" from the 1985 EP. Though the album received very positive reviews, it, too, failed to do well commercially, and Baird left the band in 1990 for a solo career. The band's 1993 compilation Let It Rock: The Best of the Georgia Satellites included a selection of the best tracks from the three studio albums and bonus material that had been released on the Another Chance EP (1989): "Saddle Up," "That Woman" and "I'm Waiting For The Man." Also included was a live version of Chuck Berry's "Let It Rock." The 1997 album Shaken Not Stirred didn't include Baird or Magellan who were replaced by drummer Billy Pitts and keyboardist Joey Huffman, with the two "Ricks" handling lead vocal duties. The album was a mix of re-recordings of their earlier material and eight new songs: "Running Out," "Let It Rock (Bye Bye Johnny)," "Deep In The Heart Of Dixie," "Anna Lee," "My Fault," "Shaken Not Stirred," "She Fades Away," and "Rain." Following the album's release Huffman soon departed and the band split again. After a brief sabbatical following the departure of Baird, The Georgia Satellites returned in 1993. Led by original band members Rick Richards (lead guitar and vocals) and Rick Price (bass and vocals), with Kenney Head on keyboards and Todd Johnston on drums, they continue to perform. Mauro Magellan joined "The Crashers" after moving to Wisconsin in the early 1990s. Mauro played on both of Baird's solo albums and has since performed periodically with Dan Baird, most recently joining Baird on the road as a member of Dan Baird & Friends, also occasionally known as Homemade Sin. In addition, Dan Baird performs as a member of the country group Trent Summar & The New Row Mob. Along with his commitment to The Georgia Satellites, Richards also plays with former Guns N' Roses guitarist Izzy Stradlin in his band, The Ju Ju Hounds. They have recorded seven albums, not all released.
MORE ABOUT THE BAND

The Georgia Satellites were a southern rock band that first formed in the early 1980s. Guitarist Rick Richards and bassist Rick Price were part of an Atlanta-based bar band, The Hellhounds. Lead vocalist and guitarist Dan Baird was in a rival band called The Woodpeckers. Richards and Price knew that Baird's voice was what their band needed, so they asked him to join The Hellhounds. They later recruited drummer Mauro Magellan, and the original lineup was complete. The Satellites first recorded an independent EP in 1985, Keep The Faith, for a small English label. The band kept the Satellites moniker because that's what they called themselves on the EP, even though they were still known as The Hellhounds. Their debut album, Georgia Satellites, was their most successful album to date, featuring the hickish track "Keep Your Hands To Yourself". That song went all the way to #2 on the Billboard chart, topped only by Bon Jovi's "Livin' On A Prayer". Other hits included "Battleship Chains" and "Can't Stand The Pain". Even though the band was riding high on success, singer Dan Baird was not very happy with the band's direction. In 1988, the band released the album Open All Night, which featured a cover of Ringo Starr's "Don't Pass Me By" and the hit title track. The album did not sell as well as its predecessor, and the band slowly started to fade. In 1991, the band released their third album, In The Land Of Salvation And Sin. It featured 14 tracks, the most songs on any Georgia Satellites album, but it too failed to repeat the sales of their debut album. After a short tour, Baird left the band to start a solo career, and the Satellites broke up, temporarily. A greatest hits compilation was released in 1993, and featured a few rare tracks, including "Saddle Up" and their hit from the movie Cocktail, "Hippy Hippy Shake". In 1996, the Satellites reformed without Baird or Magellan. They recruited drummer Billy Pitts and keyboardist Joey Huffman, and released the album Shaken Not Stirred for CMC Records in Denmark. Vocal duties were handled by Rick Richards and Rick Price. The album featured remakes of some of their earlier hits and eight new songs, including "Deep In The Heart Of Dixie" and the title track. After the album was completed, Huffman left the band, and the Satellites dissolved again. Since the late 1990s, band members Richards and Price still play together as The Hellhounds, with Pitts on drums. Dan Baird continues his solo career in Nashville, and Mauro Magellan has left the music business altogether, working a regular job in Wisconsin. Besides his commitments to The Hellhounds, Richards also plays with former Guns N' Roses guitarist Izzy Stradlin in his band, The Ju Ju Hounds. It is not known whether or not there will ever be another Georgia Satellites album, or a reunion of the original band. © www.rocknrollhell.com/georgiasatellites/