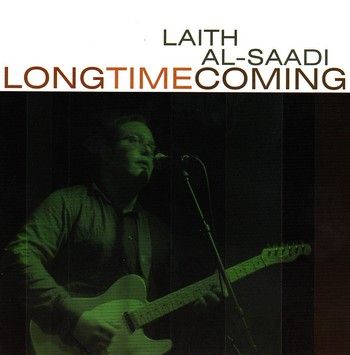 Laith Al-Saadi
-
Long Time Coming
-
2004
-
Laith Al-Saadi

THE FIRST SOLO RELEASE FROM THE 2006 GUITARMAGEDDON "KING OF THE BLUES" NORTHERN U.S. CHAMPION!!!

R & B-blues guitarist and singer-songwriter Laith Al-Saadi has just released his first CD release, Long Time Coming, which showcases the talent and experience of this hardworking musician. "This CD comes from years having a bunch of tunes in the can…10 years of writing and performing culminates here…" This gifted 28 year old was born in Ann Arbor, Michigan and began singing classically at age 4. An avid fan of the Beatles, he became interested in songwriting and began to play guitar at age 13. After learning the Beatles repertoire he got turned on to the blues through his favorite guitarists. From guitar idols like Jimi Hendrix, Jimmy Page and Eric Clapton, Laith then began listening to the true blues heroes like Elmore James, Buddy Guy, B.B. King, Freddie and Albert King. The Blues then opened the door to a great love of Jazz and Al-Saadi began listening to instrumentalists like Pat Metheny, John Scofield, and Thelonius Monk. At age 15, Al-Saadi formed a blues band, Blue Vinyl with some other young musicians from the renowned Community High School Jazz Program and they began creating a buzz around the Ann Arbor area. With the success of their album 9:03 the band opened for several great performers including Buddy Guy, Luther Allison, Chris Duarte, Rod Piazza and WAR. In the summer of 1995, Blue Vinyl then played a tour of the Netherlands culminating with the opening performance at the North Sea Jazz festival in Den Haag, Netherlands. Laith then went on to study Guitar and Bass performance at Western Michigan University in Kalamazoo, MI then later completed a BFA in Jazz Studies/Bass and Guitar Performance at the University of Michigan. During these college years he also began playing with Detroit greats like Johnny Trudell, Thornetta Davis, Joc'lyn B, Al Hill and the Detroit Lions pep band. Long Time Coming showcases Laith's unique harmonic sound—rock played like jazz—a Steely Dan influence with an equal part r & b. Great guitar and blues influences bring out the complex and multifaceted guitar style, rich voice, and introspective lyrics. Turn it around has an Elvin Bishop, gospel tinged rock 'n' roll sound—which is not your typical love song about getting back on your feet after love is gone. Who turned out the lights is a dedication to Frank Zappa and explores and interprets funk, jazz and rock guitar styles. Laith Al-Saadi continues to take the Detroit area by storm with his brand of gritty, soulful Rockin' Blues. Recently opening for Robben Ford, Johnny Winter and Leon Russell he is creating a big buzz in the midwest blues scene. He performs 5 to 6 times a week in the Detroit area and around the state, with plans in the works for a Midwestern tour. Long Time Coming is another step in the successful and diverse career of this talented instrumentalist and singer-songwriter. For more information about Laith and his music, please visit: www.laithmusic.com. [from http://www.cdbaby.com/cd/laithalsaadi#]
Laith started playing guitar when he was 13. He began playing tunes by artists like The Beatles, Led Zeppelin, Jimi Hendrix, and Cream before he started checking out the old-school blues musicians like Muddy Waters, Willie Dixon, Robert Johnson, Buddy Guy and Elmore James which eventually led him into playing jazz guitar. Laith has said that "If I can really reach even 10% of the people with what I do then I'll be happy. Basically my music is an expression of myself and a sum of my views and experiences so far in life so I think if it's making people feel something and making them think, then I've done my job as an artist. The thing is you can never decide how one is going to perceive something. Even if your intention is one way it's all in the eye of the beholder. All I can do is make it as good as I can be for myself and hope that other people get something out of it". "Long Time Coming" is a brilliant album of R&B,soul blues, jazz rock, and blues, typical of the eclectic Detroit sound of jazz, blues, Motown, gospel, and funk. The album is
HR by A.O.O.F.C
and should be heard by anybody remotely interested in Grade A jazz, soul or blues guitar. Buy Laith's great "In the Round" album, and support a hugely talented soul blues artist. Increase that 10% !
TRACKS
1. Breathe
2. Circle
3. Mystified
4. Misbehave
5. Intime
6. Everything
7. Turnitaround
8. If
9. Whoturnedoutthelights?
10. Runtoyou
All song composed by Laith Al-Saadi


MUSICIANS
Laith Al-Saadi - Guitar, Vocals
David Stearns - Bass (Acoustic), Bass (Electric)
James Simonson, Glenn "DJ Wool" Brady - Bass (Electric)
Al Hill - Piano, Soloist, Wurlitzer
La Dell Abrams - Drums